Here is what you can expect to learn:
How DJI surveying drones such as the Phantom 4 RTK and the Matrice 300 RTK were deployed to complete a topographical survey of an island project in the United Arab Emirates.
Deep dive on our field-to-finish workflow, with the generation of data outputs such as OrthoMaps, Point Clouds, and 3D Models using DJI Terra, as well as additional data outputs such as Grid in ASCII, CAD files, and more.
Intro on DJI surveying drones - P4 RTK and M300 RTK
Pre-survey methodology, site reconnaissance survey, real-time georeferencing setup, Mission Planning, Ground Control Management
Data processing workflows using DJI Terra and CAD outputs, Accuracy Checks
Meet the Panelist
Sanju Mathew
Aeromotus, Drone Solutions Sales Manager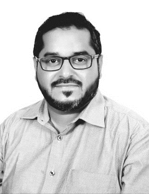 Management and Business Professional with an Engineering Degree in Instrumentation Engineering with over 19 years experience in Geospatial and Reality Capture business in the UAE and the Middle East, that includes 6+ years in the UAE's Commercial UAV/ Drone Industry and Drone Solutions selling within UAE and the Gulf Region.
Watch Recording