Here is what you can expect to learn:
Learn how contractors are using DJI Phantom 4 RTK & Komatsu's Smart Construction Dashboard to visualize their job sites, reduce manual and time-consuming processes, improve progress tracking, and stay on schedule.
How drone mapping has changed contractors' manual processes today
How Smart Construction applications, in conjunction with drone mapping, improve customer business
How drone photogrammetry provides value to contractors on the job site
The important leap all industry contractors should take with drones and technology
Meet the Panelist
Yoetzin Diaz
Smart Construction Solutions Manager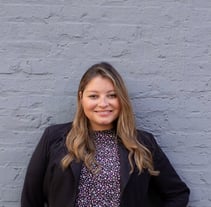 Yoetzin Diaz holds a degree in architecture/construction management from the Illinois Institute of Technology. She joined Komatsu's Smart Construction team in 2019 as a solutions manager. Prior to that, Yoetzin spent six years in the construction industry as a project manager and project engineer.


Bryce Satterly
Smart Construction Solutions Manager


Bryce Satterly earned a bachelor's degree in construction engineering from Iowa State University. Before joining Komatsu's Smart Construction team in 2020, Bryce spent nine years in the heavy civil construction industry as a foreman, superintendent, and project engineer.
Watch Recording