On July 5th, 2021, at approximately 2:50 am, an explosion at Ming Dih Chemical factory rocked the small Thai district of Racha Thewa, less than 20 km from Bangkok. So intense was the explosion it blew out the windows and doors of nearby homes and was loud enough to be heard some 5 km away.
What followed was an enormous fire that engulfed the factory as well causing extensive damage to buildings and houses within a 1 km radius. While firefighters fought bravely to douse the site with water and foam, flames continually broke out as the estimated 50 tons of industrial chemicals housed at the site caught light.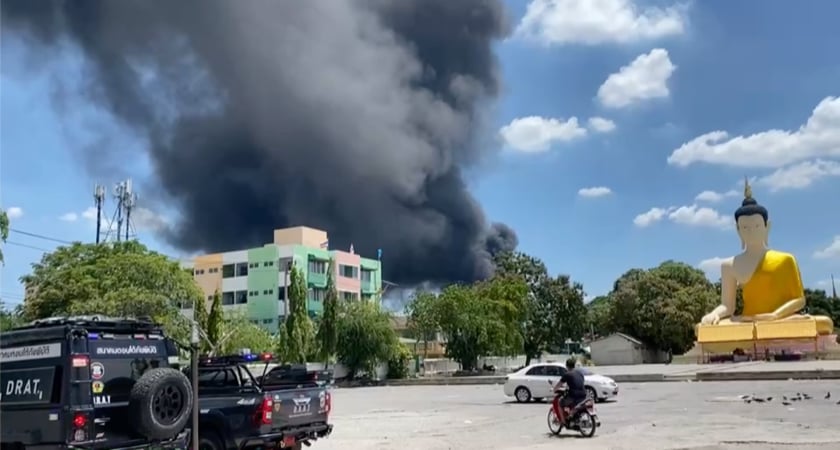 D.R.A.T responders arriving on scene
Amid concerns over chemical contamination and the danger of further explosions, the Disaster Prevention and Mitigation Department immediately ordered the urgent evacuation of all people within a five-kilometer radius.
In the end, the resulting blaze was so intense it took more than a day for emergency services to bring it under control, tragically claiming the life of a 19-year-old firefighter in the process as well as leaving more than 60 people injured.
Emergency services call for drone support
As the situation worsened, city police and firefighters called in support from D.R.A.T (the Disaster Response Association Thailand) and their specialist drone team led by Systronics.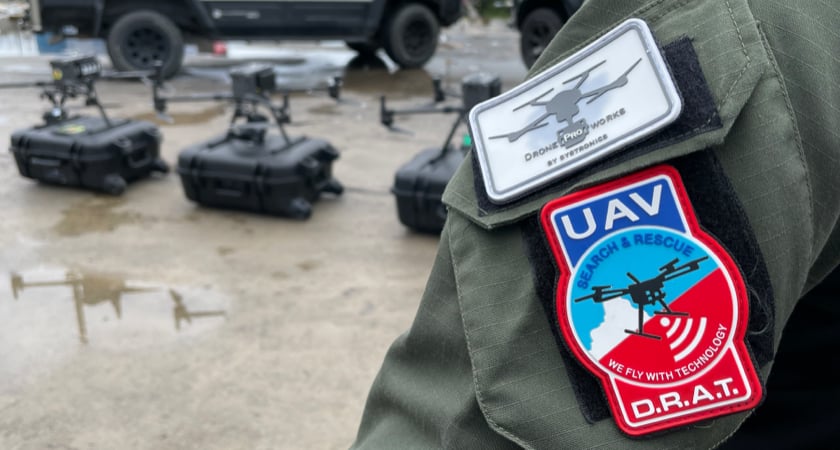 During the live fire, Systronics operators flew their DJI M300 + H20T over the factory to give immediate awareness of the entire factory and feed invaluable information back to the firefighters on the ground.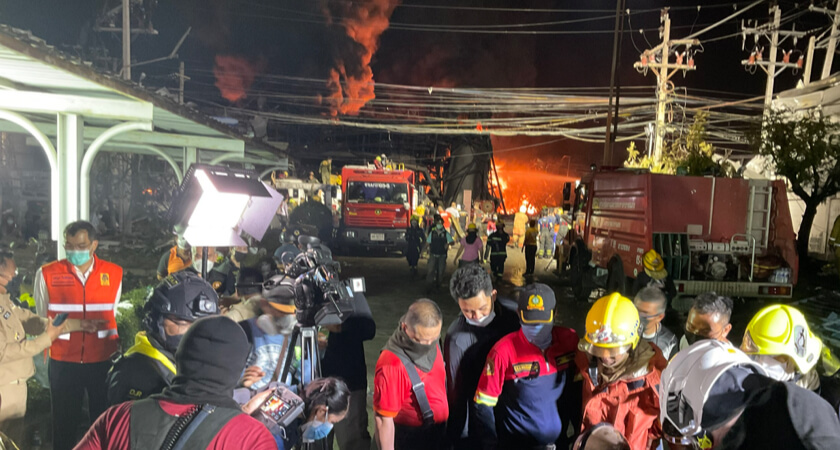 Drone teams providing aerial insights on the developing fire
With the thermal sensor of the H20T the team were able to see though the thick billowing smoke to quickly identify areas at risk from the spreading flames as well as detect and direct firefighting efforts to any dangerous hotspots.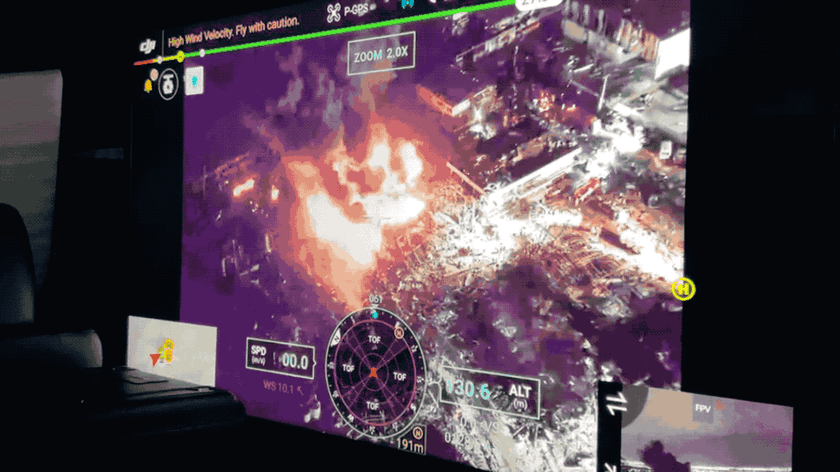 The pilot's remote control screen is projected to the incident commander's external monitor
Post-fire analysis and forensics
After the fire, the Systronics team also played a key role in essential analysis of the site and evidence collection. Changing the payload to the P1 – a high resolution mapping sensor – and the L1, which is capable of capturing high-density point clouds.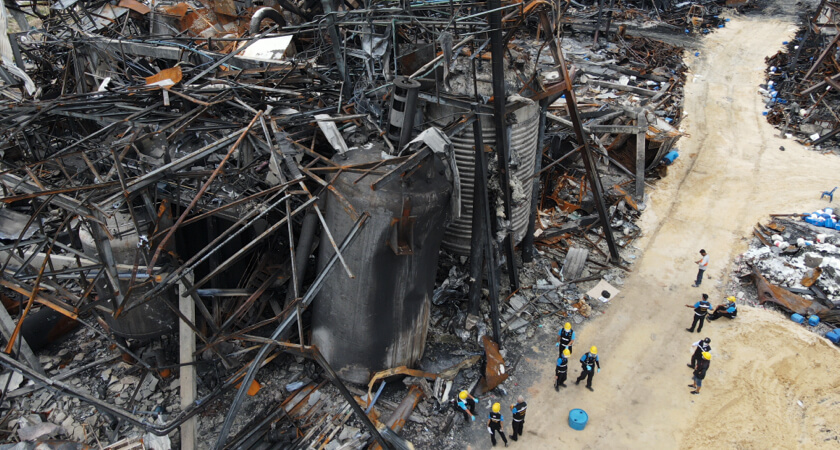 The aftermath of the fire
Together this enabled the team to build a sophisticated 3D model of the factory using DJI's Terra software to aid detailed forensics. Partly as a result of the evidence collected, Thailand's Industry Minister, Suriya Jungrungreangkit, ordered Ming Dih Chemicals to close down its factory and relocate its operation to an industrial estate if it wants to continue operating.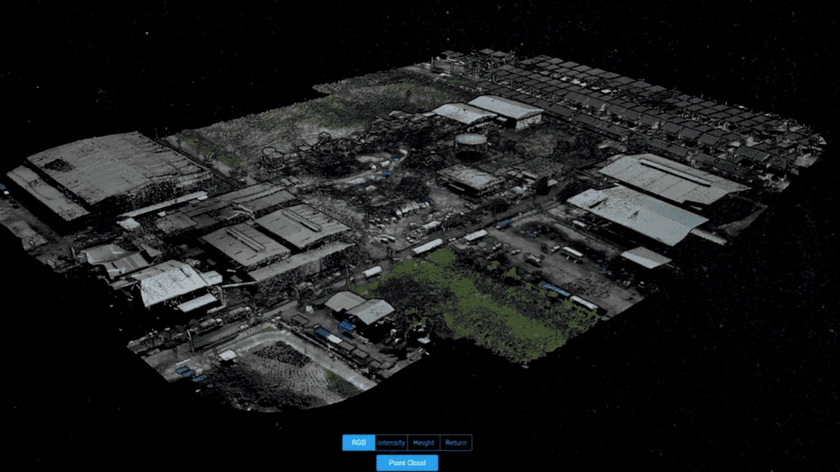 Mapping data collected by the M300 + P1 is processed in DJI Terra
A history of drone firefighting
This is not the first-time thermal drones have been extremely effective in supporting urban firefighting efforts to combat chemical fires. Back in 2019, drones were similarly used to help rapidly extinguish a chemical fire that broke out in an industrial plant in Arkansas, USA.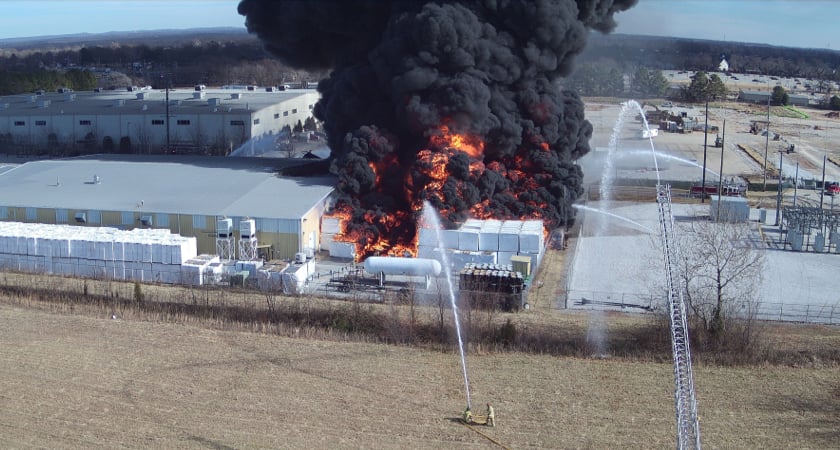 Fires jeopardize a 6,500-gallon tank of highly flammable difluoroethane in Bentonville, Arkansas
As in the Thai fire, firefighters on the scene called in the support DJI thermal drones to quickly gauge the situation and provide a 360-degree thermal reading of the blaze.
In the same year, drones were also on hand at the tragic fire that engulfed Paris's treasured Notre Dame. Again, DJI Mavic Pro and Matrice M210 drones were used to track the progression of the fire and report back to firefighting teams to help them find the most effective positions to aim hoses and tackle the blaze.
Conclusion
Drone technology has quickly become an essential firefighting tool both during and after emergencies. Chemical fires are some of the worse threats firefighters over the world are called to deal with. Not only are industrial chemicals often highly flammable, they can also be highly toxic threatening emergency personnel and nearby residents with further dangers if not extinguished quickly. What's more, chemical factory compounds often house multiple stores of different hazardous materials placing even greater urgency on crews to bring flames under control as rapidly as possible.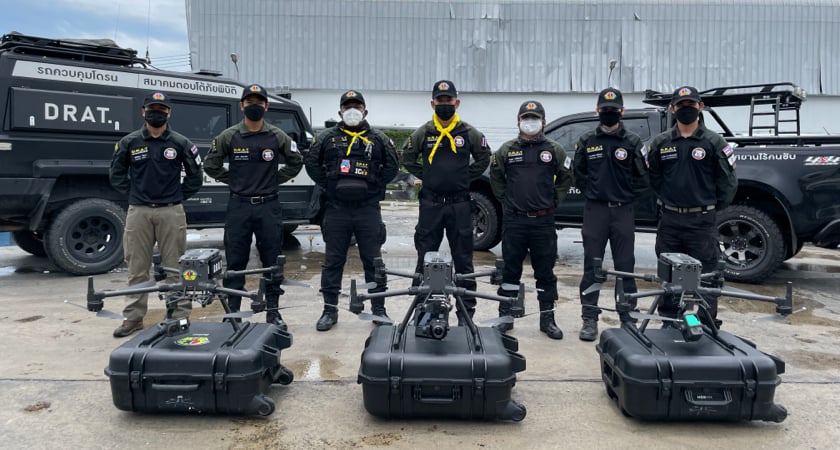 The D.R.A.T pilots and their three M300s, from left to right with an H20T, a P1, and an L1
By giving firefighting teams real-time detailed knowledge of a chemical fire, thermal imaging drones are able to provide crucial support, helping to quickly map the area and identify key hotspots that firefighters need to address. Importantly, they also contribute to essential post-emergency analysis and forensics. This means that the causes of chemical fires can be more easily assessed, helping authorities to not only improve safety measures that reduce the potential for future blazes but also to ensure those responsible are held to account.