Val Thorens is part of the 3 Vallées ski area in the heart of the French Alps. Officially claiming up to 600 km of ski runs, this expanse of winding trails and powdery slopes makes Val Thorens the highest resort in Europe inside the largest ski area in the world- a destination that has been awarded World's Best Ski Resort seven times in the past eight years.

Val Thorens proudly embraces its reputation as one of the world's most innovative ski resorts where the adoption of high-tech solutions to improve the skiing experience is a priority.
In recent years, Val Thorens has witnessed the introductions of Beti, an autonomous shuttle bus, SNOWSAT, a GPS-based system to guide snow groomers with real-time data of the snow underneath, as well as new software designed to help avalanche control and skiers' flow.
Central to Val Thorens' pioneering spirit is the Belleville valley's Ski Patrol, a team of over 200 who work tirelessly to secure the ski area, maintain critical equipment and infrastructure, and rescue skiers in distress.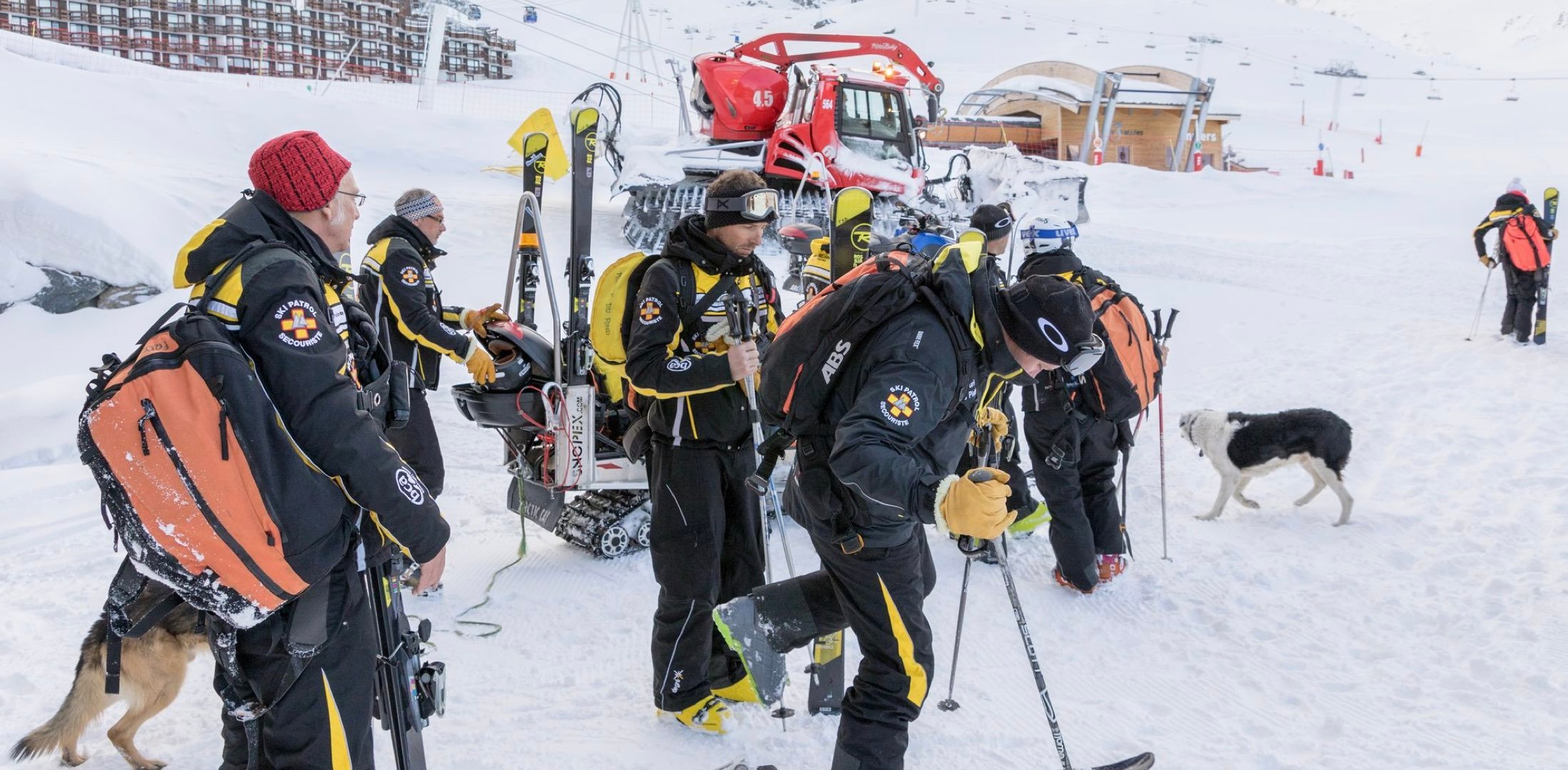 Val Thorens' Drone Team
The birth of a mountain drone program
Benjamin Blanc and Olivier Gardet are the two visionaries who first investigated the possibility of deploying drone technology to elevate the Ski Patrol's operations.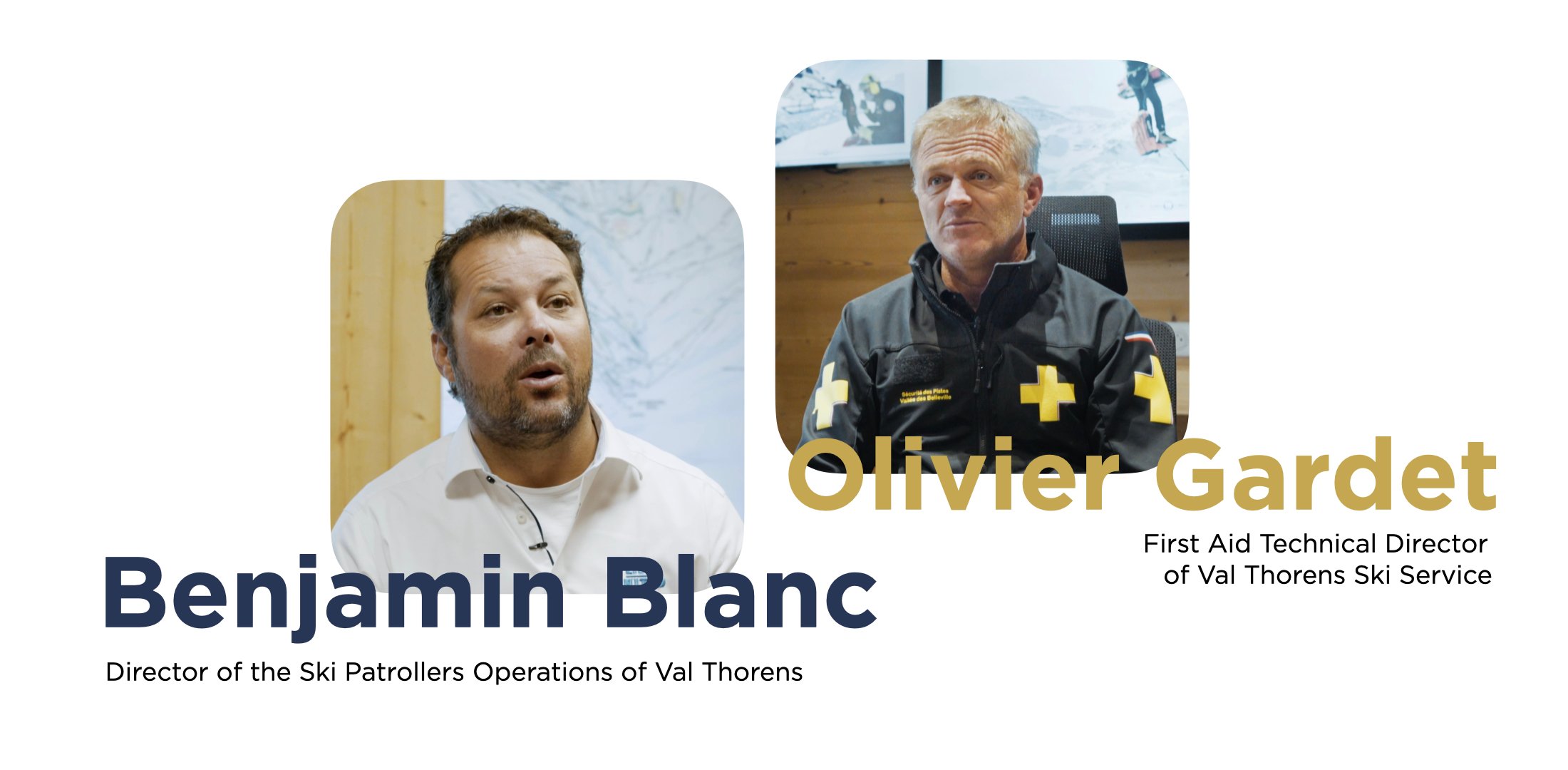 Although in recent years drones have reached a wide audience of athletes and travel-adventurers all over the world, they have always been a rare sight in ski resorts. Due to high altitude, frequent helicopter operations, and wildlife protection, ski areas usually reside in flight-restricted zones.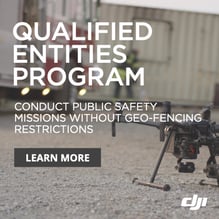 Drone enthusiast and professional pilot since 2013, Olivier was central in testing several drones at the mountain. At his recommendation, the Belleville valley's Ski Patrol settled on a Matrice 210 with the Zenmuse Z30 and Zenmuse XT2 gimbal cameras (the latest platform being the Matrice 300 RTK with the Zenmuse H20 series)., other companies, like Val Thorens, need to go through lengthier authorization processes. Olivier, who saw the immense potential in drones for ski patrol operations, was not deterred. While public safety professionals can request temporary flight authorization through DJI's QEP program
The 2018-2019 winter saw the first official drone operations at Val Thorens. Immediately, several Ski Patrol teams returned with positive feedback because drones were not only able to save them time and costs, but more importantly they were enhancing safety. It was clear to Olivier and Benjamin that they needed to scale, and before the 2019-2020 winter season, they officially established the Ski Patrol's Drone Cell.
Skier Safety is Their Routine
At first thought, you might guess the Ski Patrol's main duties to be Search and Rescue (SAR). But their responsibilities are actually as expansive as the mountain they patrol. Some routine items on the job description include:
Grooming ski runs
Buoying holes and placing fences
Repairing and maintaining equipment (snowcat , snow machines…)
Scouting off-piste areas
Initiating avalanche control operations
"Any place which is accessible from a ski lift should be safe for all skiers", explains Olivier. "If one member of the Patrol considers that a ski run is not safe enough, the resort keeps it closed until we have put the danger away", he said.
Drones for slope scouting and safety assessment
The Drone Cell team consists of three professional pilots including Olivier. Their core undertaking is to assist the Ski Patrol with their duties of keeping a safe ski area. Teams frequently demand a drone's presence for a diversity of missions, but the most common request is for scouting.
Before declaring a run safe for skiers, patrols traditionally had to inspect every corner of the trail in person, which can be time-consuming. And if a section is missed, they have to go back up and down again.
Adding a drone to their toolkits allows the teams to pre-scout ski runs and precisely locate hazards. This way, when the patrols evaluate a slope they can do it both more efficiently and more safely.
Drone scouting is even more important when it comes to securing off-piste areas (areas beyond the boundaries). While originally the patrol would have to manually inspect these dangerous areas to identify areas requiring avalanche control operations, now a drone can do the job instead.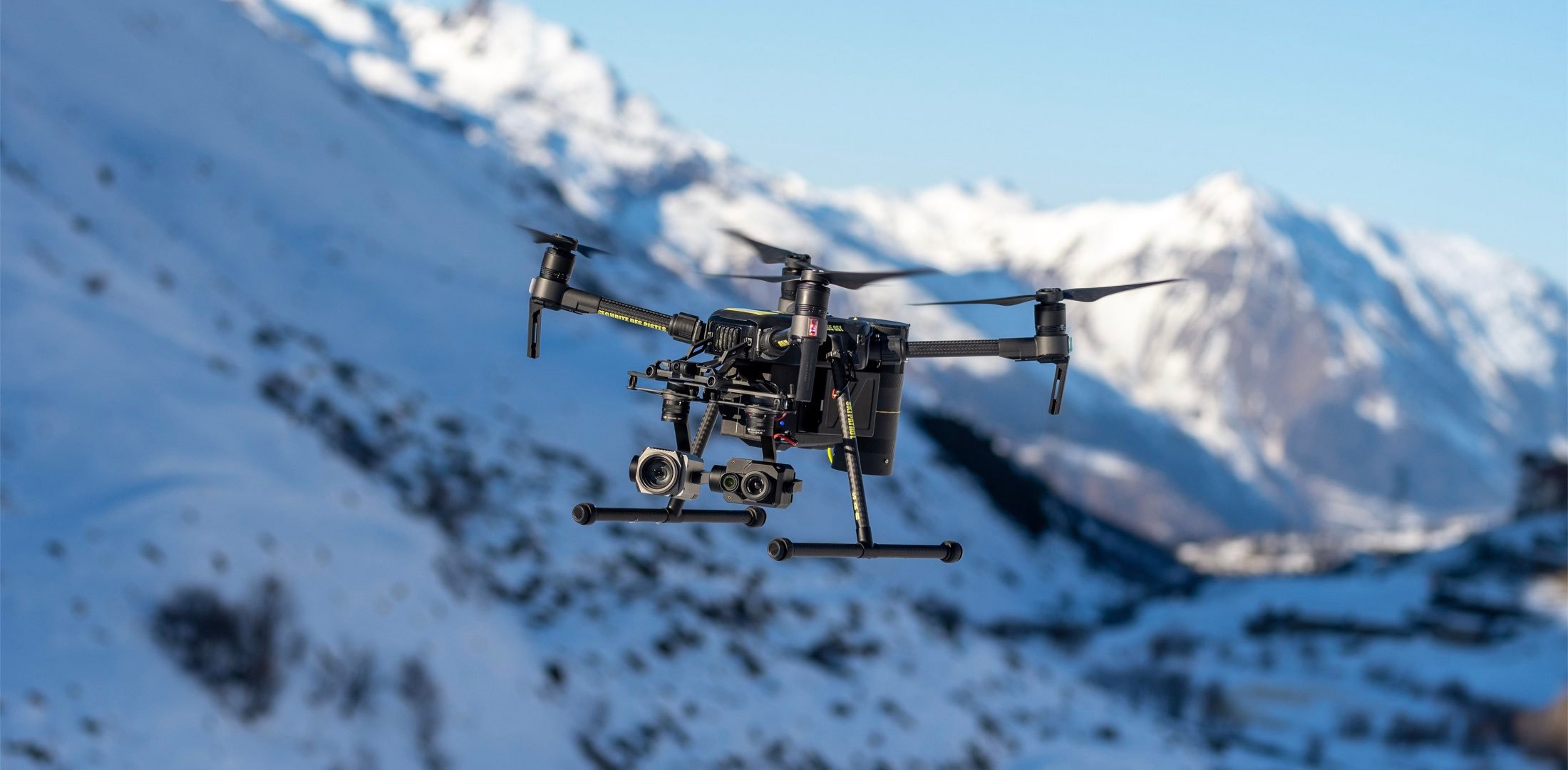 The Matrice 210 deployed for routine slope scouting and safety assessment
Mountain infrastructure inspection made easy with drones
Ski resorts are outfitted with expensive equipment that is routinely exposed to extreme weather. Some of this infrastructure includes ski lifts, cables, communication structures, safety equipment, and more. Traditionally, the structural integrity of equipment was confirmed by physically deploying members of the Ski Patrol to conduct manual inspection. Now, at Val Thorens, thanks to their drone team, people are only sent when a repair is needed.
Drones: a game changer for Gazex inspections
Perhaps the best example in this regard are Gazex inspections. A Gazex (short for "gaz explosif" – explosive gas in French) is one of the most important devices used in Avalanche Control. These structures are built on top of mountainsides, peaks, or slopes and consist of a gas tank connected to a tube. When the Ski Patrol determines avalanche control measures are necessary, they trigger a spark and the gas explosion is directed towards the slope which initiates a controlled avalanche.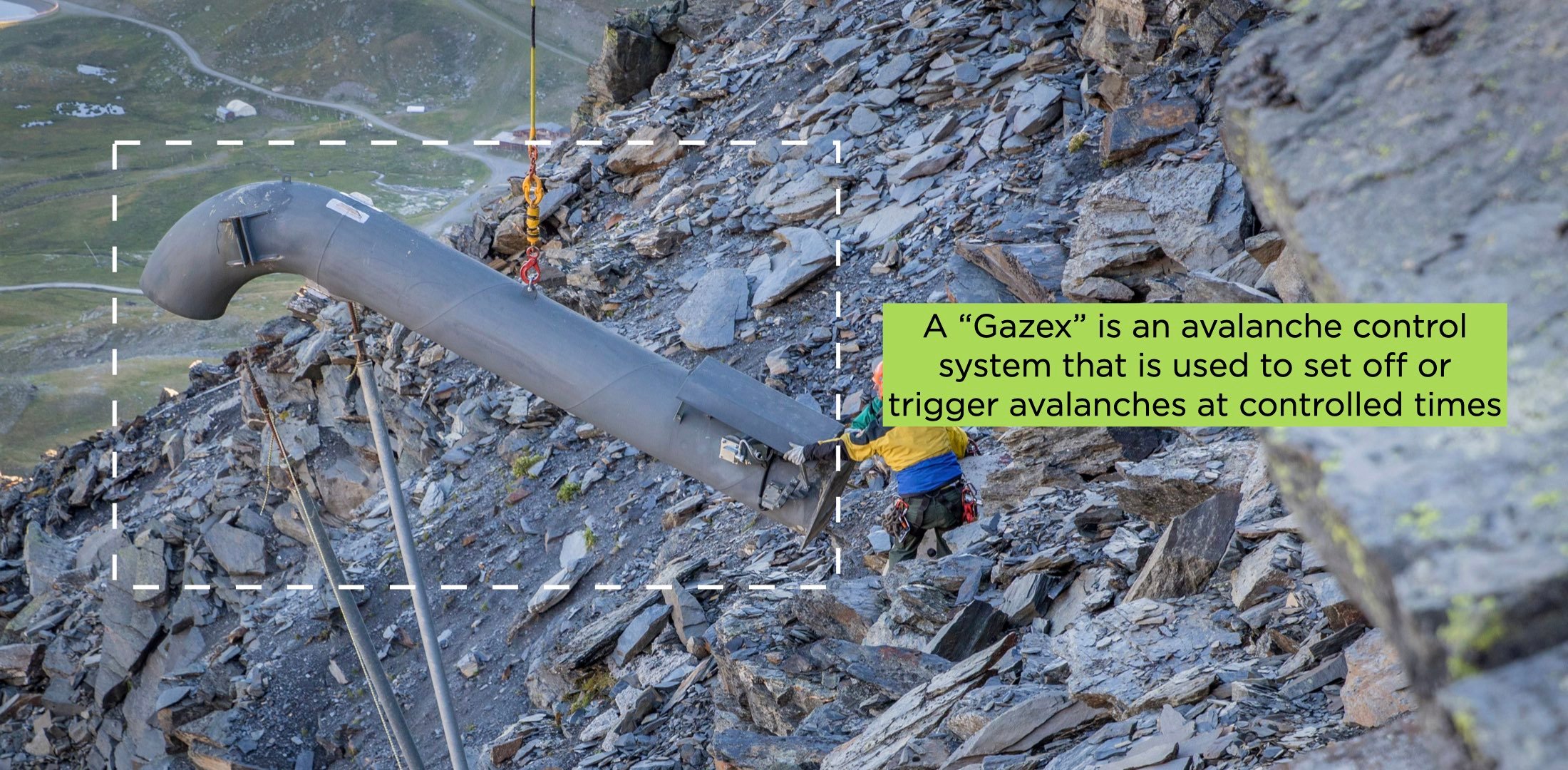 There are 101 Gazex in Belleville vallée's mountain. The harsh weather atop the mountains along with the explosions themselves mean each of these 101 Gazex require routine structural inspection and maintenance. Because many Gazex are not accessible by foot, experts have traditionally required a helicopter to access the structure and inspect it. If it is determined that maintenance is required, they require a second helicopter flight where they bring along the necessary materials and tools.
Remote drone inspection is made possible thanks to the Z30 and XT2 cameras providing powerful zoom and thermal imagery. The zoom and the DJI Goggles RE provide a satisfying level of detail for the experts to work with while the thermal images show them what the eyes can't see. If no repair is required, no helicopter flight is needed, allowing the Ski Patrol to save around $10,000 USD per year (one flight is estimated at $1000 USD and there are approximately 10 Gazex only accessible by helicopter). If a repair is required, only one helicopter flight is needed instead of two, thus almost halving operation costs.
Drone's impact in mountain search and rescue
Skier search and rescue with drones
Drones, similar to helicopters, give important aerial perspectives to aid search parties looking for lost skiers. They can guide the team on the ground, see beyond some obstacles, and access difficult terrain. Both cameras prove to be useful, especially the thermal images from the XT2, able to display people's thermal signature through forest trees, fog, or by night.
"We also have a vocal transmission system on the drone to communicate messages to the victims after we localized them. The drone can get close to them to emit those messages. It becomes their main point of contact, to fight isolation and keep their spirit up. Although they cannot answer those messages, they know we are coming for them."
Quick drone deployment when every moment matters
An avalanche victim can only survive 20 minutes under the snow, and it takes an average of 10 minutes for the Ski Patrol to arrive on-site. Rapid deployment of the M210 with the Zenmuse Z30 and XT2 payloads allows for precious time to be saved. The drone can bypass obstacles and fly directly towards the avalanche area, while the zoom and thermal cameras can detect signs of victims. The Ski Patrol estimates that the drone saves around 5 priceless minutes in this 20 minute window.

This is how they discovered a 70-year-old skier who was almost entirely buried in the snow and whose ankle was broken. This was widely shared in the press as the first time a drone saved a skier. Crucial minutes were saved that day.
Aerial intelligence keeps the Ski Patrol from harm's way
In 2020, there were 15 avalanches at Val Thorens. Traditionally, the Ski Patrol would have to send a team to scout the avalanche area and search for signs of victims. This is a particularly hazardous duty because of the harsh terrain and risk of a secondary avalanche.
Thanks to the aerial intelligence provided by the Drone Cell, the Ski Patrol only had to send a team to search for victims four times. That means that for 11 of the avalanches in 2020, the Drone Cell could determine remotely that deployment wasn't necessary.
The Drone Cell calculates that those 11 drone scoutings helped save approximately $5,000 USD of manpower costs.
"One day, we went scouting an avalanche with the drone under the rain. It all went smoothly and the cameras performed well, we confirmed there was no need to send a team there. Seeing the adverse climatic conditions, we helped the patrol by not putting it in danger."
Nighttime drone operations at the mountain
At Val Thorens, the ability to conduct nighttime missions with drones is a major advantage for the Ski Patrol. The Drone Cell's Matrice 210 V2 is fully equipped for night flight thanks to its light beacons, allowing it to be seen clearly both from the sky and on the ground. Its integrated ADS-B receiver identifies the positions of nearby aircraft and alerts the pilot well in advance of any potential collisions. And its XT2 thermal camera can pierce through the darkness, fog, and snow. All this equipment is powered by a pair of self-heating, hot-swappable TB55 Intelligent Flight Batteries, able to withstand low temperatures down to -20 °C (-4 °F), offering a maximum flight time of over 30 minutes.
The Ski Patrol, aided by a drone above, works extensively at night to prepare the ski runs before the resort opens in the morning. The elevated perspective provides insight to snow groomers by pinpointing areas in need of grooming, or those which need more snow from artificial snow machines.
The future of drone technology in ski resorts
There is still plenty of opportunity for innovation and growth when it comes to drones and their role at ski resorts. For example, drone thermal imagery alone can sometimes struggle to detect people if they are buried in deep snow. Therefore, there have already been attempts at integrating drones with the Avalanche Victim Detector (AVD). This is an essential tool used in locating victims buried under an avalanche, and being able to leverage this tool remotely with a drone would be a game changer. These innovations are still a work in progress, but in the meantime, the drone technology currently available is already saving time and energy for the staff, as well as reducing risks.
In the future, new technologies and tools will continue to enhance safety at ski resorts. The Drone Cell is already planning to upgrade its equipment to a Matrice 300 RTK with the new Zenmuse H20T. One of the features they are impatient to use is the camera's new laser rangefinder that provides the precise coordinates of a point viewed from a distance. They will also implement planned automatic flights in areas where skiers often get lost to make the search quicker and safer. You can learn more about the inspection capabilities of Matrice 300 RTK here.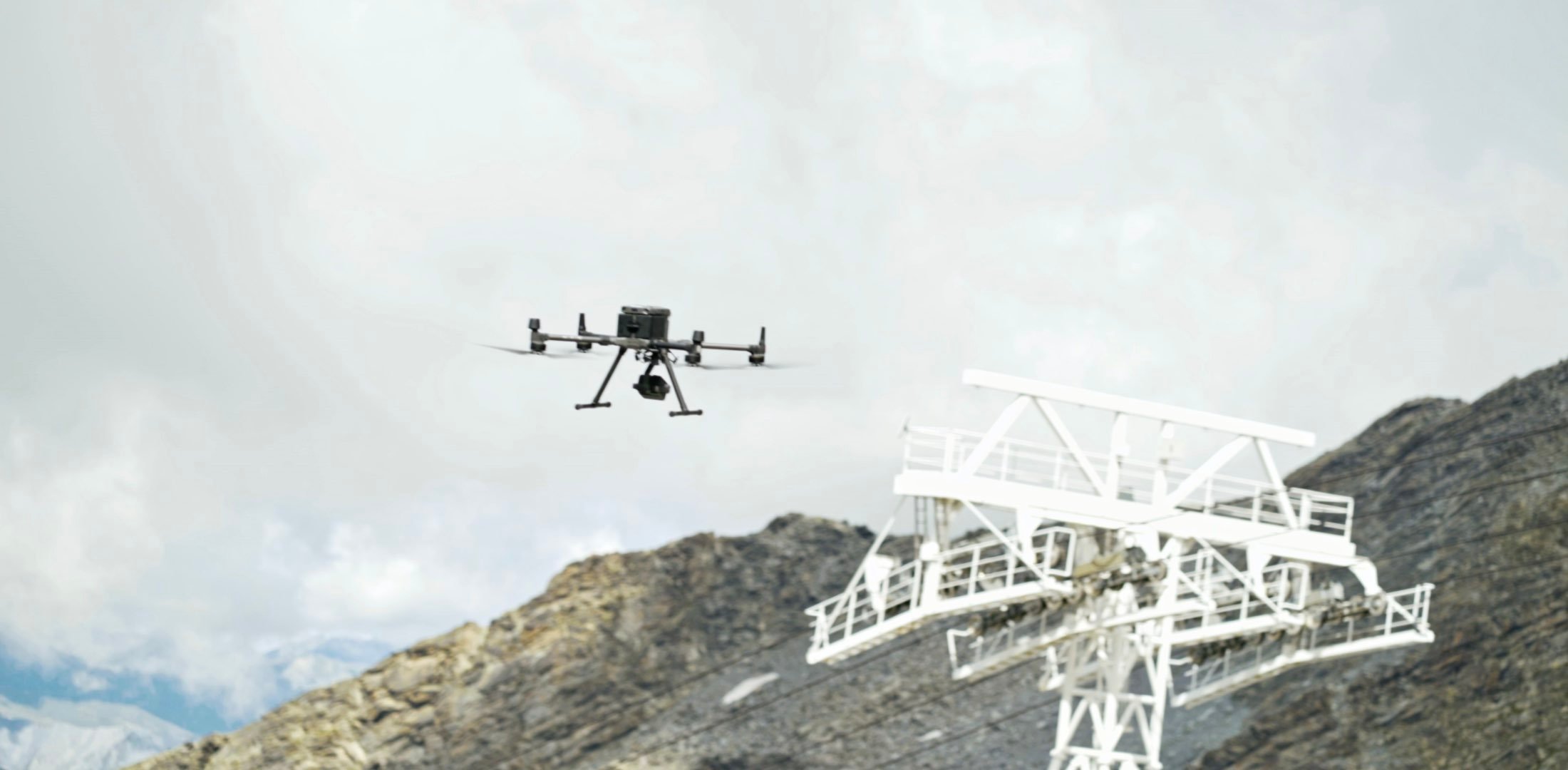 As a final word, Olivier recommends that operators in other ski resorts begin learning how to fly in mountains because drones should be considered game changers and go-to tools of the future.