When Alex Nunez left his native Venezuela for Miami in 2015 to be closer to his sister – and open the next chapter of life in a new city and country – the trained engineer decided to broaden his skills by enrolling in continuing education programs. Included in those courses was one called "Drones Up" which introduced him to UAVs, and the power of DJI tech in particular. His interaction with those aerial vehicles and onboard sensors inspired Nunez to create his fast-growing Digital E Consulting drone services company, which eventually landed him in a critical position to help his adopted city respond to the tragic collapse of a Surfside condominium building one year ago that killed 98 people.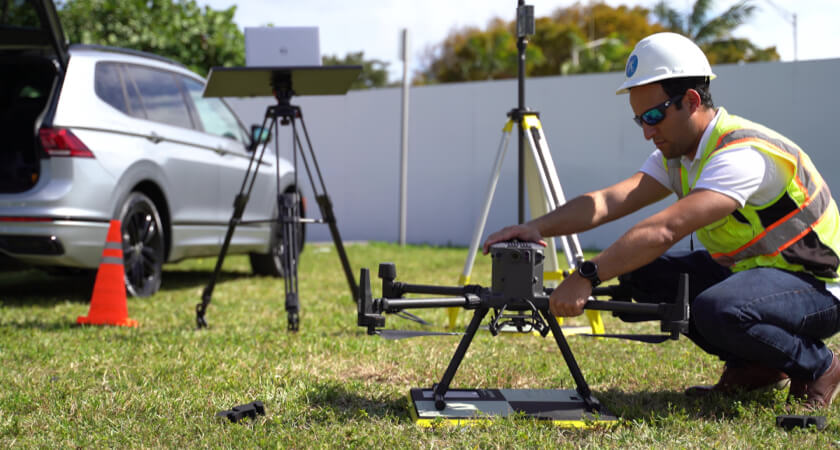 The powerful performance of DJI M300 RTK drones and Zenmuse P1 sensors Nunez uses in his work permitted him to produce a 3D digital reconstruction of the doomed Champlain Towers area after its fall, as well as the surrounding area.
Experts are now using those tools to analyze the deadly failure, and look for methods to prevent future disasters. That, and his other work with DJI tools to monitor buildings and assure their safety, has not only contributed to the further blossoming of Nunez's company, but even provided enhanced meaning and value to his job and life as a community-minded UAV operator.
"I am living a wonderful life as an entrepreneur, am really grateful for the opportunity this country has offered to me, and I do what I love with passion," Nunez says of the drone inspection work he discovered after coming to Miami.
"I feel like what I'm doing has a real positive impact on society. I feel like I'm giving back to the community, and taking responsibility in helping it to become more resilient."
Drone building inspection as a business, public service, and passion
Nunez and his Digital E Consulting business are active using DJI inspection drones and sensors like the Matrice 300 RTK and the Zenmuse P1 to collect structural data that civil engineers, clients, and officials use to monitor how Miami's often harsh weather wears on buildings – and take preventive action before defects lead to structural collapse.
It was his surveying work in the Surfside area prior to Champlain Towers' failure that left his team with a trove of digital photos and video of the entire zone before the June 24 calamity – data he then used to create a model that may offer evidence of how and why the failure occurred. The presence and activity of Nunez's DJI drones at that time was both a coincidence and a minor miracle.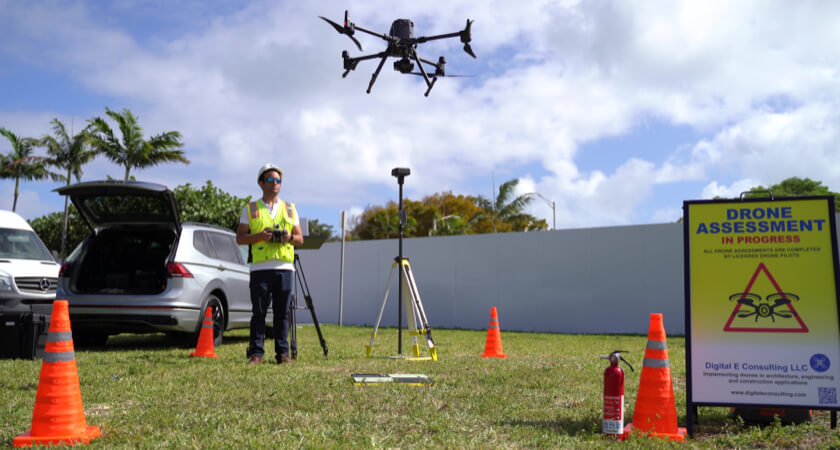 "We had detailed photos and video, which meant once the zone had been cleared of debris, we were able to use the M300 with P1 to create a 3D mesh of the site," Nunez explains. "So now we have this high-resolution model with real coordinates of where everything is in the area ­– the buildings and the assets, the elevation of the ground, of the road. We've made that available to universities or anyone doing research on this, and we are providing it free of charge to anyone who wants to use it."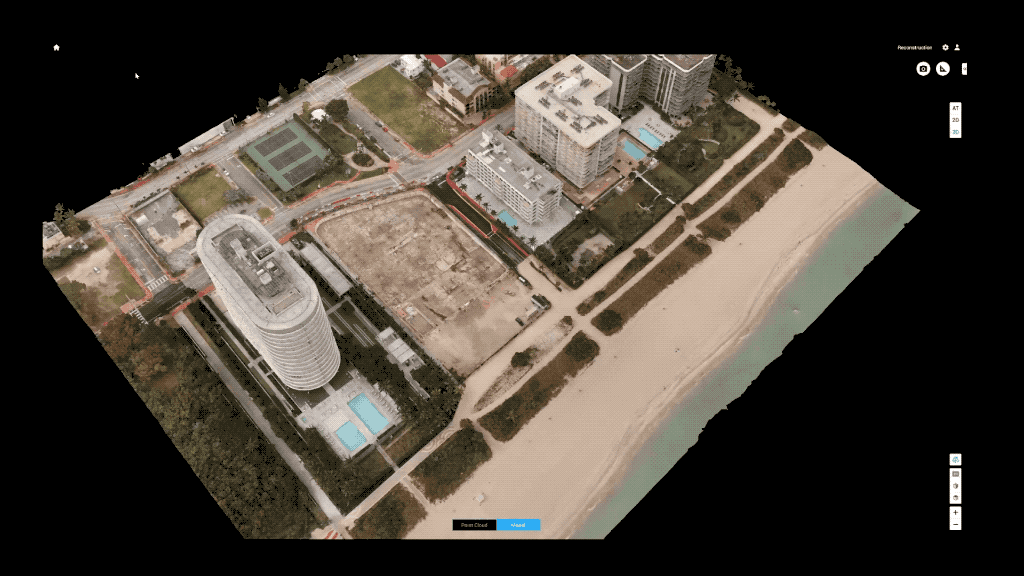 Nunez's vision: drones replicating machines that fueled the Industrial Revolution
That effort is an example of the way Nunez believes inspection drones and onboard 3D modeling sensors will radically transform how people work and live – just as the introduction of machines revolutionized industry a century ago. His critical aerial work helping civil engineers and officials keep buildings safe and resilient in increasingly hostile weather conditions is just the latest stage of an evolving career and life Nunez embarked on by coming to Miami less than a decade ago.
That journey took a major turn in 2015 when Nunez arrived in Florida from Venezuela, where he'd earned an engineering diploma and taught at Universidad Simón Bolívar while continuing to rack up an array of other degrees, including business. His lifelong fascination with robotics led him to work programming manufacturing robots using computers. But he quickly realized the exclusive focus on machines left him missing the human contact and context in his work.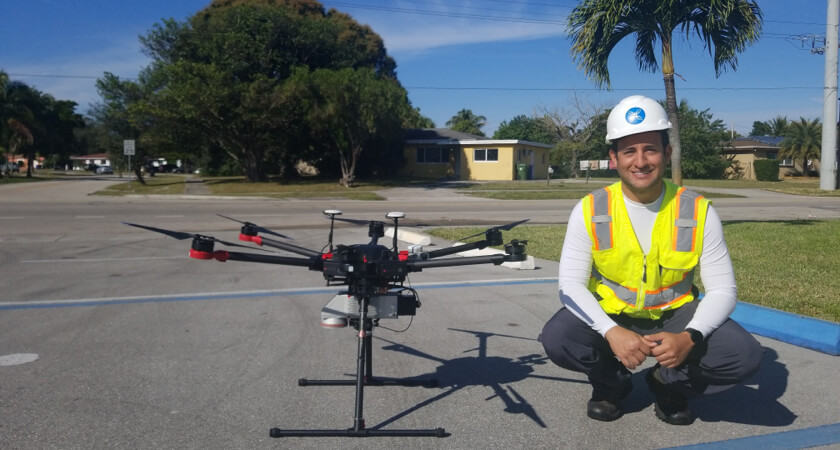 Therefore, upon arriving in Miami, he decided to keep expanding his range of learning and experience by enrolling at The Idea Center at Miami Dade College. After studying 3D printing and modeling, he started its "Drones Up" class, and his career path has never descended since.
"The first part of the class was how to get your Part 107 license, and the second was to become proficient on the controllers," Nunez explains. "The third was how to start your own business with drones. But when I found out what drones were doing for the civil engineering industry, I thought to myself… this is now the industrial revolution of drones in civil engineering. We're witnessing a historical moment."
From drone intern to founder of a fast-moving, visionary aerial inspection company
It turned out that a course instructor also headed a company involved in that same drone-driven tech revolution in civil engineering. He identified Nunez's overflowing interest and passion for the topic and offered him an internship to put it to work. Before long Nunez had been fully brought aboard as a consultant, then contractor, and later Chief Technology Officer. When Nunez struck out on his own by founding Digital E Consulting in 2018, his former employer became one of the new company's first customers.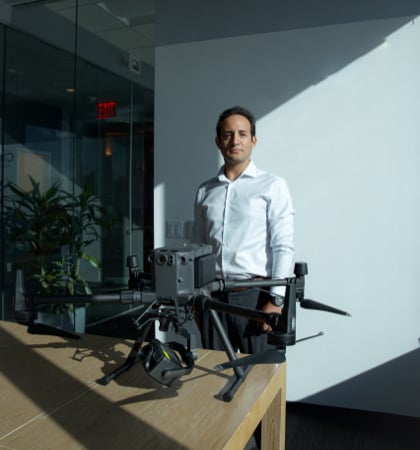 With a sharp eye on how tech can be deployed to further accelerate changes underway, Nunez focused on using inspection and mapping drones to help companies and urban officials monitor and measure the impact of South Florida's harsh weather episodes on buildings and neighborhoods. He notes Miami is hit by a hurricane every five to ten years, and by a major storm about twice annually. The city's roads are also routinely flooded by King Tides, during which Digital E Consulting DJI drones are flown to measure water levels and create topographic models.
In addition, Nunez collaborates with Miami's Resilient 305 initiative. Composed of local universities, governments, non-government organizations, and private companies like his own, the association orchestrates research and engages with local communities. Its aim is to promote public policies to make Miami and its beach areas more resilient to harsh, even extreme weather.
Drone data collection to make Miami's buildings more resilient
In his work, Nunez relies on DJI's M300 RTK, the Zenmuse P1, DJI Terra, and ArcGIS to create 3D digital urban models both during and after weather events. Those contribute to improved public response and future mitigation efforts by local and national authorities.
"We use the M300 and P1 to create high-resolution models of neighborhoods and with those, we do flood analysis and simulations," says Nunez.
"The highly detailed models and the improved building inventory allow us to run FEMA's risk analysis tools that predict economical losses and help us enhance the capacities for structure resiliency. So, we're very active in this type of activity, whose importance continues growing with time, and whose economic potentials offer our company considerable growth potential in the region."
Nunez deploys DJI drone tech exclusively in Digital E Consulting projects, and relies particularly on the M300 and P1 as a technologically advanced successor to the first craft he encountered and fell in love with – the then-recently introduced Phantom 4. Since then, he's updated to cutting-edge DJI platforms, primarily the M300 RTK inspection drone considered by countless enterprise and public users to have no true rivals.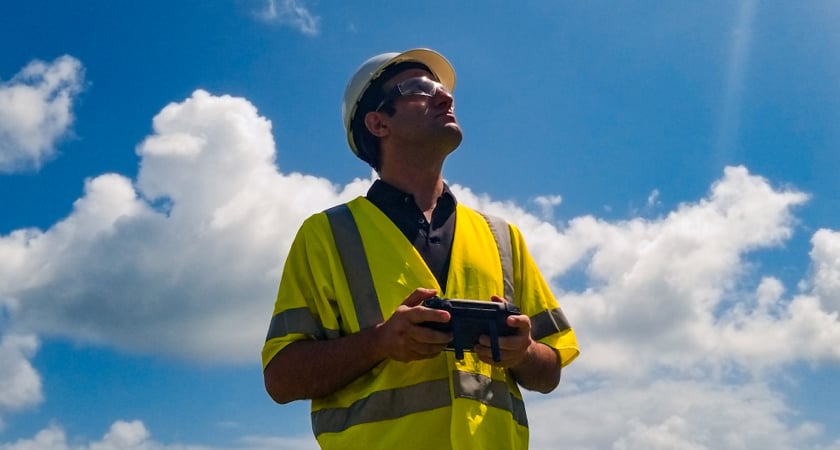 Early in his entrepreneurial activities, Nunez became a reseller for DroneNerds – which sold him his first DJI drone – providing craft to private and public customers for construction monitoring, bridge inspections, or land survey missions. He has also integrated a DroneNerds Account Manager to assist with the development and growth of Digital E Consulting activities.
Using the M300 "animal" to recreate Miami's collapsed Surfside condo in record time
The DJI tech – and fortunate timing – had allowed Nunez to gather an enormous store of images while surveying buildings in the Surfside area prior to the Champlain Towers' fall. Once the debris of the collapse had been cleared, Nunez returned with an M300 RTK and P1 to recreate a 3D model of the area. The result was as rapid as it was astonishing – a fast, complete capture of all the data needed from the 440 acre area that covered the three census tracts he was modeling, that included the location of the calamity.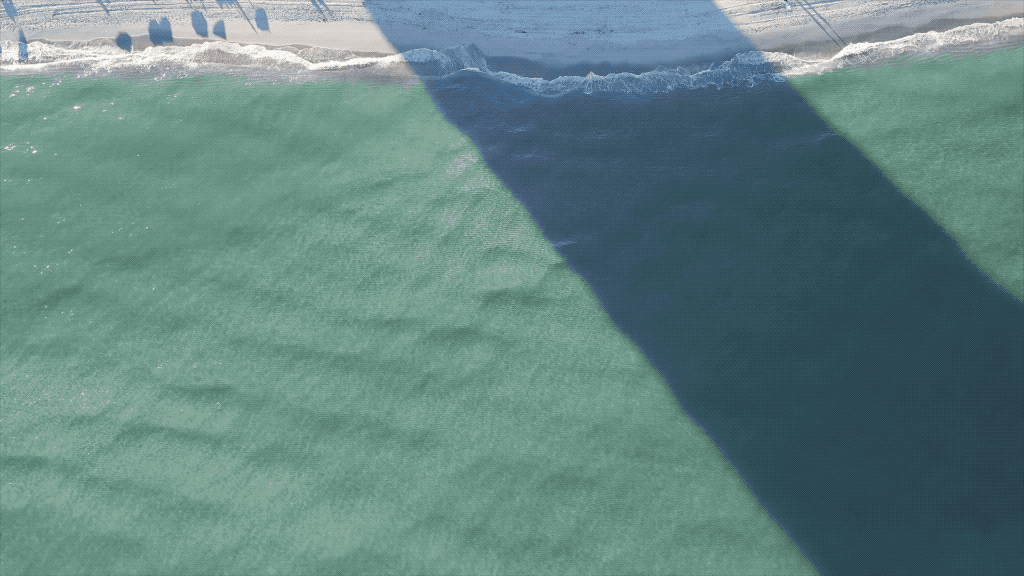 "Using the Smart Oblique Capture feature, we covered the entire area in no more than three days, which – had we used a Phantom 4 – would have taken a full month. It was so fast that it was actually amazing to watch the drone move around the site capturing shots every 0.7 seconds. The thing is an animal, collecting data like crazy!" - Alexander Nunez
Next step: routine building inspections with drones to prevent future collapses
Nunez says the effectiveness of the M300 and P1, and the importance of that Surfside work, provided hope even in a spot where a major tragedy had occurred. Much of that came from Nunez seeing the tech fulfilling his vision of a robotic inspection revolution before his eyes.
It also issued from witnessing the effectiveness of aerial surveying and 3D modeling tech in the M300 and P1 reconstructing the Surfside area after the collapse – and understanding how they could help identify issues in other buildings that could prevent failure if discovered in time.
"From what I understand, I think there were probably cracks visible on the façade of the building, and other signs that drones could have allowed engineers to identify as red flags beforehand," Nunez says. "But just as importantly, people involved with those buildings – residents, owners, managers, etc. – really need to see the kind of worrying evidence drones can provide from a bird's eye view that humans just don't have. People need to see these problems before they'll respond to them. And I hope in the future more buildings will use drones for inspection flights every year. Not just after floods or other events, but regularly, to compare current conditions to those before, and see the progress of any issues over time. Drones allow us to see and respond in a timely manner so we don't wait until it's too late."
When that vision becomes routine, Miami residents may celebrate the day Alexander Nunez changed his life and their own by coming to town, and taking his revolutionary career turn into to the skies with cutting-edge drone inspection work.