Looking back to our teenage years, many of us can consider the career we wanted to have back then as a fantasy. A whim from our youth, that of course changed as we matured into adults. Some of us wanted to be an actor, an astronaut, or a doctor, yet few of us truly pursued the career we dreamt about at such a young age.
Some, however, like Alameda County Sheriff's Office Criminalist III, Penny Ritter, held onto their desire to pursue the career of their youth. A career Penny wanted to experience from the day she got to visit the FBI Crime Laboratory in Washington D.C. while on a family vacation at age 13.
"Touring the lab, the person analyzing the red and white, blood-stained tablecloth, was the most fascinating thing ever." Penny recounts with nostalgia. "I decided I wanted to do that when I grew up. I wanted to find evidence, solve crimes, look for clues, and help victims!"
That desire to help, to help victims, would be a trademark of Penny's personality and dedication for many years to come in her career. In high school she spent time with Criminalists, learning what the career was really like beyond that sterile lab in D.C. Tagging along she went to her first crime scene, recovered her first body, as well as many other firsts for her new career, all the while holding the same fascination as that day at the FBI lab.
Formal training in forensic science
As college time came, a time where many of us chose majors of study that would likely change a few times in our education, Penny sought the only University to offer a degree in Forensic Science - California State Sacramento.
"Nobody at the time knew what 'Forensics' was since CSI the TV show was not out yet." Penny jokingly describes. "My classes were literally 6 students and my graduating class was about 10 for the Bachelors of Science in Forensics."
After graduating with her degree, Penny began her career at a small private laboratory in Sacramento analyzing controlled substances - knowledge and experience that would follow her to her career as a Criminalist for the Oakland Police Department.
"At Oakland PD, I examined controlled substances, performed fingerprint comparisons, and processed crime scenes." Penny mentions.
Family comes first
As with many of us, careers are important, but for Penny, family is too. And for her, her children are the most important things in her life. So, she took time off from a career she worked hard to be a part of to care for them. Children, now adults, such as her daughter that works at Disney World pursuing a career in their education program, a son who was recently commissioned as a 2nd Lieutenant in the US Army with his first posting being the 1st Cavalry Division at Fort Hood, Texas, and her youngest son who is a college hockey player studying sports medicine.
Alameda County Sheriff's Office
As amazing as her children would become, Penny could not stay away from the career she loved for long, and even while they were still young she was an example to them as she returned to work, this time with the Alameda County Sheriff's Office, 14 years ago.
It is this new agency that led Penny to a technology for processing crime scenes and has sparked an entirely new passion in her career. And just what is this new technology one might ask? Drones!
The birth of a drone program
For Penny, the path to drones began with now retired Assistant Sheriff (Commander at the time) Tom Madigan walking into the crime lab asking her to use her knowledge and experience with the crime lab's Leica Laser Scanner to learn UAV mapping as the newly formed UAV team had just collected images with a Phantom 4 and needed someone to process them into a 3D model and orthomosaic map.
"To be truthful, I didn't know what a drone looked like, let alone a Phantom…something…and I didn't know what a 3D model or orthomosaic map was…" Penny laughs. "Needless to say, a whole lot of internet searches and watching videos and I was on my way, pretending I knew what I was doing!"
5 years later, Penny has obviously kept that passion she gained that day.
"I have been fortunate enough with the Alameda County Sheriff's Office to expand my duties beyond Forensics in the Crime Lab and become an active member of the sUAS team for disaster response and incident mapping," Penny modestly explains, which brings us to one of the most important things one learns about Penny in just a few minutes of listening to her talk about the ACSO's drone team, her modesty about being a part of it.
In just a few minutes of hearing her talk about "my guys and gals" you start to get a peek into the window of her role with one of the largest law enforcement drone programs in the world. A program of over 100 drones, deployed to wildland fires on numerous occasions, including the deadly "Camp Fire" in 2018 that burned the towns of Concow and Paradise, as well as deploying all over their area to assist fellow law enforcement officers and the citizens of Alameda County.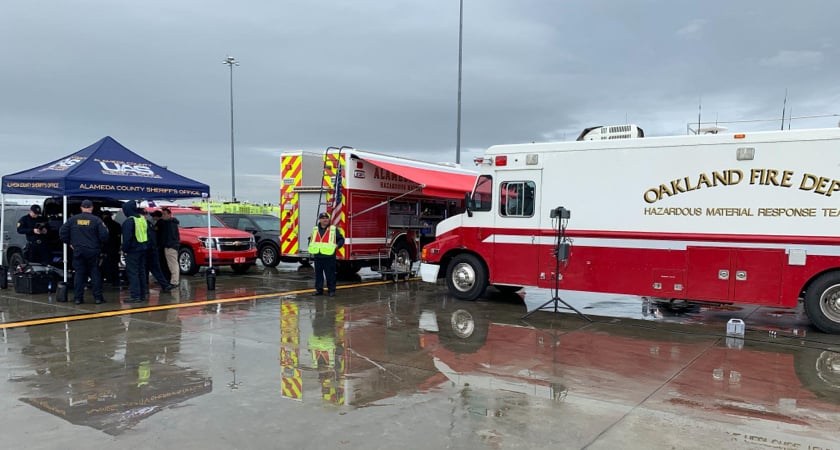 Alameda County Sheriff Office's drone program is one of the largest law enforcement drone programs in the world, seen here working with Oakland Police and Fire at Oakland International Airport during a joint HazMat training exercise in 2019.
Penny's determination to make sure ACSO's drone program is always ready has undoubtedly been one of the major reasons their program has been so successful, from when former Sheriff Gregory Ahern and Assistant Sheriff Tom Madigan first looked at this technology to improve the safety and efficiency of law enforcement several years ago, to what has evolved to provide even more for law enforcement such as de-escalation of dangerous events as well as the ability to search for missing persons in a far more rapid amount of time under ACSO Captain Paul Liskey's command.
Penny's dedication for, as she mentioned earlier, "wanting to help" is clearly evident when you begin to see the how much effort she brings to the team, ensuring maintenance and updates are completed and tested, battery maintenance is performed correctly, aircraft are repaired in a timely manner, troubleshooting issues and helping resolve them or get assistance resolving them, and so much more to keep the program in a constant state of readiness.
For Penny, this isn't just a job function to be performed only when she is "on the clock". Often her kitchen at home is covered in drones and batteries as she literally "brings her work home"!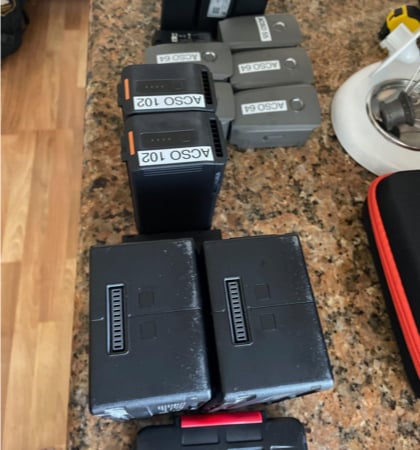 Penny often "brings work home", as evidenced by the amount of space taken up by drone batteries on her kitchen counter.
But beyond all of this, as if enough examples of her character have not been pointed to, Penny goes even farther, as she offers her knowledge to many other Bay Area agencies helping to keep their programs in a state of readiness as well, again, on her own time, meeting with them and caring for their equipment as she does ACSO's.
To say Penny is a driving force for the good work drones can do for law enforcement and the communities they serve is a tremendous understatement. So much of what Penny has learned on her own, or experience she has gained, has been passed on to many other agencies in public safety. All because she loves to help!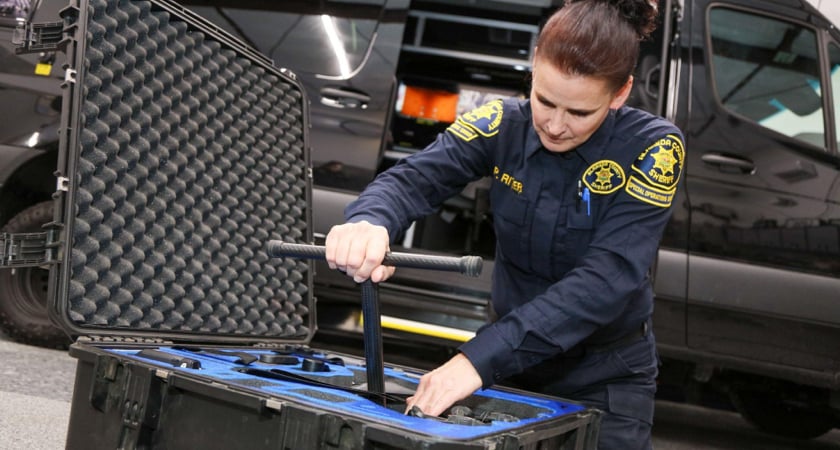 Penny makes sure ACSO's drone fleet is constantly ready by performing maintenance, ensuring updates are completed and tested, as well as ensuring repairs are completed quickly.
The future of drones in law enforcement
When asked about the future of drones in law enforcement, especially at ACSO under newly sworn in Sheriff Yesenia Sanchez, Penny is excited to see how this technology has brought agencies together, creating a network of resource sharing for the good of the citizens they all serve. Speaking of ACSO's program Penny fondly points out that "Our agency has had the privilege of assisting many of our surrounding agencies in helping keep their officers safe with our vast inventory of drones. Just this drone technology alone has created a public safety network in which there are no boundaries drawn between jurisdictions and it is very common to see many different uniforms working together to solve a situation at any call-out." Adding "I hope to see this hard work and dedication continue on for the betterment of all of our citizens in Alameda County and our surrounding neighbors!"