At DJI, product optimization is a never-ending process. Though every product that we ship out is designed to maintain the highest standards of performance, as the needs of our Enterprise users evolve, change becomes necessary. This is why we've spent the last few weeks catering to your feedback, developing new features and introducing valuable improvements to our platforms, and generally making sure that our Enterprise product line is optimized to meet your highest demands.
This blog supplements our traditional release notes – such as these (M2E) and these (Terra) – and summarizes some of the most exciting features and updates that have been keeping our development team busy of late.
DJI Pilot
In a DJI Pilot update (V1.9.2) expected to arrive later in January, new features and support for the Matrice 200 Series V2, the Mavic 2 Enterprise, and the Phantom 4 RTK will be offered from the same version of DJI Pilot.
In the meantime, different products require a different version of DJI Pilot. See the table below to verify which Aircraft Version and DJI Pilot version you require.
You can find the installation package of DJI Pilot for different models in the Download Center on DJI website here: https://www.dji.com/downloads/djiapp/dji-pilot
| | | | |
| --- | --- | --- | --- |
| Model | Latest Aircraft Version | DJI Pilot | DJI Pilot PE |
| M300 RTK | v01.00.02.14 | v1.9.1R | v1.8.0 |
| M2E/M2ED | v01.01.0800 | v1.9.0 | v1.8.0 |
| P4 RTK | v02.02.0503 | v1.8.0 | v1.8.0 |
| M200 Series V2 | v01.00.0710 | v1.8.0 | v1.8.0 |
| M200 Series V1 | v01.02.0450 | v1.7.2 | v1.6.1 |
| M600P | v01.00.01.67 | v1.7.2 | v1.6.1 |
All Supported Drones
Aircraft tutorials and articles
The top-right corner of the startup screen now houses a new button that takes you to a dedicated section for product tutorials, flight tips, industry applications, and user manuals. There is a ton of useful information here that you can leverage to get the best out of your DJI Enterprise drone.
Course angle and aircraft heading
The absolute direction of the aircraft is now shown in Camera View (S 179° in the screenshot below). This can be a reference for pilots who need to determine the precise direction their drone is heading.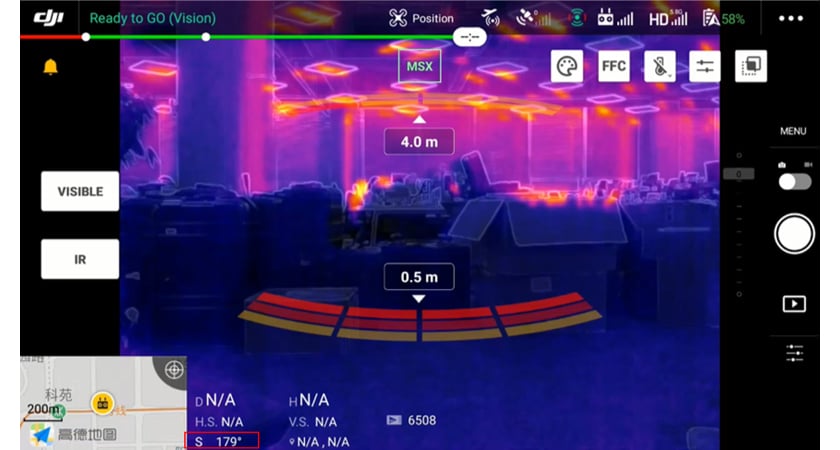 The above two features are available starting from Pilot 1.9.0 and 1.9.0R.
Phantom 4 RTK Series
With the latest GS RTK App version (v2.1.9), you can plan Phantom 4 RTK flight missions with the following two new modes.
Linear Flight (Adjustable Height) Mode
For mapping corridors with significant variations in elevation, this mode is helpful for maintaining a constant overlapping rate along your target corridor.
This mode is designed for mission planning when capturing buildings, slopes, or hillsides. Determine the flight plane by recording three points from your target surface and setting the mission height.
For the complete list of updates, click here.
Matrice 300 RTK Series
Please note the M300 RTK needs to use Pilot v1.9.0R, available here, and be updated with RC firmware. If M300 RTK users have updated to Pilot 1.9.0 by mistake (instead of Pilot 1.9.0R), the aircraft may not take off. Because of this bug, the M2E firmware has been updated to the 0800 version, and users on Pilot 1.8.0/1.8.0R have been disabled from receiving update notifications for Pilot 1.9.0.
You can find the Known Issue List for the current latest firmware version of M300 RTK and H20 Series here or in the Tutorial section of DJI Pilot App. This document will be updated routinely, adding/removing issues once we discover or solve them.
Some exciting features that you can look forward to include:
Improved Flight Experience
The GPS coordinates of the aircraft are now displayed on the map page
A vertical speed bar has been added to the FPV and camera view
Safety-focused Enhancements
Instead of showing the absolute direction, the high wind warning now shows the direction relative to the aircraft.
The pre-flight checklist is now better optimized with the addition of status display of battery, RTK, and other modules. Enterprise Shield has also received auto-activation and status checking capabilities.
For the complete list of updates, click here.
Mavic 2 Enterprise Series
Updates to the Mavic 2 Enterprise Zoom and Dual models focus on improved data capture and image transmission, as well as enhanced flight safety and adherence to new drone regulations required for operations in France.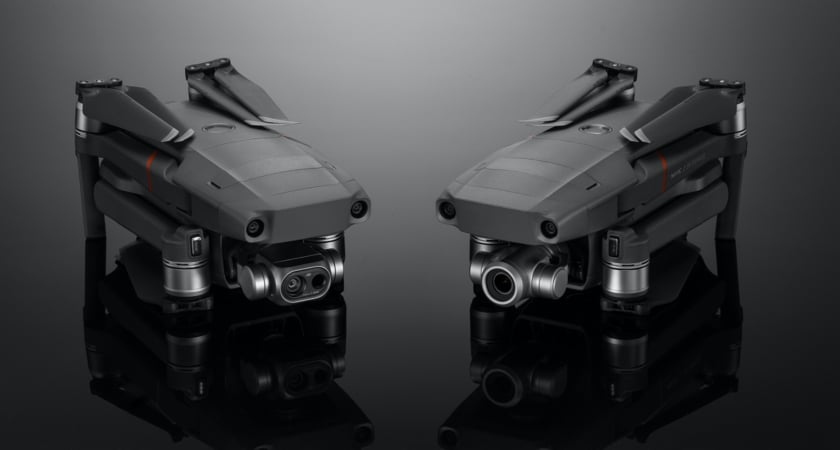 Better Data Acquisition and Transmission
This new rollout optimizes the anti-interference feature for image transmission to tackle issues that were noticed in some scenarios while using M2E series drones. Meanwhile, the zoom speed of the M2E cameras has been made faster than ever before, and digital zoom support has been added for the M2E Dual when the visible camera is being used in HD video mode.
Positional accuracy
The vision system of the algorithm has been optimized to improve the positioning accuracy of the aircraft
Intelligent flight battery
We have now enabled a time setting feature to initiate the self-discharge process for an intelligent flight battery.
Bug fixing: RTH
We have also fixed a known issue because of which the return-to-home altitude could not be set to more than 500m after unlocking flight height.
Support for EID (For use in France)
The Mavic 2 Enterprise series now supports the eID (electronic identification system), a requirement mandated by the French government in 2020. If you need a step-by-step guide on how to make your DJI drone compliant with the French remote-id requirement, click here.
The optical and digital zoom functions have been optimized to increase your speed and efficiency when using the DJI Mavic 2 Enterprise series drones.
Digital Zoom for M2E Dual
The Mavic 2 Enterprise Dual now supports 4x digital zoom when using the visible camera. In video mode, the digital zoom function is supported only when the resolution is 1080p.
DJI Terra
The latest update to our easy-to-use mapping software DJI Terra (V2.3.2) adds support for offline operations and optimizes data acquisition workflows, especially for reconstruction missions.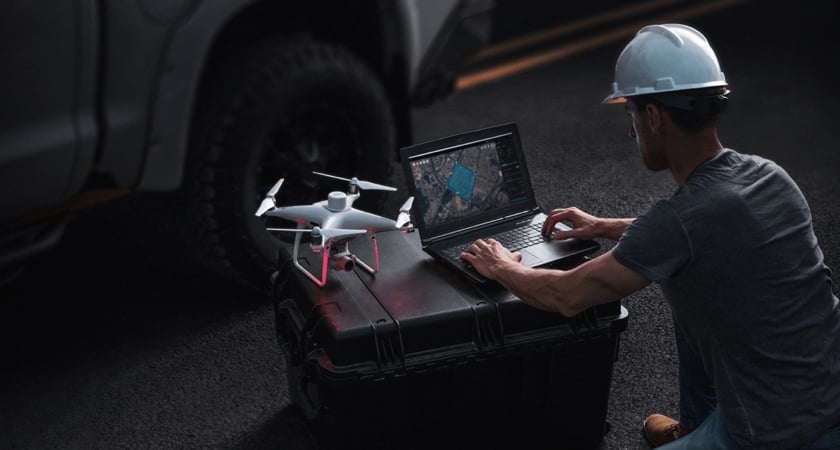 Offline Login
For users that have high requirements for information security, Terra now supports an offline login feature. You can use most paid features of our intuitive and highly-efficient drone mapping platform without connecting your devices to the Internet.
Smoother Data Acquisition
Terra now supports a maximum gimbal pitch from -90° to +30° for waypoint missions and detailed inspection missions, reducing any unwanted jerks in the camera movement.
Turbocharged Reconstruction Missions
Multispectral radiometric correction
Using multispectral data from DJI P4 Multispectral, you can now generate radiometrically calibrated reflectance maps for remote sensing research or produce vegetation index maps including NDVI and NDRE.
We have also added a function that allows you to generate a prescriptions map using the leveling variable rate strategy to improve crop yields.
Adds DJI P1 camera support
Through optimizations, a new feature has been added to generate a camera calibration file when reconstruction is complete for photos taken with the Zenmuse P1 camera, DJI's flagship full-frame photogrammetry payload.
Easy search and export
We have introduced support for separating flight missions from reconstruction missions and added a search function to the detailed inspection model bank. And now, Terra also supports easy exporting to multiple formats after a reconstruction mission is complete.
More updates to come in the future
We consider it our duty to drive product innovation without disrupting your existing workflows. These firmware and software updates aim to provide you with a better, safer flying experience in 2021. For more information on our solutions, product updates, resources, and ebooks, fill in the form below.