Although they're smarter and far easier to fly than they used to be, drones remain complicated machines. Things can and do occasionally go wrong. The challenge for drone program managers is to mitigate that risk; a task that's complicated when fleets consist of multiple aircraft being put to work across disparate locations.
It's important to note the spectrum of 'things that can go wrong' is a wide one. Very rarely do critical failures occur during a mission, but minor inefficiencies can escalate. Left unchecked, these marginal losses can accrue, impact operational efficiency, reduce the lifespan of your equipment, and compromise the safety of your operations.
Fortunately, every DJI drone is a flying supercomputer. It's possible to keep tabs on your fleet and extract, analyze, and share performance data in high resolution.
We're excited to announce that we've partnered with AirData to streamline that process. AirData is a fleet management and drone data platform that provides flight intelligence, advanced analytics, and maintenance recommendations to commercial pilots and drone program managers. AirData will integrate DJI Maintenance schedules and protocols into a solution already stacked with meaningful flight analysis and fleet management tools.
Harnessing AirData
Drone data is only as useful as the tools you use to manage, process, and analyze it. That rule applies whether you're assessing crop health, inspecting infrastructure, or looking internally at the granular details of your aircraft's flight performance.
AirData's fleet management platform allows drone program managers to automatically capture flight logs and pilot data, stay on top of compliance requirements, detect issues before they develop into serious problems, and track maintenance requirements.
The process begins with the automatic upload of flight logs. This eliminates time-consuming manual recording processes from the equation, drastically reduces data entry errors, and provides instant fleet visibility.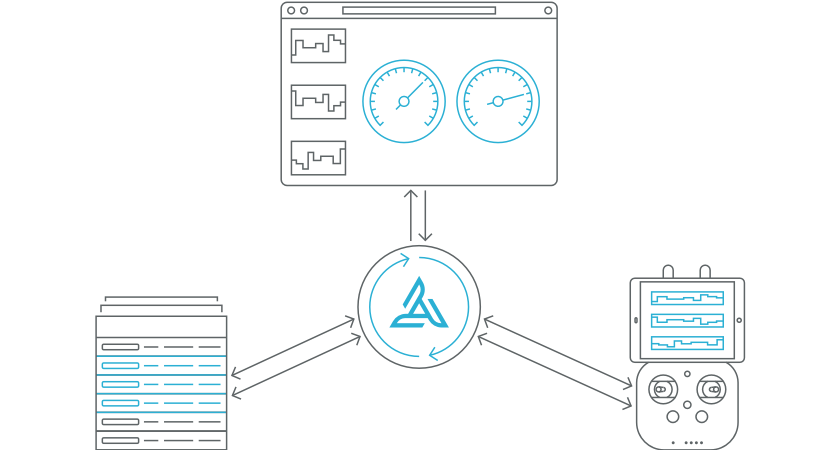 AirData's analysis tools then sync data from the drone's different systems. The information is processed alongside environmental information to help you understand the state of your aircraft and ensure missions are carried out as safely as possible. Alerts can be set up to notify pilots if there are any aircraft or environmental conditions that may impact flight performance.
Next up are AirData's maintenance support tools. You can manage the upkeep of your aircraft and batteries, track usage, and generate maintenance reports. Everything is tailored towards keeping your fleet optimized and fit for service.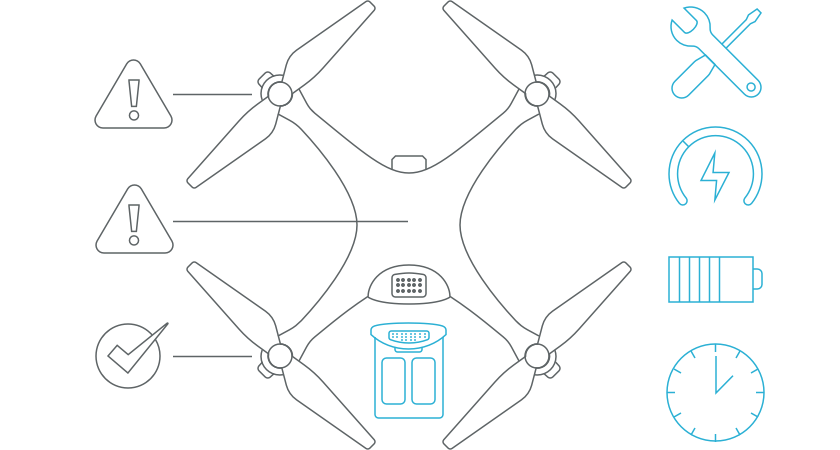 There's also regulatory support in the form of custom reports. Drone program managers can save time and simplify the reporting process with automated reports according to flight date range, pilot, drone, or battery. Customizable templates are available within the platform, whether you're reporting for internal purposes or providing documentation to aviation authorities.
The final aspect of AirData's solution recognizes that troubleshooting and fleet management is often a collaborative task. There is a range of sharing tools that allow you to work together to explore specific flights and understand issues.
When you have a commercial fleet with a large number of drones, managing and maintaining operations is a challenge. If you want to understand the status of each aircraft and its performance metrics, you need a powerful flight data management solution.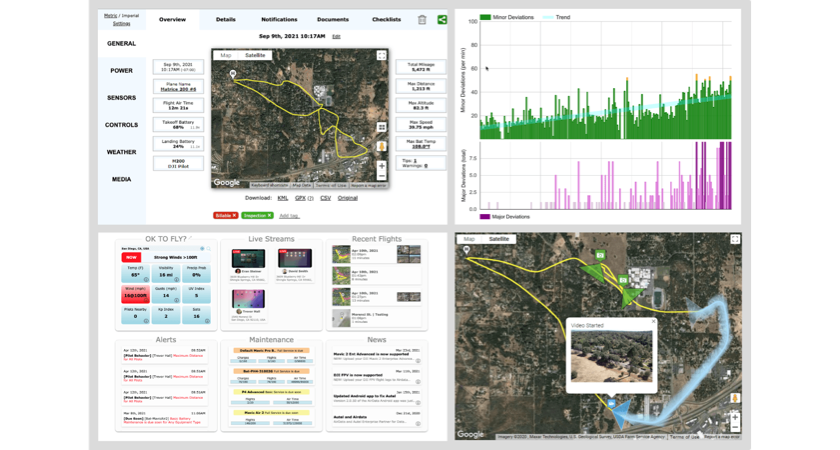 AirData is now integrating DJI's maintenance services and standards
DJI's enterprise drones are sophisticated machines with complicated engineering beneath the hood. A high level of expertise is needed to maintain fleets and ensure every aircraft is working optimally. Successful maintenance is also an organizational challenge. Upkeep requirements and repairs can quickly conflict with ongoing missions if not managed carefully.

DJI's Maintenance Program has been providing clarity, convenience, and technical support to enterprise users since its launch in 2020. It's available in three tiers: Basic, Standard, and Premium. Customized Plans can also be developed to meet requirements specific to your organization. Each plan is backed by DJI's many years of experience in aircraft maintenance. And best of all: DJI Maintenance lasts for the duration of your aircraft's lifespan.
Plans include deep cleaning to ensure aircraft continue with maximum operational efficiency, component replacement to refresh worn parts, and recalibration to support performance in the long term. You can read about Shell's experience with DJI Maintenance, here.
AirData's Maintenance is now based on DJI Maintenance standards and service recommendations. In practice, that means you'll receive guidance from DJI and be able to access DJI Maintenance through the AirData platform. You can choose to receive notifications for critical maintenance issues, check previous records, and submit online repair requests.
Combining fleet management with a powerful maintenance program
AirData provides drone program managers with a powerful fleet management tool that automates manual processes, increases data visibility, enables collaboration, and improves the reliability of your drone program. The integration of DJI Maintenance adds enterprise-level upkeep expertise into the equation. Together, DJI and AirData are on hand to help program managers work smarter, safer, and with greater efficiency.
Visit the AirData website to find out more about how advanced fleet management can benefit your drone program.