We are very excited to announce that AirWorks 2020, DJI's annual gathering of the commercial drone industry, will be a digital event. Prepare to tune in August 25-28, 2020.
AirWorks has become a leading event where industry experts and seasoned pilots gather to advance the future of commercial drone technology. While we regret not being able to meet face to face, we are extremely excited about the opportunities that gathering online presents.
There's a lot of planning and work behind transforming a massive drone convention into a digital event, and we're still working out some details, but here is what you need to know about a virtual AirWorks:
The Same High Standards
With this new all-digital format, AirWorks will deliver high-quality content including keynotes, breakout sessions, panels, and networking opportunities that attendees from the commercial drone ecosystem have come to expect.
Significantly Cheaper Tickets
The new virtual format will be available at a significantly lowered cost, and will allow attendees from around the globe, who otherwise might not be able to travel to Los Angeles, to participate and connect with the greater commercial drone community. We know it's unreasonable to ask attendees to pay the original $749 ticket price for a digital event.
| | |
| --- | --- |
| | At a ~85% discount from original pricing, Regular Tickets grant full access to all programming at AirWorks |
| | Available for a one-month period between June 9 - July 8. Afterwards, tickets will return to full price. |
| | For one day only, on June 8th, starting at 8:00 AM PDT, we are offering a flash sale (limited to the first 500 people) |
---
AirWorks Virtual FAQ
Q: How do I register and attend?
A: You may register at https://www.djiairworks.us/2020 on the home page under "Registration." At the time of the event, the email address you use to register and purchase a ticket will be used to access the live streams and recordings offered at AirWorks 2020 directly via https://www.djiairworks.us/2020. When you first go to the AirWorks website to tune into a live event, you'll be asked to enter your email address (the one used to register). Upon entering your email, a magic link will be sent to your email to click and confirm it's really you. Once you click that, you'll be logged in and able to view each stream as they begin.
Q: When is AirWorks Virtual?
A: Dates for the event will be August 25-28, 2020.
Q: What time zone will sessions broadcasted?
A: The event will be optimized for time zones in North America, from the West to East coasts.
Q: If I miss a live session, will I have access to recordings of breakouts and other sessions?
A: Yes, your ticket grants you access to view live sessions, and their recordings for up to a year after the event.
Q: How do I interact with other attendees and DJI staff?
A: There will live chat and Q&A for each breakout, a chat room for discussions and networking, and opportunities to win prizes through QR codes.
Q: Will there be live Q&A sessions?
A: Yes! Similar to our live event, all speakers have the ability, at their discretion, to incorporate Q&A into their sessions via the built in Q&A function.
Q: I already bought tickets to the physical event before this announcement. Can I get a refund?
A: Yes! Our team will be reaching out to each ticket holder over the month of June to help you transition to the new format. You will have an option to either receive a full refund or keep your ticket and receive a refund based on the level of ticket purchased. (ie. Early Bird tickets will be refunded based on Early Bird price for virtual). We will not charge a processing fee for refunds.
Q: I have an AirWorks coupon code. Is it still valid?
A: Yes, if you have previously received a coupon code from us, as all of last year's AirWorks attendees did for example, it is still valid against this low pricing.
Q: What are the technical requirements to participate?
A: Any device may be used to view the sessions - web-enabled mobile, tablet, or computer. We do recommend a computer, as it will deliver the best experience overall. No additional application download is needed to view (such as Zoom Client), as the stream is embedded directly on the AirWorks website. A good internet connection of at least 5 mbps upload speed is suggested to ensure no lag time in streaming. It is also suggested that a wired connection be used instead of WiFi to ensure solid connectivity.
Q: Are you still accepting speaker applications?
A: Yes! We understand that the move to virtual may make it easier for some to participate as speakers now, so we are keeping the speaker abstract open for another month. Speakers may be placed in time slots on a rolling basis.
Already Registered?
In August, you'll be able to start playing the AirWorks Game via our partner mobile app, ScanHunt. To play, be sure to download ScantHunt for iOS or Android. Closer to the event, we'll email all attendees the code needed to play. Be sure to come back here when the game begins and scan this QR code for your first round of points! Points are used as entries into a daily giveaway from DJI and our partners.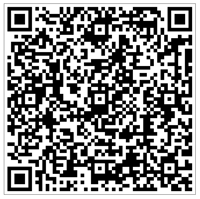 Stay Tuned
We look forward to sharing more information about AirWorks 2020 soon. Subscribe below to receive additional details in the weeks ahead!