Crash scene reconstruction is a vital part of police work. In the aftermath of a traffic accident, there are usually more questions than answers facing first responders. The what, why, and how of the situation need to be determined for justice to be served, liability to be attributed, and lessons to be learned.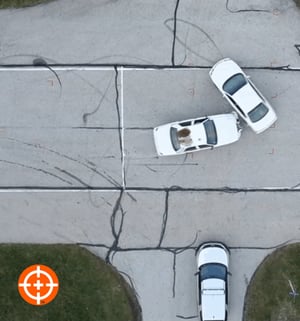 Drone technology is expected to play an increasingly significant role in that process, gathering data that can be used to build detailed maps and 3D models of the crash scene. In turn, these assets can assist in the investigation and analysis of the sequence of events that led to the incident.
With any kind of data gathering task, the ability to launch a drone, maneuver around a scene, and capture images from multiple angles can help those on the ground build a picture of what's happening below.
In his Breakout talk titled, 'Using UAS at Crash Scenes in 30 Minutes', GRADD CEO Reza Karamooz takes us through the process of doing that at a crash scene. His tools? A DJI Phantom 4 Pro, a DSLR camera, and a point-to-point handheld laser measurement device.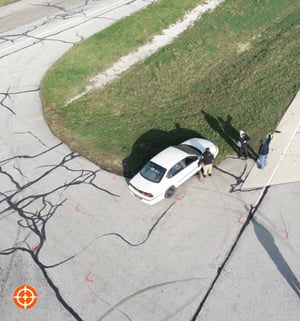 Karamooz's presentation is based on a staged crash involving two vehicles. In thirty minutes, he and a colleague were able to capture several hundred aerial images of the vehicles and the surrounding area.
A laser measurement device - the Leica DISTO S910 - was used to conduct measurements of several control points to verify the scale before the images were uploaded to a photogrammetry package called RealityCapture. With a few clicks, Karamooz shows how quickly aerial and ground datasets can be combined to form high-resolution 3D models.
These innovative solutions promise to simplify the work of investigators and, just as importantly, speed up the process of reconstructing accident scenes in the immediate aftermath. Investing too much time in on-scene investigations reduces the resources first responders can deploy elsewhere. It also exposes law enforcement personnel to the risk of secondary collisions.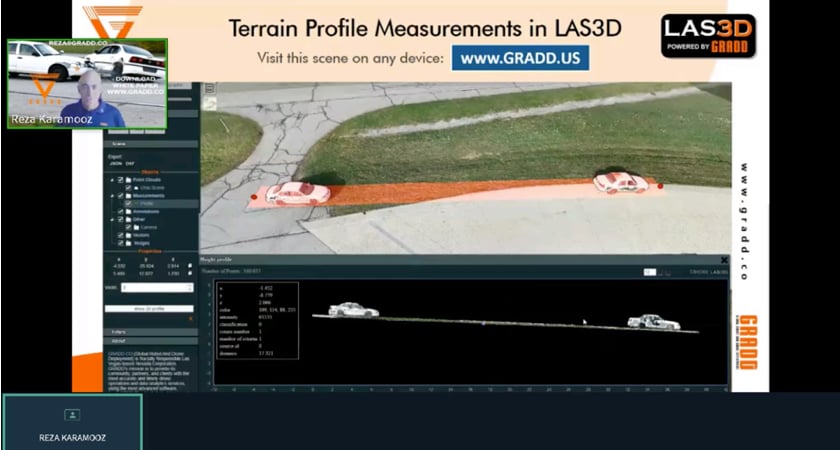 Once the 3D model has been generated, Karamooz takes you on a virtual stroll through the recreated scene in GRADD VR. The level of detail captured is obvious to see. And so is the potential for collaboration between multiple stakeholders as part of the investigation.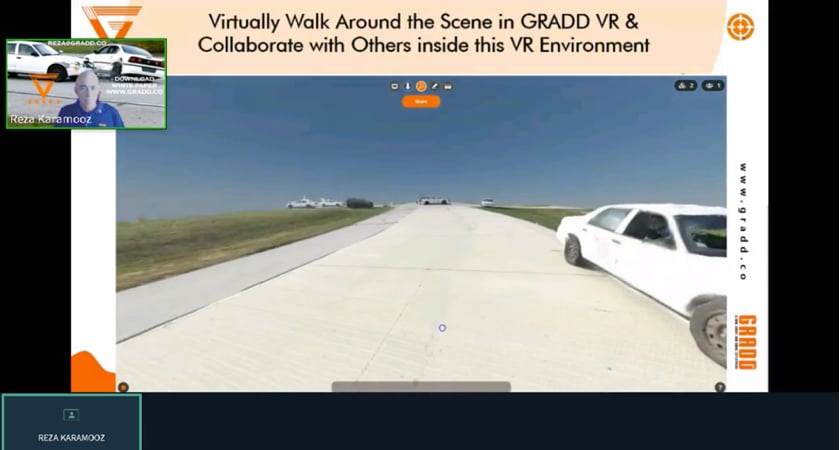 If you want to learn more about how drones fit into the future of crash reconstruction and discover the software solutions making it possible, catch up on Reza Karamooz's Breakout talk here.