Nearly everything you own has at one point sat on a warehouse shelf. For manufacturers, retailers, and logistics companies, keeping track of all that inventory is a constant challenge.
Most warehouses are home to enormous product populations that are dispatched in small batches. There is a huge amount of churn and storage is reconfigured on the fly. Managing space in such a dynamic environment is a round-the-clock process. It's made even harder during peak shopping seasons and with staff levels impacted by the COVID-19 pandemic.
Traditional warehouse management - without drones
To stay on top of stock levels, warehouse staff traditionally carry out inventory checks manually. More often than not, a forklift is needed to assess stock levels at height.
These dated methods have several limitations. For starters, any work at height comes with a degree of risk. Accidents can and do happen.
Forklift-aided inventory checks are also slow, tedious, and leave room for human error.
When the inventory management process relies upon time-consuming processes, there are knock-on effects. First, the frequency of warehouse checks is reduced, leading to less visibility for managers and a higher likelihood that issues will arise in the future.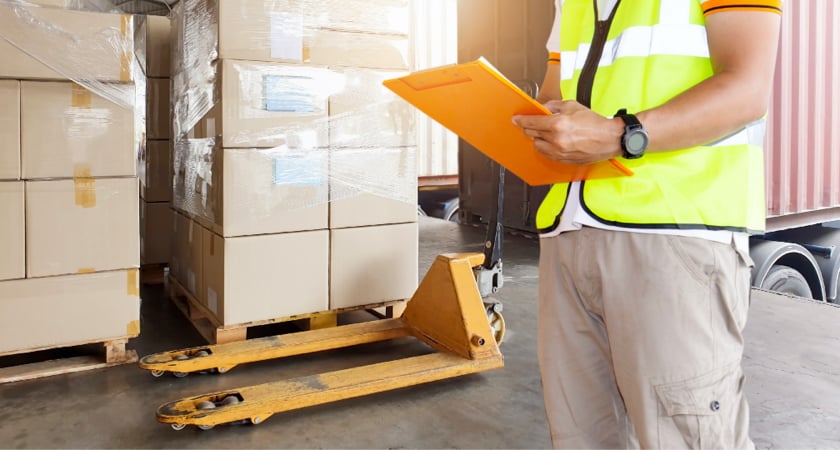 Second, these boring and repetitive tasks inevitably result in carelessness, compounding the danger and increasing the likelihood of human error.
All of this is happening in the context of an industry already under pressure to evolve as eCommerce demand soars.
Clearly, this is a business area primed for digitization. The question is what form that solution will take. Early signs are that a combination of drones and AI can offer a safe, scalable, and cost-effective warehouse management alternative.
Drones and inventory management
Working at the forefront of this approach is Aeriu, a software startup based in Budapest, Hungary.
You may have come across Aeriu at Airworks 2020, where CEO Gergely Ellenrieder gave this presentation describing how drone data can be used by warehouse managers to enhance reports, and develop industry 4.0 solutions.
This summer Aeriu will enter its third year. Early customers have included a Scandinavian furniture giant and a German multinational engineering and technology company.
Working with both has allowed Aeriu to develop and iterate a software solution for smarter inventory management.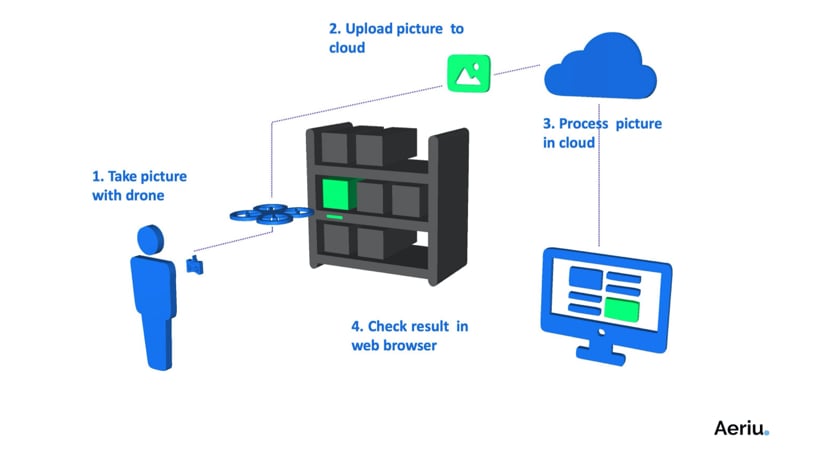 The workflow is simple. The drone - currently an off-the-shelf DJI Mavic 2 Pro - is piloted by warehouse workers to quickly gather label data. This is usually a combination of barcodes and warehouse location indicators.
With a touch of a button, the images are uploaded onto Aeriu's cloud platform for a multifaceted analysis. Several tools are in play because, although warehouse markers tend to be standardized within a single company, the same cannot be said of the warehousing industry at large.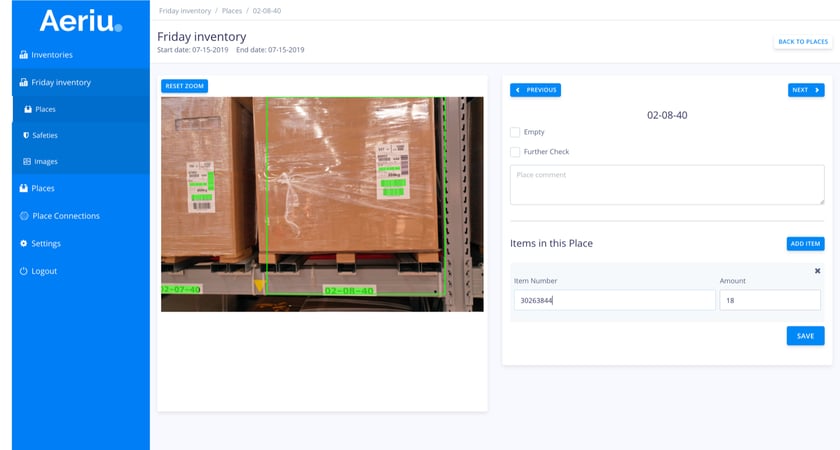 An Optical Character Recognition (OCR) model recognises numbers and symbols in multiple languages. This can be used to identify pallet locations against the warehouse's directory. A barcode reader model detects and identifies stock against the company's product library. Aeriu empowers warehouse operators to build an inventory map that pinpoints what their stock consists of and where it's located.
As well as extrapolating data from drone images, Aeriu's neural network uses deep learning to solve a very specific challenge: identifying empty spaces. The platform has been trained to understand that the absence of stock is also vital information, and relays it accordingly.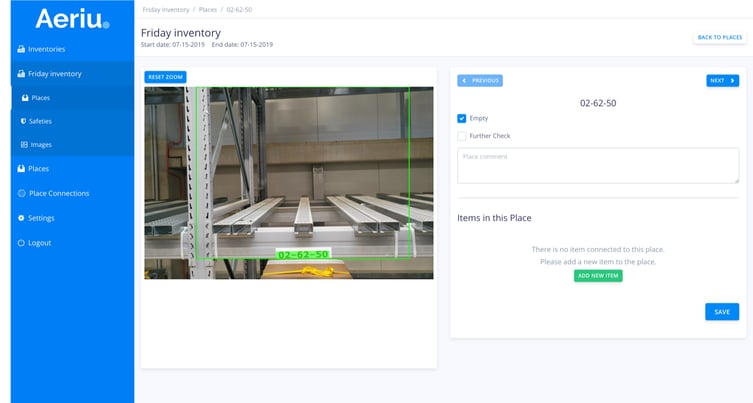 The rapid development of Aeriu's solution has been aided by two things. The first is direct exposure to and feedback from some of the biggest warehouse operators in the world. The second is easy access to DJI hardware that's capable, reliable, and backed by technical support.
"Thanks to this cooperation with DJI, we can provide valuable support from a hardware, maintenance, and training perspective," explains Ellenrieder. "Using DJI's products acts as a guarantee. We can further develop our solution because DJI does the hardware while we focus on the software side."
How smarter warehouse management became a priority in 2020
The pandemic has brought pressures to warehouse managers worldwide. Staff shortages and restrictions around social distancing in the workplace have placed fresh barriers on inventory checks. For many, that challenge has been exacerbated by the huge rise in online ecommerce and supply chain complications.
"All of the benefits we deliver have become even more valuable in the past year," says Ellenrieder, who also revealed a major rise in inbound leads during the pandemic. "Especially in Q3 and Q4 of 2020, when many annual warehouse inventory checks were carried out. We heard from a lot of companies that they couldn't use as many people as they usually would."
There are also growing safety concerns around the way inventory checks are carried out. Regulations vary on the use of forklift cages, which in certain jurisdictions are only supposed to be used for work at height in exceptional circumstances.
Whatever the regulations, there's little doubt that drones have a far greater safety record than heavy warehouse machinery.
There are further advantages beyond the ability to make data-based decisions and safely cope with labor shortages. Boardrooms in every industry are looking for cleaner, greener ways to conduct day to day operations. Forklifts use around 72kw per hour, while a drone uses close to 0.72kw per hour. This vast difference in energy use highlights why the former is far from an efficient data gathering tool.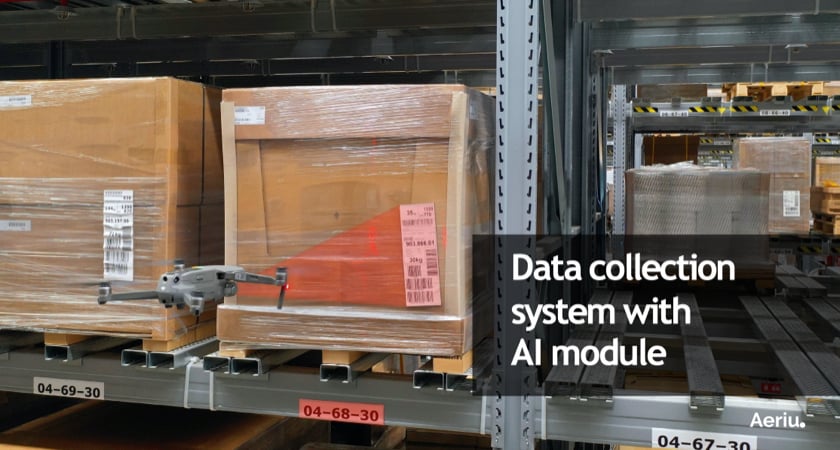 Scalable warehouse inventory scans with the Mavic 2 Pro
With DJI covering the hardware, Aeriu has been free to develop a compelling software solution that's easy to scale. The company currently onboards new customers with the Mavic 2 Pro. The model is readily available, easy to use, and comes with a 1-inch sensor with 2x optical zoom.
"We have tested all the drones available. When processing images with the OCR model and barcode model, we quickly realized that the Mavic 2 Pro's Hasselblad camera operates the best," says Ellenrieder.
Aeriu provides workplace training and warehouse staff are typically onboarded in a matter of days. DJI's Tripod mode, which drastically limits the maximum speed and stopping distance, simplifies the process and ensures indoor operations are carried out safely. Even with that proverbial handbrake enabled, Ellenrieder estimates that the solution speeds up warehouse inventory inspections by 30 percent, with a drone costing less than 10 percent of a forklift system.
Aeriu also works closely with customers to develop safety standards. "Warehouse workers are used to stringent policies and a lot of corporate policies are standardized. We close down the area where the drone is operating and decrease the possibility of accidents because only the pilot is there."
Ellenrieder has seen his company's work validated by decision makers from some of the biggest names in manufacturing. "Three years ago they were laughing. They thought it was a toy. Now business leaders think of our solution as high-tech, and something that is 30 percent faster than traditional inventory checks. Flying drones effectively is being integrated into employees' personal development plans."
The only way is up
There are several factors driving the adoption of drone technology in warehouse inventory checks.
The increasing sophistication of hardware and software is only going one way: towards more autonomous workflows that can save time and help keep costs down.
"This is an industry that hasn't changed in 30 years. But digitalisation is coming. The megatrend of cycle counting is coming with monthly stock reports rather than annual checks. Companies are doubling investments in digitalising warehouses right now," Ellenrieder points out.
There's also the practical fact that warehouse space in inner city areas - at least in Western Europe where Aeriu has focused to date - is increasingly hard to come by. Manufacturers and retailers are being forced to expand storage upwards and innovate rather than acquire new sites.
Effective warehouse operations are the cornerstone of many of the products and services we take for granted. The demand for smarter industry workflows is huge. So much so that there are already competitors in the rapidly developing market for drone inventory checks.
Aireu's software focus and close relationship with DJI allows their customers to scale through existing distribution channels and adopt drone technology with ease - safe in the knowledge their operations are backed by the industry's biggest name.
Aeriu is just one example of innovative startups that are working with DJI's SDKs to build the workplace solutions of tomorrow. Find out more about developing products with DJI hardware here.