About
It is hard to think of any technology that has seen such rapid and widespread integration into law enforcement operations as unmanned aircraft systems (UAS).
Since the International Association of Chiefs of Police (IACP) introduced its guidelines for police use of drones in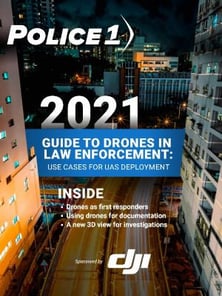 2012 and more affordable drone technology became widely available, the number of agencies using UAS has skyrocketed, as has the number of use cases for police drones.
From search and rescue to traffic collision reconstruction, crime scene analysis to active shooter response, the applications seem endless at a fraction of the cost of traditional police air assets. It is the diversity and affordability of this new technology that makes it so invaluable for police departments.
Download Police1's "2021 Guide to Drones in Law Enforcement," sponsored by DJI, to learn the many ways police departments are currently using drones. This guide covers in detail:
How the Chula Vista Police Department is deploying at-the-ready drones from the top of buildings within the city to calls for service and critical incidents, as well as how they used drones to communicate with the homeless during COVID-19.
How an aerial viewpoint can provide an enhanced perspective of the scope and scale of scenes for investigators, especially useful during non-emergency situations with the objective of preserving information post-event.
How the Washington State Patrol is integrating UAS with laser scanners to reconstruct vehicle crashes.
We hope this publication serves as a guide for how your agency can integrate drone technology into your equipment cache.