The Riedbahn rail link between Frankfurt/Main and Mannheim is one of Deutsche Bahn's (DB) busiest lines, and in need of vast repairs.
To carry those out, DB is undertaking a radical construction strategy: closing the entire 70-kilometer section for five months to conduct the overhaul all at once.
Among the main challenges are:
Completing a thorough, highly detailed audit of existing rail and system infrastructure
Analyzing repairs and upgrading required, and establishing a plan to complete all work within the allotted five-month time frame
Proving to inconvenienced travelers the improvements were worth the disruption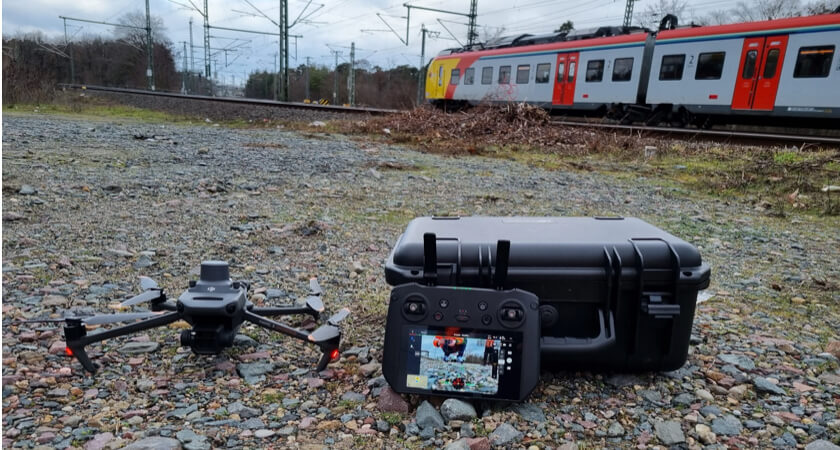 Ground-level solutions from above
Deutsche Bahn's subsidiary, DB Engineering and Consulting (DB E&C), is using DJI Mavic 3 Enterprise drones to conduct digital surveys and create highly accurate, 3D point clouds and orthophotos of infrastructure and terrain.
That is not only cutting surveying time for planning by a factor of 10 over traditional methods, but also producing data tools that help prevent costly errors down the line.
Enhanced ROI on impressive results
Improved performance and greater safety than human surveyors working near speeding trains
Planning costs cut by faster drone operation and strengthened by potent data-gathering results
Enhanced accuracy, down to the centimeter, from superior onboard sensors with Smart Oblique Capture capacities
Quality-enriched 3D point clouds and orthophotos facilitating infrastructure audits, required renovation analysis, and simulated outcomes that detect planning errors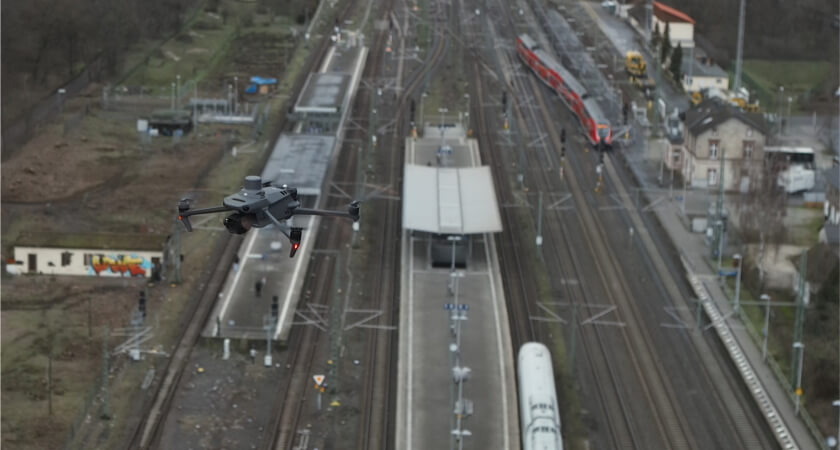 Busy rail lines
The 70-kilometer Riedbahn rail link between Frankfurt/Main and Mannheim is one of Deutsche Bahn's busiest lines, transporting thousands of people daily. But it is also among its most saturated, and the passage of 300 long-distance and local trains each day has taken a heavy toll on ground infrastructure.
To carry out repairs to the section, DB has launched a massive overhaul of the Riedbahn whose initial work began December 2022, and which after a pause will be completed from mid- to late-2024.
Traditional rail strategies call for work to be done sequentially on small sections of track between passages of reduced train traffic. Delays and disruptions created by that drawn-out, piecemeal approach generate much passenger displeasure and complaint.
So, to repair the Riedbahn, Deutsche Bahn is adopting a radical plan to close the entire section for five months and perform all necessary construction at once.
DB E&C contributes to the success of this tremendous project with its planning services, which are supported by drones.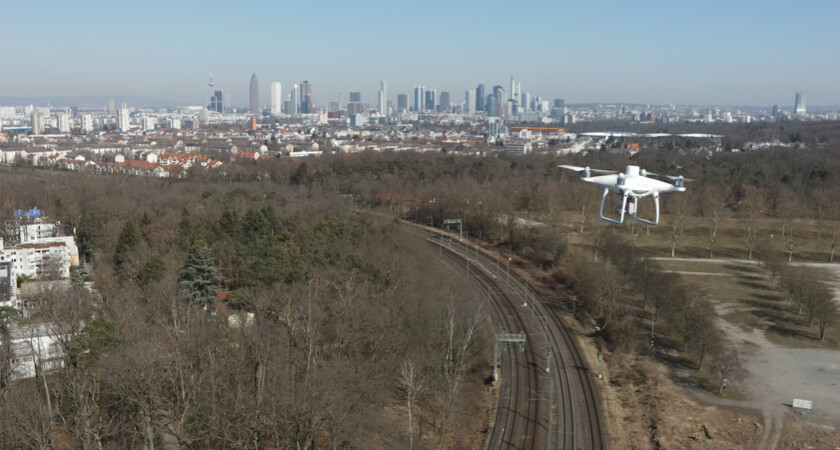 Formidable challenges for a super-sized project
Between July 2024 and the end of that year, DB will perform all necessary revisions of the Riedbahn's entire rail and ballast network. Repair or replacement work will also be done to all control and safety technology on the link.
Also being overhauled are more than 150 switches, four level crossings, and 10 km-plus of noise barriers. Modernization of around 20 stations along the way is also planned.
Deutsche Bahn believes its unorthodox, all-at-once strategy for the Riedbahn will allow it to meet its goals and return the link to users on time, with assurances that future repairs will not be needed for the next decade. As it prepares the project, the company is taking a similarly holistic approach to planning for and overcoming the challenges of:
Enhancing security and reliability of the link
Redefining how work disruptive to voyagers is performed
Front-loading efforts through precise analyses and planning of construction beforehand 
Considerably reducing time and costs of the project compared to previous methods
Deftly navigating Germany's strict regulatory framework for aerial activities
Improving the safety of workers renovating railroad infrastructure
Confirming Deutsche Bahn's strategy as a faster, more effective model for future use
Aerial drone data + ongoing processing = heightened project results
DB Engineering & Consulting´s use of its Mavic 3 Enterprise drones on the Riedbahn project is being organized in three general phases.
In the now largely completed initial stage, the drones overflew all areas and assets in the rail section using their cameras and sensors to capture images and data. That allowed detailed information of individual zones to be compiled, and eventually stitched together to assemble a 3D map of the entire construction expanse.
Among both potential and utilized capabilities of that process were:
Establishing an accurate inventory of all rail network hardware
Use of that information to update out-of-date maps of equipment after project completion
Processing data to create 3D point clouds and orthophotos of current facilities
Determining work those require, then planning optimized construction schedules
Improved drones, better performance
The Mavic 3 Enterprise drones used for that work were a major upgrade from the Phantom 4 model the company previously relied on.
According to Tim Dippel, multicopter consultant for DB Engineering & Consulting's drone division, the new craft flew faster to cover more area per mission.
Its more powerful sensors also collected deeper, better data than older tech – capturing an image each 0.7 seconds compared to 2.5 seconds by the Phantom 4. The drone's Smart Oblique Capture feature, meanwhile, shoots images from several angles at once, with an accuracy of down to the centimeter.
Another major improvement was 50% enhanced battery life, enabling longer, 45-minute flights.
Dippel says the Mavic 3E even matched the performance of DJI's large and powerful M300 drone, which Deutsche Bahn had often used for very demanding surveying, mapping, and modeling work.
Being far smaller, foldable, and easily transportable gave the Mavic 3E an advantage over the bigger, more expensive craft – and also required lugging fewer batteries along to get a full day's work done.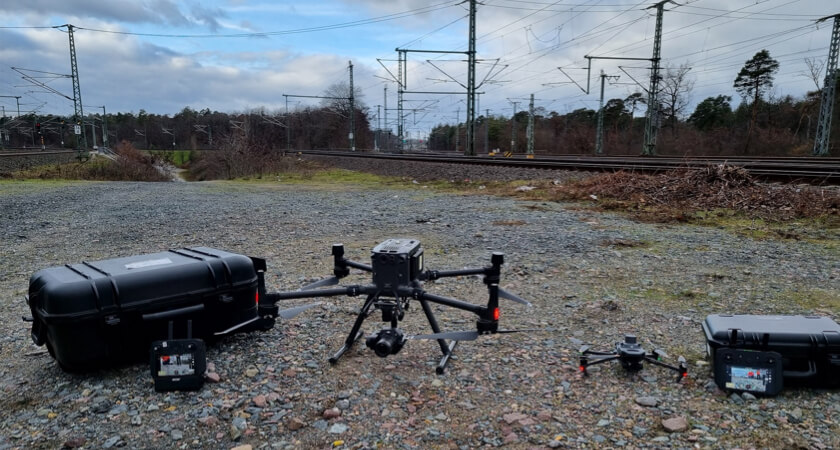 Precision mapping and models: the keys to final success
Once processed by specialized software, the drones' aerial data produced 3D maps and exact models of assets. Those computerized tools allowed Deutsche Bahn engineers to see infrastructure, its condition, and surrounding terrain in great detail, then interact with it on screen.
That, in turn, permitted technicians to determine and plan required work to be performed, and create coordinated construction schedules and stockpiling strategies across the Riedbahn project to maximize efficiency.
Now that initial phase of surveying and planning is mostly complete, a second stage is underway using simulations of intended renovations for comparison to the original models.
After heavy-lifting, fine-tuning
In some instances, that review has already allowed Deutsche Bahn engineers to identify errors or incompatibilities between planned construction and surrounding infrastructure or terrain. As a result, corrections could be made early, averting the heavy costs and loss of time that would have resulted from having to adapt once renovation activity was already under way.
That second phase of planning verification and work site organization will continue as the 2024 launch of the reconstruction nears.
Throughout the Riedbahn overhaul efforts, both original, simulated, and eventual work-evolution models will be available to everyone involved in directing work for practical, on-going use.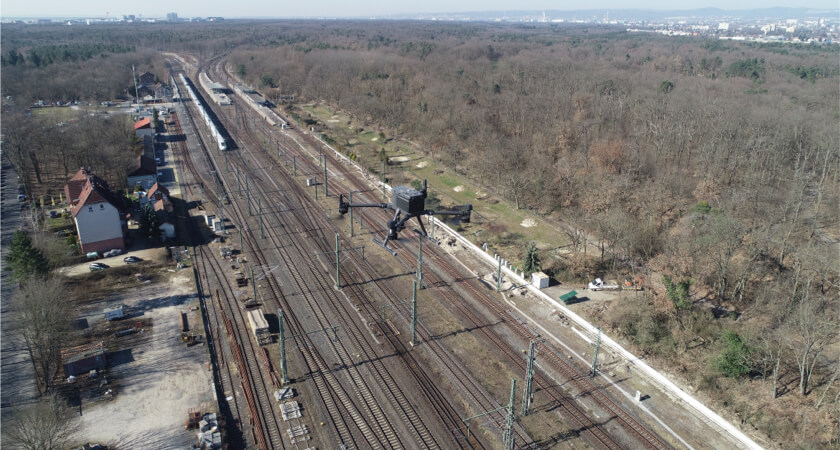 Keeping regulators happy, workers safe
Its frequent use of drones for various kinds of work affords Deutsche Bahn a relatively large degree of freedom in using the craft without needing per-case approval from authorities.
Yet given the size of the Riedbahn project, the company did have to allay some regulator concerns about flights as part of it.
The Mavic 3E's highly sophisticated onboard obstacle avoidance technology – and automated safety features that take over in unexpected or abnormal situations – went a long toward addressing regulators' concerns.
So, too, did reminders that a drone hovering a few hundred feet in the air to collect data above rail infrastructure as trains speed by is a far safer surveying option than having humans on the ground performing the same work.
Results
According to Dippel, the Mavic 3E's improved performance and superior data-gathering tech turned in survey and modeling results three to four times faster than the Phantom 4. It also worked fully ten times faster than traditional human surveyors (who do offer the advantage of providing accuracy down to the millimeter, though the drones' centimeter-level precision was sufficient in the Riedbahn project).
That quicker work translated into lower costs in the surveying and planning process, and has already allowed engineers to catch errors in planning that would have proven very expensive to correct once construction begins.
It also represents big savings in procurement expenditures.
"Being far more portable and easier to use enhances the Mavic 3E's value, while its sensors deliver incredible detail in low-light circumstances, extending the times of day it can be used. Faster, better data, and very versatile – the Mavic 3E is superior all around." - Tim Dippel, multicopter consultant for DB Engineering & Consulting's drone division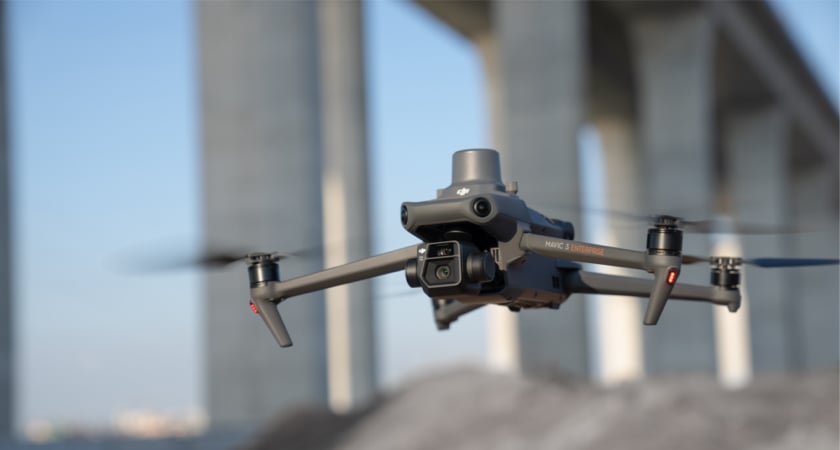 Shaping future DB rail projects with drone capabilities
DB is considering continued use of Mavic 3E drones to fine-tune the Riedbahn construction plans. The collective effort to keep the project on schedule and under budget will be critical in convincing inconvenienced customers the five-month closure was worth the travel disruptions involved.
That, in turn, stands to influence whether Deutsche Bahn will again deploy its radical strategy for undertaking sweeping repairs all at once as one of its standard procedures in future rail network overhaul.
"Our work supports Deutsche Bahn's goal of precluding further overhaul of the Riedbahn for another 10 years," Dippel says of the project's unconventional approach. "Small-scale construction work will thus no longer be necessary on the line until the next decade. Due to the importance of the Riedbahn, the project has positive effects for the company's entire rail network. So if this is successful, it could diversify the ways Deutsche Bahn carries out future renovation of the national network."
A Riedbahn triumph could also lift Deutsche Bahn E&C's drone business
The Riedbahn project is another milestone for the expertise of DB Engineering & Consulting, which had already been offering its drone services since 2017.
Along with the image capturing aircraft, surveying, and data collection work, those activities incorporate the company's Drones2BIM Cloud Platform. The asset allows all individuals and teams involved in various projects access to information and exact models of infrastructure under construction.
Developed and operated by DB E&C subsidiary infraView, the Drones2BIM platform generates automatically processed orthophotos and 3D point clouds in web browsers, with integrated drawings and numerous measurement tools. In doing so, the asset represents the centerpiece of the company's digital work with drone-collected data, and reduces project costs while increasing efficiency and quality on a lasting basis.
Drones2BIM currently provides thousands of data sets that are accessible worldwide – a number that continues rising with time – and is a pillar of the construction, supervision, design, and environmental services DB E&C provides its clients.