Energy is the essential ingredient of human evolution. It powers economies and sustains life as we know it. And yet our relationship with this precious commodity is at a turning point.
The need to move on from fossil fuel dependency is more significant than ever. Aside from the warming climate, the return of war to Europe has brought the subject of energy independence to the fore. A renewable revolution is inevitable.
Among the most promising renewable energy sources is solar. Solar PV systems absorb energy from the sun and convert it into electricity. Each panel is made up of solar modules and cells that need to operate efficiently to generate the maximum amount of energy.
It's here that drones have entered the equation, scanning vast solar farms in a fraction of the time compared to traditional inspection methods. It's also here that developments in AI and data analysis hold incredible promise. Drones can gather huge amounts of data while machine learning models can quickly spot anomalies and defects. Both technologies are central to the next generation of renewable infrastructure inspections, in which automated data-gathering enables fast and proactive maintenance.
Since 2014, Portuguese software company Aeroprotechnik has been at the forefront of this revolution, providing an end-to-end platform that empowers asset managers to conduct inspections at scale.
Using Drones to Power Smarter Solar Inspections
Without sophisticated payloads, inspecting a solar farm with a drone would be incredibly difficult. The DJI Mavic 2 Enterprise Advanced and the Matrice 300 RTK have made aerial thermography affordable, portable, and accessible for inspection teams. By combining thermographic and regular RGB data, issues impacting panel performance such as debris and module faults can be pinpointed and rectified.
Aerial Inspections rely on both thermal and RGB photos. Thermal data can clearly show faults and areas of concern, while visual data can complement the analysis and help asset managers identify the type of defect they are looking at.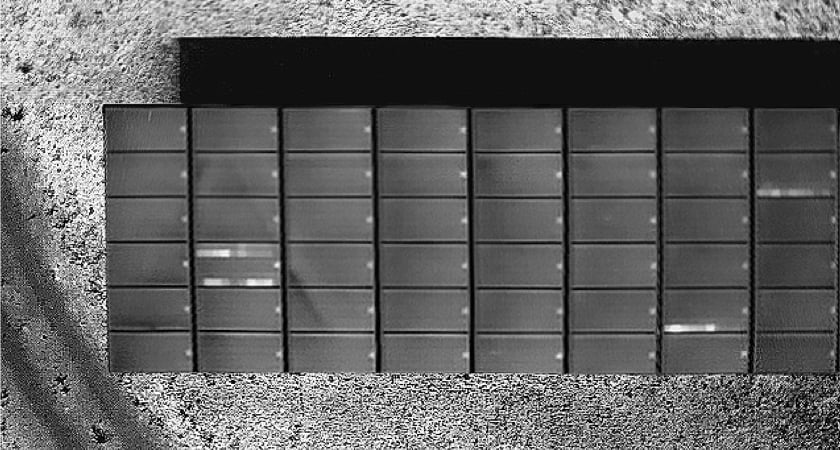 Aeroprotechnik's AI pinpoints panel damage and issues in real-time
Ricardo Regueira, Director of Business Development at Aeroprotechnik, explains that drones are now an established and indispensable tool for solar asset managers. "Drones are a critical part of PV inspections because they are the mid-point between an inspection done on the ground - which is non-scalable - and a low quality / low detail inspection done by airplane. Drones can deliver quality at scale," he says. "Nowadays all of our customers are open to performing inspections using drones."
The Solar Farm Inspection Workflow
Here's how smooth solar farm inspections can be when carried out using drones and AI analysis. Analysis and reports are generated while the drone is still in the air…
1 - Mission Planning
Before taking off, you need to ensure your flight parameters have been tailored to the site in question. Things to think about include the site's irradiance, choosing an optimal ground sampling distance (GSD) and flight altitude, and the overlap settings for your data gathering. Working in decent light at a lower altitude will result in higher fidelity data and yield better results, but it will take longer to carry out the mission.
For regular inspections, these flight parameters can be saved and repeated to provide comparable data over time.
2 - Mission Launch
The drone takes off and begins a predetermined mapping flight, gradually gathering and uploading data as it flies. Data collection is autonomous and cloud-based from start to finish. Thermal and RGB images are collected.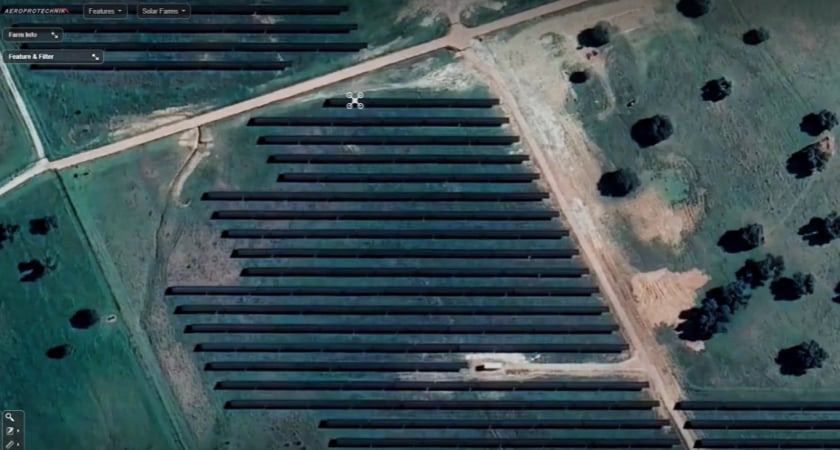 3 - Real-time Synchronization and Anomaly Detection
The solar farm's asset inventory is synchronized and analyzed in a matter of seconds. Any anomalies and defects that require further attention are highlighted. Cracks, delamination, yellowing, and snail trails all the way down to PV cell level are recognized and flagged by the AI. A PV farm digital twin is created that integrates 2D and 3D data alongside electrical data, logical layouts, and serial numbers.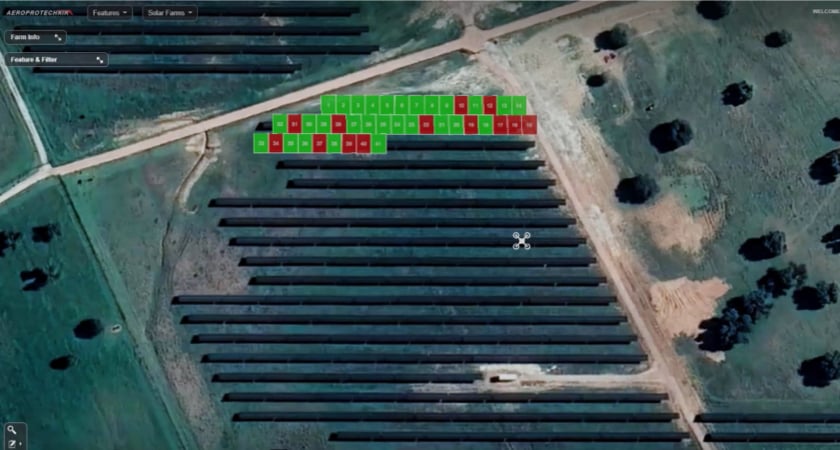 4 - Exploring the Data
The drone data can be navigated as it comes in. Individual panels can be selected for a closer look, with different color map options available to enable easy defect detection.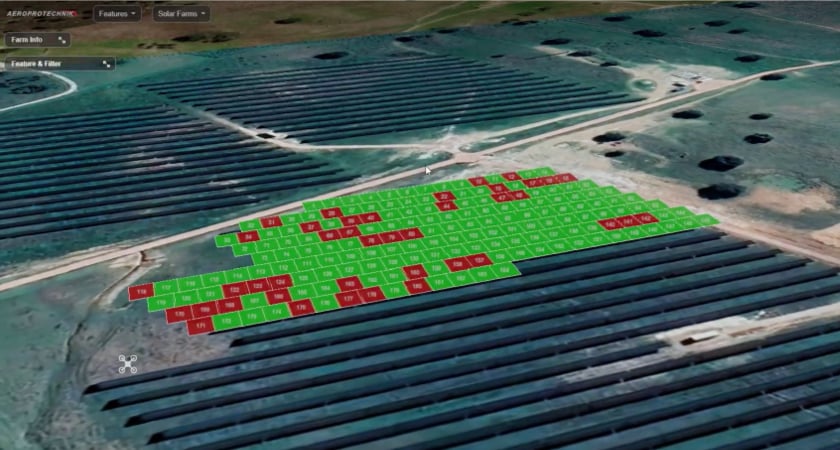 5 - Post-flight Automated Reports
Automated reports are generated with a single click, providing clear insights and actionable data for maintenance crews.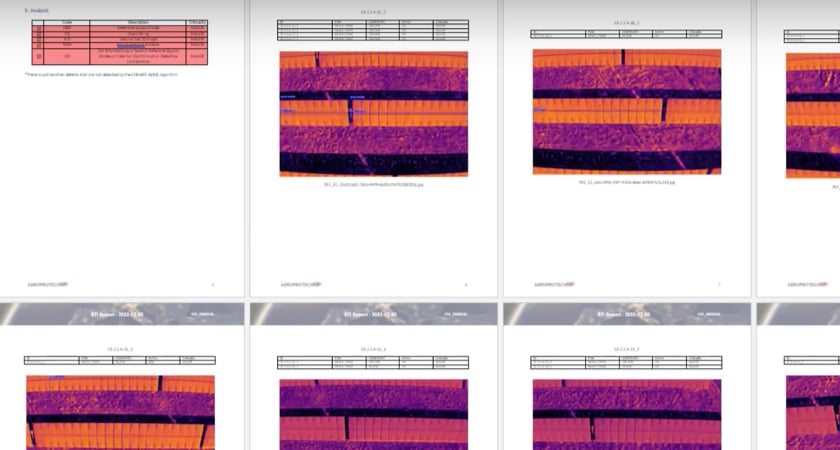 The Benefits of an End-to-End Inspection Workflow
Combining AI inspection and analytics has taken the efficiency of using drones to the next level. The upside of UAV inspections are numerous: the huge amount of time saved, reduced costs, and the promise of anomaly detection at scale. Discovering faults early and with more accuracy unlocks even greater savings for asset managers.
Thermographic inspections of solar assets are typically carried out once per year, as per the International Electrotechnical Commission's guidance on PV testing and maintenance. But with weather, degradation, and other kinds of interference impacting equipment throughout the year, these annual inspections leave time for inefficiencies to creep in. Aeroprotechnik's solution enables automated inspections that highlight issues in time to protect the bottom line of solar operators and minimize production losses.
"We have an autonomous, end-to-end solution called Real-Time Inspection which is a follow-up inspection that turns a drone into a work tool and allows inspections to be done every week or every month, to monitor the plant continuously." - Ricardo Regueira, Director of Business Development at Aeroprotechnik
Typical aerial inspections generate an enormous amount of data, which is then processed through a disjointed workflow. With Aeroprotechnik, inspections can be scaled up without compromising on data quality or incurring massive costs. The solution brings to the sector an unprecedented level of automation for continuous performance optimization.
The process begins with automated data collection. Images are then automatically processed by AI before customized reports are generated - all in a fraction of the time it would take a team to work through the thermal and visual data. The end result? A closed loop that doesn't rely on human intervention to eliminate unnoticed defects between annual inspections.
Building with the DJI SDK
For Aeroprotechnik customers, the combination of industry-leading hardware and an end-to-end inspection solution leads to a 40% reduction in the amount of time it takes to collect solar asset data. Beyond the data gathering, customers have reported significant ROI when switching to the company's automated workflow.
This revolution in solar asset inspections has in part been made possible by DJI's accessible SDK, which allows developers to build applications that tap into the software and hardware of DJI aircraft. Fight planning, video feeds, mission tracking, payload monitoring - everything is open for enterprise users to build on top of.
"Our experience with DJI's SDK has been very positive," explains Regueira. "It's allowed us to automate elements of the workflow and integrate our vision with accurate and reliable hardware."
If you'd like to find out more about tapping into DJI's SDK, explore our developer tools here.
To find out more about Aeroprotechnik's solar inspection solution, visit the company's website here.