One of the largest general contractors in the US, Hensel Phelps, has witnessed unprecedented efficiencies with its in-house drone program
A construction site is like a world unto itself. On any given day, you may find a project manager hiring or managing subcontractors, preparing a budgetary report, inspecting an improper installation, monitoring worker safety, or doing all of the above. At the same time, the construction manager needs to keep multiple teams, especially offsite stakeholders, informed about every level of site progress. So, it's not surprising to see construction pioneers across the globe leveraging innovations such as drones to navigate large and complex projects.
Unmanned aerial vehicles (UAVs) or drones are helping transform entire project lifecycles in the architecture, engineering, and construction (AEC) industry. The 'top-down' perspective provided by drones has proved critical to streamlining the virtual design and construction workflows. At the same time, access to accurate, up-to-date, and detailed visual data is allowing companies to gain project visibility at an unprecedented level.
From conducting land surveys and earthwork measurement to tracking equipment and productivity, drones are not only proving to be invaluable to the field, but they are also giving contractors the power to make key decisions more confidently. With high-resolution aerial photographs, videos, and maps available on-demand, construction giants can plan and manage large-scale projects with more efficiency. And they can do so for much less time and money, as Hensel Phelps realized early on.
The need for a better solution
Hensel Phelps is one of the largest general contractors and construction managers in the United States. Established in 1937, the company is always looking to create new efficiencies by taking advantage of emerging technologies.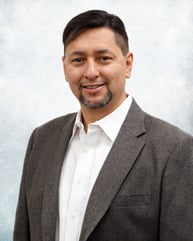 Hensel Phelps first started contemplating the use of drones in 2010, primarily in a quest to bring faster and better situational awareness to their job sites. "Catering to several different market sectors through our nine district offices means that we have more than 30 job sites active at any given point of time," explains Richard Lopez, the Virtual Design and Construction Manager at Hensel Phelps.
"Typically, we would hire an aerial photographer for the job. But apart from the fact that it is an extremely expensive solution, we are forced to rely on their setup, which could be as basic as a person hanging from the window of a low-flying aircraft and taking pictures from a common DSLR camera."
Hensel Phelps realized it needed more data at a better resolution. "So, when drones were introduced, we knew right away they would be the perfect tools for our job sites," says Lopez, who was part of the team that pioneered Hensel Phelps' drone program. "We could use drones to create orthomosaics and videos for better site planning, management, and monitoring. In large sites, we could easily identify strategic zones such as laydown areas or delivery rows. We could even capture site progress photos for project owners, speeding up the process of getting the spends approved from investors and financial institutions."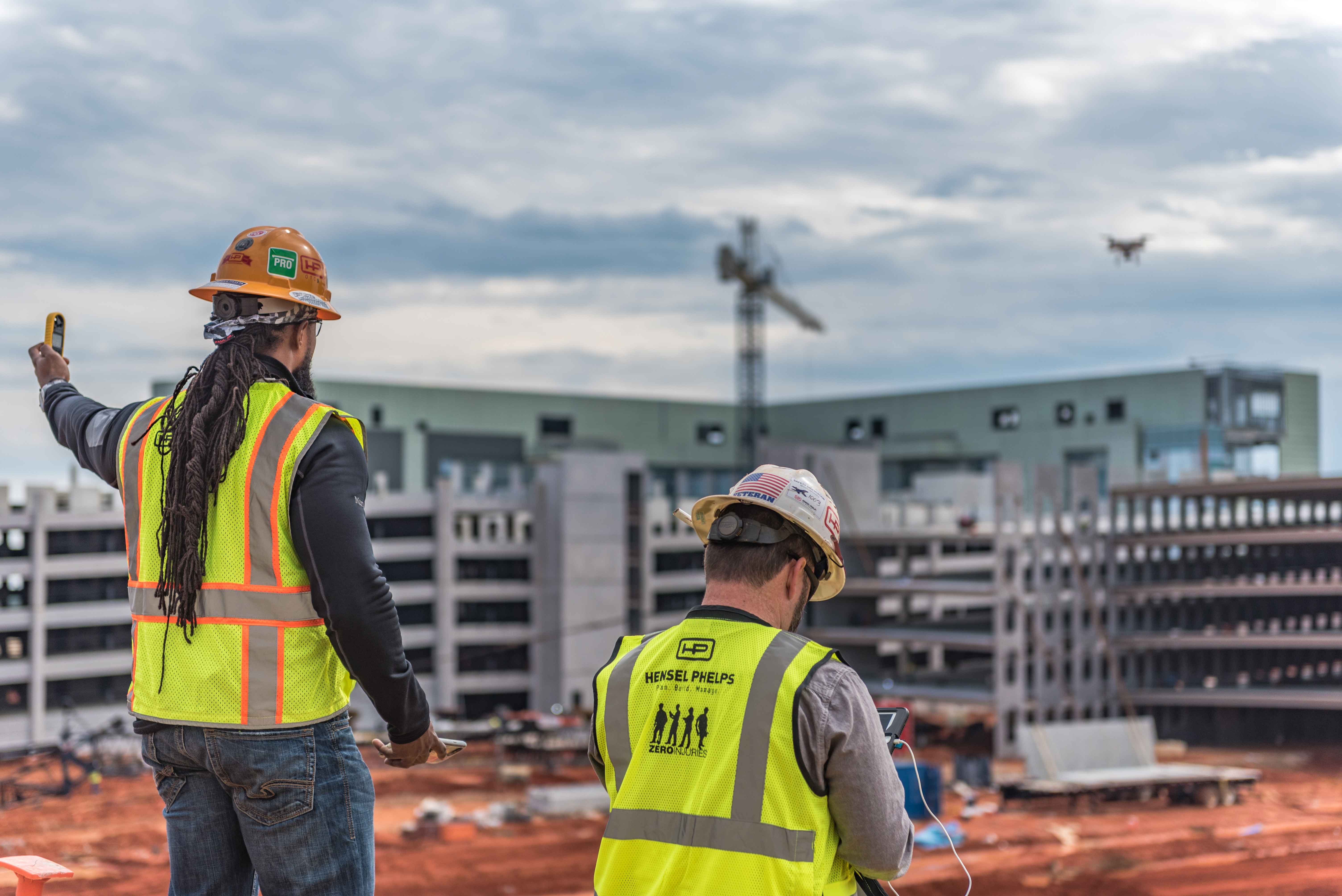 In-house drone program with safety as a priority
With a 'Zero Accident Safety Culture' ingrained throughout the organization, any new technology introduced at Hensel Phelps needs to be modeled after its safety program. And drones were no exception. "We needed reliable drones equipped with obstacle detection and collision avoidance sensors, and we needed them at a reasonable price point," Lopez recalls. "With their safety focus strongly mirroring ours, DJI soon became the obvious choice for our drone program."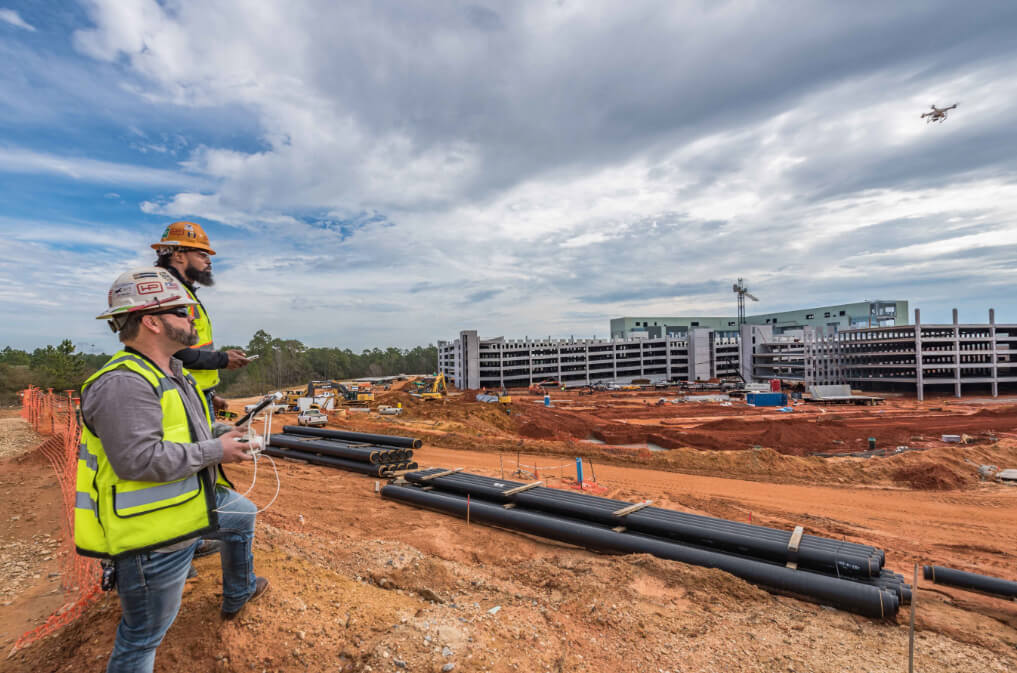 However, in order to actually deploy the units on the field, and to scale the program company-wide, Hensel Phelps needed strong protocols in place. "We created checklists, procedures, and maintenance programs for each piece of the equipment. We developed drone zone maps and identified emergency landing sites. We roped in auditors and attorneys to ascertain we were following all the rules and regulations laid out by the Federal Aviation Administration (FAA) and doing everything in a safe manner," tells Lopez.
Whether drone technology needs to be leveraged at a site or not is a decision the team takes in the preliminary meetings after being awarded a project. Once specific requirements are identified and established, the optimal hardware is figured out.
"The point I try to get across to all team members is that when we construct a building, we have several different tools at our disposal. Similarly, there are different drones available for different applications. So, if it is a large site where we are going to excavate for a prolonged period, a Phantom 4 RTK becomes our weapon of choice because of its elevated accuracy. If the same project requires thermography toward completion, we make room in the budget for another specialized drone," Lopez explains.
The DJI Phantom 4 RTK provides enhanced site surveying efficiency and accuracy
After that, it is just a matter of identifying and training pilots and letting them know how frequently deliverables are required. But when safety is a top priority, each day can bring in a new lesson. "One time, there was a rogue hobbyist drone flying recklessly around our job site, and soon we received a bunch of phone calls from neighboring building owners asking why we were being so irresponsible. Even though it was not our drone, we realized we needed a protocol to check in with the surrounding building occupants and let them know of our procedures."
Hensel Phelps' in-house drone program was quickly proving to be a success, but the demand coming in from various job sites was even quicker. The company decided to utilize a handful of third-party drone service providers, while at the same time, it scaled out its own drone program to ensure all safety protocols were being strictly adhered to.
Today, Hensel Phelps has its own inventory of 22 drones and almost 30 in-house UAV operators. "We have identified chief pilots in each district, who then have their own team of pilots to supervise. Even if we use a third-party consultant at a site, these chief pilots act as our gatekeepers and ensure every protocol is being met."
Pushing the boundaries of drone use in construction
Hensel Phelps' safety culture and carefully-managed in-house drone program have already proved instrumental in securing the company a monumental FAA waiver to fly over humans. "That approval was valuable because it meant we no longer needed to restrict ourselves to flying early mornings or late afternoons or on weekends when the sites are not active," Lopez smiles.
But he is also quick to point out that the company is quite specific about when and why that waiver is utilized. "Since our goal is to avoid flying over people as much as possible, we make sure to brief all employees and subcontractors beforehand. We don't want to disrupt any of their workflows."
As an early adopter of drones in construction, Hensel Phelps openly acknowledges that utilizing this technology has taken the organization to a new level. Lopez recounts an early use case where the value of drones became all too apparent for the company.
"For an exterior inspection of a 15-story building, we would traditionally have spent a lot of money in hiring workers to set up scaffolding and then the inspection crew would do their job; it would have taken weeks. But, once we were armed with drones, it took us only 4 hours to complete the flying, 8 hours to process the data, and another 4 hours to analyze it. It was uncanny how fast we could finish that inspection!"
Now, after using drone data for a variety of purposes, including site planning, site inspection, building inspection, and safety surveillance, Hensel Phelps is preparing to take the technology to the next level with machine learning and predictive analysis. "Given all the aerial data that we are continually gathering, we can analyze it to gain insights that would allow us to build a better building and make sure our crews are performing at the highest levels of safety," Lopez asserts.
Ask if he has any advice for other companies in the AEC industry who are looking to start or grow an in-house drone program, and Lopez sums up thusly:
Identify your needs and ascertain what value you want to see drones bring to your company. And then, stick to your goals
Purchase the hardware based on your requirements. The biggest drone may not be the best drone
Make safety your No. 1 priority and follow all regulations. Don't be the person who breaks the rules and hurts the entire industry
Give your pilots the training and resources they need to obtain a commercial drone license
Have a system in place to track and document pilot log hours as well as all maintenance activities