When officials were obliged to undertake repair of a 15th-century gatehouse in northeast England, they confronted a conundrum well before the first artisan took a tool to the weakened historical gem. How, they asked, could they perform detailed inspection and analysis work without having to install scaffolding for manual examination that would cost considerable money and time – and halt road traffic that drives through the arch in the structure for the entire length of the survey?
The answer to their dilemma was deployment of a DJI Matrice 300 RTK inspection drone outfitted with a Zenmuse P1 sensor. The craft completed work required to create a complete digital 3D model of the history-laden edifice in record time, at a fraction of the cost of manual methods, and with minimal interruption of the habitual flow of cars.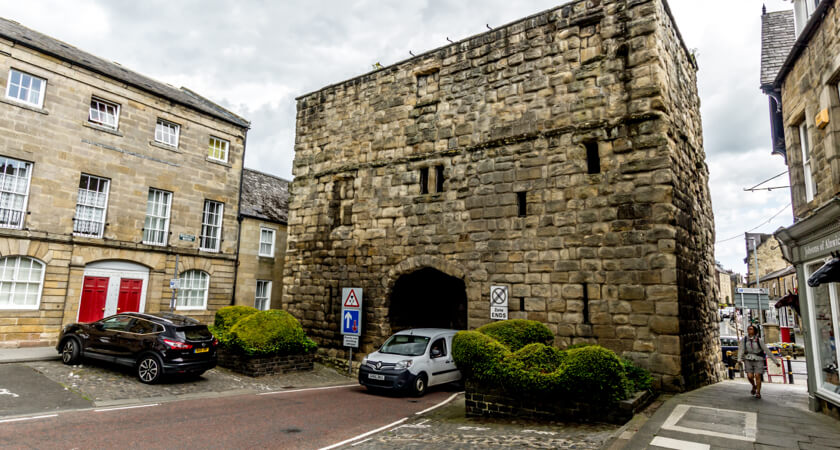 That preparatory work to enable solidification and restoration of the gatehouse in Alnwick, Northumberland offers a wonderful example of how care for historically vital structures can be dramatically improved using modern, cutting-edge technology – in this case flight of the M300 RTK for aerial inspection to generate a drone 3D model with images collected.
History worth preserving
Completed in 1450, the Bondgate Tower was built under the reign of Henry V as part of a project to raise a protective wall around Alnwick, and served as the eastern entry once those fortifications were completed. Construction was endowed to the second Earl of Northumberland Henry Percy, whose sobriquet Harry Hotspur inspired the alternative names of Hotspur Tower and Hotspur Gateway that the three-story structure has also gone by over the centuries.
Consisting of three segments, Bondgate Tower has two eastern facing polygonal towers – each built with three narrow openings – that frame the central portion containing an arched, ground level passage. The rear western façade has several square and narrow gaps serving as windows.
Time and the elements have taken their toll on the august vestige. In 2019 the Historic England society that oversees the nation's protected architecture entered Bondgate Tower on its Heritage at Risk Register. But major damage suffered last year when a tall vehicle tried – and failed – to squeeze through its arch forced officials to order significant repair and reinforcement work, and eliminate the considerable risk of collapse in the event of another collision.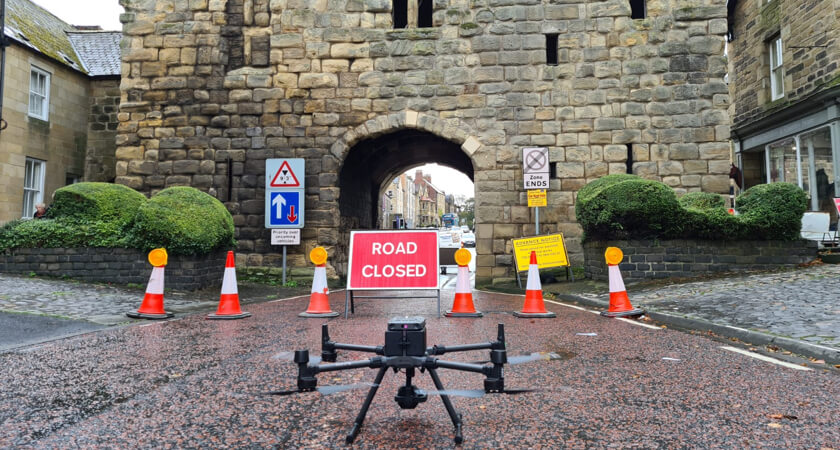 DJI M300 RTK inspection drone provides "historic" effectiveness in Bondgate Tower survey
After mulling over traditional manual surveying options to determine restoration plans, local officials were told about aerial inspection methods using a drone to create an exact 3D model of the structure. The tip led to what had seemed like a formidable task becoming far easier, faster, and less expensive than previously imagined.
Local authorities first contacted BIM and inspection specialists Three Sixty Group who agreed to perform the work with equipment and workflow support provided by English drone retail and services provider, Heliguy. It was quickly decided to use a DJI Matrice 300 RTK drone equipped with a P1 sensor for the project – a combination that had proved its value in Three Sixty's previous surveys of historic sites.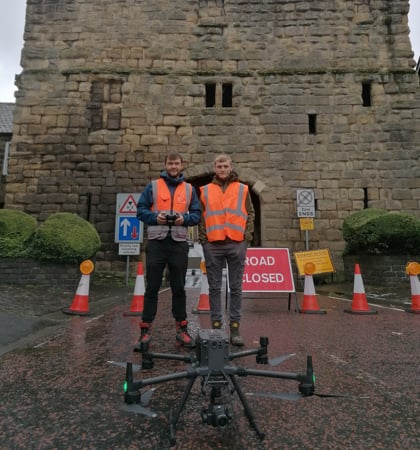 Safeguarding a protected ancient site with cutting-edge inspection drone tech
Integrating modern aviation features, advanced artificial intelligence capabilities, a Six Directional Sensing and Positioning System, UAV health management system, and 55-minute flight time, the M300 RTK is considered the world's best inspection drone by countless enterprise and public users. Its real-time auto-switching between 2.4 GHz and 5.8 GHz enables more reliable flight near high-interference environments, and its AES-256 encryption ensures secure data transmission.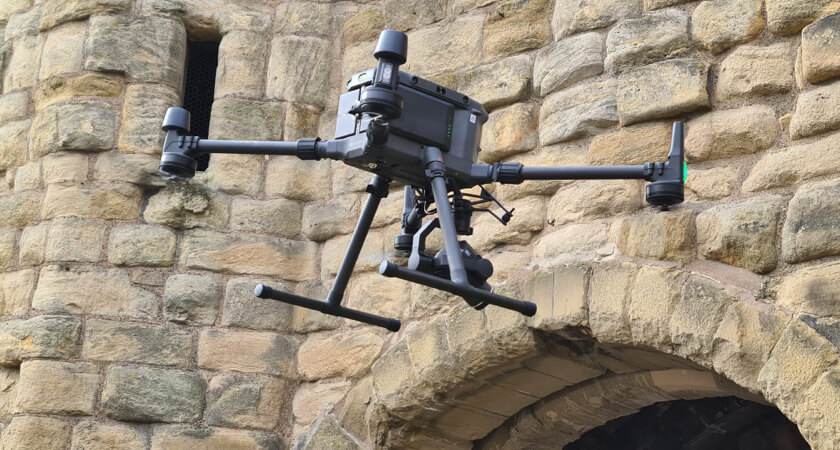 For its part, the Zenmuse P1's 45-megapixel full-frame low-noise high-sensitivity sensor, optimizing 24/35/50mm fixed-focus lenses, and Global Mechanical Shutter provide ultra-high-resolution imagery necessary for producing an intimately detailed, accurate, and reliable 3D drone model of inspected structures. It also features a three-axis stabilized gimbal to capture smooth, clear photos, and virtually eliminating the potential for data gaps within the images.
The combined tech solution was the go-to option from the first second Three Sixty got a look at the Bondgate Tower aerial inspection plan.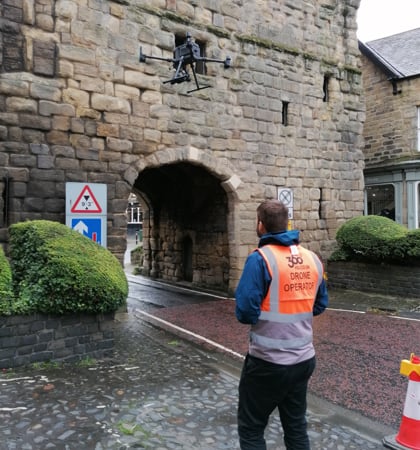 "We've tried other drones in past projects similar to this one, but the M300 with a P1 sensor is in a class all its own in terms of efficiency, safety, and the quality of images delivered. DJI was the only consideration from the outset, and as usual, the M300 really delivered for us." - Paul Henzell, managing director of Three Sixty Group.
Officials "blown away" by DJI aerial inspection and 3D drone model
When officials who commissioned the aerial inspection saw the drone's 3D model of the gatehouse, they were astonished at the precision and level of detail the digitally replicated structure contained. It's a response Henzell has come to expect once the M300 and P1 have been at work.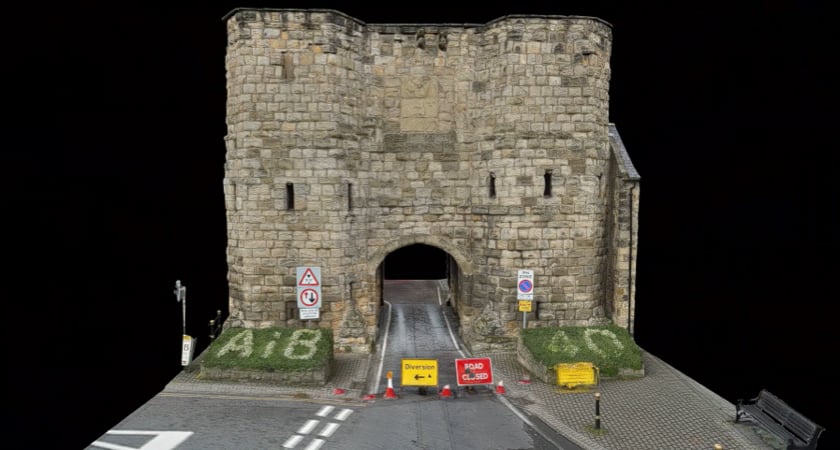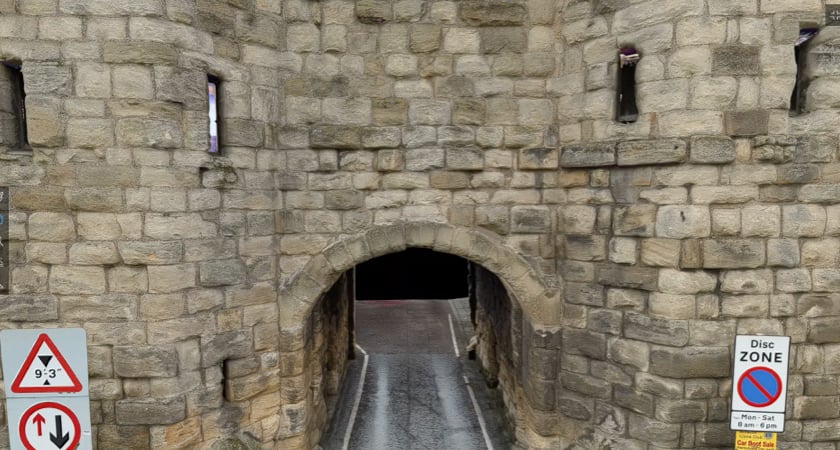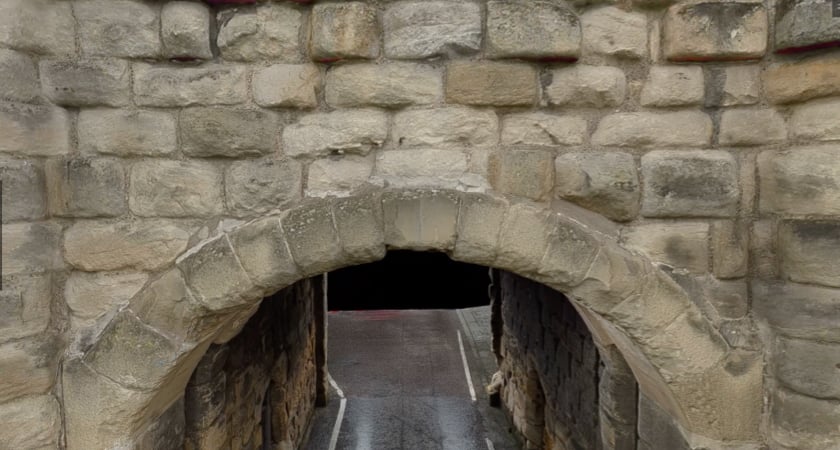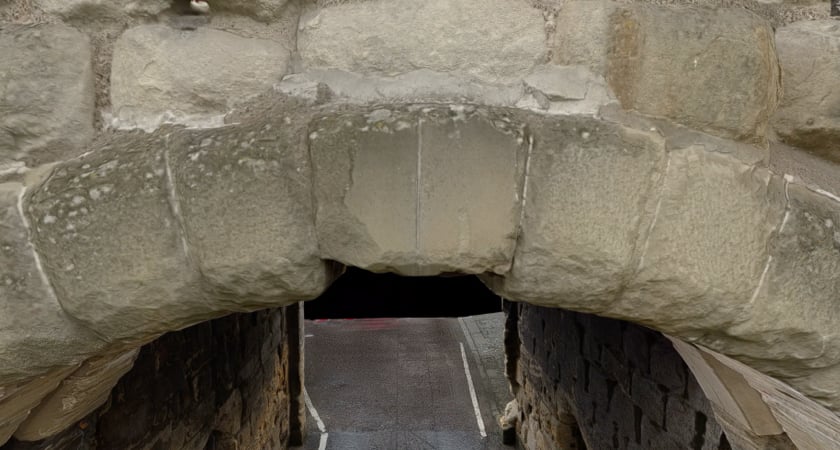 "It's always amazing to see the drone's final 3D model load on the screen and watch as the client's reaction shifts from surprise to amazement to finally being blown away as they get a complete understanding of just how meticulous it is," Henzell explains. "You can actually feel the energy being generated as they take in the fullness of the data produced – and how vital it will be in planning and completing a successful repair project."
If Bondgate Tower is a testament to the durability of human-crafted architecture, the DJI M300 inspection drone and P1 sensor's survey of the structure demonstrated how modern technology can trump even that achievement of manual labor.
Drone inspection: Far faster, cheaper, and thorough
Had drone deployment for aerial inspection not been an option, officials would have had to rely on the traditional method of manual surveys that would have cost more, taken far longer, and produced less jaw-dropping results.
In undertaking that Old School solution, scaffolding would have been constructed all around the gatehouse, with all the labor and transport that would require. Meanwhile, both car traffic through the arch, and pedestrian access near the structure, would have been diverted during the entire length of manual inspection – a period of weeks, and possibly months. The costs and disorder of that were reduced to nearly nothing by opting for aerial inspection instead.
Using the M300 and P1 for a drone inspection, Three Sixty pilots were able to collect what they needed for the full 3D model in a single day – about six hours of actual photography. In doing so, they were able to make good on the tight time restrictions they'd agreed to as part of the project.
"We had to get it done between 8:30 AM and 3 PM to keep disruption from road closure to a minimum," Henzell recalls. "It's a pretty busy artery, so you don't want to tie it up any longer than you have to, and with the M300, we could get in and out in the single day."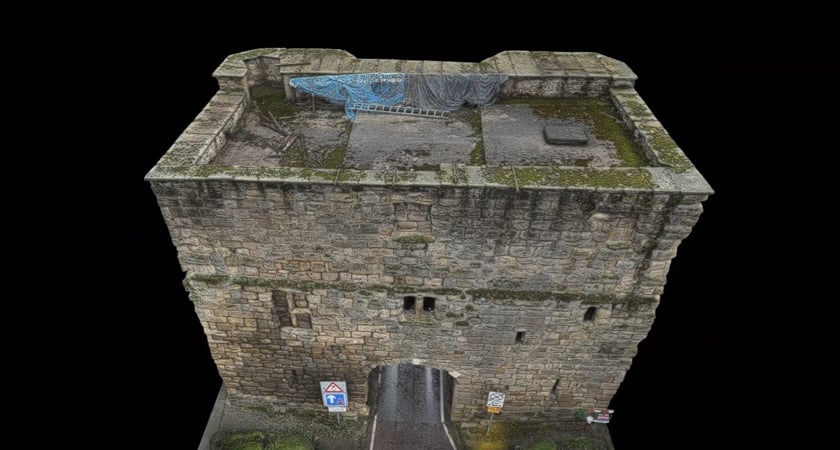 M300's drone inspection of ancient gatehouse provides capture options
In 3D modeling of more modern buildings, Three Sixty typically uses the P1's Smart Oblique Capture function, which effectively turns the P1's single lense into an oblique camera through software and automation. For the Bondgate Tower drone inspection, by contrast, Henzell says images were captured manually due to the irregular surfaces of the ancient structure.
In doing that, pilots would hover the M300 and use the P1 to capture the area directly in front of the inspection drone, then reposition one meter over or up until a complete grid had been flown to produce the final 3D model.
"Smart Oblique is the way to go when facades are nice and smooth, but when you're dealing with lots of irregularities – some of which are precisely the kind of detail you need to be able to see in the 3D drone model – getting all the angles manually is preferable," he explains. "Especially inside the arched section."
The aerial inspection and 3D drone model DJI's M300 RTK and P1 sensor delivered permitted authorities to determine the exact repairs required to reinforce the 572-year old gatehouse, and increase the odds of it still standing when the next century rolls around. Just as impressive, by embracing modern tech in safeguarding the historic relic, officials saved a great deal of time and money over traditional methods.