The 2019–20 bushfire season in New South Wales, Australia, was the most severe on record. A long-term drought and higher than average temperatures led to intense statewide fires.
26 people lost their lives, more than 2,000 homes were destroyed, and an estimated 5.5 million hectares of land was left smoldering. The impact on communities, commerce, and the local wildlife is still being felt as Fire and Rescue NSW (FRNSW), one of the world's largest urban fire and rescue services, prepares to face the next bushfire season.
All trends point to an increase in the severity of these seasonal fires. Fortunately, first responders can innovate to minimize the devastation, save lives, and protect their communities.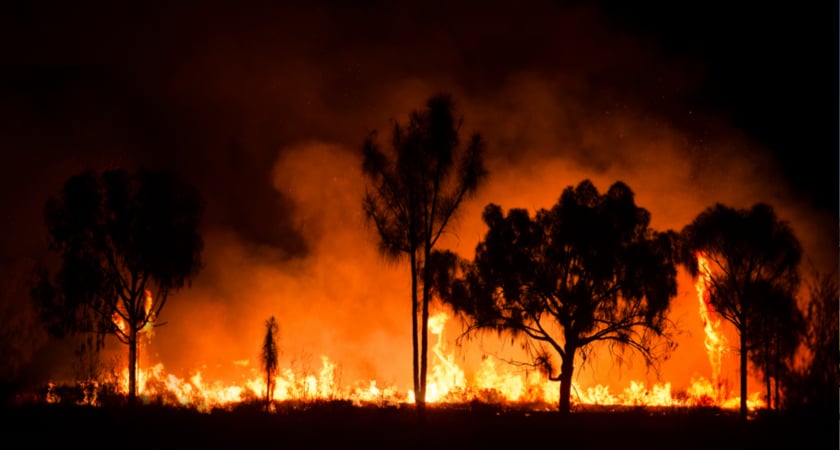 Fire and Rescue New South Wales: a culture of innovation
Since 2016, FRNSW has been using drones to augment the use of crewed aircraft and improve organizational effectiveness during life-threatening situations. With proven operating procedures, a growing fleet, and more than 160 pilots, drones have gone from supportive aircraft to integral tools.
The adoption of Remotely Piloted Aircraft Systems (RPAS) reflects FRNSW's forward-looking approach. FRNSW are now using drones to support their response to all manner of scenarios, including forest and structure fires, floods, car crashes, and train derailments.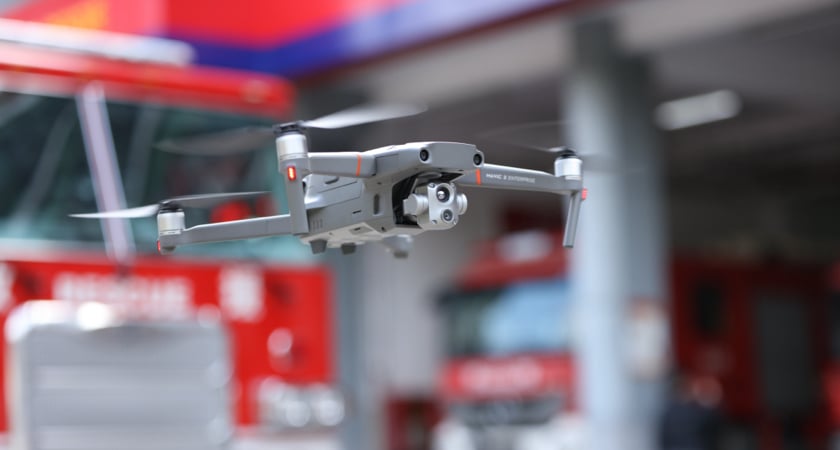 It's fair to say the adoption curve would have been less steep without the combination of thermal imaging and drones. Having an eye in the sky that's also a radiometric thermal sensor has been a game-changer. These payloads allow crews to detect heat signatures during searches and provide visibility through smoke and darkness to support situational awareness despite challenging conditions.
There are safety benefits, too. Drones with thermal sensors can pinpoint hotspots from above. This intelligence can be used to determine safe and unsafe entry points during structure fires and potential sources of reignition after a bushfire has been extinguished.
The bottom line is that drones have proven to be a powerful and convenient solution to many of the challenges FRNSW teams face. They are also a compelling alternative to crewed aircraft and satellite imagery, offering more accurate data in less time, at a fraction of the cost.

Testing Mavic 2 Enterprise Advanced for firefighting
Drones offer plenty of benefits during emergencies, but FRNSW's main requirements when fighting fires are thermal imaging, zoom capabilities, and rapid deployment.
Typically there's a trade-off between portability and capability. Larger platforms carry more sophisticated payloads but are generally slower to set up and clear for take-off. But DJI's latest iteration in the Mavic 2 Enterprise range brings the best of both worlds. The drone's capabilities were put to the test by FRNSW in simulated scenarios, which included a petrol station fire, a burning building, and an urban rescue. These scenarios were chosen to put the Advanced through its paces in an urban environment.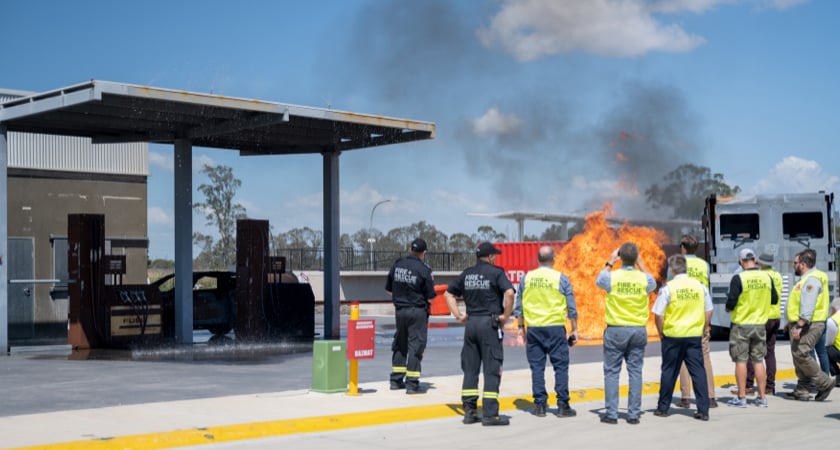 First impressions were that the size and capability of the M2EA make it an ideal candidate to be placed inside fire trucks. A portable but powerful drone could provide first responders with accessible situational awareness when they need it most.
"The Mavic 2 Enterprise Advanced performed outstandingly well... The clarity of the thermal image amazed the onlookers over the live stream," said Onur Ayyildiz, Senior Firefighter at FRNSW.
In the petrol station fire scenario, DJI's split-view put the visual and thermal feeds side by side, giving the FRNSW crew the ability to see through the smoke and make out whether people were inside. And they could do so from a safe distance, given the M2EA's thermal and visual zoom capabilities.
"The ability to zoom with the thermal massively increases the benefits of the drone. At full zoom, the quality is comparable to a Z30. In a drone this small that allowed us to stay clear of the danger and still have closeup imaging in each scenario."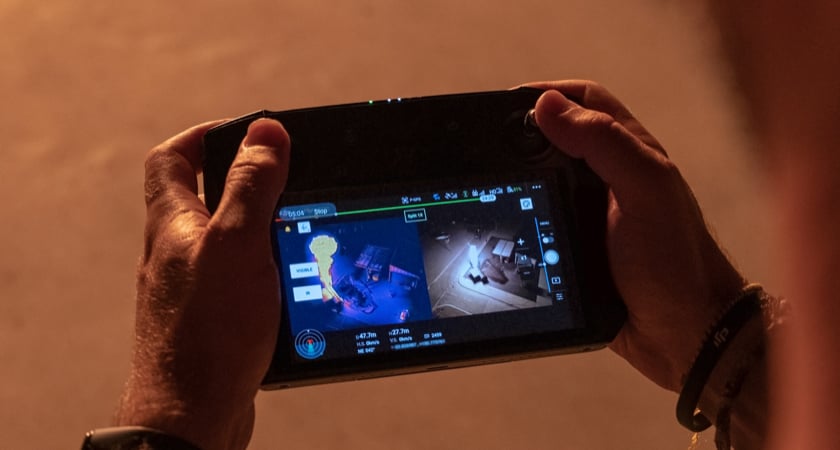 A closer look at the Mavic 2 Enterprise Advanced
The M2EA builds on the impressive thermal capability of the Mavic 2 Enterprise Dual and DJI's Mavic range more broadly.
Enterprise users can expect a polished, compact platform with foldable arms, compatibility with a range of payloads, 31 minutes of flight time, and omnidirectional obstacle sensing. On top of that are four significant upgrades that are set to make a difference for emergency crews.
Both the thermal and visual cameras have been overhauled. The M2EA has a new 48 MP visual camera with a 1/2-inch CMOS sensor and 32x Digital Zoom. An improved thermal sensor provides 640x512 thermal resolution at 30Hz. The sensor upgrades are backed by the addition of an attachable RTK module. This enables real-time positioning precision for scene mapping and search and rescue applications.
Last but not least, the new M2EA is significantly faster and more agile than before. This speed off the mark allows teams to work more efficiently when time is of the essence. It also allows for faster battery changes and greater aerial persistence.
Put simply, this is arguably the most advanced compact thermal drone on the market.
"The Mavic 2 Enterprise Dual was an impressive machine...but the Advanced just blows it out of the water. The 16x Zoom gave our operators an unprecedented level of detail while Dual Vision mode meant they could quickly switch between thermal, visual, or split-view feeds to spot critical details. There's less guesswork involved with a thermal camera of this caliber."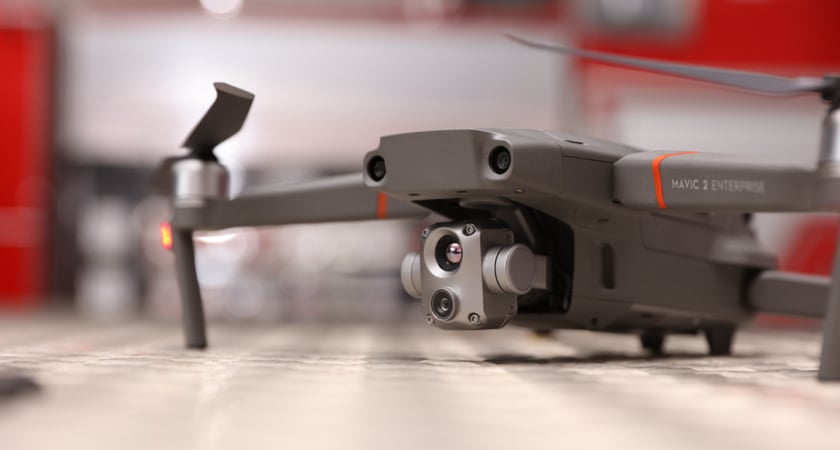 How the M2EA fits into FRNSW's fleet
FRNSW operates 334 stations across New South Wales. Their crews are on call for fire response, hazmat incidents, and rescues.
The main challenges for the organization's drone program are related to set up time on-scene, the space required to transport equipment, and ensuring pilots are familiar with the capabilities and requirements for different models. The role of pilots is complicated because the 100-strong fleet is made up of several drones including the Mavic 2 Enterprise Dual, the Matrice 600 Pro, and the M300 RTK.
Although the variety of platforms ensures FRNSW can respond to situations with whatever capabilities are needed, the addition of the M2EA is expected to simplify the organization's fleet management rather than add yet another aerial tool.
"The Matrice 600 Pro and the M300 RTK with H20T are great machines and serve an outstanding purpose," says Ayyildiz. "But the setup time and space required in the trucks is far more than the Mavic 2 Enterprise Advanced. In some instances, the negatives outweigh the benefits."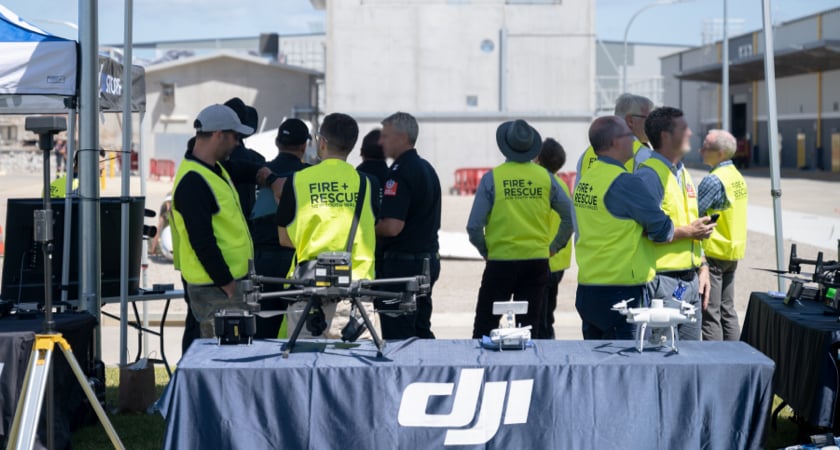 Moving forward, FRNSW aims to maintain a flexible fleet that includes both the M300 RTK and the M2EA. This combination spans heavy lifting capabilities for external payloads, high-resolution thermal imaging, and rapid deployment speeds. It'll also be easier to deploy around the state because pilots will have fewer models to master.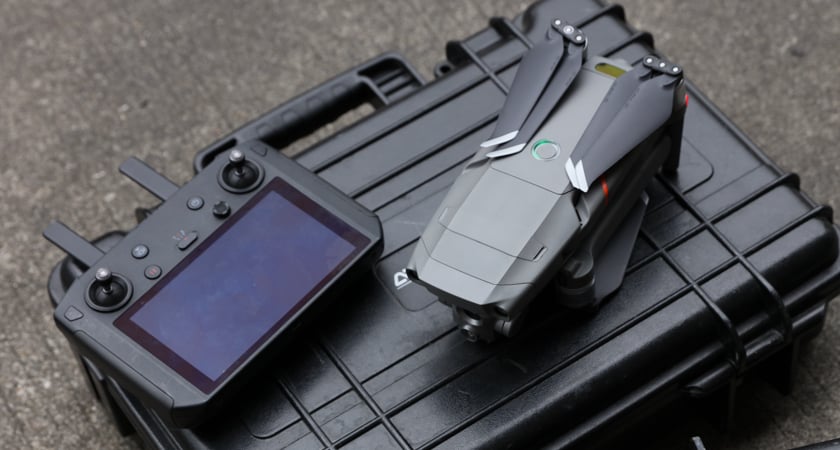 Space is always limited in emergency vehicles, so the equipment has to be chosen carefully.
But the size, portability, and capability of the M2EA mean it could be added to every truck in the future.
"With the new Mavic 2 Enterprise Advanced, there are no compromises. Having the biggest specs in the smallest package is very advantageous. The M2EA offers a high-quality dual sensor that is comparable to the XT2. No other drone has this size thermal and RGB in this size package."
A portable thermal drone with no compromises
Being able to make smart decisions quickly is at the core of effective emergency response. When every second counts, you need a drone that's easy to deploy, quick to reach its target, and highly capable once it arrives on scene.
Whether you're pinpointing hotspots, searching for survivors, or guiding crews to safety from above, the Mavic 2 Enterprise Advanced is a high-spec addition to your fleet without compromises. Its overhauled thermal and RBG sensors drastically improve situational awareness and reduce guesswork during missions, while the foundations of the Mavic 2 Enterprise range provide a nimble, safe, and portable platform that's easy to transport and ready for action in seconds.