Just two years after the company was founded, Empire Drone was asked to take on the task of integrating a new type of sensor onto a drone for a client.
The client was Exelon, which describes itself as America's "leading competitive energy provider." With more than 33,000 employees worldwide and doing business in 48 states, Exelon had 2019 revenues of $34 billion.
Drone inspections of energy utility assets tend to use either thermal or high-resolution visual captures to identify problems. If things are hot that shouldn't be – that's generally a problem. When things look bad, it's generally a sign that they've deteriorated over time and require repair.
But the most efficient type of inspection identifies potential problems before they become too serious. And it was the idea of carrying out that kind of preventative maintenance which prompted Exelon to contact Empire for a very specific task.
A 'Corona' Camera
It may not be the best name during the COVID-19 era. But a special type of camera can detect the UV signature thrown off by excited electrons that are activated when electricity 'leaks' from structures when it's not supposed to.
It's not something you can see with the naked eye, but this type of data is invaluable to those in the field. It helps engineers pinpoint areas of concern as early as possible. Those frenzied electrons can corrode insulation, leading to much bigger problems down the road.
"Thermography tells you you have the issue right now – there's a problem," explains Adam Matteson, a maintenance support manager at Exelon. "With corona, it tells you that you're going to have an issue. And, depending on what you're seeing in the data you collect you can sort of forecast how far down the road you'll need it to be repaired."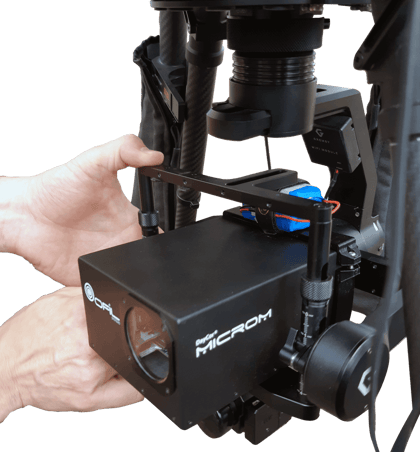 The OFIL camera combines both the visual and UV spectrum into a single image, so that those normally invisible potential troublespots are overlaid on the physical structures themselves.
"The cameras are called bi-spectral, they have two channels of spectral ranges," explains Hannah Barzilay, who helps market the OFIL products. "One channel is for the UV and the other is visual. The combination of the two is like merging the two channels giving you the UV superimposed on the visible, because the UV is invisible to the human eye."
What's more, the pilot/operator can see immediately if there's an area of concern. There's no need to download and process data (though, of course, that data is available for engineers to pore over following a flight).
"The advantage of using that camera is the ability to immediately see if there's a problem," says Barzilay. "It tells you 'Here, look here, come' – it's a beacon. You just aim the camera and you immediately get the information. No need to look at graphs or numbers… It takes less time to discover the problem."
Here's one example of what Corona imaging looks like. In this case, the activity you're seeing has the potential to destroy the insulation over time – leading potentially to a much bigger problem:

Source: OFIL Systems
A Potential Solution
Adam was aware there was a camera made by a company called OFIL Systems, which specializes in Corona cameras. Many of its models are made to be carried by hand or flown in a helicopter. But the firm has also recognized the growing use of drones in utility inspections and produced two models made for small UAS: The DayCor micROM and the DayCor ROMpact.
Adam also knew there was a company he trusted: Empire Drone, owned by co-founders Sean Falconer and John McGraw. He approached them and asked if they could integrate the $60,000 OFIL camera onto a drone. Empire Drone didn't have to be asked twice.
Mission Accepted
It wasn't long before a plan was underway.
"We were contacted by Exelon to figure out a way to integrate one of these OFIL cameras into a drone," explains Falconer. "(They) Essentially allow you to look at the UV lighting that's coming off of high power lines. When those coronas occur it means there's damage (or the potential for damage)."
And so began the process. First was the selection of the M600 as the best platform. For Empire, this was a no-brainer.
"We needed a heavy-lift drone and the M600 is our 'Go-To,'" says Falconer. "It's great at carrying a heavy payload like this. We're super familiar with it, and we knew based on previous experience we'd be able to integrate this camera into it.
"We consciously selected the M600 Pro because of its superior qualities."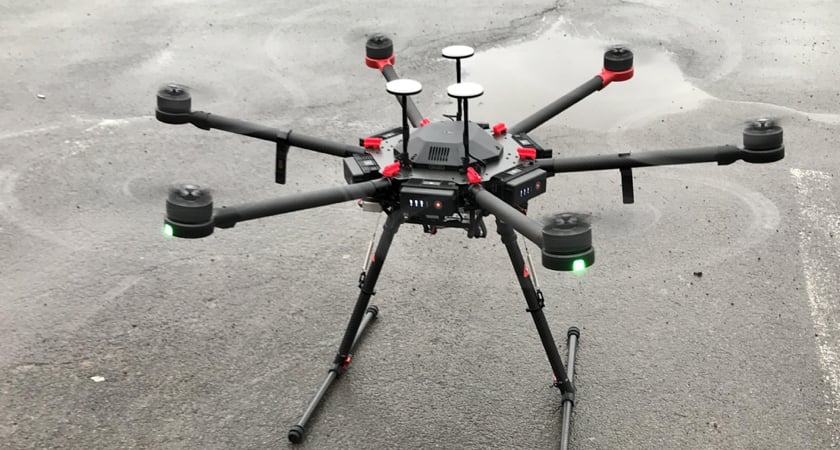 Mission Impossible
The OFIL camera is actually manufactured for a relatively seamless integration. But things weren't quite so simple when the Empire team connected the camera to the Gremsy T3 V2 gimbal, balanced the operation for optimal CoG, integrated the connection to the M600, and fired up the power.
Nothing happened.
"Turns out the gimbal we had was fried," says Falconer. "We replaced the gimbal and it started working. It just took a little trial and error and patience."
Once they had the system running, the duo started conducting tests. Soon, they were capturing coronas on structures while flying. There was no data downloading or number crunching: You could see, immediately, where there were areas of concern.
"When we first asked to look into this, I'd never heard of it before and was quite frankly amazed that you could mount this to a drone," recalls McGraw. "There's a really bright future when it comes to mounting these highly specialized payloads on drones."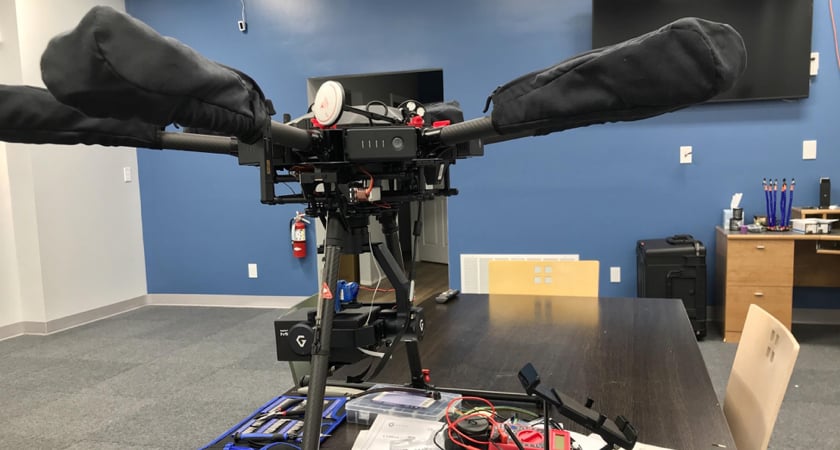 Mission Accomplished
Once the tests were complete, McGraw delivered the M600 Pro/DayCor combo to Exelon. He fired up the M600 and showed the Exelon team what this new tool could do.
"The M600 is a very stable platform with the gimbal we have on it," says Exelon's Adam Matteson. "The corona cam had very good footage, very clear. We were able to zoom in, able to localize areas."
Exelon actually has its own company, Clearsight, which operates the drones for inspection. It created the division after determining that outsourcing was a vastly more expensive and inconvenient option when compared with developing a team of its own.
But Exelon also knew it required the expertise of Empire when it came to integrating a system that was likely the first of its kind in North America.
"This is one of the first of this model from OFIL going on an M600 Pro that has been done in the industry so far – in any industry," says Matteson.
Perfection? Close...
Was the system absolutely perfect? No. Matteson says a particular sequence must be followed when powering up the system. If it's not done properly, he says, the camera won't transmit to the ground-based monitor or touch-screen.
"It's not just turning on the drone," he says. "There's a whole powering sequence that I feel could be simplified."
But, he points out, this is all new. And the problem could likely be solved with a firmware fix down the road (or a clear SOP for power-on protocol to ensure it becomes routine). For now, he's pleased to have an early warning surveillance system that signals potential issues long before they become problematic.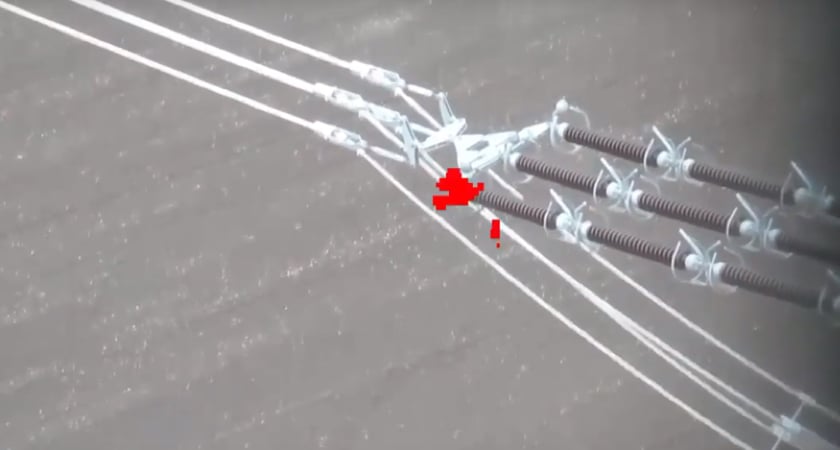 In fact, the data from those coronas allows Exelon to plan in advance so that maintenance can take during scheduled outages. The lead time provided by corona discharge data can be so great that Matteson says maintenance budgets can be lined up and approved before the work is carried out.
And Exelon's partners in this project?
"The guys at Empire are very responsive and very good to work with," says Matteson. "They wouldn't give us the drone until they were absolutely satisfied. I highly recommend them."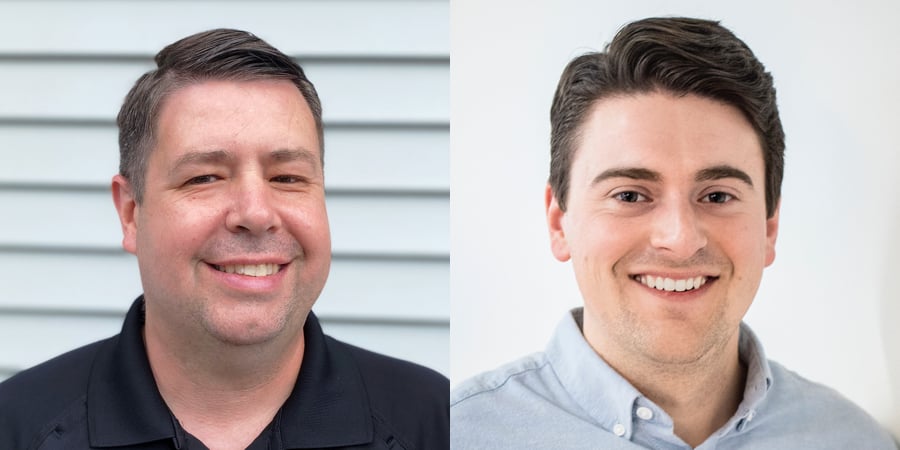 John McGraw and Sean Falconer of Empire Drone
Lessons Learned
For Empire Drone, this was both a major – and satisfying – project. But it also had its hiccups, including troubleshooting that defective gimbal.
"The biggest hurdle was integration of the different systems," says Falconer. "Sometimes the documentation is scant and you have to figure out yourself. We had it all wired up – and nothing was working. So I would say that was one of the biggest challenges."
But it was also a lesson. Drones are an area of technology that seems to continually leapfrog. With sensors like the DayCor camera, the team at Empire can only imagine what might be next.
"I started out before I retired as a career firefighter," says McGraw, "And cameras were two and three megapixels in resolution…From where we were four or five years ago, we've really come a long way – and the technology is only going forward."
Just like Empire Drone.