As we close out 2019 and look ahead to 2020, it's a natural time to reflect. And across the globe, enterprise verticals continued to grow with new use-case scenarios, greater adoption, and continued technological advances.
Broadly, those verticals include the sectors of Public Safety, Energy and Utilities, Mapping and Surveying, Agriculture, and Humanitarian/Scientific work – though there is often crossover.
2019 was also, arguably, a year when drones were constantly in the news – and for very good reasons. In Paris, DJI products helped firefighters gain critical situational awareness during the devastating Notre Dame Cathedral fire. In Tanzania, a modified DJI Agras MG-1S drone, originally built for spraying fertilizers, herbicides and pesticides, was deployed to spray a compound to neutralize mosquito larvae – helping to protect the local community from the risk of malaria.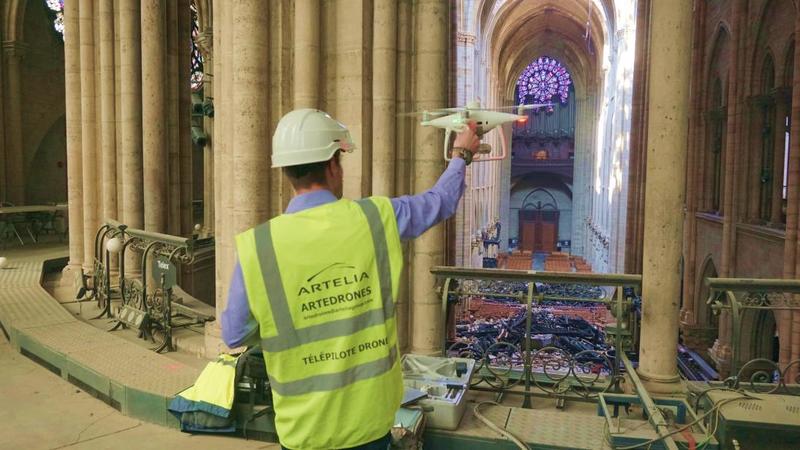 Artelia using drones to gather and analyze data of the Notre-Dame Cathedral after the fire
On any given day, Search and Rescue (SAR) operations rapidly locate lost people and minimize the time First responders are put in harm's way – with more than 325 drone-enabled rescues to date. Small Unmanned Aerial Systems (sUAS) are the tools of choice for rapid situational awareness following natural disasters. Farmers, insurance companies, and even construction firms rely on drones to acquire useful, actionable data more efficiently and safely than traditional techniques.
In December, TIME Magazine named its choices for the Top 10 inventions of the past decade. DJI's original Phantom, released in 2013, was on the list. Romeo Durscher, DJI's Senior Director of Public Safety Integration, has watched all of this unfold – and on a global scale. And one sector above all has continued to dominate:
"The Public Safety Sector is the largest on the Enterprise side," he says. "(Because) This is a tool that can provide immediate intel and right there and then, help save lives. It's the number one vertical."
Public Safety Outlook: 2020
In recent years, Durscher has seen a tremendous spike in the use of drones by law enforcement, fire departments, search and rescue units – and others who fall broadly under the "First Responder" category. Where drones were once the exception in these departments, they are now the rule." We have heard statements from within public safety that say "You are negligent if you don't have a drone program!", Durscher says.
For Public Safety professionals, it's hard to imagine a more useful tool. They can document the scene of a major motor vehicle accident with greater resolution and detail, in less time and with greater safety, than at any point in history. Following a major disaster, hundreds – even thousands – of images can be seamlessly stitched together for situational awareness, forensic work, and even simply to help decision-makers choose the best roads for emergency supplies or infrastructure repair.
Though drones delivering medicines and other critical goods (a drone even transported a human organ for transplant in 2019) often garner attention, that is not a key function in the sphere of Public Safety.
"A drone is primarily a data collection device," says Durscher. "Yes, there are deliveries and drops. But the primary use is data collection."
And as more sensors are developed, more use-case scenarios emerge. Here, Durscher reflects on the significance of the 2015 release of the DJI Zenmuse XT thermal camera, powered by FLIR technologies. That product, that sensor, was immediately put to use in the Public Safety sector. Thermal imaging has led to the successful rescue of hundreds of people globally, and given many fire departments critical data via real-time heat maps.

The DJI Mavic 2 Enterprise Dual allows pilost to view visual and thermal imagery instantly, allowing firefighters to easily determine the best route to attack the fire
Looking ahead to 2020, Durscher believes we'll see drones flying with more than one payload.
"If we can gather more data points, then we can make better decisions without putting people in harm's way…."
"I foresee that in the future we will have multi-sensor payloads."
It is also likely, according to the National Institute of Science and Technology, that we may see the use of drone swarms to more rapidly and accurately collect data following a disaster. Learn more here.
Other Use-Cases
While new sensors, software and other technological advances will nudge the needle in 2020, we've also consistently seen that many in the Public Safety sector continue to think of new ways to use existing technology. One could describe this area as 'expanded use-case scenarios.'
Example?
In December, after the eruption of a volcano on New Zealand's White Island that ultimately killed 19, drones were used to search for some of the eight missing deceased who remained on the island. In this case, the volcano was still highly active – and a first responder would have been at great risk if they had been dispatched to the location.
That's a key part of the equation: The use of sUAS not only provides actionable data, but it also minimizes the risks faced by first responders. Whether used by Police, Fire, Search-and-Rescue, paramedics or others in the Public Safety realm – this vertical has seen immense growth and is poised for even more as adoption continues to spread into specialized realms within the First Responder world.
Recently, Durscher worked on a Special Weapons And Tactical (SWAT) exercise with 17 different SWAT teams. One part of that exercise involved using a drone for situational awareness and making decisions based on that data. Seeing a suspect from above provides certain advantages these teams simply could not have through other means.
"They had a drone operator, and so the SWAT commander was able to see the live drone view and to direct the drone operator in 3D space – to wherever he thinks is best – based on that aerial view.
"What was so fascinating was everyone had to go through this process of getting a sense of what they are seeing, making sense of it, and relaying it to their team on the ground."
Most of these officers had never worked with a drone.
"After just one exercise," says Durscher, "most if not all realized the benefits of this technology right there and then."
2020: Regulatory Environment & Operation Standards
Of course, regulators across the planet want to ensure the safety of manned aircraft and that those operating drones have the proper training to do so responsibly and with a thorough understanding of airspace law, privacy issues, etc.
There is not, however, a global standard when it comes to what should constitute adequate training, nor is there a uniform set of rules governing who can fly a drone and where.
In nations where regulations are more progressive – the UK, the US and Canada come to mind, the common-sense rules are both fair and clear, making it easier for those in Public Safety (and other sectors) to adopt sUAS technology. In countries where the wheels of bureaucracy move more slowly, such as India, obstacles to adoption remain.
As success stories continue to grow, however, it's fair to suggest that those lagging in the regulatory environment will come to recognize that the benefits of accelerating the Public Safety adoption of drones vastly outweighs any risks.
Even in countries with a progressive regulatory atmosphere, however, work remains to be done.
"The current challenge is that we need more standardization across the board – especially when it comes to drones in public safety training," says Durscher.
Yes, he says, the Federal Aviation Administration's Part 107 in the US has greatly helped with the adoption of drone technology. But while it ensures that pilots have the required knowledge about airspace etc. it does not ensure that they are good at flying a drone.
"That standard doesn't include hands-on flying," he says. "It doesn't include the technical approach and the technical deployment – and so there are huge gaps between departments when it comes to: 'How do you utilize the deployment of these drones when it comes to Situation A, B, and C?'
And that, says Durscher, is an area where there's definitely room for improvement across the Public Safety sector.
"It's not standardized, there's no proper certification. Which ultimately makes these mutual aid deployments more problematic. Because if I'm an incident commander and I have five drone teams that come from different departments, I have no way of knowing: 'What are the capabilities of these five?'"
In a critical incident, where successful outcomes depend on clockwork precision, knowing that all pilots share equally high levels of skill is nearly as important as the tool itself.
There are some indications, albeit not specific to the Public Safety sector, of movement toward more universal standards when it comes to drone training and operations. The International Organization for Standardization – the ISO – released guidelines in December governing commercial operations of sUAS.
ISO 21384-3, also known as "Unmanned aircraft systems – Part 3: Operational procedures," could signal more uniform standards to come in other sectors such as Public Safety.
"The range of applications is growing fast, but at the same time, the industry is very much in its infancy, and there are a number of key obstacles to overcome before large-scale commercialization is achieved," says John Walker, Chair of the ISO subcommittee that developed the standard.
"ISO 21384-3 will help resolve those challenges through providing an airworthiness framework for the global UAS industry, allowing for safer and more widespread use."
Already, the ISO is working on a complementary document it hopes will serve as the global framework to standardize training for sUAS pilots worldwide.
Romeo Durscher also points out that in the United States, NIST – The National Institute for Standards and Technologies – has produced an agility test to evaluate and train First Responders, along with other tools.
Because the Public Safety sector demands an exacting level of expertise, organizations such as Drone Responders have already formed working groups examining best practices in training – with the eventual goal of recommending a specific training standard in this sector.
"That's exactly what is needed to not only propel this technology ahead," says Durscher, "but also ensure that it continues to be as safe of a tool as it has been."
Let's hope 2020...is a breakthrough year.
Public Safety Sector: Three (of many) Success Stories
There's no shortage of success stories out there.
Some reach the media and get amplified, others are more quiet victories. All involve what's often referred to online as #dronesforgood – the use of drone technology in endeavours that make our world a better and safer place.
It's fitting, then, that our first "Success Story" also caught the attention of the United States Department of Justice.
Camp Fire Mapping
In early December, the Attorney General and DoJ Leadership recognized "19 law enforcement officers and deputies from 12 jurisdictions across the country" by honouring those individuals with the Attorney General's Award for Distinguished Service in Policing.
Deputy Richard Hassna of the Alameda County Sheriff's Office in California was recognized for doing something extraordinary: He led more than 16 Unmanned Aerial System teams mapping the devastation caused by the California 'Camp Fire' in Butte County – the deadliest United States history. The catastrophe caused the destruction of more than 19,000 homes and the deaths of at least 85 people.
More than 500 drone flights captured in excess of 70,000 images, which were then stitched in the cloud.
"This was likely the largest response of small UAS's to a disaster scene in U.S. history," states the DoJ news release. Romeo Durscher was there during that herculean effort.
"For the very first time, we were standardized," he recalls. "We all used Phantom 4 Professionals, we all used Drone Deploy for all the different maps, and we shuttled the data to Drone Deploy. We mapped 17,000 acres."
"Within 48 hours, and with the help of our friends at Drone Deploy, we had this high-resolution map available. We integrated it with GIS data so we could see the property lines, street names, things like that. And it was uploaded to the Butte County website. People were able to go, and with the slider, go back and forth and see the change.
"A year later, the data is still being used."
You can see the incredible quantity of data captured, and see how actionable the end result was, here.
A Boy and His Dog
In mid-October, in rural Minnesota, a six-year-old boy got off of his school bus around 4 pm, just like he did on any given day. Then Ethan Haus decided to go play with his dog.
When he didn't return home at his usual time, his family began calling for him – but with no luck. At that point, law enforcement was contacted – sparking an immediate and massive response from the entire community.
By late nightfall, some 600 volunteers were pushing against darkness. At 0200, searcher Steve Fines located Ethan and his dog using a drone equipped with thermal imaging.
Significant here, is that they were found in an area that volunteers had already searched.
Here's what Sherburne County Sheriff Joel Brott told local television station Fox6:
"If not for that drone, I'm not sure we would have found him."
Ethan Haus, 6, was discovered laying with his dog in a cornfield. (Sherburne County Sheriff's Office)
Image source: foxnews.com
DJI's Romeo Durscher was also clearly pleased with the outcome.
"When a drone finds a missing person, it's a good story," he says. "When a drone finds an elderly person, it's a great story.
Here, he laughs.
"And if a drone finds a boy and his dog, it's the holy grail of stories."
Back To Safety
This particular story also happens to once again reflect the fine drone work of the Alameda County Sheriff's office.
In 2019, a teenaged girl who had recently been released from a psychiatric facility left her home late on a cold night. Her parents believed she was suicidal and contacted authorities.
She's disappeared into an area that contains a large ranch, a wooded area, and ponds. The Sheriff's office launched a Matrice 210 with the Zenmuse XT2 and spotlight. Soon after, a second team arrived and launched the Mavic Enterprise Dual.
The DJI Mavic 2 Enterprise Series
That Mavic has a speaker on it, as well as a thermal camera. Flying over the wooded area, this was broadcast: "This is the Alameda County Sheriff's Office. We are searching for (Name of the Missing Person) and we need you to return home."
The Matrice team was also using the Crystal Sky Monitor, which easily compares the hottest and coldest temperatures picked up by the thermal sensor.
Between the two drones, they located the missing teen (along with a friend) and relayed the coordinates to a local police car – which safely found the two young women.
"This scenario is exactly what I had imagined when I worked with our R&D team on the development of the Mavic 2 Enterprise," says Durscher.
"There was concern it might replace the Matrice; my goal was that this would become a tool to enhance the M200 series."
Three difficult challenges; three incredible outcomes. All, clearly examples of #dronesforgood.
Key Public Safety Events 2019 & 2020
We asked DJI's Romeo Durscher about the most important Public Safety Enterprise events of the past year, as well as to look ahead to 2020. Here are the key highlights pointed out by Durscher, who is the Senior Director of Public Safety Integration.
DJI AirWorks, Los Angeles
This flagship event brings DJI's technology, ecosystems and partners together in one place for intensive workshops, learning, sharing and networking. It is always, says Durscher, always "a very focussed group" – meaning the people attending already have a high level of knowledge and are keen to learn more. This is a learning environment.
In 2019, some 800 business owners, pilots, First Responders, technical experts and policy makers were in attendance. Because of that high-level and diverse audience, there was an opportunity for panels and workshops on some highly specialized areas of Public Safety:
"We have topics that are not discussed at other big conferences," explains Durscher.
"And one of my favourite topics was the integration of drones into K-9 units. How can a K-9 unit and a drone work together to be even more efficient? Obviously something that has a lot of potential. Or, Drones in Hazmat: Still a new topic, still something that is being explored. How to scale a drone program up – if you scale up, what does it take? We had great presentations there."
InterDrone
The International Drone Conference and Exposition, or InterDrone, has become a 'must attend' for many in the UAV field. As its website states, this conference is "a series of events where the commercial UAV community comes together. Connect with other drone pilots, service providers, UAS engineers and developers, UAV manufacturers, videographers and enterprise UAV end-users at the only conference dedicated to (the) expansion of civilian UAS use internationally."
In 2019, Romeo delivered his fifth keynote address at the conference – which is his "personal favorite."
FDIC
The FDIC brings together some 35,000 fire and rescue professionals from around the world, along with 800+ exhibitors. Sessions deal with the latest in fire suppression, thermal imaging, forensics – and, of course, drones. This event is on Romeo's list, and there's usually a pre-conference workshop focussing on drone and flying skills. (Durscher, FYI, often organizes hands-on pre-convention sessions for fire and police personnel at such events.)
FDIC, if you haven't guessed, is the world's largest firefighter convention.
UTAC
The Unmanned Tactical Application Conference is unlike anything else. Hosted at the Guardian Centers in Perry, Georgia, much of the event involves "fully immersive" sUAS training programs. Scenarios involving active shooters, building collapses, floods, HazMat response, drone detection and more take place on the 75-acre Metroplex, a full-scale mini-city covering 16 city blocks and with 80 structures. Simulations don't get more real than this, and sUAS are an essential part of many of these exercises.
"There are real-life scenarios," says Durscher.
Many of those attending might be called upon to carry out a similar mission in real life – a reason Durscher says this hands-on work is far more practical than arm's-length theoretical work.
"You have a very real environment, and that's exactly what is needed," explains Durscher.
Most of the instructors run drone programs in their own agencies, meaning this gathering offers an extraordinarily high level of expertise for those in emergency response roles wishing to improve their drone skills and applications.
To get a greater sense of what this all looks like, check out this video from UTAC 2019.
2020
As of early January, some events had not yet been updated for 2020, particularly those not taking place until later in the year.
However, you can keep an eye out – and even register now – for all of the above conferences and and a few more that DJI will be attending, at the following links:
• Unmanned Tactical Application Conference (March 23-27, Georgia)
• FDIC (Fire Department Conference, April 20-25, Indianapolis, IN)
• Interdrone (August 18-20, Dallas, TX)
• DJI Airworks (Late August, Los Angeles, CA). More information coming in February
• InterSchutz (June 15-20, Hannover, Germany) the world's largest firefighting trade show that happens only once every five years, with over 160,000 visitors around the world
• APSCON (July 20-24, Houston, TX)
• IACP (October 17-20, Orlando, FL)
• FLYMOTION 2020 Tour (Starting January, 26 cities in 19 states) US nationawide hands-on roadshow by FLYMOTION
If you have specialized expertise of interest in the Public Safety sector, consider applying to speak at one of these events. And if you're looking to learn more – there are plenty of opportunities at *all* of the above event