It is a risk inherent to flight: what goes up must, invariably, come down. When it comes to aviation and drone safety, what really matters is the manner in how the drone comes down. We at DJI fully appreciate this intrinsic aspect of aviation, and have endeavored to equip every drone we produce with extensive features designed to maximize safety and make sure every time you land, it's intentional.
The Matrice 300 RTK (M300 RTK), our newest industrial platform, is outfitted with a series of safety features that are redefining standards for drone safety.
Safety First — A Brief History
DJI has a long history of pioneering drone safety. Long before regulators and government agencies established safety requirements, we introduced technologies and solutions to maximize safety and minimize danger.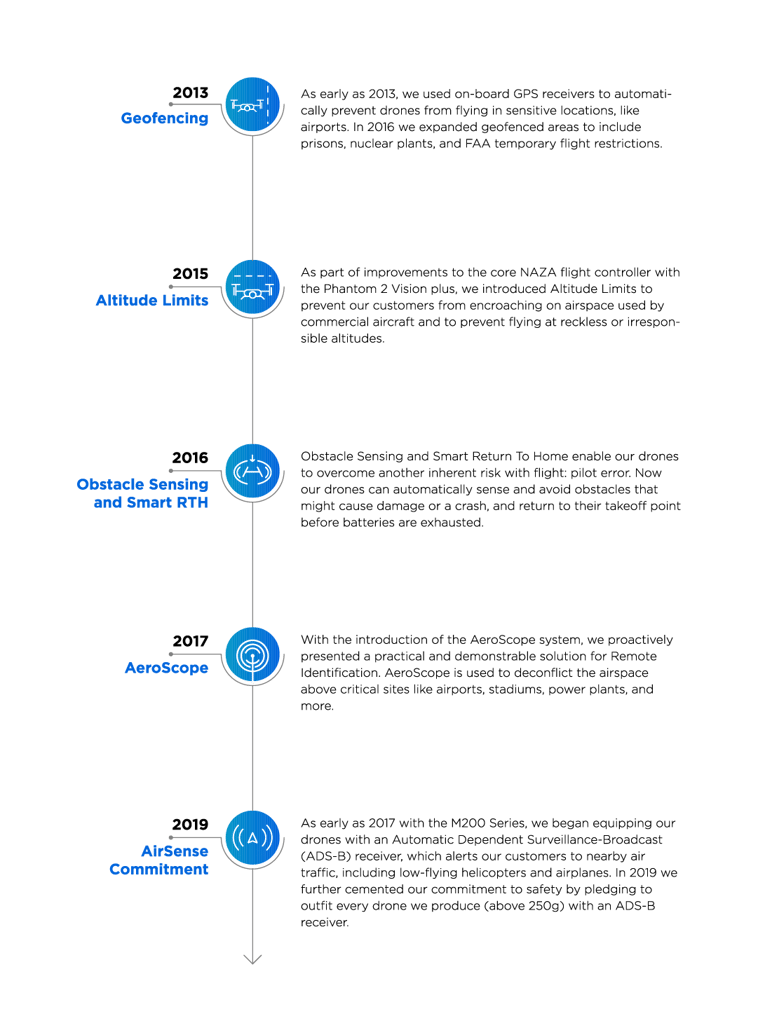 While DJI can't hold other manufacturers to our rigorous standards, we can at least ensure that every drone produced and sold by DJI is outfitted with the safety features necessary to keep the skies safe. This becomes critically important as an increasing number of enterprises and public safety entities deploy drones for operations that save lives, feed the world and keep the lights on.
As DJI's newest industrial platform, the M300 RTK comes with all the above safety features and more. Here is why the M300 RTK is redefining the industry standard for drone safety.
Redundant Systems
Safety and reliability were two core pillars during development of the M300 RTK. To push safety standards to the next level, this platform is outfitted with backups for 12 vital flight components, so that in the unlikely case of a hardware failure, the backup module will come online to bring you home to safety. A prime example is the M300 RTK's dual battery configuration. Even if one battery fails, the second can still safely power the drone to land safely. But batteries aren't the only example of redundant safety design. The M300 RTK packs an extra IMU, barometer, and compass, each of which will come online if the primary unit fails. Similarly, the M300 RTK's main circuit boards are printed with backup power supply and communication links to bolster reliability.
To read more about the M300 RTK's redundancy features, click through below.
Elevated Body for Performance and Safety
The M300 RTK's downward-facing propellers are not just an aesthetic feature. With its body, and therefore its center of gravity, above the plane of the propellers, the M300 RTK boasts unprecedented agility and maneuverability. But in terms of safety, any equipped, third-party emergency parachute now can deploy without interference from the propeller blades, making this last-case emergency solution even more reliable.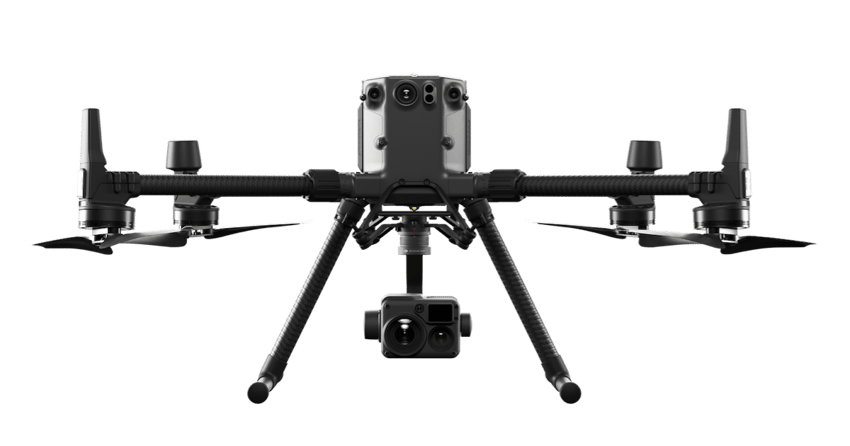 Next Generation Collision Avoidance
Another advantage of downward facing propellers is that it leaves a clear, unobstructed field of view for the M300 RTK's obstacle avoidance sensors. With six direction dual visual sensors and dual Time-of-Flight sensors, this is DJI's first industrial platform to feature omnidirectional collision avoidance. Detection ranges reach up to 45m and sensing behavior can be customized with the DJI Pilot App. With an upcoming CSM radar attachment, the M300 RTK will feature 360° obstacle avoidance capabilities.
Visibility Lights
Low visibility complicates everything, but duty calls even in adverse, cloudy, foggy, or nighttime conditions. Fortunately, the M300 RTK comes equipped with top and bottom Auxiliary Lights which automatically turn on in low-light conditions. These lights aid the onboard collision avoidance sensors so they can help protect the drone and its surroundings, even in low-visibility conditions. Additionally, atop the M300 RTK is a visibility beacon to conspicuously display the drone's position for both the pilots and other participants in the airspace.
Upgrading to OcuSync Enterprise
As an upgrade to OcuSync 2.0, OcuSync Enterprise provides pilots the longest and most responsive connection to their drone and payloads. With triple-channel 1080P 30FPS video downlink at up to 10km, OcuSync Enterprise can give pilots peace of mind knowing that the feed displayed on their Remote Controllers is live and stable. AES-256 Encryption also offers secure and reliable data transmission even when flying in high-interference environments.
Primary Flight Display
The M300 RTK utilizes a new flight display system inspired by civil aviation standards. With Primary Flight Display (PFD), M300 RTK pilots have streamlined access to real-time flight and navigation information. In addition to telemetry data like Altitude and Speed, and an Obstacle Map to highlight obstacles in the vicinity, PFD provides intuitive and functional access to mission critical information, giving pilots enhanced situational awareness at their fingertips.
Click here to read more about the Primary Flight Display.
Advanced Dual Control Mode
Overhauled multi-pilot control protocols in Advanced Dual Control Mode enable the execution of missions with enhanced safety and flexibility. The M300 RTK, when controlled by two pilots, gives each pilot equal access to gain flight control priority, the transfer of which is displayed by a series of icons on the DJI Smart Controller Enterprise. Now, if one pilot becomes compromised or their controller loses battery or connection, the other pilot gains full control over the M300 RTK and its payloads. Advanced Dual Control Mode offers pilots more flexibility, reliability, and safety when it comes to carrying out missions over vast distances. Additionally, when training new pilots, the teacher can safely take over flight control if and whenever necessary.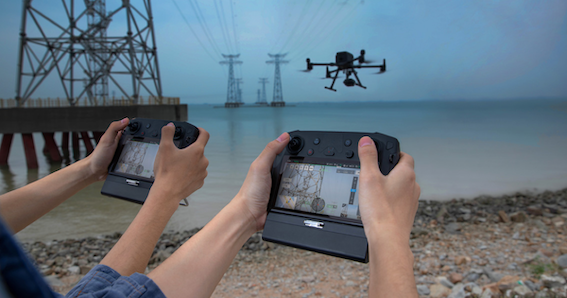 New Maintenance Tracking and Services
As the use of drones have skyrocketed these past few years, questions have remained around how to operate, maintain, and own a large fleet. We've built the M300 RTK around addressing some of these questions, implementing a UAV Health Management System to better track usage, hardware status and inform operators when maintenance is needed.
Additionally, we have introduced a new maintenance service to help you act on this data and keep your M300 RTK operational for longer. You can learn more about this service here.
Fly with Assurance. Fly Safe.
We at DJI are doubling down on our commitment to safety with every design choice made in the M300 RTK. More than any other platform in the commercial drone space, the M300 RTK is redefining reliability standards, so we can all live and work in a safer world.
To learn more about the Matrice 300 RTK, click through on the image below.