Coastal erosion has become an increasingly severe problem in much of the United States. An analysis by the nonprofit research group Climate Central estimates that rising sea levels could wipe out more than $108 billion from the property market before the end of this century. Florida, Louisiana, and Texas are expected to be hit the hardest. Naturally, a great deal of planning and preparation is needed to increase resilience and reduce risks to coastal communities.
One of the most effective ways to study the effects of climate change and monitor beach erosion, sea level rise, and subsidence (land sinking) is to use bathymetric data.
What is a bathymetric survey?
Bathymetry is the science of measuring water depths and mapping the land that lies underwater. A bathymetric survey determines the variations in the sea floor and helps to identify specific elevations and shapes of the underwater terrain. In addition to climate change risk assessment, these studies are critical for many industries such as navigation, dredging, offshore energy, and marine construction projects.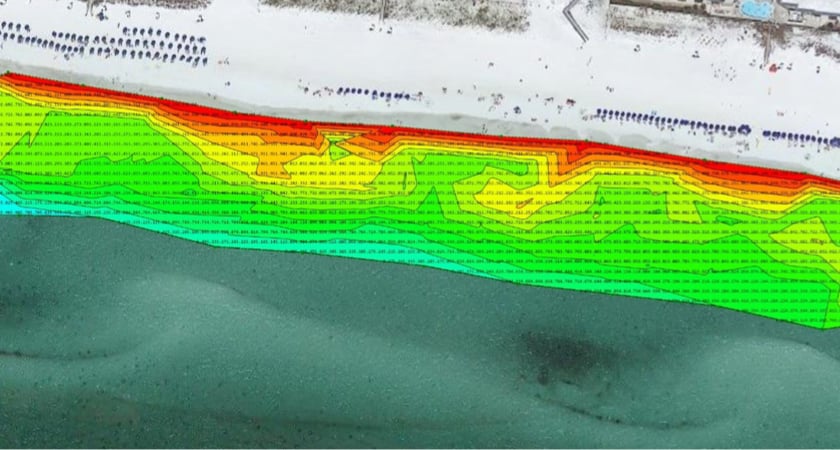 Traditionally, bathymetric surveys have required physical access to the water body. For deep waters of seas and oceans, multibeam echo sounders (MBES) are attached to crewed or uncrewed boats. Smaller water bodies are surveyed with the help of single-beam echo sounders (SBES), while very shallow waters are studied using measurement poles with GPS receivers.
The survey device typically "pings" a beam of sound (or laser pulse in the case of a LiDAR system) downward at the seafloor. The amount of time it takes for the sound or light to travel through the water, bounce off the seafloor, and return to the sounder informs the equipment of the distance to the seafloor.
While these methods deliver precise and predictable results, they are not always the most practical option. There are times when physical access to the water body is limited or simply not possible. In the case of surf zones, crewed or autonomous boats cannot be used. Moreover, surveying non-water reservoirs, such as open-air acid pools or contaminated water, becomes too dangerous with standard methods.
Drone bathymetry: Faster, cheaper, safer
The use of drones for bathymetric data collection has emerged as an attractive alternative for surveyors since they can be deployed anywhere (steep coasts, shallow waters, dangerous terrain) without putting crews or equipment at risk.
It has also been observed that compared to traditional methods, drones make bathymetric surveys 10 times faster and twice as cost-efficient. Additionaly, while drone bathymetry leaves neither a carbon footprint nor any negative impact to the local ecosystem, traditional bathymetry
More specifically, in the case of coastal surveys, drone bathymetry can ensure very high-accuracy results since the flight can be pre-programmed to follow the terrain exactly as required. Further, repeating flights along the same route can measure any variations in submarine topography with great precision.
How drone bathymetry works
SPH Engineering has leveraged DJI developer tools to design the UgCS bathymetric system which integrates an echo sounder with the all-weather Matrice 300 (M300) RTK drone. Capable of measuring depths of up to 200 meters, the echo sounder is carried by a DJI drone that can easily withstand turbulence and wind speeds of up to 15 m/s or 33.5 mph.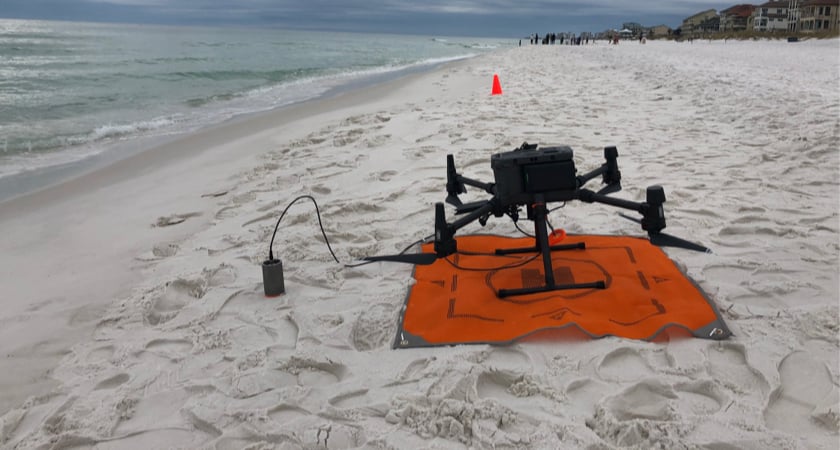 It's worth pointing out though that remote drone bathymetry is best suited for calm waters since the echosounder has to be submerged in the water. That said, SPH Engineering's solution also allows for the integration of a low-frequency GPR sensor with the DJI drone for the bathymetry of ice-covered waters. In this case, the device does not come into contact with water.
Complete integration is ensured by the addition of the SkyHub onboard computer to the system. SkyHub ensures that the sensor data is automatically logged and geotagged with GPS coordinates determined by the drone's autopilot system. Meanwhile, precise terrain following is safeguarded through an altimeter and the UgCS drone flight planning and control software.
This system has been used successfully in many projects around the world, including for beachfront reclamation in Destin, Florida.
Shoreline restoration in Florida
Several beaches in Florida were critically eroded during the 2004 and 2005 hurricane seasons. More recently, the storm surge from Hurricane Sally eroded portions of the shoreline in 2020.
The City of Destin has a beach renourishment program in place for the restoration of 6.9 miles of beaches and dunes under the state's Beach and Shore Preservation Act. Two major beach restoration projects were undertaken in Destin in 2006-2007 and 2012-2013. The latest renourishment program got underway earlier this year, using the most advanced and eco-friendly technologies available today.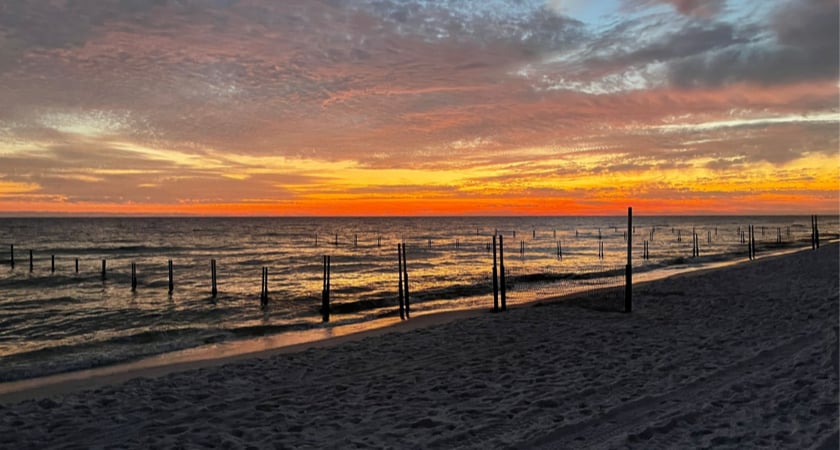 Reclaiming our coasts with NuShore
NuShore is a patented innovation that provides a natural alternative to traditional beach restoration. The system utilizes the force of wind, waves, and tidal currents to reverse the effects of erosion and regenerate a dry beachfront. This is accomplished by the temporary installation of a series of porous groynes (made up of semi-rigid webbing) from just above the mean high waterline seaward.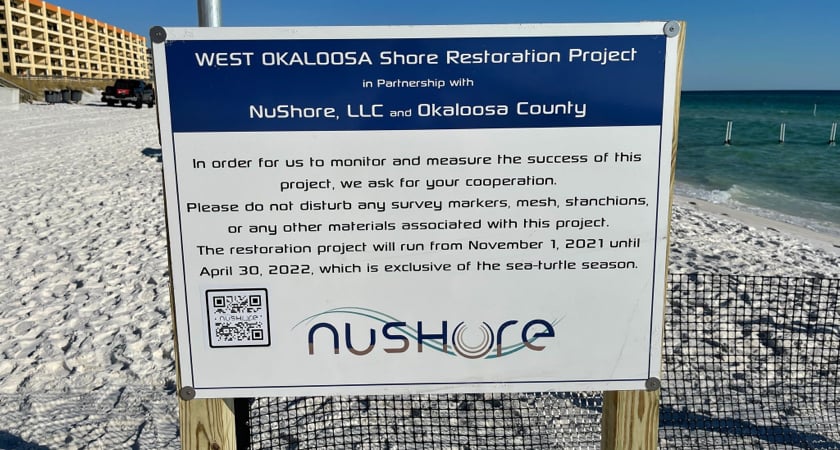 To establish the depth of water before the installation of the NuShore fencing, and to monitor the deposition of sand after its installation, bathymetric surveys were required. In Destin, this job was entrusted to drone services company Aerospectrum.
When Aerospectrum used an echologger probe integrated with a high-endurance DJI M300 RTK drone for the bathymetry survey, it found that it was able to achieve an accuracy level of less than 2 cm.
Multiple surveys were conducted by the company at two project sites. After each survey, post-processed data was superimposed on a Google map of the under-study area.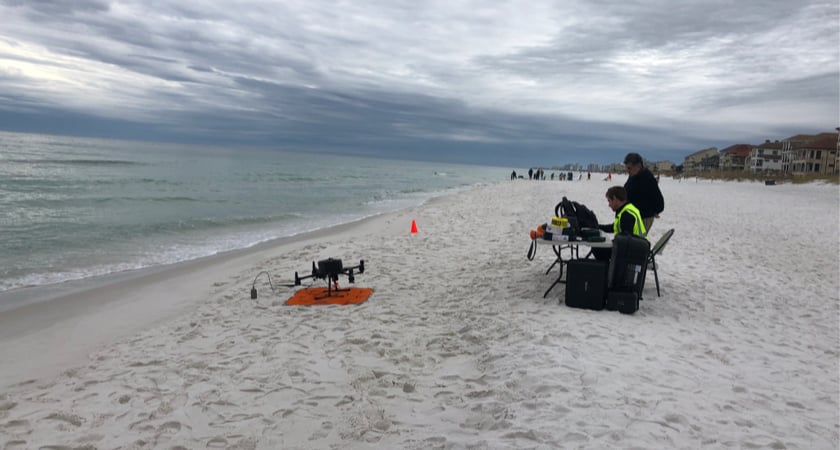 The data processing was done using a software called Eye4Software Hydromagic. This software is capable of presenting a water body as a 3D surface, giving a detailed profile of underwater terrain depth at different locations.
In the final data file delivered to NuShore, a color-coded system was used to show the difference in water depth for each survey.
Hamid Aghayan of Aerospectrum explains that the company chose to use SPH Engineering's fully automated bathymetric system because it allowed them to fly the drone just 80 cm above the water level while the bathymetry probe was immersed in the ocean. "Without SPH Engineering's system, it would not have been possible to fly the drone that close to the water surface," Hamid says.
The high-capacity battery of the DJI M300 RTK also helped to make the surveying experience seamless for Aerospectrum.
"Instead of a continuous data gathering, we used grasshopper mode wherein the sensor is landed at pre-determined survey points to collect the data. After optimizing the flight route, we were able to complete a scan using only one set of DJI batteries which last for approximately 40 minutes." - Hamid Aghayan, Aerospectrum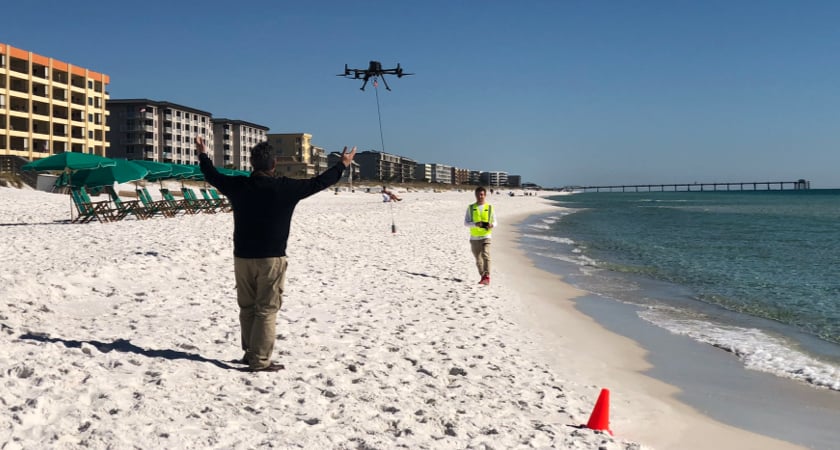 Drone bathymetry efficacy and applications
When it comes to leveraging drones for remote bathymetry, SPH Engineering has shown that DJI M300 RTK can help to collect high-accuracy data while keeping crews safe.
Here are all the ways city planners and surveyors can use drone bathymetry:
Mapping water depths and sediments before dredging and cleaning in shallow or seaweed ponds, lakes, rivers, and canals
River and lake bottom profiling for scientific investigations and environmental monitoring
Flood inundation mapping
Underwater inspections for engineering works (bridge or pipeline crossings)
Mapping the sediments of oxidation and tailing ponds
Sludge volume measurements at waste stabilization ponds
The system has seen dozens of deployments in different parts of the world in the last few years and the future for drone bathymetry is bright.