The perfect amalgamation of tradition, southern charm, and a bustling technology scene, Bentonville, Arkansas, is the town that gave us the world's largest brick-and-mortar retailer, Walmart. Bentonville is also Arkansas' fastest-growing city, growing 45% in the past 8 years.
It was a little after 11 am on December 4, 2019, when the Bentonville Fire Department received a 911 alert. An industrial plant manufacturing foam core sheet products had caught fire downtown.
Multiple risk factors
As Battalion Chief Jeremy Metcalf rushed to the scene and took stock of the situation, the first thing he noticed was the frightful proximity of the hotspot to an electric power substation. The blaze had caused several transmission lines to blow and fall to the ground, forcing the first responders to maneuver around hazardous, high-voltage equipment. If that wasn't worrisome enough, the storage yard – where most of the fire was contained – housed four big silos of combustible plastic products (polystyrene beads) waiting to be shipped out. These silos collapsed pretty early on and emitted a smoke plume so massive, it could be seen from as far away as 23 miles. The nearby Walmart office had to be evacuated, while the neighboring city of Rogers decided to keep students indoors because of the thick, toxic smoke clouds.
An overhead perspective helps direct resources in containing this industrial fire

The sheer volume of the smoke made it increasingly difficult for Metcalf and his crew to determine how much fire they were dealing with or what could be the spots for possible extension of the fire. And then, they discovered a virtual time bomb waiting to go off.
"There was a tank which contained 6,500 gallons of difluoroethane, a highly flammable chemical which is typically used as a foam expansion agent," Metcalf explained. It was critical to closely monitor this tank because "prolonged exposure to heat can cause difluoroethane storage containers to explode violently, releasing toxic fumes."
The fires jeopardize this 6,500-gallon tank of highly flammable difluoroethane
As determined as Metcalf was to contain and extinguish the fire's spread at the earliest, he did not want to put the crews in jeopardy by deploying them in close proximity to these tanks to gather temperature readings with hand-held sensors. Instead, he decided to leverage drones.
Owned and operated by former firefighters and first responders, a team from Unmanned Vehicle Technologies (UVT) swiftly clocked in, armed with the most advanced industrial drones to ensure mission-critical operational support to the Bentonville Fire Department.
Bringing out the big guns
The small and easily deployable DJI Mavic 2 Enterprise Dual (M2E Dual) was in the sky within minutes to give the firefighters a real-time, bird's eye view of the fire spread. This proved critical in stopping the extent of fire from the storage yard to the main building of the industrial plant.
Mavic 2 Enterprise Dual
"Having a drone in the air is very different from looking at something with binoculars from a distance. Initially, with all the smoke, we couldn't spot how close the fire had crept to the main building," Metcalf said. "So, having this kind of a scene size-up from another vantage point was really helpful."
The ticking time bomb that was the difluoroethane tank, meanwhile, needed an even more robust solution – the DJI Matrice 210 V2 with Z30 zoom and Zenmuse XT2 thermal cameras. The highly advanced and versatile drone captured the tank's heat signature from all sides, closing in on areas where it would have been physically impossible for the crew to reach.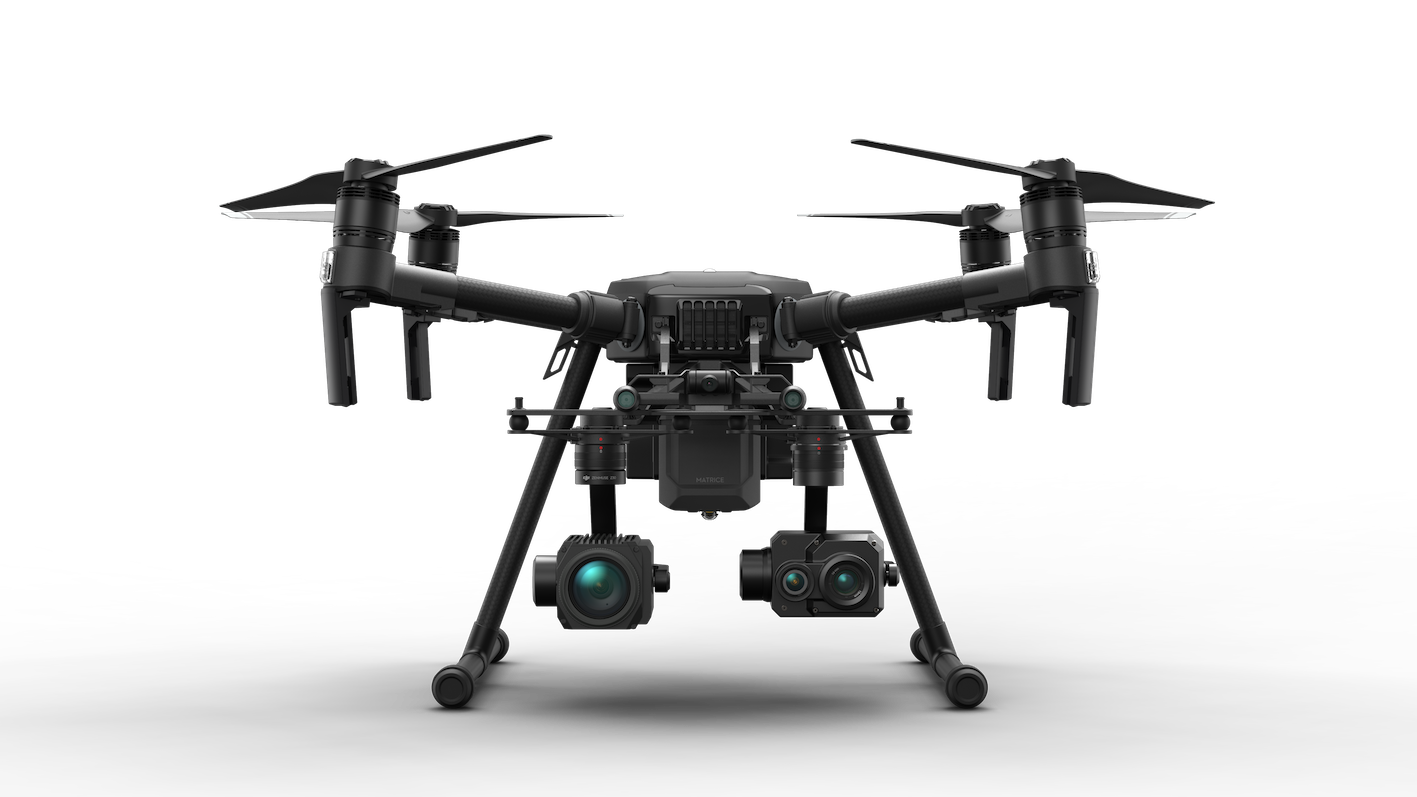 M210 V2 + Z30 + XT2
With data this precise, Metcalf was able to make informed decisions that allowed his team to successfully cool the tank and keep it well below the 125 °F limit. "Using drones gave us an unprecedented level of situational awareness, with the biggest advantage being that we did not have to put any of our guys in harm's way," Metcalf commented. By 6 pm, the fire was brought completely under control with zero casualties.
Drone thermal imagery helps teams monitor hazards and identify hotspots
Drones for public safety organizations
Even as Bentonville first responders and City Council members concurred having drone technology made fighting the blaze safer for all, Metcalf was quick to point out that his city could benefit from unmanned aerial prowess in a number of other scenarios.
"We have several small creeks in the city where flooding occurs during springtime. Putting our guys in swift waters to rescue someone from a stranded vehicle is one of the most dangerous things we do. And nine out of 10 times, we discover that the vehicle is empty and the owner has already escaped. But there is no way for us to know that – unless we put a drone in the air to look for thermal signatures."
Similarly, if someone goes missing in the woods, instead of putting a search party on the ground and hoping that they stumble upon the missing person, Bentonville could task a drone to scope out heat profiles," Metcalf suggested.
"Aerial thermal imagery can also add tremendous value to hazmat situations. And can you imagine how many lives can be saved by using a drone with thermal imaging capabilities during a bad car wreck?"
Drones have gained a foothold in the sphere of public safety and forward-looking government agencies are expanding their use in areas including environmental services, public works, and transportation.
Learn more about the basics of thermal drones or about when thermal drones made an impact.