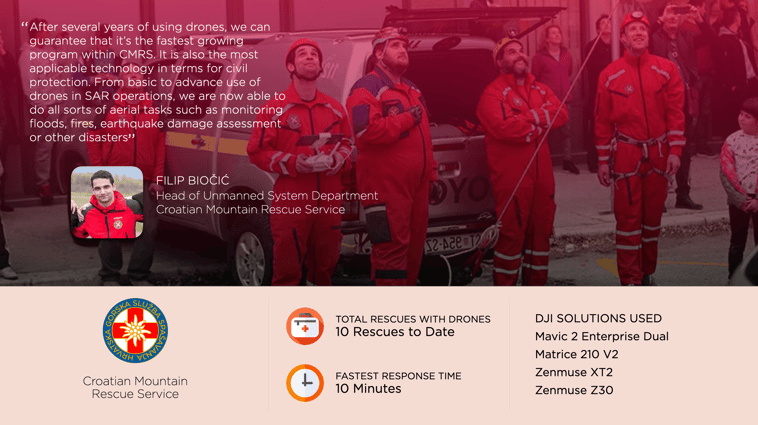 Croatia is filled with incredible cultural riches and has over 1,200 islands, isles, and inlets. People there enjoy an active lifestyle amidst the great outdoors. But hand-in-hand with these activities are the risks of rugged terrains, such as getting lost or injured while hiking, climbing, skiing, caving, and more.
To rise to these challenges, Croatia's capital city, Zagreb, has come to house one of the largest Search and Rescue (SAR) organizations, Croatian Mountain Rescue Service (HGSS). They have safeguarded visitors and citizens in Croatia since 1950, and to date, they have made about 9.000 rescues, 10 with the use of drones.
Rescue missions conducted across rugged terrain – especially during difficult weather conditions – require special skills and equipment. Previously this has meant slings, snowshoes, radios, and more, but this toolkit has evolved as rescue groups have realized the power of having a drone on-site to bypass terrain and visibility issues.
HGSS' Drone Program
The Croatian Mountain Rescue Service was an early adopter of drones, deploying them first in 2013 and formally establishing their UAV department in 2018. Today HGGS drone program consists of 49 pilots and 40 drones.

M SAN Grupa played a vital role in the set-up of HGSS' drone program. They supported by providing technical support and equipping them with DJI drones
These eyes in the skies gave Filip Biočić and his team new approaches to missions – but only if they could capitalize on the insights and operate these drones efficiently. To solve that, they spent much of their attention on establishing a training program, letting them sustain their operations over the years and enable them to operate drones no matter who is available.

One of their most epic missions involved an old lady wherein the rescue wouldn't have been possible without the use of drones. While going for a stroll in a forest, she got lost and developed hypothermia. She struggled to get good reception and call for help, and when she successfully got through to HGSS, the wrong location coordinates were given. This led to complications in the SAR mission, and traditional methods of SAR, such as using K9 dogs, wouldn't have made it easy to locate the missing person. Only through their drone solution, a Matrice 210 (latest version Matrice 300 RTK) with a loudspeaker mounted, could they successfully locate the distressed woman. Time is crucial when it comes to SAR missions, and HGSS believes that they need the best tools out there to rescue people without losing time.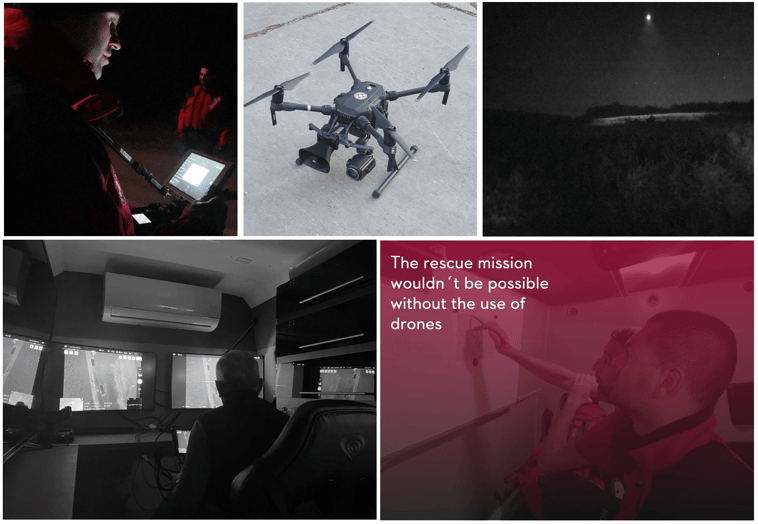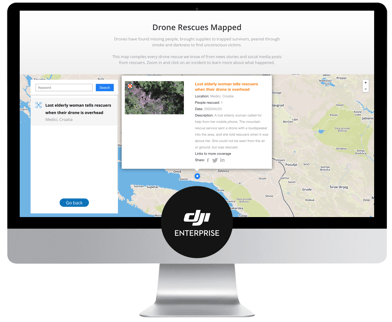 Recently, DJI launched the Drone Rescue Map that shows more than 500 people who have been helped by drones around the world. Some of HGSS' notable rescues can be found there.
Drones Are A Vital Tool in Rescue Missions
Today, HGSS uses drones mainly for situational awareness, fast response, at night or in low light conditions. Acquiring situational information is essential to efficiently and effectively respond during rescue missions. Moreover, this intelligence helps protect first rescuers and ground teams who gain better visibility of their surroundings. Below are ways HGSS is using drones:
1. Fast Response
In rescue missions, time is critical because lives are at stake. HGSS uses the Mavic 2 Enterprise Dual to quickly deploy and fly the drone to scout and be first on the scene.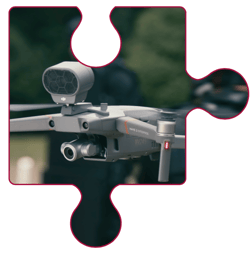 The Mavic 2 Enterprise is foldable, compact, and portable. Weighing 905g, the Mavic 2 Enterprise is foldable, compact, and portable and swiftly slides into the side of a belt package. Ideal for fast response during SAR missions.
2. Comprehensive Search and Night Rescue
After arriving in the search area, the Matrice 210 V2 is dispatched with the Zenmuse XT2 thermal camera and Zenmuse Z30 zoom camera. HGSS leverages thermal data during night time or areas with low light.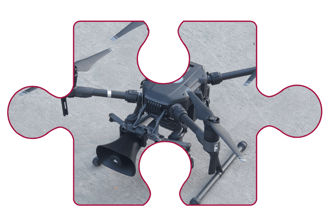 The Matrice 210 V2 (new version Matrice 300 RTK) can efficiently scan vast areas and help pinpoint individuals in distress, even in low light, through high-resolution thermal sensors.
3. Situational Awareness
Most commonly, drones are deployed all day long to scan areas prone to accidents as a proactive effort to spot incidents that aren't reported yet. Local authorities and the media rely on HGSS as their go-to drone team whenever awareness is required from the air such as during a fire in Split back in 2017 where HGSS was deployed to take some drone footage.
On average, a rescue mission takes about 30 minutes, and time is reduced by at least 25% when using drones compared to traditional tools for rescue missions. This depends largely on the complexity of the terrain and weather conditions, which are significant factors for response time. HGSS has performed a total of 10 rescues.
Drones vs. Traditional SAR Tools / Equipment
| | | | |
| --- | --- | --- | --- |
| TOOLS/EQUIPMENT | AVERAGE RESPONSE TIME | AVERAGE COST | AREA COVERED IN 10 MINUTES |
| Helicopter | 3h | 8.000€ per hour | 500 ha |
| K9 Dogs | 1h | 100€ per hour | 2 ha |
| Drones | 1h | 85€ per hour | 1-20 ha |
| Ground Forces | 1h | 50€ per hour | 2 ha |
| Balloon Gliders | 3h | 120€ per hour | 500 ha |
*Note these numbers are just a rough estimate
It is important to note that drones are not a replacement for traditional means of rescue. They mainly supplement or complement these tools.
"After several years of using drones, we can guarantee that it's the fastest-growing program within CMRS. It is also the most applicable technology for civil protection. From basic to advance use of drones in SAR operations, we are now able to do all sorts of aerial tasks such as monitoring floods, fires, earthquake damage assessment or other disasters" - Filip B., Head of Unmanned System Department
What's Next for HGSS
With more than 9,000 rescues, HGSS has built a reputation for executing successful, flawless, and safe rescue missions. Improving their drone program is one of their top priorities and they are looking forward to upgrading to the Matrice 300 RTK and perform more mapping for emergency response and post-disaster analysis. See the map they generated after analyzing an earthquake that struck Croatia in March 2020.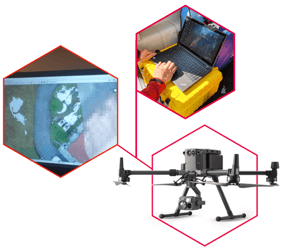 DJI is committed to supporting partners like HGSS in growing or fine-tuning their drone programs. Together with EENA and MSAN we have aided HGSS in the integration of drones and adopting best practices.