The current COVID-19 pandemic has led many businesses to change their operations in an attempt to overcome current challenges. As many local governments have begun to implement stay-at-home orders or other measures to limit the exposure of its citizenry to the virus, many companies have relied on new technologies to keep business going.
As a result of this search for solutions to overcome the challenges of COVID-19, the demand for drones and drone services has increased significantly over the past two months. Naturally, drones can perform a variety of tasks while minimizing human contact and improving efficiency.
DroneBase is a company headquartered in Santa Monica, California providing affordable, reliable, and efficient aerial data to organizations around the world. Through their services, they are allowing companies from a wide range of industries to continue operating with the help of drones.
Dan Burton, Founder and CEO of DroneBase, explains why the technology is playing an essential role in keeping the economy rolling, "What DroneBase is providing is a contactless inspection. There really is no need for face-to-face interaction with any of our flights. We can do a drone inspection without even setting foot on the property."
These contactless inspections services provided by companies like DroneBase have become useful in the Property Management, Insurance, and Real Estate industries. These businesses rely on traditional face-to-face sales or customer service to operate. Still, given the current social distancing recommendations, companies are making use of drones to adopt technology-based operations.
Digitizing the Home Buyer's Journey
Real Estate businesses are going through tough times. The global economic uncertainty and health crisis have impacted property sales in the US. According to the Commerce Department, sale of new homes fell 15.4%, the most significant decline since 2013.
Under the current pandemic situation, the traditional Real Estate sales process – which relies on multiple physical interactions – represents a risk for all parties involved. As a result, real estate brokers are using drone technology to provide a contactless and safe customer interaction.
Aerial imaging can provide an immersive experience for potential buyers. High-resolution images captured by drones provide all details from the exterior of the property; this helps property owners and potential buyers to see the conditions of the property. These digital experiences can be presented in many forms, such as 360 panoramas, 3D models, or 4K videos.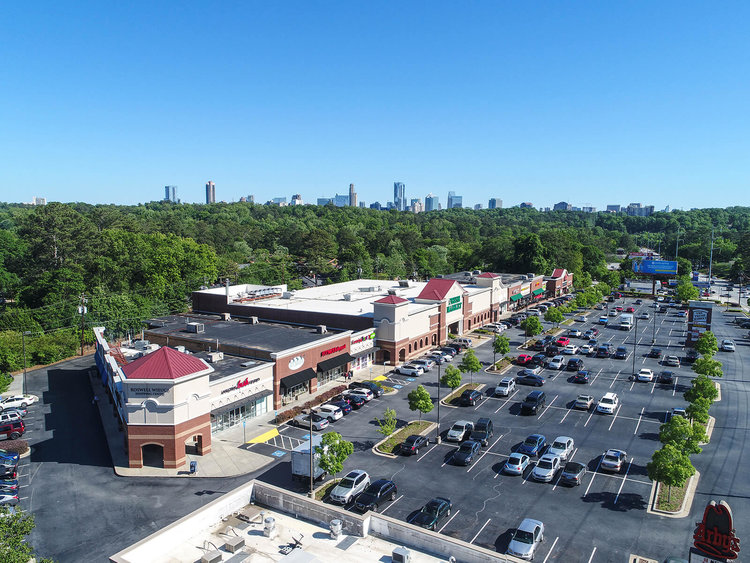 Shopping Mall Inspection with Drones
DroneBase has helped many real estate companies and property owners to adopt this new business model based on digital assets and online experience.
Burton elaborates, "many realtors and property managers have already leveraged drone technology to market new listings or inspect buildings to maintain infrastructure. Now more than ever, this technology is especially useful to 'virtualize,' as drones can enable brokers to gather the necessary aerial images, videos, and data while adhering to social distancing guidelines."
Efficient Property Assessment
Many states in the US have implemented strict isolation policies to contain the virus. Travel restrictions and health risks make it difficult for owners or service providers to accurately assess the property's conditions.
Under the current situation, shorter inspection times translate to lower personnel exposure and health risks. Drones provide a safe and efficient way to conduct property inspections without compromising the quality of the operation. According to DroneBase, drones can reduce the time spent on-site by up to 40% compared to traditional inspection methods.
Companies like Brixmor Property Group Inc. have embraced drone technology to manage their assets. The retail investment company based in New York has been using drone technology over the past two years. The company uses digital 2D orthomosaic maps generated with drone aerial imagery to assess property state and verify roof conditions.
Furthermore, Brixmor has taken advantage of DroneBase's extensive professional pilot network to assess it's properties across the country. Operating in over 70 countries and the 50 states in the US, DroneBase allows companies to inspect properties all over the country, and overcome current travel limitations.
Accurate Insurance Claims
Although the COVID-19 pandemic seems all encompassing, the situation doesn't exempt businesses from further unfortunate events. In such cases where a flood or fire occurs, property insurance companies still need to continue their operations, from underwriting to the claim process – but now in a contactless way.
Drones provide a visual overview of the property conditions, which can be easily used, stored, or shared as needed. Additionally, drone imagery helps insurers conduct roof inspections, which, through traditional methods, represents hazardous work to inspectors.
Central Insurance Companies is an insurance company based in Ohio, with operations in over 20 states. The company offers multiple insurance services, including properties, vehicles, and business coverage. In the pursuit to provide better services to the clients and, at the same time, improve the data collected for accurate business decisions, Central insurance Companies relied on DroneBase inspection services for this task.
Using inspection and insights roof report services, the company collects reliable data to assess property conditions. Through aerial images, insurance underwriters can carefully examine the property and identify potential roof or property deterioration. The integration of drone technology allowed Central Insurance to improve inspection efficiency and make smarter business decisions.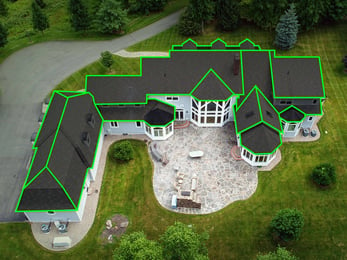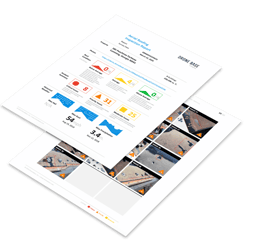 Roof Inspections and DroneBase Insights Report
"Our relationship with DroneBase has provided Central much needed data that has not only helped us in our selection of quality business but also allowed us to better price property-heavy accounts. With the safety of our consultants at the forefront of our efforts, oftentimes this comprehensive evaluation of roof characteristics and condition was previously unobtainable. DroneBase's contactless solution allows us to feel much better about our teams safety and underwriting decisions."
Reshaping Property Inspections
As commercial drone applications become more accessible, companies are finding multiple ways to integrate drones into their operations. Businesses are using drone solutions as tools to overcome the challenges associated with the COVID-19 pandemic and continue to provide quality service to their customers.
Drones have been widely used in the Survey and AEC industry, and now we see how aerial imagery continues to expand its applications to Real Estate or Property Insurance companies. As customers demand for premium services continue, drones bring added value to the business through efficiency, accuracy, and scalability.
Read our article Why a Drone Program makes sense in a Digital World to understand how drones can help your company go digital.
Learn about drones mapping and construction applications in our article here.