"Nothing compares to everybody looking at the same video in real-time."
~ Rich Gatanis, UAS Coordinator, SMFR
Anhydrous ammonia is highly toxic and extremely volatile. The compound can blind, suffocate, burn, and kill. It's the kind of substance you want to avoid at all costs.
For the Southern Manatee Fire & Rescue (SMFR) HazMat Team, the job requires them to do the opposite and head towards the danger.
On November 13, the SMFR HazMat team arrived on the scene of an anhydrous ammonia leak inside a food distribution warehouse in Sarasota, Florida. The chemical is commonly used for industrial refrigeration.
A fire alarm connected to a chemical monitoring system inside had been triggered. The first crew on the scene - from the Sarasota County Fire Department - was working to establish the source of the leak.
But the investigation was proving difficult from inside the building. All the first responders knew for sure was that ammonia was leaking onto the roof. The next step was to inspect the external chiller and the warehouse's exhaust fans.
As is almost always the case in HazMat scenarios, the team needed to get a closer look to confirm what they were dealing with. That initial uncertainty is a constant when dealing with invisible threats.
As SMFR Firefighter, EMT and UAS Coordinator Rich Gatanis explains, "When something's on fire, it's already burning. HazMat teams usually arrive before the chemical reactions have taken place."
So there's always an investigation to carry out at the scene before action is taken.
SMFR's HazMat crew was called to assist because of a capability that's reshaping how operations of this kind are carried out: A fleet of DJI drones, including a Mavic 2 Enterprise Dual and an M210 - alongside Zenmuse Z30 and XT cameras.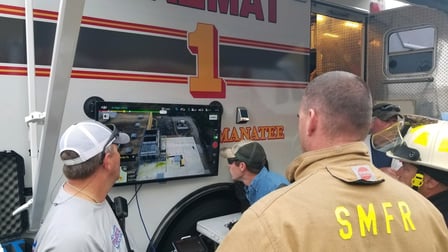 The SMFR HazMat team's Mavic 2 Enterprise Dual relayed thermal and RBG video showing the location and source of the ammonia cloud.
A view from above
Within an hour of arriving, the Mavic 2 Dual took to the sky and relayed thermal and RBG video to the team on the ground showing the location and source of the ammonia cloud. Armed with that information, the HazMat crews were able to determine which valve to shut down, stop the leak, and get started on decontamination.
Gatanis says that using the Mavic 2 Dual removed the need for his crew to make multiple trips up to the roof to recon the situation. "We could get up and take a look quickly, without having to send our guys up there."
It's only when you understand the complexity of HazMat situations that you realize why Gatanis describes the information gathered by unmanned systems as "invaluable".
During an incident, first responders and their commanding officers are separated by distance, time, and operating areas. Crews are spread between 'cold', 'warm', and 'hot' zones - working from the command post, decontaminating those coming from the scene, or dealing directly with the hazardous material.
Splitting up HazMat teams in this way is necessary but creates room for error. Traditionally, a command post's understanding of a situation is limited by all sorts of factors. Images from handheld cameras and crew testimony are fallible. Radio contact is notoriously unreliable. And scenarios can escalate in the time it takes to transition between zones and provide a first-hand account directly to superiors.
All of this explains why SMFR's UAS team wasn't finished once the ammonia leak had been located. The Mavic 2 Dual stayed in the air to provide situational awareness, streaming the entry team's progress to commanders back at base.
"Communication is typically the weakest link in HazMat response," says Gatanis.
"Previous to drones there was no way to keep eyes on our guys. We relied solely on radio traffic, which is shoddy at best. Having an eye in the sky enhances our ability to mitigate a scene. It helps us understand what they see a lot faster and ensures everyone works from the same operational picture."
Crews have communication procedures in place, but "Nothing compares to everybody looking at the same video in real-time. It allows us to significantly cut down on misinformation."
Having an eye in the sky connects officers at the scene with the command post and ensures everyone works from the same operational picture.
By 8:30 am - a little over two hours after SMFR HazMat was called to the scene - all crews departed and the facility was back up and running. Without drones in their toolkit, the first responders would have had to make several trips onto the roof to determine the situation - significantly increasing the time on scene and the cost for all parties.
How drones are taking an active role in HazMat operations
As UAS Coordinator, Rich Gatanis is at the forefront of how drones are being used in HazMat response. He has developed several solutions to extend the role of unmanned technology beyond situational awareness and was recently invited to share his experience and expertise at the International Firefighters Congress in Bogotá, Colombia.
Last year he devised a flammability test to ensure the M210's intrinsic safety, as well as strapping chemical, gas and radiation detection meters to the same platform to provide officers with the intel they need to approach a scene with the right equipment and safety gear. The meters are read using the drone's onboard camera.
"If I'm in a plastic suit and I go into a cloud that we think is chemical but turns out to be a flammable gas, I'm not protected if it finds an ignition source. It's extremely important to identify what we're dealing with."
Gatanis explains that, typically, an officer or crew in full gear will go and identify the hazardous material before coming back to share that information so the team can adjust their gear and tactics accordingly.
In the process, thousands of dollars worth of equipment can be damaged beyond repair while precious seconds tick away.
Now drones are able to carry out that task with speed and precision. Using the November 14 anhydrous ammonia leak as an example, Gatanis says, "We've cut out the first hour by identifying within 15 minutes what's going on."
This year Gatanis developed a decontamination process that enables the team to safely wash down and re-use DJI platforms that have operated in hot zones.
SMFR video showing decontamination process with Romeo Durscher
He's also been exploring the possibility of using drones to pre-load the scene of an incident with tools or deliver them on demand. Often the HazMat team's staging area is hundreds of meters from the hot zone. Hitching 2lbs of gear to a drone makes a lot of sense when the alternative is having officers trudge all the way back to collect it.
The meter-carrying and tool-delivering solutions fall into what Gatanis calls the 'Keep it simple, stupid' category: uncomplicated but effective customizations that harness drones' maneuverability to improve safety and save time.
The risk and uncertainty in every HazMat situation demand the response be slow and methodical. But depending on the environment, slow and steady can add to the danger, too. Gatanis reveals that heatstroke and heat exhaustion are among the biggest risks to officers in Florida.
Working in a Level A HazMat suit for a prolonged period under the baking sun is uncomfortable, to say the least. "There's no heat exchange. All the heat you're putting out is staying in that bubble and you can have extreme temperatures in there within 30 minutes."
As a result, every journey an unmanned system can take on behalf of an officer is welcome. Like Gatanis says, "If I can minimize risk and use a piece of machinery to do that job, it's a win for me."
Learn more about the basics of thermal drones or about when thermal drones made an impact.