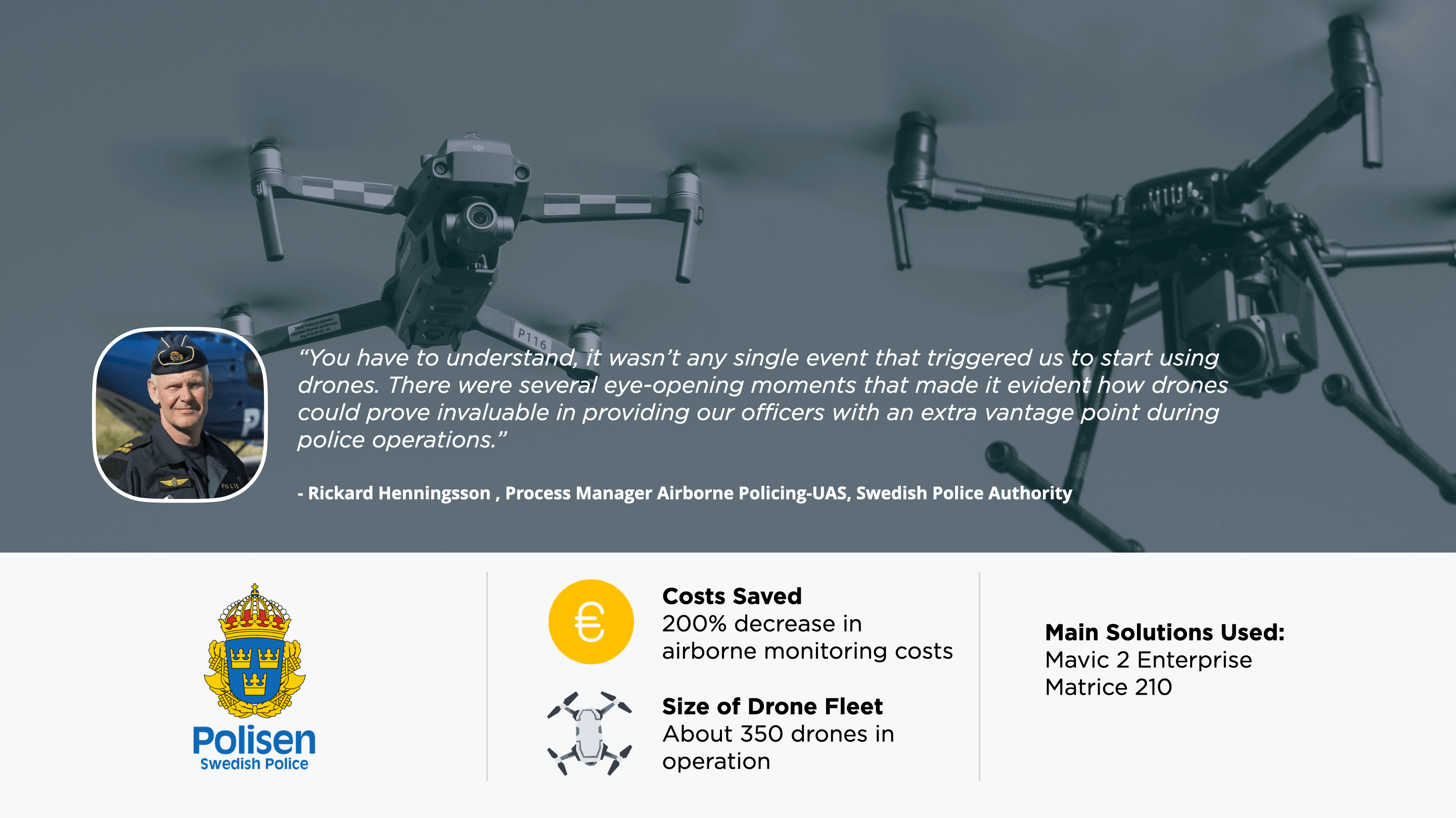 Internationally lauded as one of the most progressive and happiest places on the planet, Sweden is the fifth largest country in Europe. The quality of life in Sweden is consistently considered to be much higher than most nations, and the Swedish Police plays a big role in ensuring that by reducing crime and promoting public safety.
In 2015, the Swedish Police Authority was established as the central governing body for the police in Sweden, marking a significant shift from decades of local government-controlled divisional forces. Already a frontrunner in the deployment of new technology solutions to protect its communities, the country started exploring the use of drones around that same time.
In a pilot study, which lasted until 2017, Sweden not only researched the possible applications of unmanned aerial systems (UAS) in public safety operations, but it also dug deep into the best practices, policies, and procedures to assess if the use of the drones would meet the requirements of Swedish law.
The country officially kicked off its police drone program in 2018 with the appointment of former helicopter pilot Rickard Henningsson as Process Manager Airborne Policing-UAS at the Swedish Police Authority. Each branch within the police was given the opportunity to enter the qualification program and get requisite training to start using drones in the line of duty.
When the program began, you could count the number of trained drone operators within police services on your fingers. Today, more than 200 officers across Sweden, or roughly 1 percent of the police force, have earned the licenses and certifications required to operate drones during law enforcement activities. This has allowed the Swedish Police Authority to equip each police unit within the program with a drone, in addition to providing several UAS to forensic teams for their investigations.
Overall, there are roughly 350 police drones operational in Sweden today, dramatically increasing the safety and security of its citizens.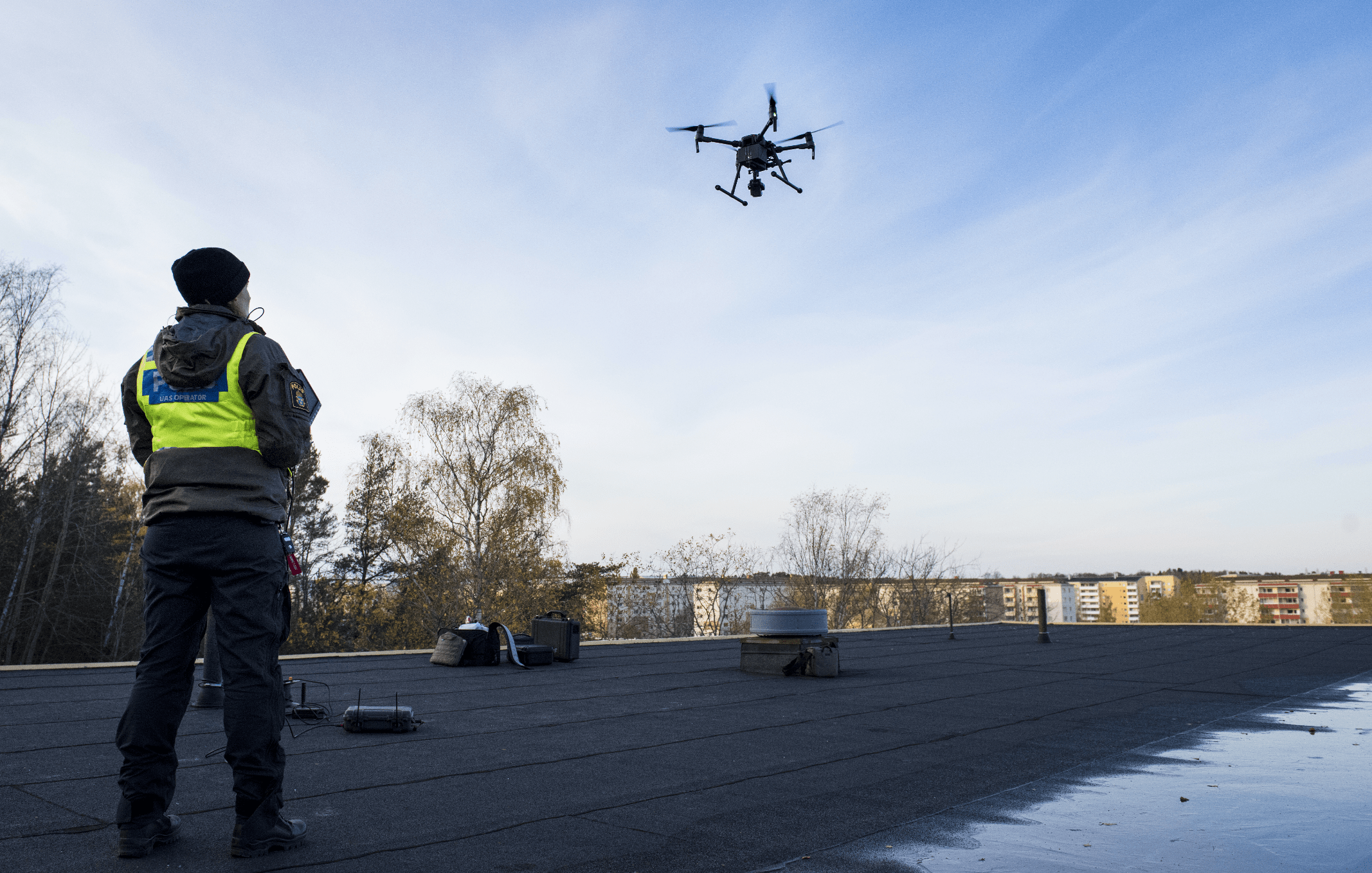 Quick, cost-effective aerial support
Sweden may be home to arguably the biggest drone public safety initiative in Europe, but its progression seems only natural when you take into account the many successes Swedish Police Authority has witnessed with public safety UAS operations.
For example, sending in drones to take pictures and video footage of a crime scene or accident site has helped the police department to reduce the risk of evidence contamination. Police drones also assist fire services in hazmat response and aerial reconnaissance during incidents such as fires, oil spills, and natural disasters.
Further, Sweden has used drones to ensure safety and crowd control at large public events such as football matches, election rallies, and demonstrations. The technology has also provided great value during search and rescue operations if someone goes missing in the mountains or at the sea.
In Malmö, the third-largest city in Sweden, drones are routinely flown in public spaces of troubled suburbs where incidents of drug trafficking and gang-related crimes escalated in 2019. Complementing foot patrols and other safety measures taken by the police, these drones have helped to prevent or detect crime. Since officers make it a point to respect the privacy of citizens, police are entitled to use the aerial footage in investigation and prosecution. When presented as evidence in trials, aerial images and videos often prove to be a decisive factor in cases that have no witnesses.
And all this is achieved while providing a safer work environment to the public safety officers and first responders.

A lack of helicopters, however, was a major factor behind the rapid scaling of the Airborne Policing program.
The Swedish Police Authority has 9 helicopters in its kitty, with each hour of flight costing the department 3,000€. In contrast, a compact, agile, and quickly deployable drone (such as the DJI Mavic 2 Enterprise series) decreases the cost of airborne monitoring by 200 percent – thereby serving as an efficient and cost-effective alternative to helicopters, especially in small-scale missions.
"And let's not forget that drones do not attract attention the way a helicopter does. Discretion can be mission-critical for many applications," Henningsson adds.
Mission-specific airborne tools
Not only did Swedish Police Authority realize early on that drones could supplement their helicopter program in multiple operations, but the department also understood that, for maximum efficiency, it needed different drones and payloads to serve different applications.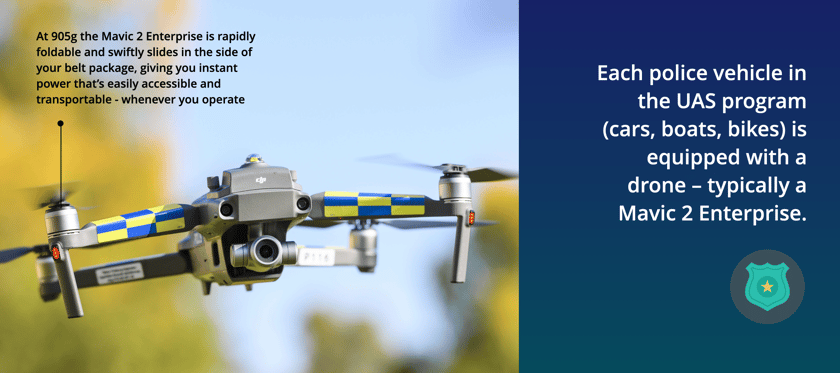 "These specialized units are trained to cover everything from densely populated regions to large areas requiring wider coverage," Henningsson tells. "Since we have joined DJI's Qualified Entities Program (QEP), our drones do not have any limitations in terms of altitude or geofencing. Our officers can conduct their drone operations without restrictions."

For large-scale crowd control, the Swedish police prefer to leverage the remarkably powerful visual sensors of the Matrice 210 V2. The drone allows officers to quickly map large areas in 2D and generate actionable insights. "It takes us only a few minutes to create annotated 2D maps from aerial imagery and share it with the stakeholders," Henningsson quips. "We are also assessing 3D modelling software for future use."
Further, the M210 V2's thermal and zoom cameras have come in handy during manhunts for criminals on the run. First responders, meanwhile, trust the M210 V2 to find lost persons during rescue missions. This year alone, the Swedish Police Authority has used drones in more than 150 rescue missions.
In forensic work, where every pixel counts, the Mavic 2 Pro becomes the go-to tool. The drone comes equipped with Swedish Hasselblad camera technology, which is renowned for its outstanding image quality in both high- and low-light environments.
The police department has also procured the small yet powerful Mavic Mini for use in indoor operations, but the bulk of the inventory for motorcycle and boat units consists of the Mavic 2 Zoom, Mavic 2 Enterprise, and Mavic 2 Enterprise Dual.
The ultra-compact Mavic series with low noise propellers and dynamic zoom sensors can be deployed in the air within minutes, giving officers a scene size-up from a distance necessary to ensure safety or tactical advantage.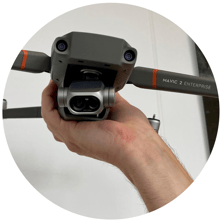 Interestingly, since leveraging M2ED's thermal capabilities doesn't mandate the drone to be in the air, police officers also use it as a handheld device to fulfill quick thermal imaging requirements.
And to provide weeks of hands-on training to its operators, the department uses its older inventory of DJI Phantom and Inspire drones.
Best practices for best results
Sweden's Airborne Policing unit is on a mission to ensure that no operation is compromised because of a lack of availability of drones. But that doesn't mean that a drone is deployed every time the police receive a tipoff or an emergency call. Each drone flight needs to be authorized by a high-ranking official.
Given the time-sensitive nature of public safety work, the authorization process works in tandem with the police units rushing to the scene. Once the unit receives the green signal for the use of drones, the operator goes through a pre-flight checklist and follows the appropriate procedure laid down in the operations manual. It is also mandatory for the responding unit to provide the police department with a detailed report of every drone flight it undertakes.
Henningsson acknowledges that, ultimately, several key factors have come together to make the Swedish police's drone program a huge success.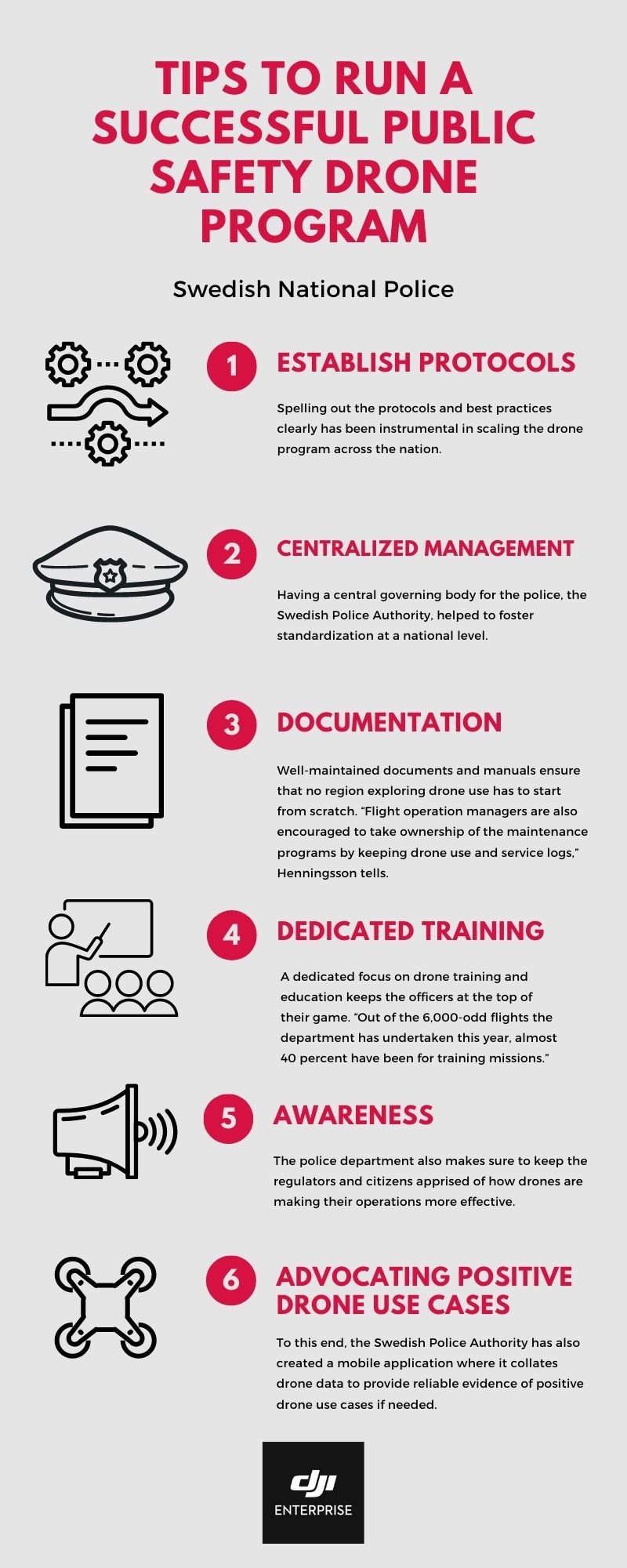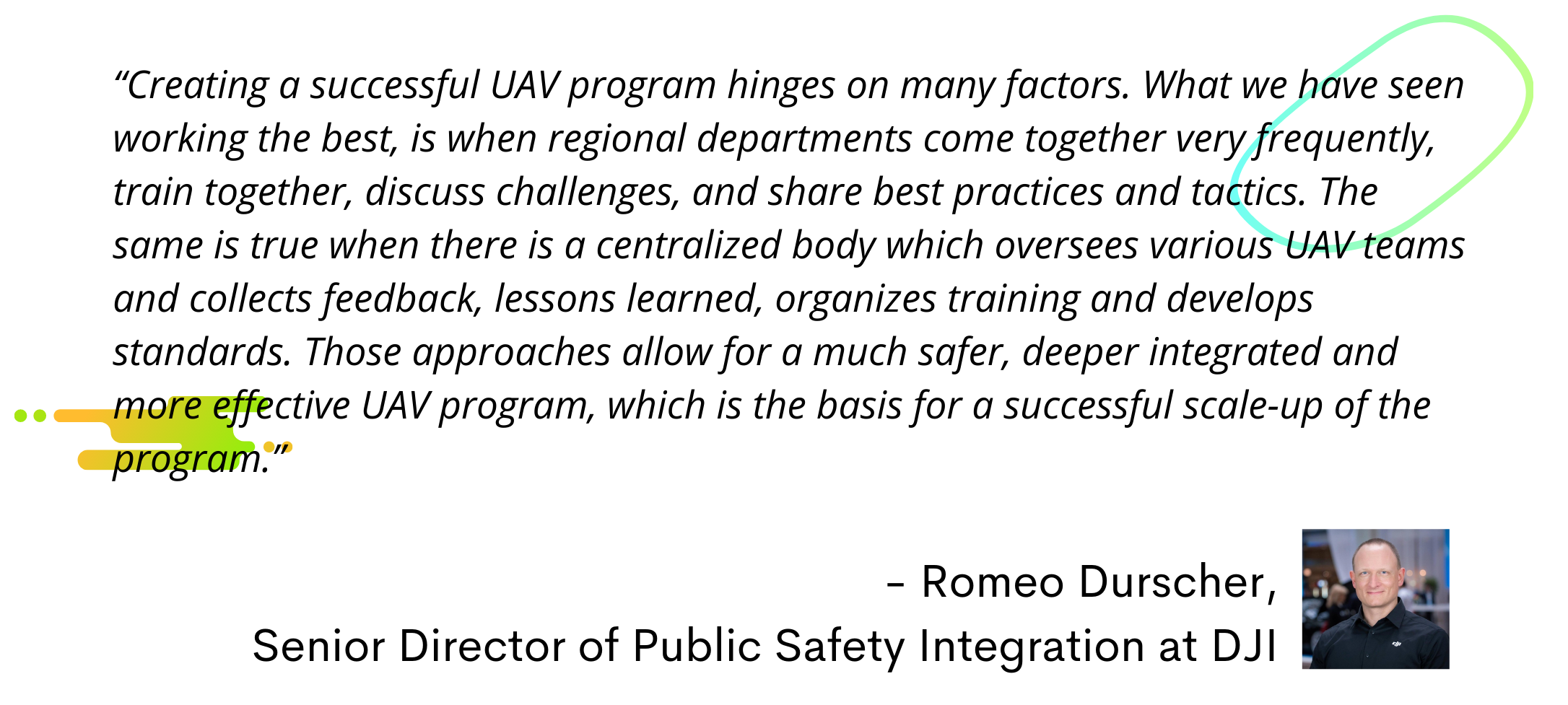 As it continues to use UAS for the benefit of public safety, the Swedish Police Authority is now exploring ways to join forces with other first responder agencies to maximize the value drones can bring to the country.