Earthquakes, volcanic eruptions, and tsunamis are all too frequent in Japan because of its climate and topography. While there's no technology that can stop these events from happening in the first place, a forward-thinking adoption of drones for disaster prevention and preparation can help the country to reduce the negative impact these hazards leave on communities.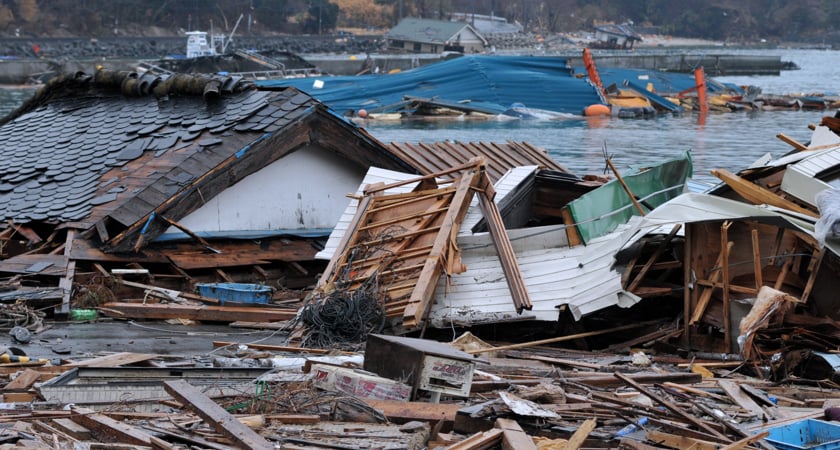 This is something Japan's Digital Minister Kono Taro also realizes. Under his leadership, experts are reviewing and revising more than 9,000 clauses in the country's regulations that mandate human presence at certain sites. One of the reforms that the government is considering to implement is to replace human eyes with drones during the inspection of critical infrastructure such as dams and bridges. Another idea is to use artificial intelligence to gauge the extent of damage caused by a natural disaster.
This kind of single-minded focus on digitalization is new for Japan — a country that has lagged in the global wave of digital transformation despite making several strides in advanced engineering. But this is exactly what could become a game-changer for a nation that is often left overwhelmed by natural forces.
Drones for natural disaster preparation
A few early adopters of drone technology have already begun to put in the work required to revolutionize resilience building and emergency response. Here are three organizations that are pioneering the use of drones in improving Japan's disaster preparedness:
Sky Joint: A man on a mission
Takuma Hodouchi founded Sky Joint the same year DJI released Phantom 4 – the drone that forever changed the world of surveying and mapping. Having retired from the Japanese Air Force, Hodouchi was no stranger to technology and the power of digitalization. He set up Sky Joint in 2016 as a one-stop shop for photogrammetry, laser surveying, infrared surveys, mapping, 3D modeling, and volumetric calculations. Drones allowed Hodouchi to reduce costs and increase the efficiency of his projects, but it wasn't until 2018 that he realized the truly transformational power of flying sensors in natural disaster response.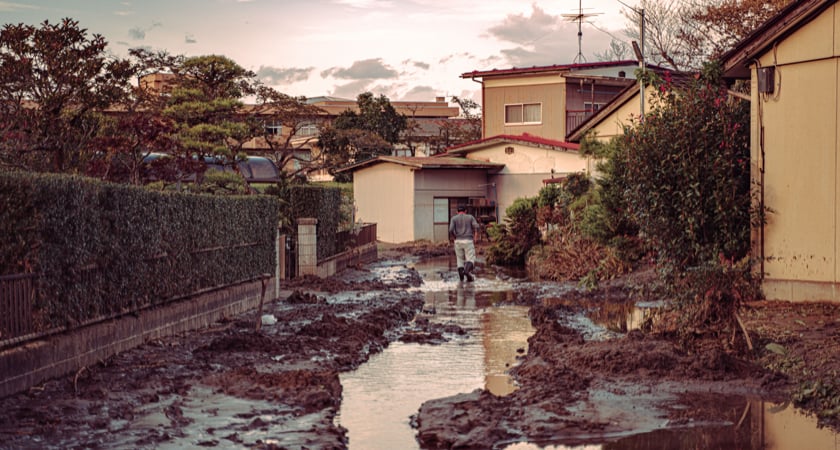 In July 2018, western Japan suffered its worst rains. Floods and landslides killed more than 200 people. The damage to infrastructure was so extensive that ground vehicles could not access most of the heavily-hit areas. So, Hodouchi armed himself with a Matrice 210 aircraft, almost a dozen drone batteries, and a D-RTK 2 GNSS mobile station, and surveyed 2,400 ha of disaster-struck areas in Hiroshima, Okayama, and Ehime prefectures. Aerial imaging and 3D mapping of the region proved so useful in planning access and relief to the isolated areas that the drone findings were included in the briefings shared with the prime minister.
Hodouchi says drones have proven especially useful while mapping mountainous areas, which is about three-fourths of all the land in Japan. Compared to terrestrial surveying, drones take 80% less time. For example, surveying 120 ha of hilly terrain by conventional methods typically takes around 8 months, while data post-processing could take up another 6 months. On the other hand, a powerful mapping drone such as the Matrice 300 RTK can complete the same surveying job in just three flights, and a photogrammetry processing tool can create a detailed map from the data in about two weeks.
When highly precise 3D maps and models are produced at a fraction of the cost, terrain surveys can be conducted more frequently. Emergency management professionals can compare these maps with historical records and detect risks, such as landslide potential, more accurately.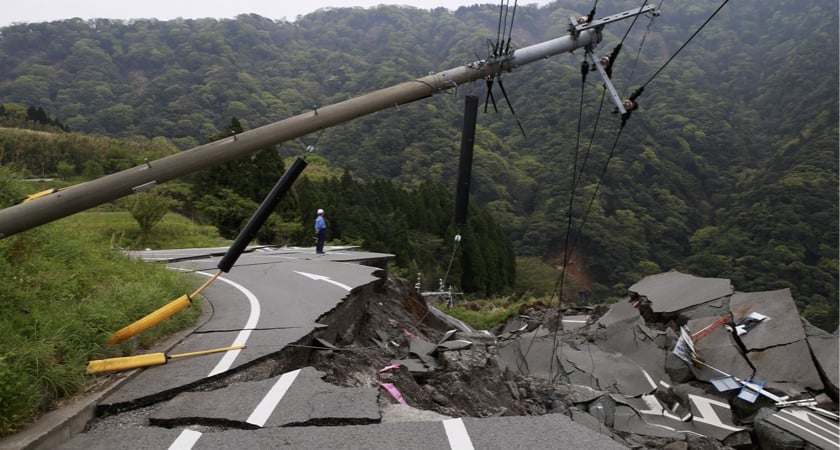 Red Goblins: A city and team with a vision
Red Goblins is a drone emergency response team based in Japan's Toyohashi City. Since the area is surrounded by both mountains and the ocean, Toyohashi faces the dual threat of landslides and tsunamis in addition to urban disasters. As such, the primary focus of Red Goblins is to arm first responders with real-time information when an unforeseen event strikes. This includes both documenting and mapping the damage as well as aiding emergency crews in search and rescue efforts.
The genesis of the initiative can be traced back to Typhoon Noru, an explosive 2017 tropical cyclone that lasted for nearly three weeks, and caused two deaths and at least $100 million in damages in Japan. Emergency response in Toyohashi at the time was slow since city officials did not have a clear assessment of Noru's wrath. But now, the city has the Red Goblins drone squad, and Red Goblins have DJI drones to collect the information they need at a moment's notice.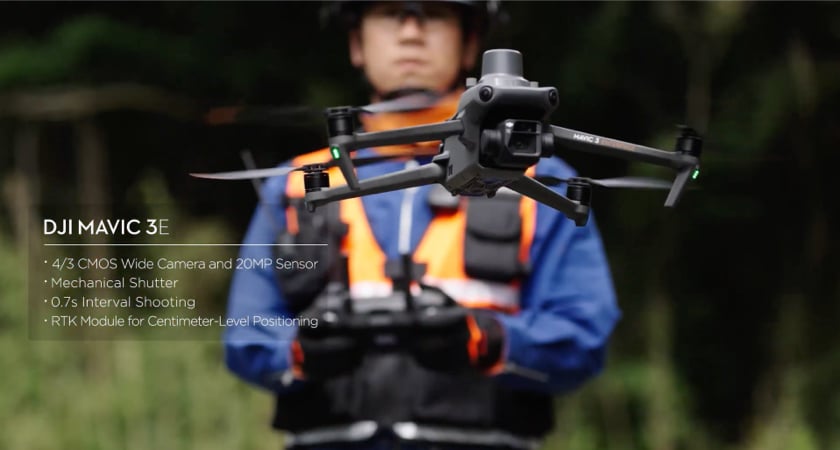 At a recent landslide disaster, Red Goblins used the Mavic 3 Enterprise for 3D orthographic map creation. The team took stock of the damage using the drone's 20 MP wide-angle camera, 56x hybrid zoom camera, and a mechanical shutter that prevented motion blur and supported rapid 0.7-second interval shooting. The pilots then used DJI Terra mapping software for image processing and created shareable data from the site in less than 10 minutes – all without pausing the mission.
The drone team also conducted a joint disaster drill with the fire department recently, exploring how a thermal aircraft can be used to save lives during an active fire. Within a few minutes, Red Goblins were successful in producing orthophotos and 3D data of a 100m radius from the Mavic 3 Thermal drone and DJI Terra software. Not only did the team get a bird's-eye view of the scene of the fire, but they could also get other useful information like the building size and height to help with fire rescue strategies. In addition, the thermal camera on the Mavic 3T was able to detect the heat source and locate individuals trapped inside the building.
Chuden Engineering Consultants: A promise of precision
When Mount Ontake in central Japan erupted on September 27, 2014, it did so without any clear warning, which led to more than 60 hikers and tourists perishing on its slopes. The event came to be known as the deadliest volcanic eruption in the country in a century and renewed the focus on defense against volcanoes.
But that is easier said than done. Japan has 111 known active volcanoes, and minimizing damage from them requires accurate recognition of volcanic risk.
One of the most notorious volcanoes in the region is Sakurajima, located some 1,000 km southwest of Tokyo. Whenever Sakurajima explodes, it puts the local population at risk of landslides and debris flow. And it explodes pretty frequently; more than a hundred times a year, according to some estimates. The last major eruption at the highest level of five was registered as recently as July 2022. Sakurajima, naturally, is a prime candidate for volcanic risk modeling.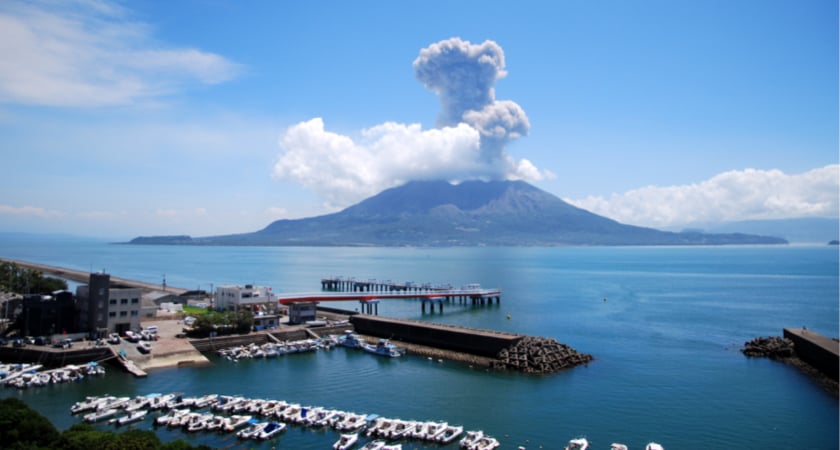 The job was taken up recently by Hiroshima-based Chuden Engineering Consultants. The company, which has been offering technical and environmental assessment services for almost six decades now, started exploring DJI drones in 2015. Since surveying an active volcano is fraught with risk, instead of sending in crewed helicopters, Chuden decided to equip its team with the Matrice 300 RTK drone, Zenmuse P1 full-frame sensor, and DJI Terra software.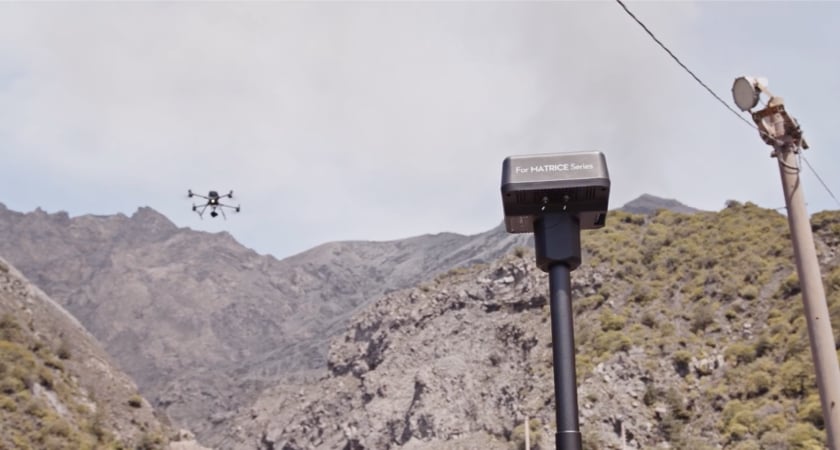 The all-weather drone allowed the team to collect high-precision topographic data with a measurement error of less than 5 cm. DJI Terra processed almost 9,000 images in a single day to deliver a 3D model of the volcano surroundings for the study of potential risks and the creation of action plans to mitigate risk. Now that Chuden has found a reliable and efficient solution for accurate volcanic investigations, it plans to deploy the M300 RTK repeatedly over Sakurajima for timely change detection.
Signing Ceremony in Toyohashi to promote the use of drones
On February 28, 2023, DJI Japan Co., Ltd., Toyohashi City, and Chukyo Television Broadcasting signed a deal to boost disaster response, generate job prospects, and foster Toyohashi City's growth through drone utilization. The signing ceremony was attended by DJI JAPAN GM Allen Wu, Toyohashi City Mayor Yoshitaka Asai, and Chukyo Television Broadcasting Business Produce Bureau Director Kiyotaka Murai. This marked a significant milestone as it builds on their joint efforts from the previous year, which included conducting drone disaster drills for rescue and recovery operations. The agreement represents a deepening of the partnership between DJI, Chukyo Television Broadcasting, and Toyohashi City to safeguard and develop the city.
Under this agreement, Toyohashi City, DJI JAPAN, and Chukyo Television will work together to promote the further use of drones in disaster response, thereby widely disseminating the effectiveness of equipment and materials and improving disaster response capabilities. The purpose is to contribute to the development of Toyohashi City by improving the city and increasing employment opportunities. Details of specific activities utilizing the items of the agreement will be worked out in the future.
After the signing ceremony, GM Allen Wu and Mayor Asai discussed their main initiatives and future prospects. Mayor Asai, discussed an example of the city's use of drones so far, when a lot of driftwood was washed up on the coast of Atsumi Peninsula due to the influence of Typhoon. On site inspection, a case was introduced in which it was completed in one day instead of several days in the past. GM Allen Wu said that the use of drones in the disaster prevention field in Toyohashi City is progressing even from a global perspective. It was also revealed that they would like to receive advice on how to use drones and ideas more than ever.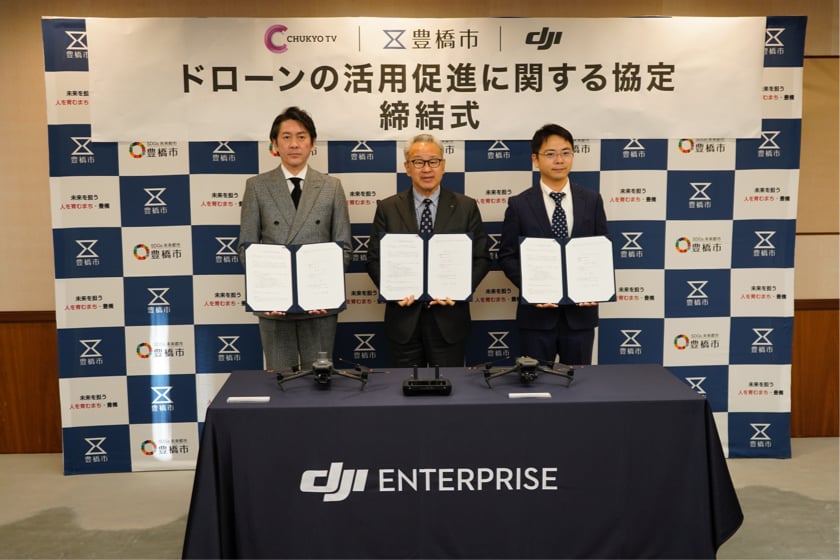 Featured left to right: Kiyotaka Murai, Chukyo Television Broadcasting Business Produce Bureau Director; Yoshitaka Asai, Toyohashi City Mayor; Allen Wu, DJI Japan GM
Endless possibilities for the future
Utilizing compact, instantly deployable DJI drones has allowed Sky Joint, Red Goblins, and Chuden Engineering Consultants to pave the way for transforming disaster preparedness in Japan. Not only do drones increase the rate and efficiency of data collection, but the accompanying DJI Terra software churns out accurate, usable data within minutes, thus empowering public safety teams to make quicker, more informed decisions.
The potential of this technology for disaster prevention is virtually endless. Drones can serve as a resource for preventing impact before a disaster, as a tool for helping those in need during a disaster, and as a solution for rebuilding post-disaster.
Ready to learn more about DJI drones, natural disaster prevention technology, or the role of drones in digital transformation? Contact us now.