In many parts of the world, where ships are used to import oil and gas products, refineries and storage terminals are typically located near navigable waters. Transfer between a moored ship and an onshore facility is enabled through jetties and complex pipeline systems that run along with them.
Inspecting these jetties for corrosion and leaks is a big job – one that has conventionally required significant time, money, and hazardous manhours to complete. But this time, a Pakistani drone service provider changed the game for a Dutch independent tank storage company by using a DJI Matrice 300 RTK (M300) drone outfitted with a Zenmuse H20T sensor.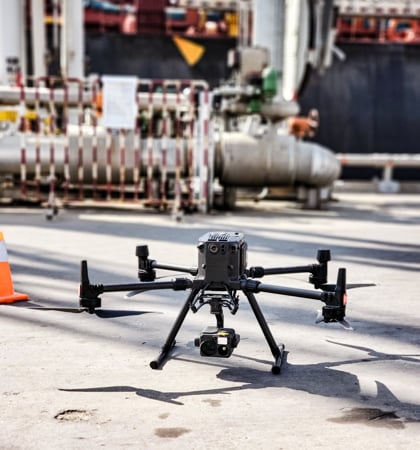 Inspection of jetty pipelines
Pakistan's industrial and financial hub Karachi is home to two major ports and three liquefied natural gas (LNG) terminals. The largest of these terminals, consisting of a 1.4 km jetty, is located in Port Qasim. The high-pressure gas pipeline that runs along the 23-year-old jetty is operated by Rotterdam-based Royal Vopak and Pakistan's home-grown multinational corporation Engro. The LNG from this facility is supplied to Pakistan government-owned entity Sui Southern Gas Company.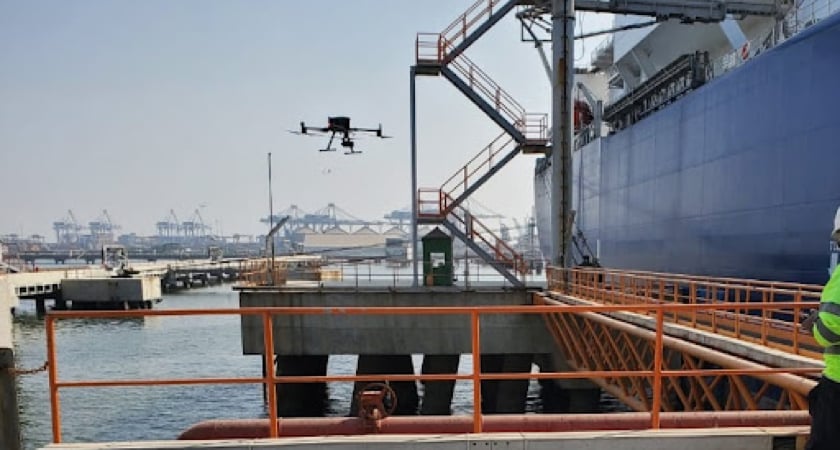 Given the pivotal role the LNG terminal plays in Pakistan's growing energy needs, periodic inspections are necessary for operational continuity. However, inspections conducted through traditional, manual methods are an extremely costly and tedious affair.
The entire process can take anywhere between four to five months. There's temporary scaffolding to be built and trestles to be rented on a daily basis. And since the jetty sticks out into the water and is difficult to access, the inspection crew has no choice but to put itself at risk while collecting data manually.
But all this changed as the 2022 inspection due date approached.
When drones create history…
In the last few years, drones have completely transformed the way utilities and oil and gas companies manage their industrial assets. Drones help to quickly identify threats, see through blind spots, and improve the overall inspection efficiency. In most cases, they can be deployed without shutting down operations which helps to minimize maintenance costs. And let's not forget that using drones not only keeps workers from hazardous situations but automated, repeat flights also ensure the delivery of detailed inspection data which can be used to detect trends and insights early on.
Vopak hired drone service provider VTOL Dynamics exactly for these reasons.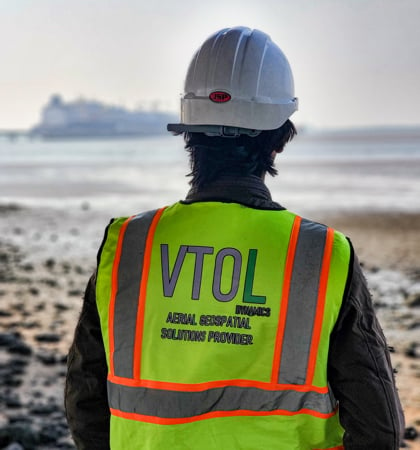 The firm was entrusted to find an industrial-grade solution that could inspect the civil and metallic structure of the entire jetty. The company decided to utilize the DJI M300 RTK drone with an H20T sensor. In addition, an upward gimbal connector was also used, so that maximum precise data could be captured using two payloads.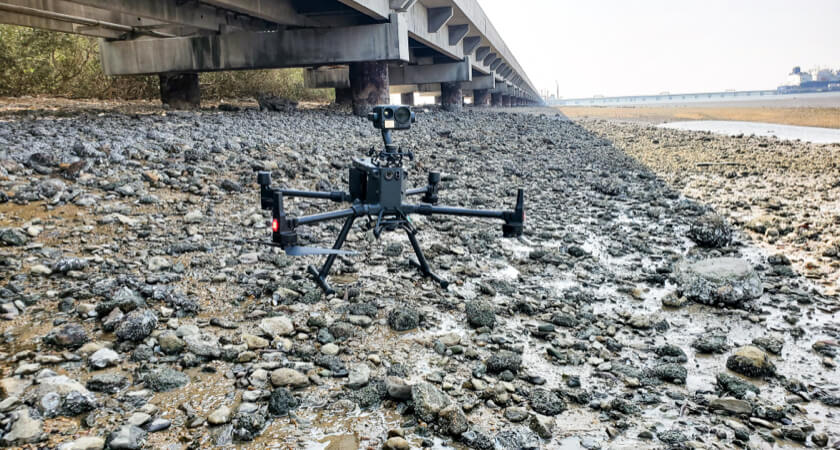 The M300 can inspect the underside of the jetty thanks to its upward gimbal slot
The flagship project was first-of-its-kind for Pakistan and helped to complete the jetty inspection in a record-breaking 10 working days.
"This job conventionally took 4-5 months and we dreaded it every time. Thanks to the DJI M300 RTK and H20T, we are back up and running in just 10 days." - Taimoor Afzal, Deputy Manager of Digital Transformation, Engro Vopak
DJI M300 RTK: A drone made for critical, challenging inspections
VTOL Dynamics points out that the selection of the right aircraft and sensor was awfully important for the project. There were several challenges that the team faced, including a tight schedule of tides, wind gusts of up to 15m/s, magnetic interference caused by steel structures, and finding access to hard-to-reach areas by the open sea, so that data could be collected from every inch of the 1.4km jetty.
But an even bigger concern for the crew was safety. The jetty carries thousands of cubic meters of volatile fuel on a daily basis and any untoward incident could pose a risk to the safety of hundreds of personnel and property worth millions of dollars.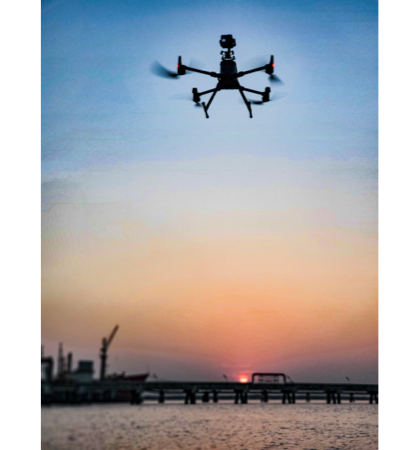 The DJI M300 RTK made the cut since VTOL Dynamics had already used it several times at other challenging job sites and the team was impressed by the platform's rock-solid performance and reliability.
The M300 RTK is outfitted with powerful motors that enable unprecedented agility, acceleration, and maneuverability, even in high winds and harsh conditions. The drone can resist the effects of salt buildup and corrosion for continuous operations in challenging coastal environments. Also, the IP45-rated drone is bolstered with a next-gen collision avoidance system as well as a series of redundancies to ensure safety in the case of an emergency.
The H20T payload, meanwhile, is an equally impressive quad-sensor solution consisting of a 20MP zoom camera, a 12MP wide camera, a 640×512px radiometric thermal camera, and a 1200m laser rangefinder. In addition to detecting temperature anomalies, the H20T delivers super crisp images with its 23× Hybrid Optical Zoom – a capability that allows inspectors to evaluate the asset condition in greater detail.
Summing up
Naved Ali, the founder of VTOL Dynamics, stresses that his team couldn't have completed the job without a state-of-the-art machine like the DJI M300 RTK drone and the H20T sensor.
"Even though we have utilized this drone in dozens of different projects, the jetty inspection was one of the most fulfilling experiences for the entire crew as we were able to achieve something in 10 days, which, for the past 23 years, was being done in 4-5 months." - Naved Ali, VTOL Dynamics Founder and CEO.
Vopak now plans to conduct all future inspections of its jetties using drones. If you also want to make your asset inspections easier than ever using the M300 RTK and a Zenmuse H20T series payload, contact a certified DJI representative near you.