The towns of Paradise and Magalia in Northern California, nestled in the foothills of the Sierra Nevada, were once thriving communities with over 27,000 residents. On November 8th, 2018, the "Camp Fire" changed all of that within hours. Thousands have been affected by this wildfire, close to 100 people lost their lives, many thousands have lost their homes.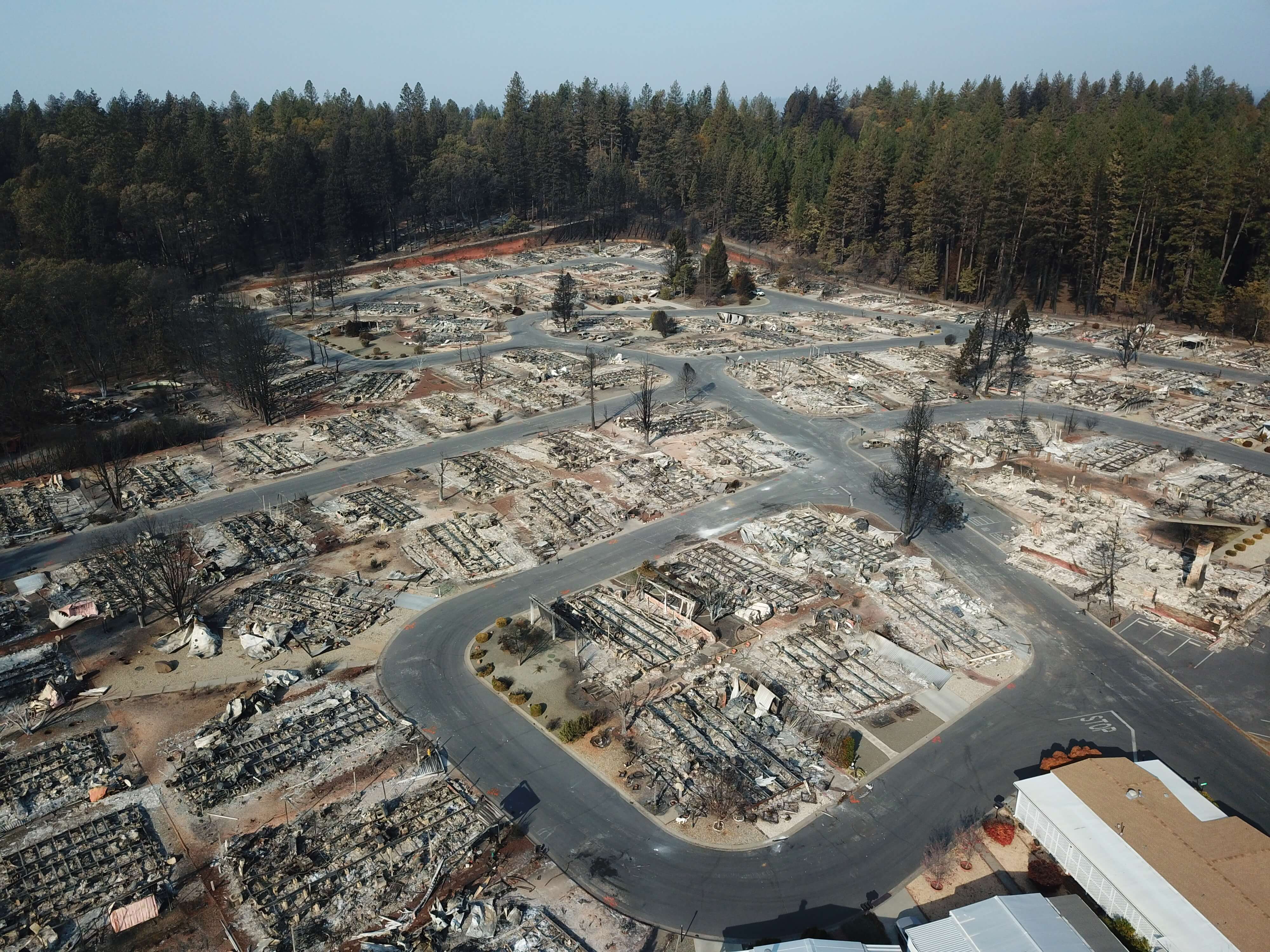 Over two days — hovering over the burned-out grounds of the state's most destructive fire, a legion of drones began recording images of the devastation below in efforts to help the people who lost their homes. By the time they were done, they had collected 70,000 images over 17,000 acres resulting in 1.4 trillion pixels of data.
The detailed footage and maps would help people to determine the condition of their homes — and expedite insurance claims. The footage could also help recovery crews, demolition crews, city planners, scientists and researchers, and the general public, to get a better understanding of the situation.
The 518 coordinated flights operation, by 16 Northern California emergency responder agencies, is one of the biggest drone response to a disaster scene in the nation's history. The 16 UAV teams were led by Alameda County Sheriff's Office. Stockton Police, Contra Cost County Sheriff's Office & Menlo Park Fire Protection District had the most team members present, with Union City Police, Hayward Police and Stanislaus County Sheriff's Office providing units as well. San Francisco Police oversaw airspace mitigation. In addition to the mapping flights, over 160 full 360-degrees and interactive panoramas were created with the help of Hangar, as well as geo-referenced video was shot along major roads in Paradise through Survae. This layered data set was processed in record time.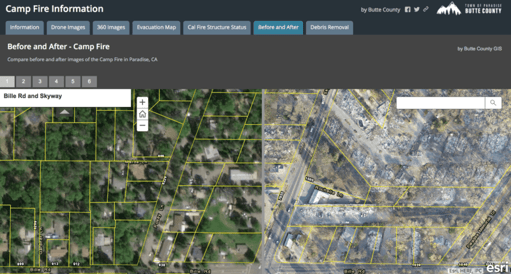 The photos and videos shot by drones were all georeferenced and stitched into a map format, making it possible for residents to check the status of their homes with the interactive AI app. Authorities in Butte County publicly released the maps and aerial photography even before many residents had been cleared to enter the fire zone to check their homes. Access Butte County's Camp Fire Map.
"We're hoping that one, it will help people understand the devastation that we're dealing with, understand the very difficult task that we have," said Butte County Sheriff Kory Honea. "We're hoping it'll provide them information that will help them get their insurance claims started."
The Mission Set-Up
When teams arrived and hit the ground, the air was still in severe conditions with a lot of smoke and plumes coming out from the fire. Responders had to work with masks on and remain alert of the various risks and dangers during their missions.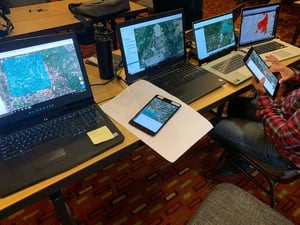 The local mission-planning command area was Menlo Park Fire team's conference room in Chico. The Menlo Park Fire Strike Team had already been up at the Camp Fire for the past 10 days protecting structures and fighting walls of fire. As they were being relieved from duty, they exchanged equipment, information and organized for two of their members to re-deploy as part of the UAV team for the mapping missions.
The large amount of data was physically sent back daily to the data process center based at DroneDeploy, a DJI software solution partner, in its San Francisco headquarters office. The data process team there managed to create a detailed, interactive map within 24 hours upon receiving the drone images and data. This was the largest coordinated response of drone teams to a disaster in history but definitely the fastest turn-around of enormous amounts of data.
The Challenges of Mapping in an Area of 13,000 Football Fields
Mapping Zone Breakdowns
Many flights were needed to cover an area of 17,000 acres, approximately the size of 13,000 football fields next to each other. One of the challenges was how to properly set-up and divide the different areas and create maps.
Teams managed to create areas lined up with major roads, and also made sure there was sufficient overlap between the different areas so that the individually mapped areas overlapped each other and attached/connected well at the end.
The huge area was finally divided into over 30 areas, each of 250-300 acres, needing 4-6 batteries each to map. Once that was done, master maps were created to be utilized at the UAV Command area for all UAV information and teams dispatch.
Drone Platform Standardization
It's a logistical nightmare to map 17,000 acres with multi rotors, in an environment that has heavy smoke in the air, is a disaster area with no power, very little LTE/4G connectivity, and is also not entirely flat, with tall trees still standing.
Teams standardized the process by utilizing only DJI Phantom 4 platforms. The drone has a powerful camera for its size and cost; 1 inch sensor, 20MB imagery, with an 84 degrees Field of View and a global shutter.
Power Needs
Overflying that much with a solid overlap, it took teams 518 mapping flights. That also meant 518 batteries that had to be charged. It is important to have plenty of fully charged Phantom 4 batteries, but that's only half the battle. The radio controller and the tablet both need to eventually get charged. That's a big challenge as most UAV operators don't have more than 6-8 batteries on hand. The mapping mission teams calculated in best case scenario that one battery would get approximately 45-50 acres mapped. Therefore, making sure that teams had adequate supply of batteries and chargers was critical to effectively carrying out the mapping tasks.
Data Management
Data management is always a challenge for fleet missions, especially when you have 16 teams and even more individual drones. It is important to have standardized operation for every pilot, that teams must all follow a set of standardized protocols of how data is captured, stored and transferred. This was achieved through closely synergy of all 16 teams in the mission.
But the bigger challenge is how the huge quantity of data is translated into actionable information and integrated into various GIS products, Greg Crutsinger, with ScholarFarms, was a tremendous asset coordinating these efforts between the response teams, and various agencies.
With more than 70,000 images and close to 500GB of data, the teams on the ground turned to the San Francisco-based drone software company DroneDeploy to assist with data processing. Because there was no internet access in the region, the UAV teams had to transport hard drives of data to San Francisco, while Jono Millin (DroneDeploy's co-founder) and members of its sales and engineering teams uploaded imagery throughout the night and the following morning. The next day the data was delivered in 75 maps after the engineering team set up a massive processing cluster in its cloud to manage the massive influx of image data. In the end, 1.4 trillion pixels of captured drone images would become a 100 billion pixel map.
The maps were then put use immediately by rescue and emergency personnel. With up-to-date visuals, fire team charted the damage, and planned their next steps. The maps were even used by search and rescue teams to spot missing persons who may be in the area. Wildfire victims also made good use of the maps. With entire neighborhoods mapped, homeowners were able to submit the imagery to insurance providers to process claims immediately — a process that traditionally can take days or weeks. Many have used the imagery to gain access to FEMA relief funds for the families affected by the fires.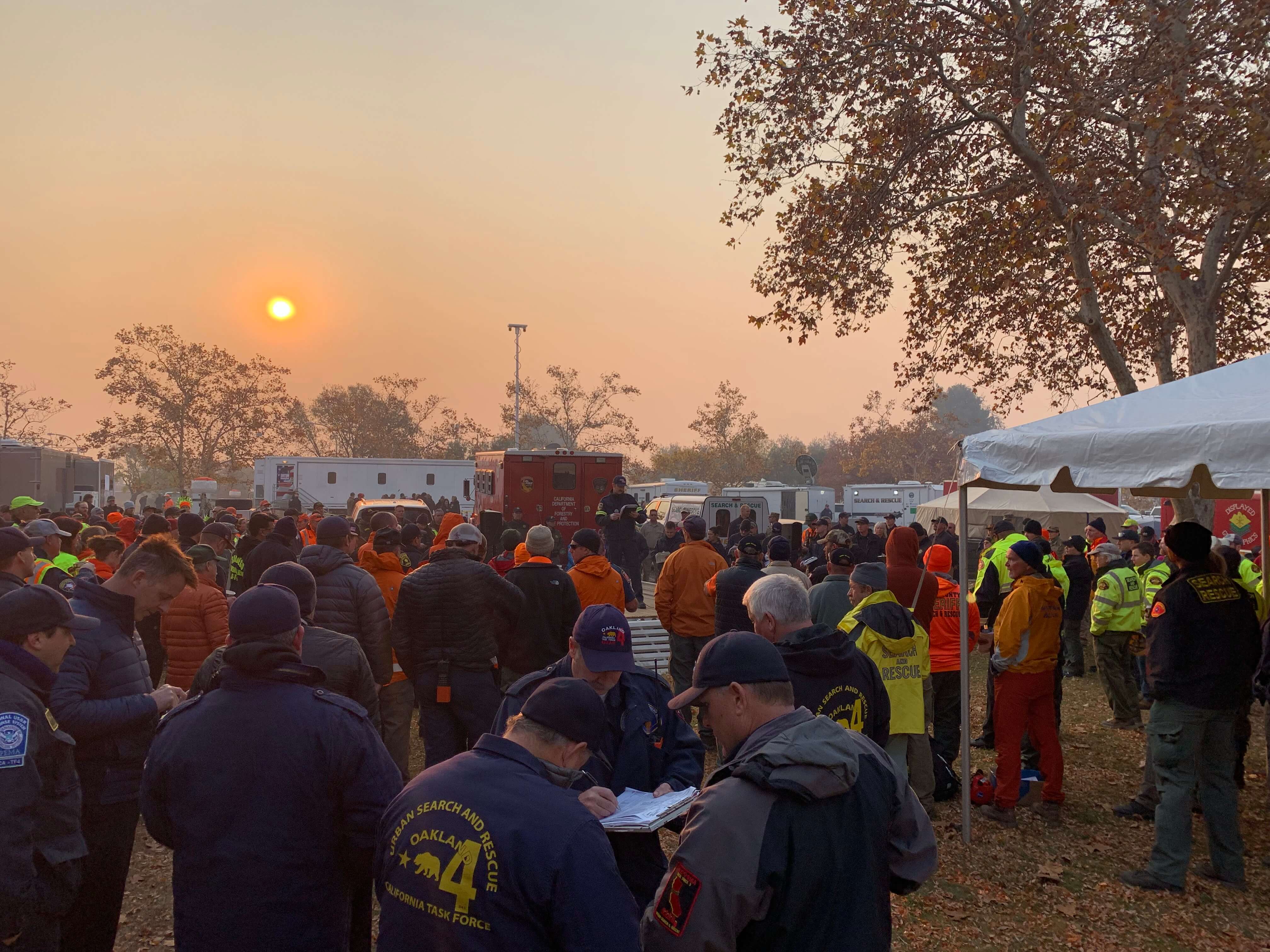 Lessons Learned
Drones for fire, especially large-scale forest fires and area fires, not only work as force multipliers during firefighting missions, especially at night with thermal camera sensors, but also work as an important support tool for post-fire disaster response, search and recovery, and damage assessment.
For large-scale missions that involve more than one department and drone team, cooperation and operation standardization is of especial importance both during the mission and afterwards when drone captured data is processed and utilized.
inally, for the Butte County rescue map to come into being from the first deployment of the mapping drone, it took less than 48 hours overall. This was the largest coordinated response of drone teams to a disaster in history but definitely the fastest turn-around of enormous amounts of data. Drones will keep enhancing safety for first responders while cutting down the time they respond during critical missions.
Drones are changing how government agencies serve the public in big ways and small. While drones have gained an early foothold in public safety, enterprising government agencies and departments are exploring their use in other areas, from transportation and public works to planning and environmental services. For more information about setting up a drone program and learning about best practices to consider as you evaluate how drones could help meet the needs of your community, Download this comprehensive report to get started.