Interested in drone technology but don't think it can have a commercial application for your business? Think again. Drone operation for commercial purposes is having an outstanding impact in industries ranging from mining to real estate, to construction and agriculture. All of this is possible due to a wide variety of specialized uncrewed aerial vehicle types and payloads offering customized features that are right for nearly any job.
Read on to discover how enterprise-level uncrewed aerial vehicles (UAV) are transforming businesses around the world. Is your business next?
How today's businesses use drones
If your sector uses data collected from a physical space, there's a good chance drone technology is making an impact.
Some of the top sectors investing in unmanned aircraft innovation include:
Land surveying
For years, surveying professionals relied exclusively on terrestrial methods such as total stations, GPS receivers and ground laser scanners to acquire their spatial data. Each of these techniques is time-consuming and can become costly quickly. Luckily there's a new way to do land surveying.
With drones like the Matrice 300 RTK, land surveyors can map out even the most challenging terrain faster and more accurately than ever before. Drone deployment eliminates the need for sending surveying crews into hazardous areas and makes it possible to easily collect data from inaccessible features like cell phone towers and treetops.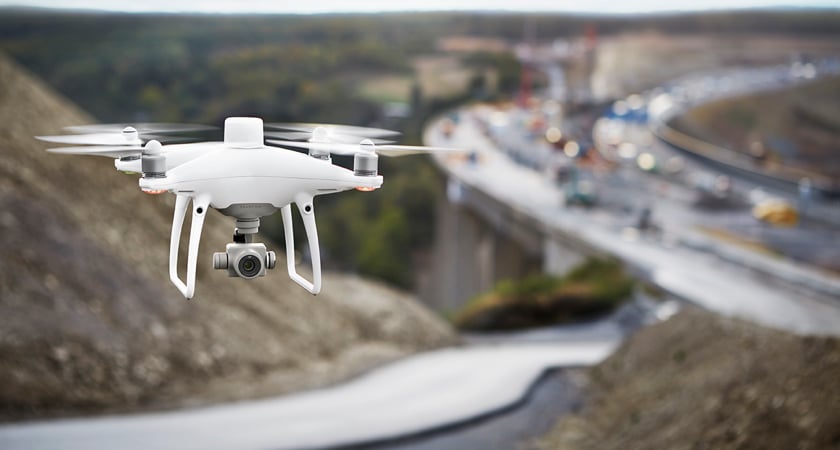 In addition to cutting down on project times, drone usage can be a boon for a surveyor by offering multiple mapping possibilities — including 2D and 3D orthomosaic maps, LiDAR point clouds, 3D models, thermal maps and multispectral maps. Each of these methods may be valuable depending on the specifics of a surveying job.
Environmental Conservation
With relatively limited funding compared to many of the other sectors on this list, environmental researchers must do what they can to optimize every part of their process. Luckily, scientists have found ingenious ways to utilize drones for the good of the planet. Conservationists are using surveying UAVs to map out fragile ecosystems and perform counts on endangered species. Having this kind of data on hand helps environmentalists better understand how to distribute their resources and what areas need immediate attention.
Agriculture
The world's farmers have found all kinds of practical uses for commercial UAVs — with different models unlocking different capabilities. For example, farmers of grain crops like rice, wheat and corn are using surveying drones to spot environmental changes and make the right field management decisions. The results? Lower operating costs, better crop quality and higher yield rates.
Drones don't just help farmers gather new information, however. Drones like the DJI AGRAS T20 can quickly fly over a field and spray fertilizer or pesticides onto crops. This saves both time and labor and represents a major step forward for the agriculture industry.
Firefighting
The last few years have seen an increase in wildfires across the world — a trend that sadly doesn't look to be letting up any time soon. Firefighters have responded to the challenge with innovation.
At each stage of a forest fire, an unmanned aircraft system can have a positive impact. Drones can give firefighters a bird's eye view of the terrain at the outset of a wildfire and help them determine where the flames will move next — allowing them to swiftly make decisions about where crews should go and which towns need to be evacuated. This not only helps crew leaders save civilian lives but also keeps their teams out of harm's way. Furthermore, drones play a big part in forest fire prevention, helping teams set controlled, prescribed burns from a safe distance. These burns help to clear dry brush and other parts of the ecosystem that could become fuel for a wildfire in the future.
Energy
Oil and gas companies use drones to monitor the areas around pipelines for environmental changes over time. This is especially important because some parts of these operations, such as flare tips and floating points, can be challenging to fully assess from the ground. In addition, drone inspections limit the amount of time that employees may need to spend in dangerous environments, such as near steam pipes that spew harmful chemicals. Ultimately, by switching from manual operations to drones, the oil and gas sector is saving time on inspections while keeping its employees safer.
It's not just fossil fuel companies that are benefiting from UAVs, however. Using drones in combination with remote laser sensors, solar farms are able to inspect their panels in record time and accuracy. While solar farms were previously capped by the amount of time it took to perform manual inspections, these companies are now free to expand while still maintaining quality standards — meaning more green energy for the planet.
Mining
A safe and successful mining operation requires extensive amounts of information — sometimes even millions of data points for a larger operation. Like many of these industries, drones help mine operators efficiently collect much of this information. Drone photography is used to shave significant amounts of time from stockpile volume measurement, for example — with DJI clients like the Ukrainian mining company Ferrexpo Yeristovo handling the measuring process 90% faster.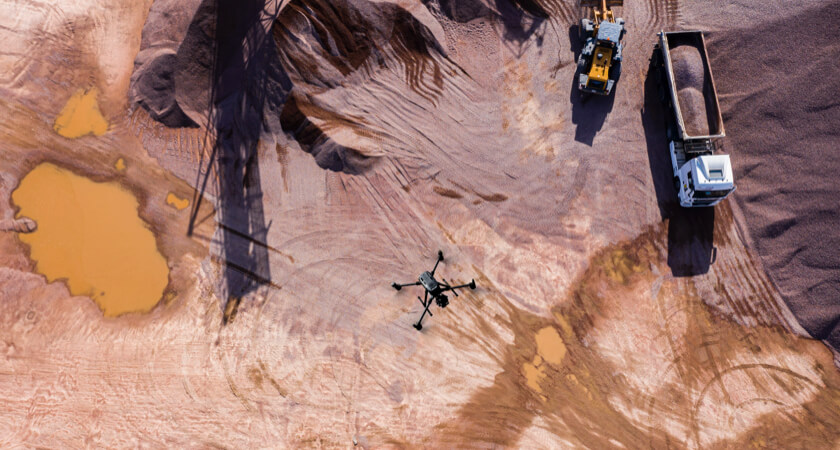 In addition to optimizing the way information is gathered, drones are helping mine operators keep their employees safer on the job. Rather than manually inspecting dangerous equipment, drone pilots can stand at a safe distance and gather all of the information they need. In an industry like mining, where challenging terrain and harmful substances can be plentiful, the ability to work from afar is a true boon for safety.
Construction
Drone mapping and modeling is helping construction managers make safe, informed decisions. AEC firms can use the technology to make 3D models of projects, gather to-the-centimeter measurements and perform stockpile volume measurements. From pre-planning to supply chain optimization, the results tend to speak for themselves.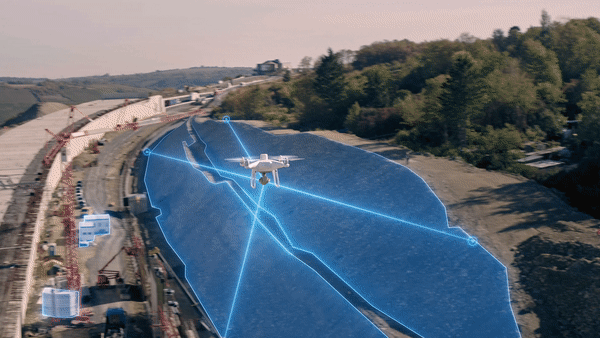 Law Enforcement
From traffic stops to missing people searches, law enforcement agencies are using professional drones to gather the real-time information they need. In situations where a suspect flees the scene of a crime, officers can use a UAV to follow them and plan an interception — without creating the kind of mayhem that a manned vehicle chase may entail. Drones like these can also be used to check police conduct and ensure officers are following standard procedures during traffic stops.
First responders are using remote sensors and thermal imaging to search for bodies in search and rescue missions. With teams often working in darkness and on razor-thin time margins, the right technology can be the difference between life and death.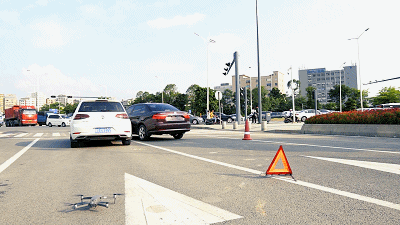 Real Estate
Realtors are using drones to make accurate 3D models of homes for sale and offer virtual tours. While this technique has been around for a few years, its popularity took off during the COVID-19 pandemic, as it allowed prospective renters and buyers to view a property from a safe distance.
Insurance
To provide accurate valuations of properties, insurers need to gather as much information as possible. Drones can help make inspections easier and more time-effective. According to Deloitte, insurance companies will now often rely on a single generalist contractor to handle these inspections due to the large amount of data that can be gathered from a drone. In the past, multiple specialists may have been needed for the role. Factors that insurers look for in these inspections include existing damage and potential risk to a natural disaster like flooding.
In addition to initial evaluations, insurers use drones to assess property damage and even root out fraudulent claims. In some cases, a single drone flight path may be enough to gather all the images needed for an evaluation.
Historic Preservation
Archeologists are using drone mapping and modeling to learn new information about some of the world's most important historic sites. Drone models can be used to gather data before a dig and also help teams optimize the way they work, discover new historic assets and understand the architecture of a building. In Japan, for example, archeologists used DJI Terra to create a 3D point cloud model of the Karatsu Castle, a defining piece of architecture from the 17th century.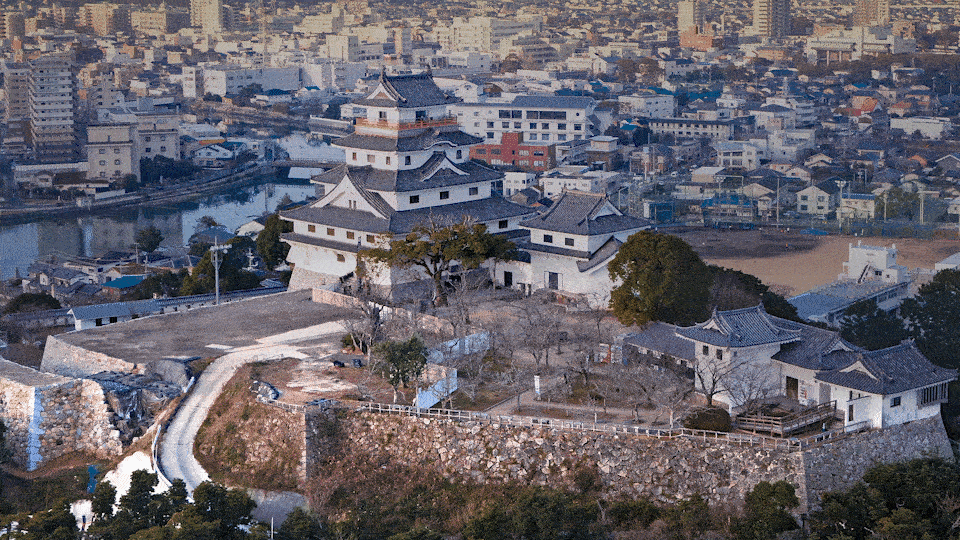 Becoming a commercial drone pilot
While opportunities for drone pilots are clearly ample, there are some steps you'll need to take before you can fly commercially.
Most countries with UAV-specific regulations on the books differentiate between recreational and enterprise drone use — with the latter (and often the former) almost always requiring some kind of permit.
In the U.S., for example, a person must obtain a Remote Pilot Certificate and register their UAV with the Federal Aviation Administration (FAA) before they can start flying commercially. To be eligible for a Remote Pilot Certificate, a pilot must:
Be at least 16 years of age;
Pass the Part 107 test;
Have the ability to read, speak and write English;
Have the physical and mental condition to fly a drone safely
The Part 107 test, in particular, is perhaps the greatest barrier for many seeking to enter the commercial drones market. The test requires pilots to remember important information on drone regulations, operating requirements, the effects of weather on a commercial UAV, radio communication and emergency procedures, and maintenance and preflight inspection procedures.
Other countries handle pilot certification differently. The EU and U.K., for example, regulate drones based on their weight and use, rather than whether the pilot is profiting or not. However, most commercial drones fall into the "Open" category — which means pilots can't fly a UAV over any "uninvolved people," with specific exceptions. "Open" drone pilots must complete a test with 40 multiple-choice questions.
Finding the best drones and payloads for your business
The right drone for you depends on your line of work and the kinds of features and support you'll require.
Features to consider when making a purchase include:
Battery life: While jobs can be completed in only a few flights, others will require you to take thousands of aerial photographs with to-the-centimeter accuracy.
Flight performance: Do you need a drone that can move nimbly across an automated flight path? Is flying in a straight line at a steady pace more important? Drone and payload size and weight will affect how the drone can fly.
Imaging accuracy: While some commercial drone jobs need to-the-centimeter accuracy, others can suffice with a wider view. Know what you're looking for before making a purchase.
Payloads: Different drones are designed to hold different kinds of payloads like cameras and sensors — with some heavier drones even having the capability to carry multiple payloads at once.
No matter what sector you're working in, it'll be worth your while to invest in an enterprise drone, rather than one designed for hobbyist use. Enterprise drones tend to be more durable than their recreational counterparts in order to meet the rigors of daily use. Features to look for include improved wind resistance, self-heating batteries, and a higher tolerance for extreme conditions. The DJI Matrice 300 RTK, for example, has a body that was specifically designed for inclement weather.
Top drone providers are also likely to offer their enterprise customers a higher level of after sale support, as enterprise drones are more likely to be used regularly and put in positions where they can incur a higher level of wear and tear.
Why DJI
When it comes to providing high-quality enterprise equipment for a variety of uses, no company in the drone industry has a reputation quite like DJI. From the impressive surveying capabilities of the DJI Phantom 4 RTK to the rapid speeds and long-lasting batteries of the DJI Matrice 300 RTK, there's a drone in our inventory for your enterprise needs.
In addition to our drones, we also sell specialized software and payloads to meet the needs of clients. Programs like our premier surveying software, DJI Terra are capable of handling huge amounts of data and turning them into interactive 2D and 3D models.
For more information on how to build your own enterprise drone program, check out our handy step-by-step guide.