On the final day of AirWorks 2022, attendees gathered to hear a compelling keynote that highlighted drones as a force for good. Testimony by DJI speakers covered the lives saved by drones across search and rescue, firefighting, and police operations. Then came a powerful talk from medical entomologist Dr. Bart Knols, who has been using drones for a totally different but equally transformative application…
Public perception & the role of industry stakeholders
The discrepancy between public perception and the reality of drones has long been a concern for industry stakeholders. For every story in the media covering a life-saving mission, you'll find another that reflects ignorance with regard to the drone industry. It's fair to say that this coverage is not an accurate reflection of the positive difference drone technology is having worldwide.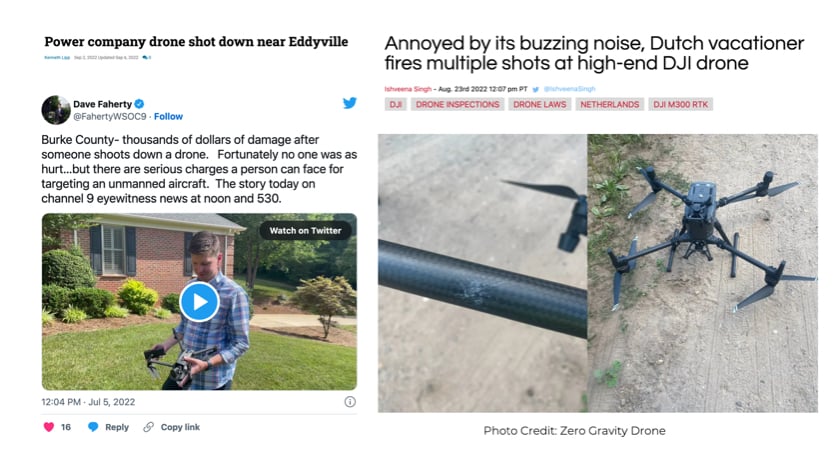 To combat concerns over drone misuse and encourage responsible flying, over the years DJI has introduced a range of measures, including the Geospatial Environment Online (GEO) - which protects sensitive airspace from accidental incursions - and the rollout of AirSense, which is built into every new DJI drone heavier than 250 grams to warn pilots about nearby crewed aircraft.
In terms of public perception, there's our #DronesHelp campaign and the Drone Rescue Map. The latter is an evolving database detailing the incredible impact drone technology is having on the work of public safety professionals. So far we've documented over 500 incidents across 39 countries, with more than 900 lives saved thanks to drones playing an active part in operations.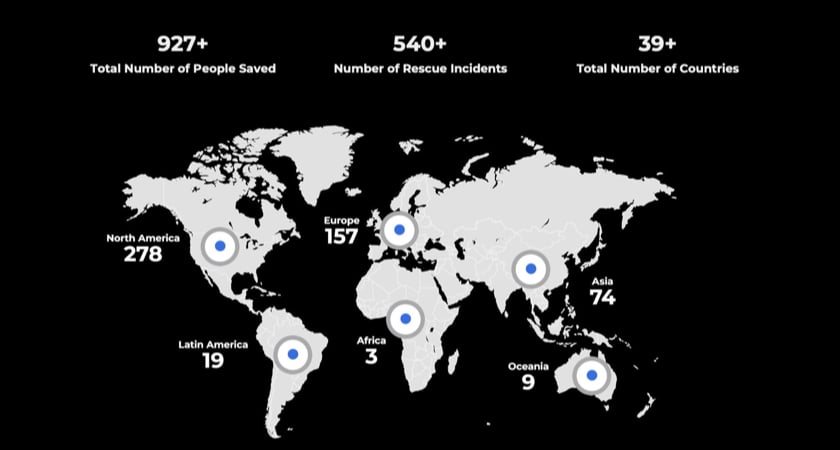 And of course, it isn't only first responders that are saving lives with drones. DJI's technology is also helping in ways that are less direct, less tangible, and far harder to quantify.
Every time a roof inspector doesn't have to go up a ladder. Every time a tower climber doesn't have to work at height. Every time a surveyor doesn't have to step into a hidden rabbit hole that forces them out for 6 weeks with a broken ankle. Every single time a flying robot is used in a dangerous scenario, we break a chain of events that might otherwise have led to a serious injury or casualty.
Across the board, drones are making data-gathering tasks easier, safer, and more straightforward. In the hands of enterprise users, they are force multipliers and transformative tools that take the hazard out of hazardous work.
The rallying call at this year's AirWorks conference was that these positive steps are just the beginning. With the Drone Rescue Map and so many inspiring applications out there, the message is getting through, slowly but surely. But every pilot and organization adopting this technology also has a role to play. The antidote to skepticism and fear is education. Every DJI user has the potential to be an ambassador for this game-changing innovation.
Supporting the vital work of Search & Rescue crews
Second to the stage for the Drones Help keynote was Wayne Baker, DJI's Director of Public Safety Integration, who began by sharing footage of the DJI M30 supporting a lifesaving mission with Weber County Search & Rescue.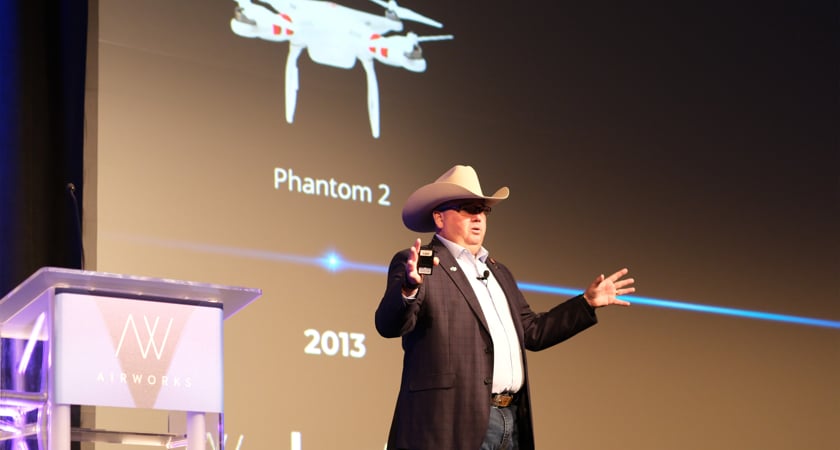 Having an eye in the sky and enhanced situational awareness has been a game-changer for first responders of all kinds. For the fire service, Baker believes drones represent one of the greatest advances since the invention of the fire hose. For public safety professionals fighting crime, reconstructing accidents, and finding missing people, the technology is keeping officers out of harm's way and providing portable aerial support at a fraction of the price compared to crewed aircraft.
In the field of search and rescue, drones are having a particularly dramatic impact. DJI's enterprise platforms have put power and portability in the hands of search crews and evolved to bring thermal and low-light capabilities to night-time operations.
One of the major announcements from the Drones Help keynote was the news delivered by Gemma Alcock, CEO of Skybound Rescuer, a UK-based organization dedicated to supporting the adoption of drones by first responders. SkyBound Rescuer has created a new tool to help SAR teams find missing people faster: The Drone SAR Altitude Guide.
Flight altitude determines how big a missing person appears on a first responder's screen or monitor during a SAR mission. Too high an altitude could make a missing person impossible to spot. Through a simple, three-step process that can be integrated into pre-flight procedures, the Drone SAR Altitude Guide takes into account mission parameters to determine the optimal flying altitude.
We're excited to launch this tool alongside Skybound Rescuer. And we're confident that it will improve the efficiency of SAR operations and support teams working to save lives around the world.
To read the press release commemorating the launch of the SAR Altitude Guide, click here.
From Search & Rescue to Search & Spray
We're used to seeing DJI's fleet of agricultural drones accurately delivering fertilizer and pesticides to promote crop growth and support the yield of farmers.
But last up on the DronesHelp keynote stage was Dr. Bart Knols, who has been tapping into DJI's Agras platform for a slightly different task - albeit one that has life-saving potential far beyond anything in conventional public safety. Dr. Knols is a medical entomologist; he studies insects that have a negative impact on human health. His focus in recent years has been malaria, a disease that killed more than 627,000 worldwide in 2020. This AirWorks, Dr. Knols presented his findings from a 2019 experiment into the impact that spraying drones can have on mosquito populations.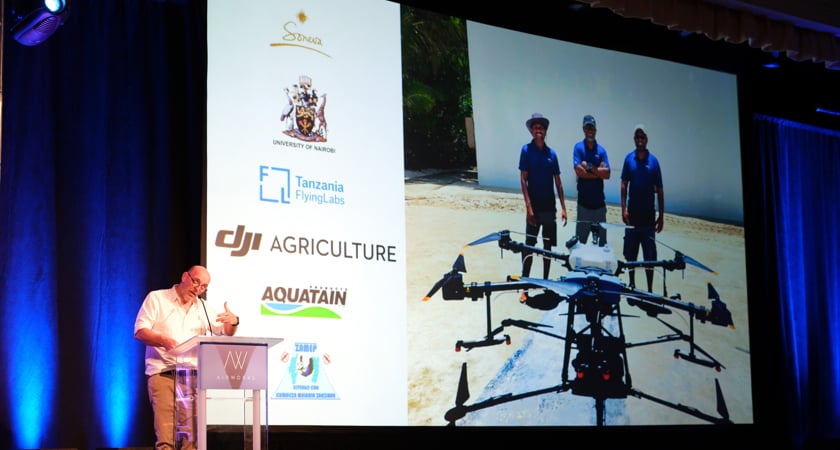 His team used DJI Agras MG-1 S drones adapted to spread Aquatain Mosquito formulation (AMF) across the surface of rice paddies in Tanzania. Aquatain is a silicon-based liquid that sits on the surface of standing water to smother mosquito breeding sites.
In short, Dr. Knols and his team have shown that spraying drones can deliver larvicides accurately and quickly, dramatically reducing mosquito populations for an extended period of time with a single application, and doing so in a way that is 2-6 times faster and far cheaper compared to manual applications.
The study took place back in 2019. Since then, the new DJI Agras T40 has been launched, promising the ability to distribute a higher quantity of liquid in a single flight with even greater accuracy. All of which means the true impact of drone technology on malaria prevention methods is likely to be even greater in future trials.
Dr. Knols also provided an update on his latest project, in which he is using DJI equipment to tackle hairy caterpillar infestations in the Maldives.
A keynote with a call to action
The DronesHelp keynote concluded with a call-to-action for all sitting in the room - to step up and advocate for drones.
For those in attendance at AirWorks, and for readers who made it this far, it's not news that drones are changing the world, saving lives, and making work smarter, safer, and more efficient.
But the drone community is just a small bubble, and greater public perception of drones is far behind the times. The discrepancy between public perception and the reality of drones can manifest in ugly ways and can hinder the good work that drones are capable of.
So for everyone who hears this message: speak up about the benefits of drones. Call out ignorance. And advocate on behalf of how drones help make the world a better place.