The next major firmware update for your DJI Enterprise drone is here! We have consolidated months of user feedback and testing into an update that packs in loads of new features for the Mavic 3 Enterprise series, Matrice 30 series, and Matrice 300 RTK professional drone platforms. Safe to say, your everyday commercial drone is now more powerful, capable, and helpful than ever.
Countless business, government, education, and public safety users across the globe use DJI's transformative technology to get their work done in a manner that's easier, smarter, and safer. Now, we are taking this extraordinary blend of performance, transportability, and ease of use up a notch by introducing several valuable improvements to our flagship solutions.
As we explore the upgrades in detail below, you will find that some features are unique to their individual drone series, but many new functionalities have been introduced across all Mavic 3E, M30, and M300 RTK platforms. The important thing to know is that each enhancement stems directly from your feedback, as listening to our customers and continually improving our products is part of the DJI philosophy.
Now, let's take a look at what's new in March 2023 firmware update released for your DJI Enterprise drone…
DJI Mavic 3 Enterprise series firmware updates
New Point of Interest (POI) flight mode
Point of Interest is a new intelligent flight mode that will allow you to quickly orbit a point of interest and collect comprehensive data with a 360-degree view of the target. This has been one of the most requested features by first responders and public safety agencies who want to easily add an orbit to their accident reconstruction data capture or orbit a scene. Vertical structures or areas can also be captured utilizing this tool.
Here's how POI works with the Mavic 3E series: Fly directly over the target and drop a Pin at the drone's location. Now, fly back a bit, so you can look at the Pin, and activate POI mode. You will see the option to adjust the altitude/gimbal pitch/speed. You can also lock your current flight speed by pressing the C1 on the back of the remote controller. The drone will now automatically maintain a consistent radius as it orbits the target. If you want to collect data, turn on the timed photo capture.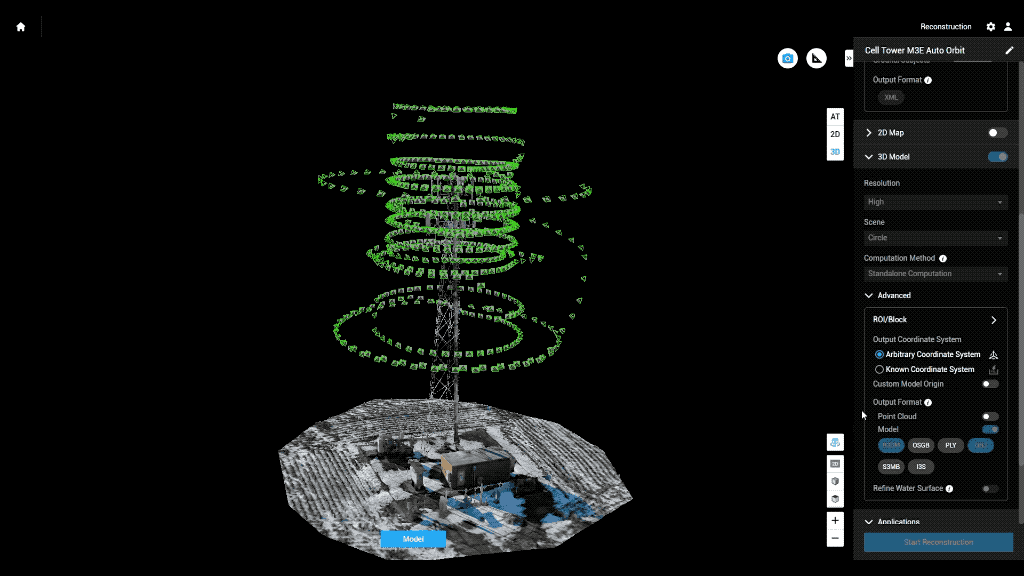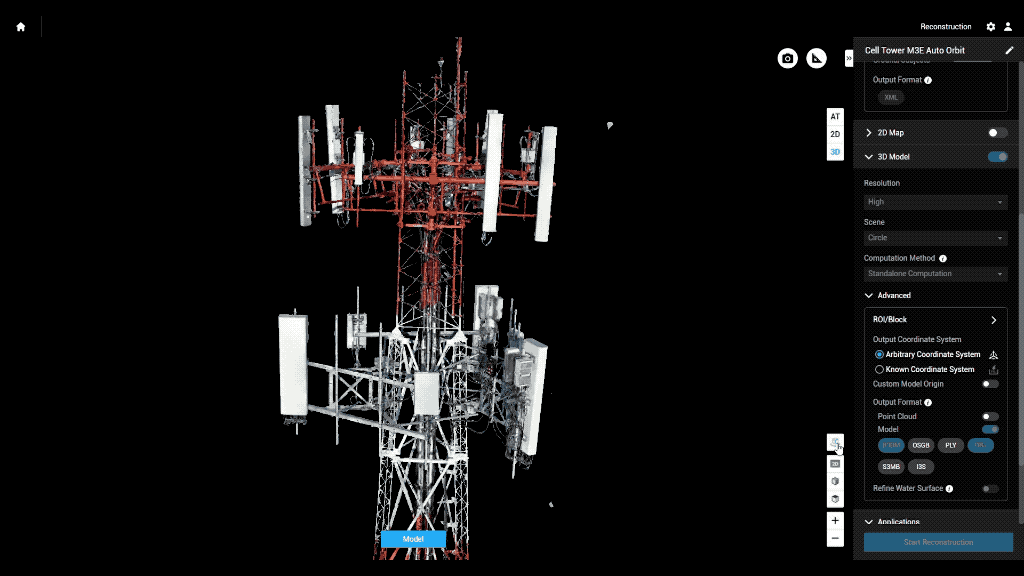 Here's another very basic example of what you can easily accomplish with the new POI mode:
This 3D model is derived from 330 images that were shot in about 4 minutes using the POI mode. The Mavic 3E was at an elevation of 200m, flying sideways around the target at ~2m/s, taking 1 picture/second. The data was then stitched together in the DJI Terra all-in-one mapping software.
Lower altitude limit in Real-Time Terrain Follow
The intelligent flight mode that allows your Mavic 3E/3T to consistently fly at the same height above the ground level utilizing only its onboard sensors is getting smarter with the new firmware. As a result, the minimum elevation ceiling in Real-Time Terrain Follow is being reduced from 80m to 30m, allowing your drone to fly much closer to the surface and capture higher-resolution data of the target area.
Real-Time Terrain Follow now supports altitudes from 30m to 200m.
New Camera Angle Settings for mission planning
You can now set the direction and pitch/angle of the camera gimbal while planning autonomous flight missions. This capability can prove especially valuable for construction engineering scenarios, and during solar inspections where the camera needs to be perpendicular (or at a certain angle) to the PV panels.
New Adjustable Infrared Parameter function in Mavic 3T
Another highly requested feature that comes to the Mavic 3 Thermal platforms with this firmware update is the ability to adjust the infrared parameter. You can now fix the distance between the drone and its target, and also set the reflectivity of the target, thus enabling the Mavic 3T to calculate temperature measurements with more accuracy.
DJI Matrice 30 series firmware update
Smart Low-Light Photo as a Waypoint action
This powerful new feature, available exclusively with the DJI M30, enables the drone's camera and onboard software to produce bright photos even in low-light conditions. With the M30's latest firmware update, Smart Low-Light Photo can be found as a selectable action during Waypoints missions.
DJI Matrice 300 RTK firmware update
Zenmuse L1 calibration prompts during manual flights
IMU calibration being a prerequisite for LiDAR accuracy, the Zenmuse L1 needs to be calibrated before, during (every 100s of the flight mission), and after the data collection to produce optimal results. While calibration flights are automatically inserted into the flight route in pre-programmed missions, Manual flight mode requires operators to click on the calibration button ensuring there are no obstacles in the 30m range ahead of the drone. With the new firmware update, you will get helpful reminders to calibrate the sensor via prompts to the Manual flight interface in the DJI Pilot 2 app.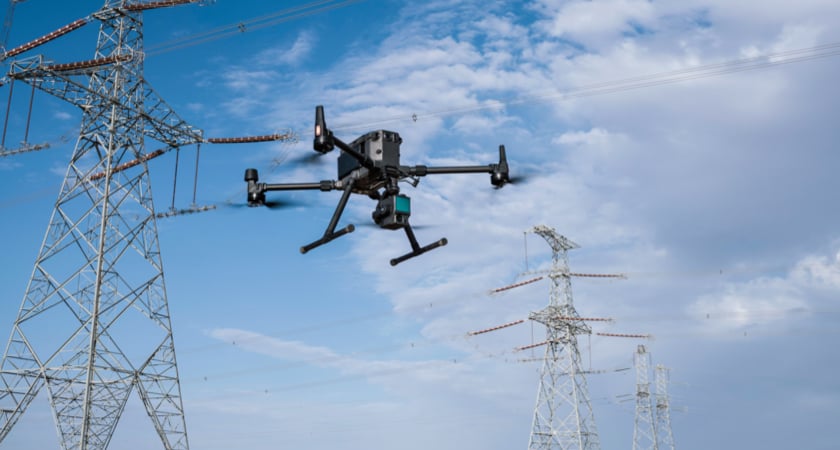 New features common to Mavic 3E/3T, M30/30T, and M300 RTK
Terrain Follow joins forces with Mission Modes
You can now leverage the super helpful Terrain Follow feature concurrently with Oblique and Linear flight planning modes. Terrain Follow can also be used in conjunction with Smart Oblique Capture while using the M300 RTK with the P1 sensor. This capability is huge in terms of both efficiency and convenience because it improves the flexibility of mission planning modes, allowing them to also be used over areas with variations in terrain.
These improvements are most incremental for DJI Mavic 3 Enterprise series users because their drone's turbo-charged terrain awareness feature, aka Real-Time Terrain Follow, is now compatible with Smart Oblique Capture as well. Meaning, instead of getting just top-down shots of the target, you can now easily make 3D models of even those areas with great variations in elevation.
If utilizing a DSM for terrain follow you can import your own or simply download the area from the internet within the Pilot 2 app.
Here's a quick summary chart explaining the Terrain Follow feature compatibility with various Mission Modes:
Types of Missions That Now Support Terrain Following

2D Mapping

Smart Oblique

Oblique

Linear

M3E DSM Following

✓

✓

✓

✓

M3E Real-Time Terrain Following

✓

✓

X

✓

M3T DSM Following

✓

X

✓

✓

M3T Real-Time Terrain Following

✓

X

X

✓

M30 DSM Following

✓

X

✓

✓

M300 RTK DSM Following

✓

✓
(Only with P1)

✓

✓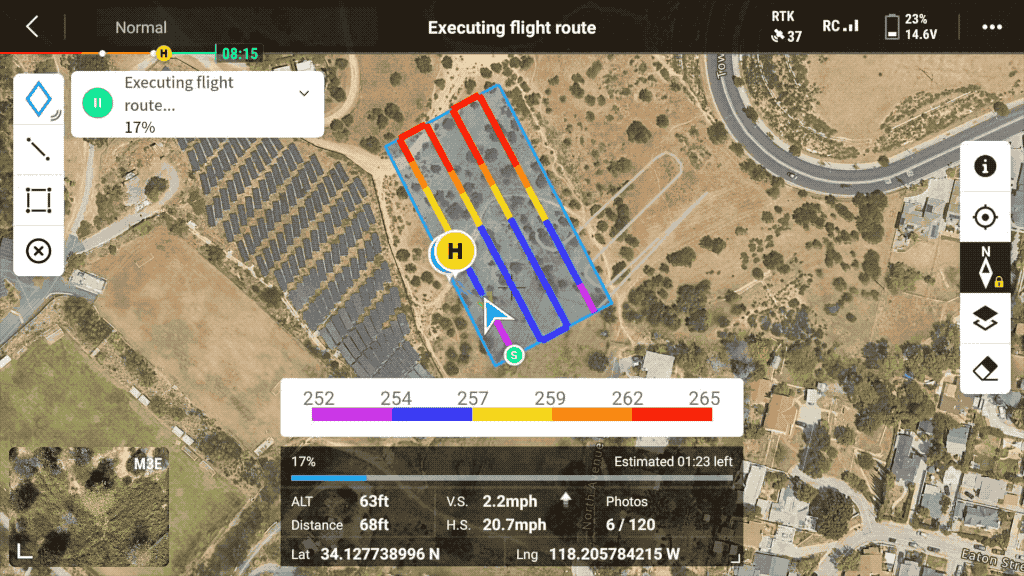 New Automatic Mission Menu on manual flight screen
When flying manually, you will find a new button that opens the Automatic Mission Menu where you can select flight routes or create new ones. Previously, if you were in the middle of a flight, the only way for you to access Mission Planning was to exit the flight screen and return to the Pilot 2 home screen first. This new Mission Planning button is a handy addition to the Manual mode that lets you select the mission you want to execute, or even create a new one right from where you are.
Improved support for Offline Maps in Pilot 2
Previously, you could download street maps for offline use only when the RC was connected to the Internet. Now, you have the option to use Maptiler's website to download a variety of offline maps on your computer, or format your own data to the mbtiles format and import it to the Pilot 2 app on the RC.
When you have internet the available satellite data works fine most of the time, but if imagery is out of date (i.e. mining, construction) it is nice to have an updated base map, or the ability to add key information layers (search and rescue). Also, some users for security purposes don't want to connect to the internet or a user may be going to a remote area without internet so this option provides the ability to have satellite map data completely offline.
Cross-compatible Polygon to Mapping mode for team missions
Users of FlightHub 2, our cloud-based drone operations management platform, can now respond swiftly to developing situations using the new Polygon to Mapping Mission. The feature allows teams to efficiently synchronize polygons across platforms for quick mapping.
For instance, during a SAR mission, the commander can use their computer to draw a polygon over an area of interest and assign it to a pilot in the field. The drone operator receives the polygon on their remote controller. When they select the polygon, they will be presented with a button that, when pressed, will direct the drone to automatically map the area designated to that polygon.
New Safe Takeoff Altitude option
Safety is an essential part of our design philosophy; we continually add features to help improve it. This firmware update brings you the ability to set an altitude limit for takeoffs and improve route safety during mapping tasks.
Password protection for Local Data Mode
You now have the option to set a password to turn Local Data Mode on and off. This will prevent the mode from accidentally being switched off because of inadvertent key toggles. After setting a password, you can only change the Network Security Mode or adjust the function settings after entering the password.
Other enhancements
There are several other UI improvements and system upgrades that have been introduced to the Mavic 3E/3T, M30/30T, and M300 RTK drone platforms, including optimization of the firmware update prompt in the DJI Pilot 2 app and the addition of the ability to export logs by different modules. Be sure to check out the complete release notes for the Mavic 3 Enterprise series here, the Matrice 30 series here, and the M300 RTK drone here.
And as always, continue to send in your suggestions, so we can keep improving your experience with DJI products. Your feedback is invaluable to help us deliver the updates you need.
Missed our previous updates?
Find out how we've improved DJI drones in recent months: