The Mavic 3E (M3E) is a compact, portable, and powerful drone for everyday operations. Whether you're a hobbyist pilot ready to go pro or searching for a versatile platform to bolster your commercial fleet, the Mavic 3E sets a new industry benchmark.
The M3E's features make it our most accessible and capable surveying drone to date, while a thermal version, Mavic 3T, is available for emergency, inspection, and night operations. Here are seven things that make the Mavic 3 Enterprise Series the ultimate portable and professional drone platform.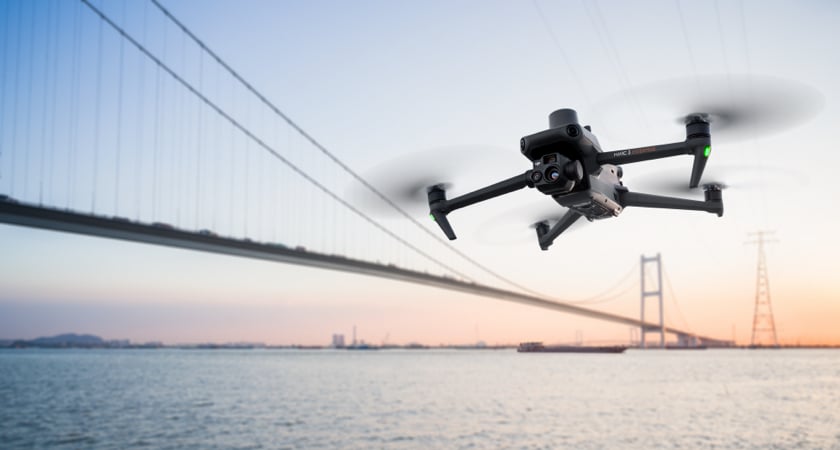 A camera for speedy precision surveys
Our focus with the M3E has been to reduce the time it takes to carry out aerial surveys without comprising data depth and output quality. The Mavic 3E delivers exactly that with a huge wide-angle 4/3 CMOS, 20MP sensor and a mechanical shutter that reduces motion blur during survey flights. The new camera also enables rapid 0.7-second interval shooting, allowing you to complete mapping missions in a fraction of the time compared to previous models.
We've tackled low-light challenges, too. The Mavic 3E's Wide camera boasts 3.3μm pixels alongside improved low-light software, taking performance in dim conditions to the next level and drastically increasing your potential operational window. Early and late mission starts are now a genuine possibility, while surveys can also take place on overcast days without sacrificing image quality.
Last but certainly not least, the M3E is equipped with a 12MP Zoom camera that supports up to 56× Max Hybrid Zoom. Pilots can spot important details from a distance with a smooth, continuous flow rather than staggered zoom increases.
By combining an RTK module with a mechanical shutter, short 0.7 second interval shooting, and enhanced low-light performance, we expect the M3E to become the go-to platform for rapid aerial surveys.
Foldable and lightweight
The M3E is built on top of the Mavic 3 platform, which launched at the end of 2021 to critical acclaim and has redefined the industry's expectations of relatively small aircraft. The M3E builds on top of those core capabilities by combining its foldable and lightweight form with a host of powerful features.
The M3E can be carried in one hand and deployed at a moment's notice, making it perfect for beginners and a versatile tool for established drone programs. As usual, we've focused on portability without sacrificing power. The M3E's 45-minute flight time allows you to cover plenty of ground during each mission. It's capable of surveying up to 2 square kilometers in a single flight.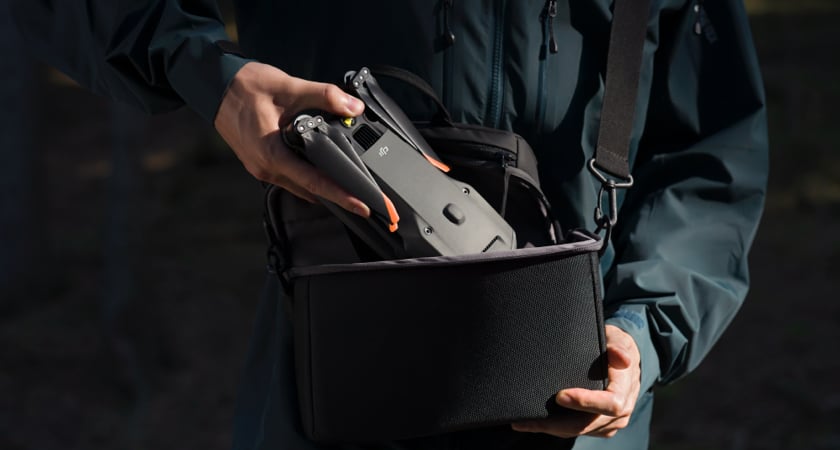 Powerful safety and connectivity features
The M3E is a rugged platform that prioritizes safety and performance when you need it most. Its state-of-the-art obstacle sensing and navigation systems provide enterprise pilots with the guidance and backstops needed to reduce the risk of accidents.
The latest iteration of DJI's Advanced Pilot Assistance System (APAS) combines data from six vision sensors and two wide-angle sensors to detect obstacles in all directions and automatically reroute your flight path when in Avoid mode. You can adjust the proximity of these triggers and the aircraft's braking distance to suit your mission requirements. APAS also guides the M3E's advanced Return To Home feature, which plans and initiates the most efficient, hassle-free return journey possible.
Whether you're supporting emergency operations or carrying out inspections, the M3E's integrated AirSense system provides pilots with an early warning of nearby crewed aircraft transmitting ADS-B signals.
In terms of connectivity, the M3E features DJI's latest image transmission technology. Quad-antenna O3 Enterprise Transmission enables a more stable link between pilot and aircraft in complex environments.
Optimized for flight and mission efficiency
For professional drone pilots, time is money. In emergency situations, a few minutes can also be the difference between life and death. That's why the Mavic 3 Enterprise series has been developed with operational efficiency in mind.
Alongside its impressive 45-minute flight time, we've minimized mission interruptions with 100W fast charging and a three-battery 100W charging station that allows pilots with enough batteries to maintain near around-the-clock aerial presence when required.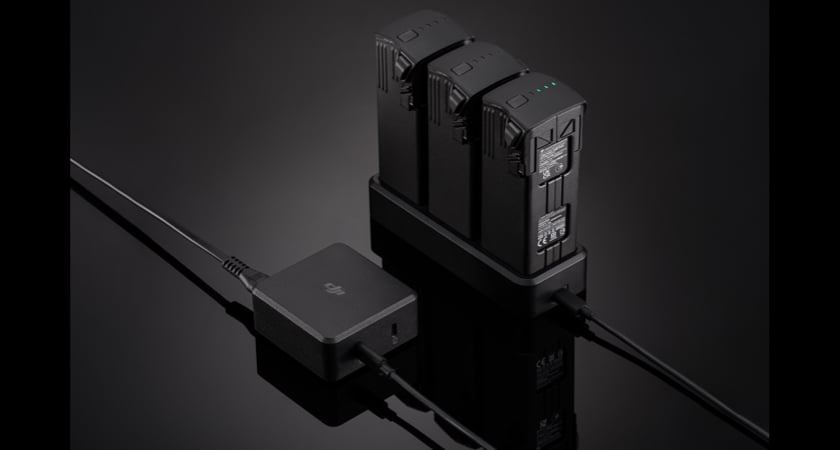 For aerial surveys, 0.7-second interval shooting allows mapping missions to be completed in a fraction of the usual time.
These features make the M3E an ideal platform for rapid response missions and surveys under time pressure.
Empowering accessories for commercial pilots
The M3E is available with a range of accessories to enhance the work of commercial drone pilots and enterprise users. First up, the M3E is compatible with the new DJI RC Pro Enterprise, a powerful remote controller with excellent screen visibility in direct sunlight and a built-in microphone and Text-To-Speech functionality for direct communication between the pilot and those in the vicinity of the aircraft.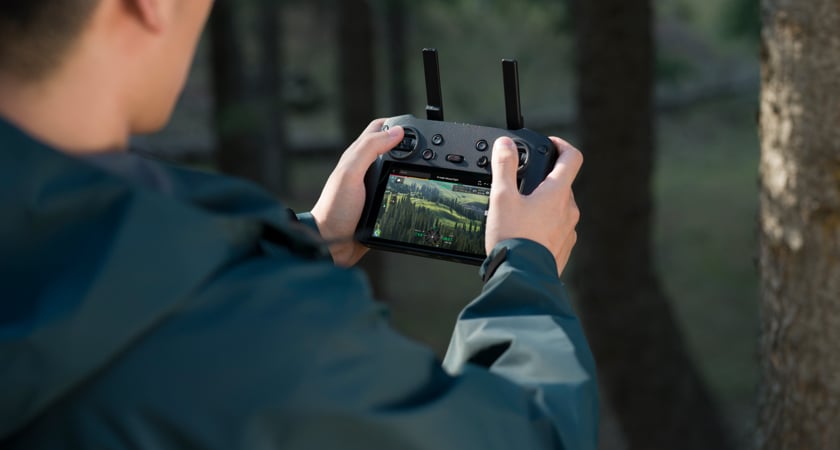 A new Loudspeaker offers greater volume with less battery consumption than before; pilots can directly record messages through the remote controller or take advantage of its built-in text-to-voice functionality.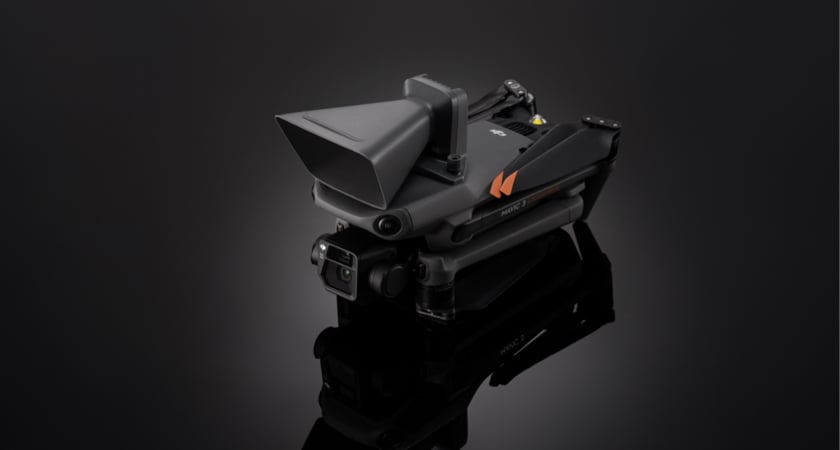 A new RTK module with reduced weight enables precision surveys and centimeter-level accuracy alongside the D-RTK 2 Mobile Station.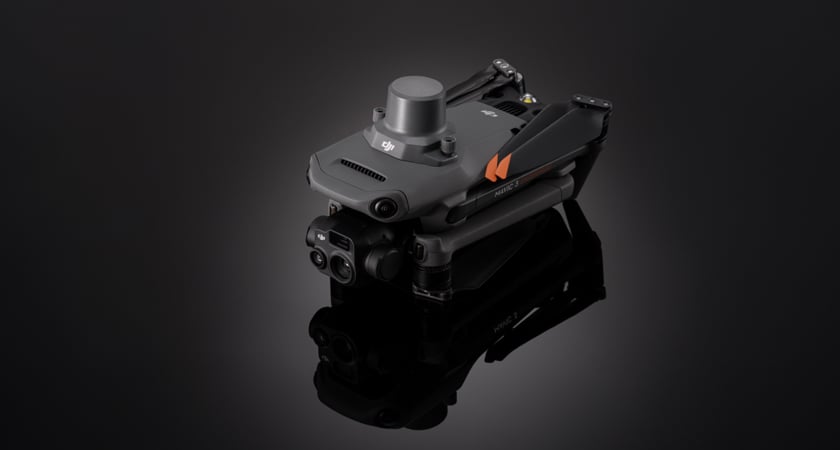 The Beacon accessory previously available with the Mavic 2 Enterprise Series has now been fully integrated into the M3E, so you don't have to use an accessory slot when adhering to local regulations during night flights and low-light missions.
Two models, countless applications
The Mavic 3 Enterprise Series is available in two models, the M3E and the M3T.
The M3T sports the same 12MP 56x Hybrid Zoom camera as the M3E, alongside a 48MP Wide angle camera and DJI's flagship 640 × 512 thermal sensor.
The latter supports point and area temperature measurements, high temperature alerts, color palettes, and isotherms - all of which help you identify targets and make informed decisions during night flights, firefighting operations, and search and rescue missions.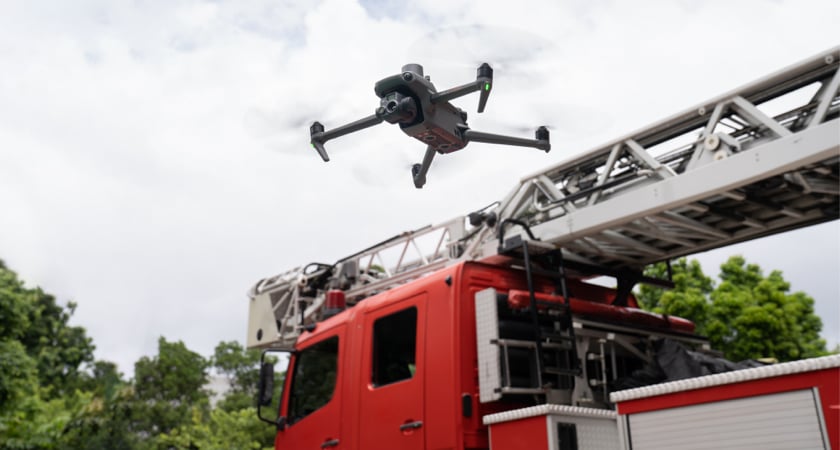 The Mavic 3T's thermal and zoom cameras enable 28× continuous, side-by-side zoom for easy in-flight comparisons, putting the power of synchronized split-screen zoom at your fingertips.
A comprehensive software suite and powerful developer tools
The M3E connects with powerful software across our Enterprise ecosystem to support the full range of in-flight capabilities, payload management, mission planning, and fleet analytics. The Pilot 2 and Flighthub 2 applications simplify flight management and make every mission intuitive and collaborative. DJI Terra unlocks the full mapping capability of what is already an impressive aerial surveying solution. DJI's Thermal Analysis Tool 3.0 unlocks the potential of the M3T to support smarter inspections.
We're also committed to putting the M3E into the hands of developers. If you'd like to build on top of the M3E, the Payload SDK and Mobile SDK simplify the process of integrating third-party payloads and building on top of the DJI Pilot 2 application. If you're building your own solution, DJI's Cloud API allows developers to connect the M3E's hardware, video feed, and photo data to third-party software.
We can't wait to see what our developer community will build on top of the M3E.
Redefining small commercial drones
The M3E is small in stature but promises game-changing capabilities for surveying professionals and any drone program in need of a versatile platform for everyday operations.
Our latest enterprise platform redefines the industry standard for "small" commercial drones. By combining a mechanical shutter, a 56× zoom camera, and an RTK module with a portable but powerful platform, the Mavic 3E takes mission efficiency to new heights.
Find out more here.