Drone solutions are deployed more widely in the surveying and mapping industry than ever, thanks to their accessibility and ability to deliver high-accuracy results quickly. Many factors need to be considered when choosing the best solution for the job. Depending on the accuracy of results required by the mission and time constraints, users can enhance the positioning accuracy by relying on ground control points (GCPs) and a non-RTK drone, or an RTK-enabled drone solution that enables real-time and post-process corrections.
Technologies that Enhance Positioning Precision
Real-time Kinematics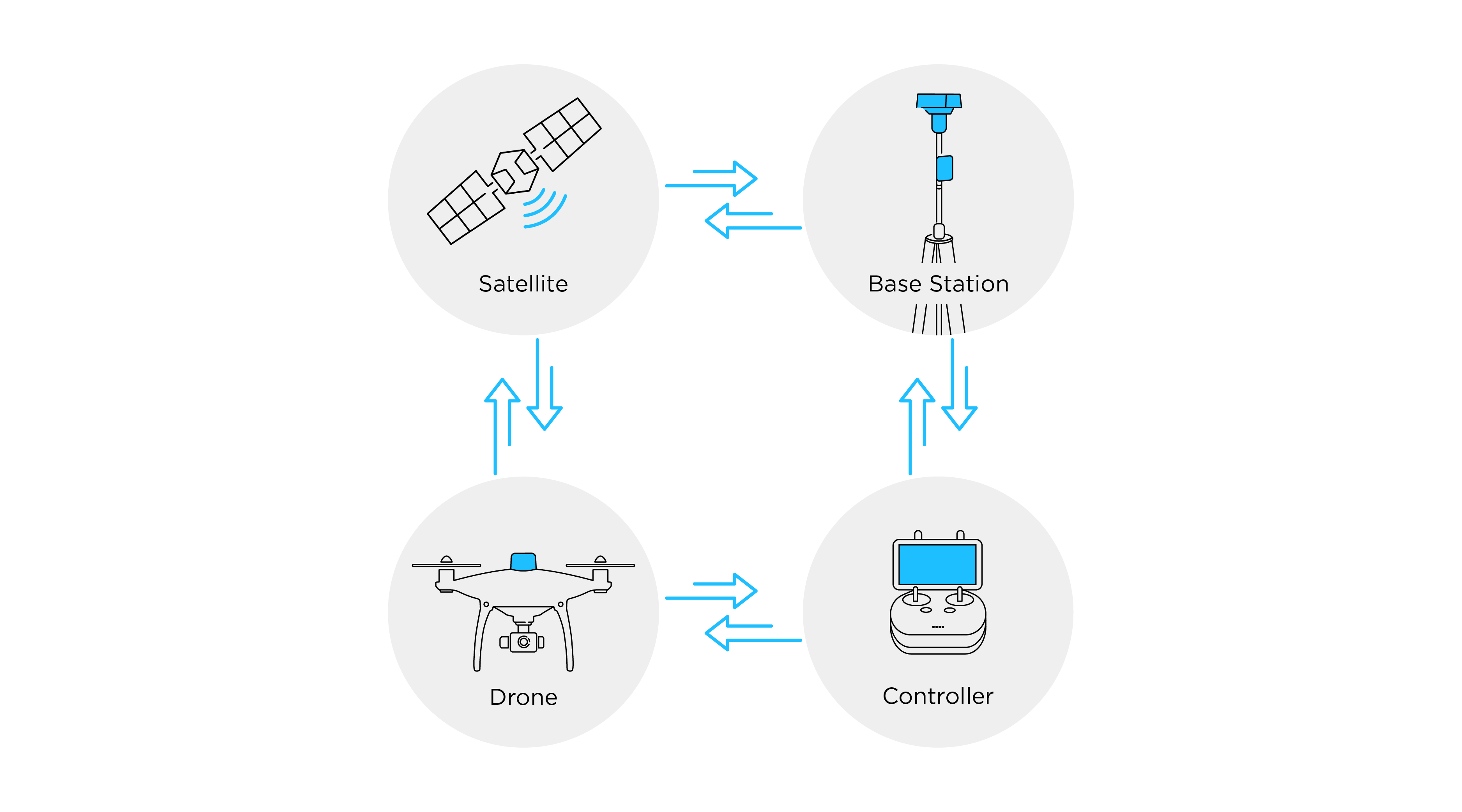 Real-Time Kinematics or RTK is an advanced satellite positioning technique utilizing a ground station with a known location as a secondary position reference to deliver more precise data. When an RTK system is deployed on a drone, it is used to combine and contrast position data captured from virtual and physical base stations, correcting the drone's camera location in real-time. If deployed correctly, the drones can produce centimeter-level accurate location data that gets embedded into the aerial image during the flight.
RTK drone solutions are especially sought-after as they provide real-time results, but the connection consistency required to cover the full duration of the flight could be unrealistic for some, as drone surveying professionals don't always have the luxury to fly their missions in locations that meet all the requirements for stable data transmission.
RTK needs two types of data links during flight: one between the remote controller and the RTK base station, and another between the remote controller and the drone. The remote controller-base station link is susceptible to unstable network connection, while the remote controller-drone link can be affected by obstructions near the take-off location. Therefore, to mitigate the risk of losing data links, PPK is a great alternative for surveying missions that take place in remote areas with poor network signal reception, and/or with obstructions like trees, buildings, or metal structures.
Post-process Kinematics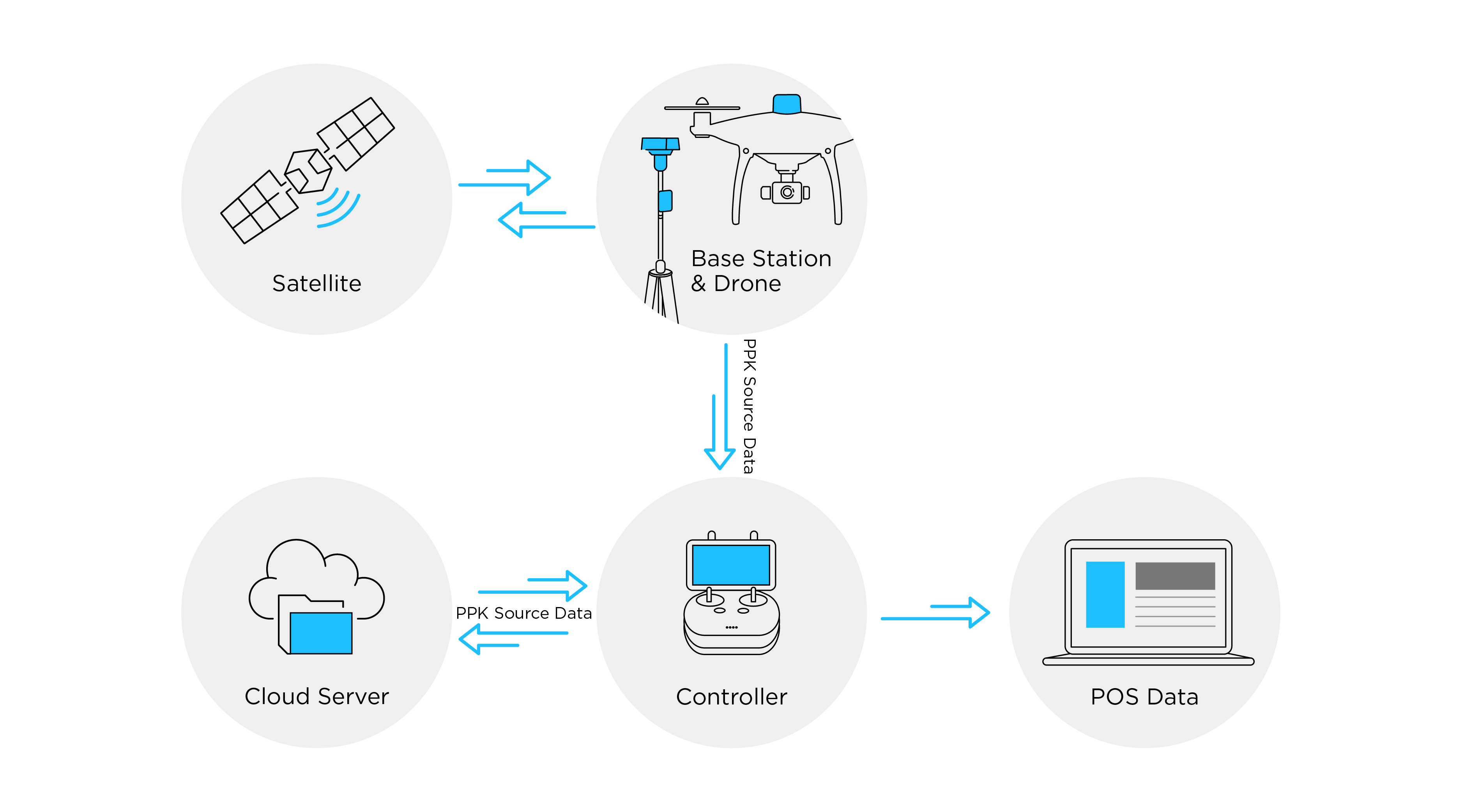 With PPK, data is corrected after the flight rather than during. The data is stored onboard the drone, and calculations post-flight combine both the aircraft data and base station data, producing results in a PPK software on a computer. This gives users more flexibility and reliability: even if real-time data links are lost during flight, the accuracy of results can still be maintained as calculations incorporate PPK data. The takeoff location doesn't have to be perfect, and the range from the base station can be expanded.
The new Cloud PPK Service for DJI's Phantom 4 RTK takes efficiency to another level by conducting calculations right on the remote controller as an add-on option in the DJI GS RTK flight planning app, instead of using a separate computer software. Data collected from either a DJI base station of RINEX base station can be quickly processed in the app, which streamlines workflows without sacrificing data accuracy. The resulting POS data can be imported into DJI Terra seamlessly for further processing.
Here's a summary of the differences among RTK, PPK, and cloud PPK:
RTK Drone Alone

RTK Drone + PPK

RTK Drone + Cloud PPK

Positioning Accuracy

Up to centimeter-level

Up to centimeter-level

Up to centimeter-level

Real-time data link required

Yes

No

No

When and where calculations are done

In real-time during the flight on the drone

Post-flight using a PPK software

Post-flight using the GS RTK app on a compatible remote controller

Impact of Losing RTK Lock

High.

Quality of connection depends on internet or data connection on site.

Low

Low

RTK Base Station Required

Yes.

Requires a base station or a network RTK connection like CORS

Yes.

Requires a base station or a network RTK connection like CORS

Yes.

Requires a base station or a network RTK connection like CORS
The bottom line is, both RTK and PPK drone solutions are capable of producing centimeter-level accurate data, but:
RTK solutions require a base station and more specific circumstances for takeoff and flight missions in order to process data in real-time.
PPK solutions offer more flexibility in how and where the drone is deployed for the flight mission and higher reliability thanks to longer range.
If you are a Phantom 4 RTK user and would like to get a free trial to the new Cloud PPK Service, please contact your local dealer for more information*. You can find a dealer here.
*Due to local regulations, currently, Cloud PPK Service is available globally except in the US, Canada, Hong Kong SAR, and Macau SAR. Support for these regions is coming soon.