When we consider the impact of enterprise drones, the first things that come to mind are the massive cost and efficiency savings brought to verticals like agriculture and construction. But really that's just the tip of the iceberg. Look beyond the dollar signs and flying robots have quietly become tools of technological inclusion.
Empowerment comes in many forms and depends on the local context, but the trend is undeniable: DJI drones are being used by communities around the world to democratize access to innovation and opportunity. For marine conservation groups like Ocean Alliance, UAVs are gathering previously cost-prohibitive data. For scientists in malaria-ravaged Malawi, they are enabling life-saving research while supporting local entrepreneurs. And, as you'll see in this case study, drones are being used by humanitarian organizations to deliver medicines and decentralize knowledge and power in the process.
WeRobotics, Flying Labs & "last mile" medical deliveries
The work of WeRobotics and the Flying Labs Network is a case in point. Back in 2016, the non-profit based in Switzerland and the US launched Flying Labs with partners in Nepal, Tanzania, and Peru. The aim? To build a network of independent knowledge hubs that combine local expertise with the latest technology to drive social change. The Flying Labs model has now expanded to thirty-five nations across Africa, Asia, and Latin America.
WeRobotics and Flying Labs have long been exploring the potential of drones for cargo deliveries. First in Peru, then in the Dominican Republic, Nepal, Fiji, Papua New Guinea, and Madagascar. Because the market lacked an affordable and accessible platform that was specialized for delivery, WeRobotics decided to develop its own. Using a repurposed DJI M600 and custom software and hardware additions, a solution was built that has since flown thousands of successful deliveries worldwide. Typically these "last mile" services have partnered with local health authorities to transport medicines and supplies to remote communities.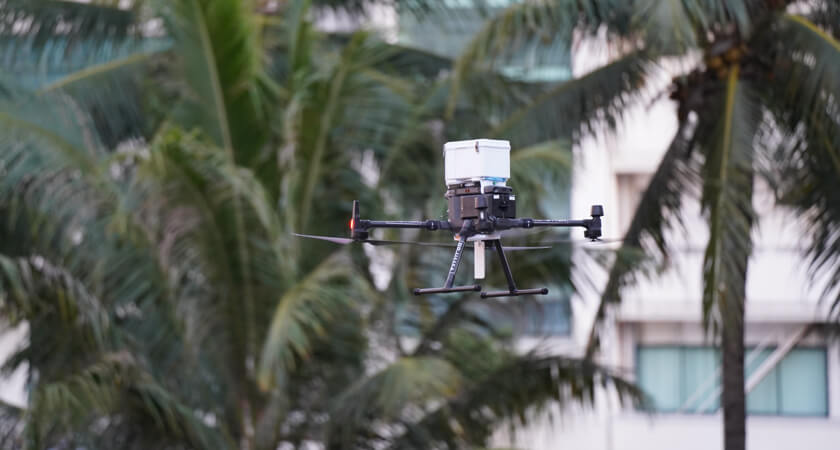 In 2021, WeRobotics upgraded the cargo solution to work with the DJI M300. It builds on the platform's improved safety features, extended range, high performance in challenging conditions, and importantly, the option to fly with two pilots. The upgrade was first put to the test in Uganda as part of an ongoing pilot program. The local team is currently delivering HIV drugs to rural hamlets in the 84-island archipelago of Kalangala.
A similar pilot project is also underway in the Philippines, where WeRobotics and Philippines Flying Labs are using the DJI M300 to deliver vital supplies and address inequity in access to health services. DJI drones are delivering COVID-19 vaccines and medicines, while also enabling a transfer of humanitarian intangibles: knowledge, technology, and opportunity.
Addressing health access inequity in the Philippines
The Philippines is home to more than 100 million people living across 2,000 inhabited islands. The single greatest health challenge facing the country is access to services. The country's topography poses serious logistical challenges for the Philippines Department of Health, which has identified 11,000 geographically isolated, disadvantaged, and conflict areas - where those living in remote and hard-to-reach locations have poorer health outcomes. These challenges are exacerbated by natural disasters and political unrest: typhoons, earthquakes, tsunamis, and even armed rebels can disrupt the already limited logistics infrastructure.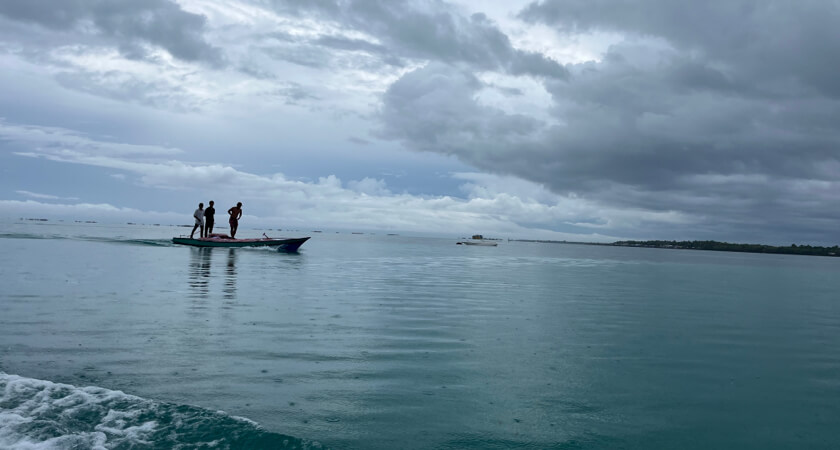 It's in this context that Philippines Flying Labs, led by managing director Dr. Heidi Sampang, has worked closely with the Civil Aviation Authority of the Philippines (CAAP) and public health stakeholders to make medical drone delivery a reality.
So far, Philippines Flyings Labs has carried out a successful pilot study supported by Pfizer, which saw vaccine deliveries to villages in the province of Agusan Del Sur in early 2022. There's also a separate trial underway on the islands of Tawi-Tawi in the southwest of the country, funded by software company PagerDuty.
In both cases, the use of drones has drastically shortened delivery times, cut transport costs, freed up the time of healthcare workers, and enabled more reliable health planning.
Using an adapted DJI M300 for medical cargo deliveries
The M300 cargo solution developed by WeRobotics relies heavily on the platform's performance specs and built-in safety features. In fact, these were important factors in Philippines Flying Labs gaining permission from CAAP for the country's first BVLOS delivery flights.
But adaptations were required to ensure the drone was suitable for medical deliveries. For starters, the WeRobotics team developed a cargo box and mounting mechanism. This box comes in two sizes and can be insulated and fitted with a thermometer to enable cold chain capability and enable the delivery of temperature-sensitive medicines. The maximum payload weight depends on the box used and the nature of the goods transported, but typical cargo weights are between 1 and 1.5kg.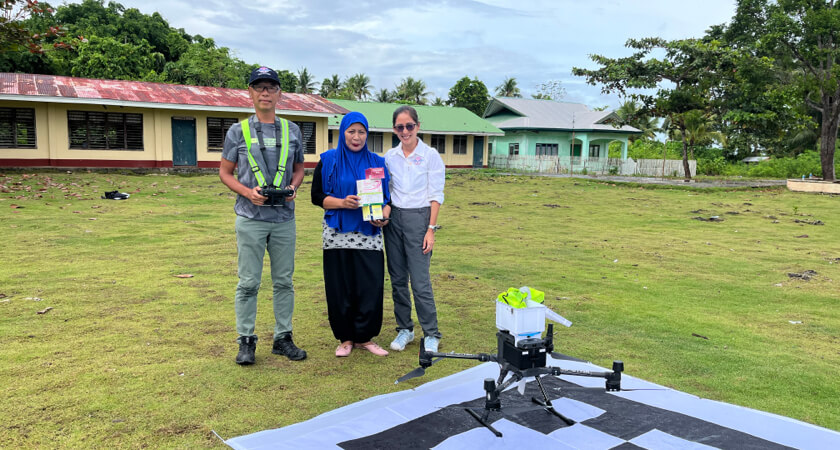 There were also operational hurdles to overcome. The global version of the M300 available in the Philippines has a range of 8km. And deliveries up to 18km on a single battery charge were successfully completed in Uganda. But in reality, this was limited by the topography of the landscape, and further complicated by the need to land at the delivery point.
The M300 was also built on the assumption that the return-to-home point is usually the same as the takeoff site. The platform's precision landing feature works in tandem with this assumption; the M300 is not designed to land with high precision at a second site. Unless you want to have a pilot at both ends of the delivery, being able to land in remote areas with high precision is a must. During both trials in the Philippines, pilots operated at the take-off point and delivery destination in case connection issues required a handover mid-flight. But an ideal solution requires a trained observer to be at the final destination, rather than a qualified pilot.
Faced with these challenges, WeRobotics developed a separate onboard computer for handling cargo missions and interfacing with the autopilot, and installed separate cellular communication links for long-range operations. The Raspberry Pi Compute Module and the Skywire cellular module are mounted on a custom printed circuit board and communicate with the drone through the DJI M300 OSDK Expansion Module. An ArUco marker (kind of like a giant QR code) is placed on the ground at the target destination to enable precise landings on hospital rooftops or other confined spaces.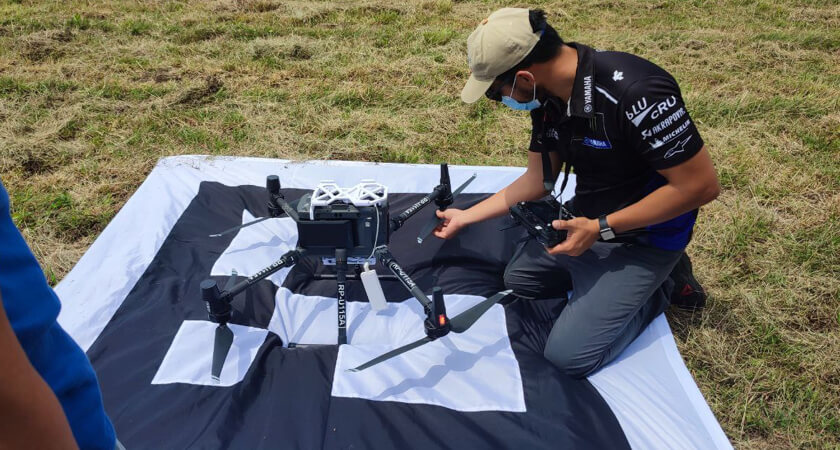 Speaking to WeRobotics co-founder Patrick Meier, it's clear that DJI made sense from both a technical and reputational perspective.
"If we were going to repurpose a drone, we wanted to take an extremely mature industrial platform that was already being used in different countries and that pilots would be familiar with," he says. "We also wanted to work with a brand that was recognized and respected from a regulatory perspective. And ultimately, it had to be affordable. As a non-profit working with local organizations, we don't have a huge amount of funding. By working with existing DJI tech we can keep the price point low, the user-friendliness high, and the training process as cost-effective as possible."
Because of its versatility, reliability, and low cost, Meier sees the adapted M300 cargo solution as an ideal proof-of-concept platform for medical delivery projects.
"We're increasingly presenting the M300 as a cargo starter drone," he says.
"One thing we've learned over the past five years doing drone delivery is that ultimately the platform is only 20% of what goes on in terms of training, skills building, capacity strengthening, and knowledge transfer. The rest isn't specific to the drone in question and you need to learn it regardless: SOPs, checklists, emergency procedures, and so on." - Patrick Meier, WeRobotics co-founder
"For WeRobotics and Flying Labs, what's really valuable about the M300 is that it's a highly reliable industrial platform that's well known, well respected, and affordable. You can become a first mover in the drone delivery space because you've used this particular platform. And then you've learned 80% of what you need to know."
WeRobotics provided equipment and training to Philippines Flying Labs ahead of the delivery pilots. The training was made easier by the crew's familiarity with flying DJI aircraft.
The solution in action: Cost and efficiency savings
The Tawi-Tawi and Agusan Del Sur projects in the Philippines have highlighted the value that low-frequency drone deliveries can bring to remote communities. During the Pfizer trial in Agusan Del Sur, the Philippines Flying Lab team introduced a delivery service in place of a 14km route that traditionally requires an expensive and bumpy 2-hour motorcycle ride. The same route was reduced to 7km (as the drone flies) and took just 10 minutes. The drone-based solution was 92% faster.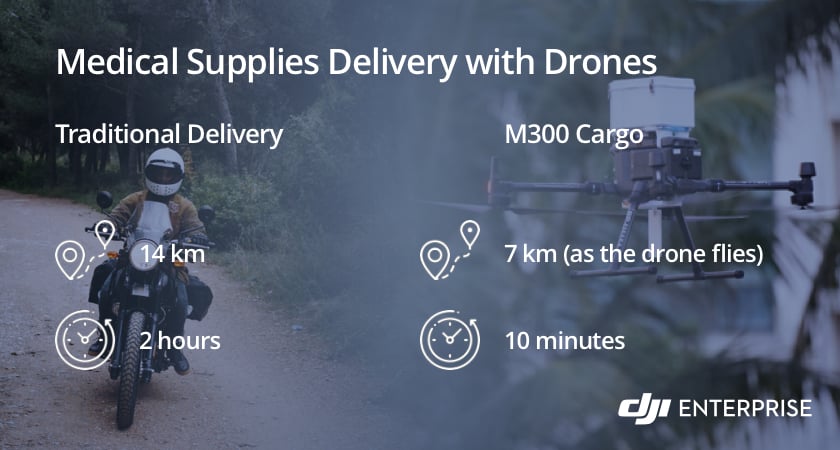 On the islands of Tawi-Tawi, boat trips are needed to move medical supplies from one place to another. These trips are often dictated by the tides and can take anywhere between 30 minutes and 4 hours. With the DJI M300, delivery took just 8 minutes.
In both cases, variables are removed from the equation to allow for a more reliable delivery schedule. Per journey costs - now spiking with the rising cost of fuel - are also saved. Lastly, it's common for health workers to undertake these journeys themselves. A drone-based solution increases the hours they can spend doing more important work and ensuring their workplace safety.
Building relationships with key stakeholders
Aside from startup costs and connectivity in remote areas, the single greatest hurdle in setting up a medical drone delivery program is regulatory. Persuading local aviation authorities to allow BVLOS flights and experiments up above isn't easy.
It's here that WeRobotics' Inclusive Networks Model comes into its own. Each Flying Labs builds on top of established local knowledge and capability but can also tap into the know-how of WeRobotics and the rest of the network. In the case of the Philippines Flying Labs, technical director Joel Cruz has long had a positive relationship with CAAP thanks to his aerial mapping company SRDP Consulting, which actually led to him becoming the country's first licensed drone operator.
Dr. Sampang harnessed this expertise alongside evidence from other successful Flying Labs projects to build a close relationship with key decision-makers and gain approval. She also emphasizes the importance of multisectoral partnerships. Advocates for projects like this come in many forms. With buy-in from local government, local health officials (such as Dr. Laja, the provincial health officer of Tawi-Tawi), civic society organizations, and even the military, there are plenty of allies to promote the program.
"It's all about establishing and nurturing a relationship," she says. "It's a matter of explaining and reassuring the relevant stakeholders. Even during the flying process, it's important to keep the aviation authority posted and follow the rules. When we have success and positive media coverage, they are very happy!"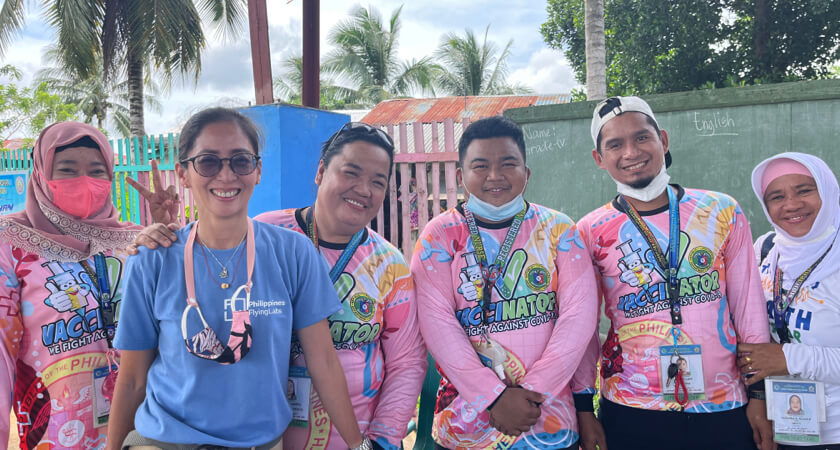 Drones as a tool for decentralizing power
Drones are a powerful symbol for putting power and potential into the hands of those who otherwise wouldn't have it. An easy-to-use device can radically improve the way data is gathered or, in this case, how vital medicines are delivered. Where innovative tools are affordable and accessible, economic and social change can happen.
"When we got into this space in 2016, the evidence base for the value add of this technology was extremely thin," says Meier. "So we had to build that around this technology. Even once we got traction, we knew it was only half the story. Sure we can add value, but if it's going to be top-down, we're not actually using this technology to its full potential. This has to be put in the hands of local experts and local leaders who know best."
Dr. Sampang also believes there's an inspirational quality to seeing the latest technology in the hands of peers. "One reason why the community is receptive to us is because they see us. We are locals that speak their language and look like them while doing the technical things. It inspires the kids and the community who watch our pilots. They think, 'If they can do that, I could do it too'".
A versatile platform for any application you can imagine
WeRobotics is open-sourcing the DJI M300 Cargo platform to empower humanitarian projects around the world. If you're interested in using the solution you can contact humans@werobotics.org.
If you'd like to explore other applications using the DJI M300, you can use our Onboard SDK to tap into its low-latency, high-frequency sensor telemetry, aircraft controls, and video feeds.