That drones make a powerline inspector's job safer and more efficient is no news for companies operating in the energy supply sector. But when Bouygues E&S EnerTrans AG, subsidiary of Swiss giant Bouygues E&S InTec AG, recognizes the potential of the weatherproof Matrice 300 RTK, the message is clear: this drone is unlike any others.
Based in Zurich, with offices across Switzerland and Germany and 150 employees working in the high and medium voltage sector, Bouygues E&S EnerTrans AG has been relying on drones to inspect powerlines since 2014, later expanding its equipment with DJI products to address a broader set of challenges.
From powerline and photovoltaic inspections to aerial 3D modeling and operations on behalf of the police, the Swiss company is engaged in detecting potential damage and carrying out repairs on local and national power grids through drones and sophisticated cameras, including the Zenmuse H20T.
The recent addition of DJI's toughest industrial drone comes at a time when much depends on employees' safety, from regular business performance to ensuring everyone, everywhere, has uninterrupted access to energy supply – even more so as countries world-wide enter yet another lockdown and basic services remain critical amidst the pandemic.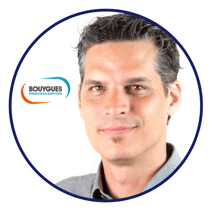 In collaboration with Alltron AG, local retailer distributing over 100,000 articles in the IT, Pro AV, security, lighting and telecommunications sectors, and in the spirit of sharing industry knowledge for our customers' success, we interviewed Marc Tschachtli, Business Unit Manager UAV/Surveying at Bouygues E&S EnerTrans AG.
As already highlighted in a recent interview with the retailer, there are countless reasons that have prompted the company to invest in the Matrice 300 RTK. Here we have highlighted 5 of the most compelling reasons why drones can truly make a difference in the way your company operates.
1. Ongoing Operations in Inclement Weather
For a company that takes pride in their unique approach to inspections where network sections do not have to be switched off during tests in order to guarantee an interrupted supply of electricity, counting on a weather resistant UAV platform such as the Matrice 300 RTK is top priority.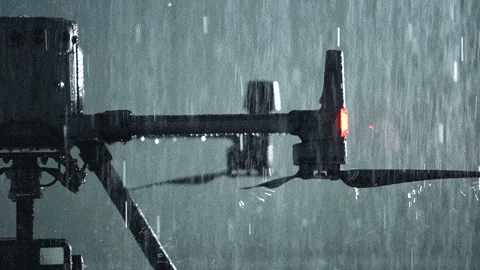 "Thanks to the existing IP45 certification, the drone can be used without hesitation even in precipitation," says Tschachtli, stressing the importance of being able to offer customers the comfort of continuous access to electricity under poor weather conditions.
2. A New Level of Safety
It goes without saying, thanks to drone technology, climbing electricity pylons for inspection reasons is a thing of the past but that is just one of the issues inspectors used to deal with in their day-to-day work. When it comes to powerline inspections, the Matrice 300 RTK takes the concept of "safety" to a whole new level.
"In flight operations, it is important to maintain a high level of mental strength and concentration," explains Tschachtli. "We may not see which voltages and powers are being transmitted by the systems, and invisible magnetic fields may disrupt the electronic systems of the drone." The upgraded OcuSync Enterprise and AES-256 Encryption ensure stable and reliable connection and data transmission when flying in high-interference environments, resulting in physically and mentally safe operations.
In switching from the M210 V1 to the Matrice 300 RTK, there are also some additional features that the team at Bouygues E&S EnerTrans AG sees as invaluable from a safety perspective. "The laser range finder of the Zenmuse H20T (compatible only with the Matrice 300 RTK), can be used to measure the distance from trees to powerlines, and the high-quality detailed photos from a greater distance make the flight safer," says Tschachtli, comparing the two platforms.
3. Longer flights, uninterrupted work
Honouring their commitment to guarantee uninterrupted access to energy supply, the hot-swappable TB60 Intelligent Flight Battery means almost twice the usual flight time for Bouygues E&S EnerTrans AG.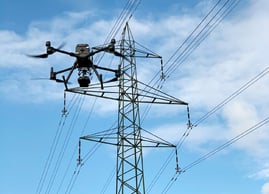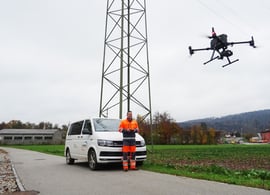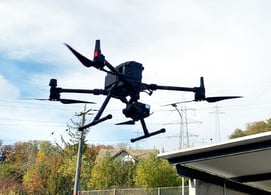 "We've increased our efficiency thanks to the M300's hot-swappable battery system," says Tschachtli. "Not needing to restart the aircraft when we switch between our three battery packs has minimized downtime"
In every mission, time is everything but batteries are not the only component that makes an inspection work more efficient. "The camera is a great development," says Tschachtli, referring to the all-in-one H20T payload with thermal, zoom, laser and rgb features. "With the same flight, different data can be collected without having to change the camera. For the pilot as well as the operator, this is very helpful and time efficient: lower weight means longer flight."
4. Thermal vision and Seamless Integration
It is not without reason that the Matrice 300 RTK has been labelled as an inspector's dream tool. For Tschachtli, thermal vision and seamless integration stand out compared to many other features of the Matrice 300 RTK.
On the one hand, thermal vision capabilities allow for damaged areas on photovoltaic systems to be quickly and precisely located. As individual lines are usually connected with press connections, if these are not properly made or if they wear out, resistance arises and the component heats up. New cables are therefore checked for manufacturing defects after they have been put into operation for the first time.
At the same time, the Zenmuse H20T unites all the recording systems relevant to them in a single device. "This saves a lot of take-off weight and thus extends the flight time," says Tschachtli.
"What impressed us about the Matrice 300 RTK is that the control of all recording functions via the integrated touch screen on the smart controller is very intuitive, thus makes operations much easier," he adds.
5. Quiet, Non-intrusive Work
One of the challenges that Bouygues E&S EnerTrans AG has been facing when integrating drones with traditional inspection methods, besides having to conciliate operational needs and regulation compliance, is public acceptance.
"The Matrice 300 RTK is much quieter than its predecessors. We very much welcome this significant reduction in noise levels because it means that our work attracts even less attention from bystanders," say Tschachtli, praising the drone's high-altitude low noise propellers.