The world is facing one of the toughest times in recent history, and this time is not about economics or politics, it's about health. Countries around the world are fighting an uphill battle to contain the virus known as COVID-19, which has taken over 11,000 lives globally as of the writing of this article.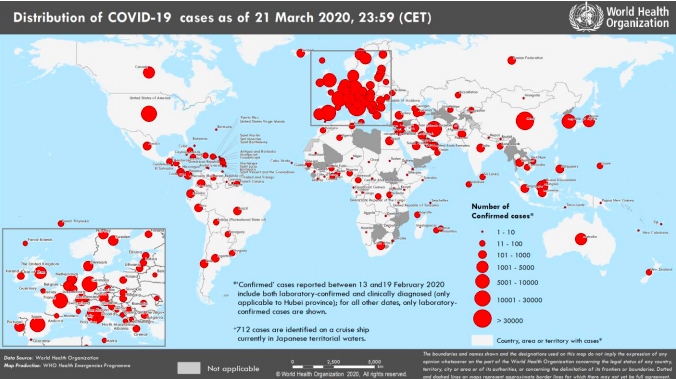 Number of confirmed COVID-19 cases by country (Source: WHO, Situation Report 62)
The virus has spread over six continents, with almost every country reporting new cases daily. Italy, Germany, and Spain are some of the most affected countries in Europe, while the USA has more recently been effected with over 40,000 confirmed cases.. As of March 21st, the World Health Organization reports a global combined 292,000 confirmed COVID-19 cases. To slow down the the spread of the virus, governments around the world have put in place emergency plans to contain the spreading as much as possible.
Governments are encouraging people to stay in their homes, avoid social gatherings, and limit personal contact to reduce the chances of contracting the virus. In extreme cases like Italy and Spain, the governments have declared an entire country lockdown where all non-essential businesses are closed, and everyone needs to stay indoors until further notice.
Following innovative practices tested in China during the first outbreak, European Public Safety and Health organizations are leveraging drone solutions to take control of the situation. During the outbreak, one of the methods Chinese authorities tested were drone-based delivery solutions. Delivering essential supplies via drones to potentially infected areas proved to be safer and more efficient.
Using drones to deliver essential supplies isn't new. DJI and a select few partners around the world have previously tested out these applications - which push the boundaries of technology, regulations and operations - to positive, but limited, results. Given the current global pandemic, below we have highlighted some of the these projects with the hopes that more organizations can replicate these tests to support communities affected by COVID-19.
While these stories show medicine delivery is possible with drones, please take note and follow local policies and procedures before performing these operations.
Remote Virus Testing and Medicine Delivery, Italy
We are still trying to understand the essence of this virus; doctors, nurses, and scientists are at the frontline of this ongoing battle, and as a result, are exposed and at risk of becoming infected themselves. In Naples, Italy, the Italian Civil Aviation Authority (ENAC) and the Monaldi Hospital worked with Elite Consulting, an Italy-based DJI Enterprise Authorized Channel Partner, last November to test a drone-based delivery solution that could be use to deliver medical supplies from the hospital to locations within a 5 km radius.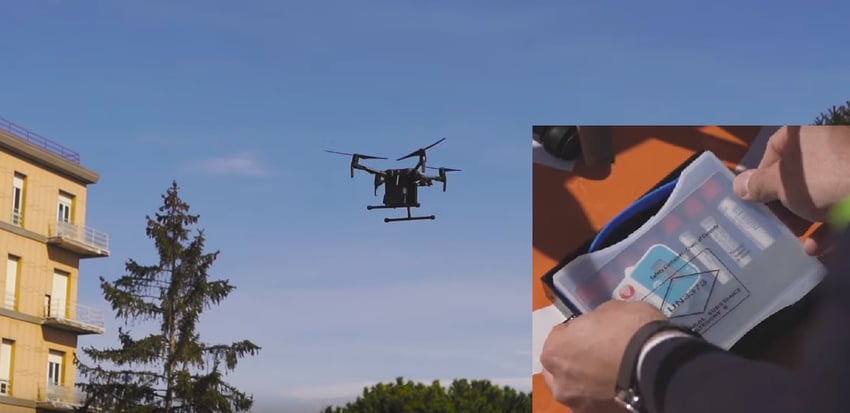 Matrice 210 V2 with custom-made delivery box
The solution features a DJI Matrice 210 V2, with a custom-made delivery box that can be adjusted to carry medicine, blood samples, or cotton swabs for testing to infected areas. Not only does this solution limit the exposure of medical staff, but it reduces the delivery time from 35 minutes to a quick 3 minutes.
Bypassing Ground Traffic Congestion with Drones, Mexico
Mexico has arguably one of the most congested transportation systems in the world; some reports state that citizens in Mexico City spend up to 45 days a year commuting. Due to this, traffic often represents a risk for emergency responders, especially when lives are at risk.
Sincronia Logistica is a service company focused on delivering health supplies to hospitals across Mexico. They have tested innovative ways to reduce delivery time for health supplies in case of emergencies and found that drone-based delivery was the perfect approach to maximize efficiency.
To make this possible, the company adapted DJI's Matrice 200 Series V2 drones to deliver supplies from their warehouse directly to the hospital, where the doctors can take the supplies needed to perform critical surgeries. ISSTE Bicentenario Hospital, one of the biggest hospitals in Mexico, was the first hospital to receive health supplies as part of this new program, cutting delivery time by 80%.
Supporting Remote, Underserved Communities Through Drone Delivery, Dominican Republic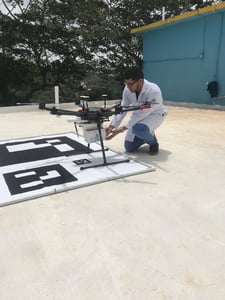 Isolated communities across the Dominican Republic have a hard time to access quality health services, especially for the ones in mountainous areas where the transportation to hospitals is long and expensive. Hospitals in these remote communities often have neither the infrastructure or supplies to deal with all the cases they receive. This leads some patients to go to the nearest city for treatment, costing them valuable time and money.
WeRobotics, a non-profit organization dedicated to developing humanitarian solutions using technology, and the DR Drone Innovation Center took the challenge to tackle this problem through a program called Flying Labs. The community hospitals picked for this project were El Coco and Los Montacitos, both over 10km away from the nearest regional hospital, Bohechio Hospital.
The solution features a DJI Matrice 600 Pro with a delivery box that can carry loads up to 6 Kg per flight. Between June and July 2019, WeRobotics performed a total of 101 flights, moving a cumulative 21.25 Kg of medical supplies and blood samples for testing to the community hospitals.
The Future of Health Supplies Delivery
With the help of drones, these projects were able to overcome distance, reduce time, and provide the much-needed supplies to doctors and patients. Drone-based medical deliveries will become a worldwide trend in the upcoming years, so far, more than 20 projects around the world are implementing drones to deliver health supplies to people in need.
The recent virus outbreak might need these projects to increase in scale faster than we were expecting as many communities remain under lockdown, and health institutions need to find efficient ways to treat patients while reducing risk of cross-contamination. Drone solutions offer fast and contactless means to deliver supplies, two key advantages when battling a highly contagious virus such as COVID-19.
DJI encourages innovation in these trying times, and these projects are an example of how drones can impact our health system positively and help in moments of emergency. As part of our efforts to contribute to this innovation, we will continually update our COVID-19 landing page here with the latest applications and cases from across the globe.