Since its release, DJI's compact flagship aircraft for industrial applications, the Matrice 30 Series, has provided commercial drone pilots with an efficient, intelligent, safe, and reliable operating experience thanks to its powerful performance.
On November 8th, this flagship flight platform received a new firmware upgrade, adding a number of practical functions and once again elevating its operational potential.
Significant upgrades to Smart Inspection
Regular UAV inspection of bridges, power grids, oil fields, pipelines, and other equipment can identify risks and ensure normal operation in a timely manner, but the process is repetitive and pilot labor-intensive. The use of Smart Inspection can alleviate some of these challenges, allowing for inspections to be completed at low cost, with high efficiency, and with high quality.
Smart Inspection allows pilots to record their manual flights, including flight routes, gimbal angles, and photo settings. Then, any pilot can return to the same site and have the M30 automatically repeat any given saved flight. Smart Inspection helps save up to 90% of operation steps, drastically increasing inspection efficiency. This most recent firmware update improves the accuracy of the media capture and ensures the collected photos are accurate and precise.
1. New Target Frame
When recording tasks, "Target Frame" is added under the zoom lens: the target object is placed in advance of the target object frame under the zoom lens. After the mission recording is completed, the system will automatically frame the target area of the shot sample, without the need for manual framing, which greatly improves the efficiency of route planning.
2. AI-assisted zoom stabilization
In the past, Smart Inspection, when using the zoom lens to find and capture its target, was easily affected by RTK signal error, strong wind, etc., resulting in sometimes failing to accurately shoot the target object.
With this latest firmware upgrade, a new AI algorithm will search and match the framed target from the wide-angle screen to help correct the camera shooting angle. This helps ensure that the same target area is captured for each operation.
At the right distance, the drone does not need to change its position frequently, and a single waypoint can accurately photograph multiple target objects, improving operational efficiency. In a recent bridge inspection test, the Matrice 30 was used to shoot multiple bridge lock clamps at a distance of 50 meters from a single waypoint, increasing the efficiency of a single inspection mission by 2.6x.
3. New recovery metering function
Inspection operations are periodic and fixed in nature and are easily affected by changes in external ambient light, resulting in unclear photography.
The new firmware adds a new recovery metering function. The drone will record the brightness value and other parameters of the sample shot during task recording and will recover the metering independently when reshooting. In the evening, the M30 can still shoot clear details of the target photos, to ensure the quality of operational results.


Unrestored metering on the left vs Restored metering on the right
4. Flyby non-photo waypoints
Some waypoints in a flight route are set for safety, such as flying over a power line, rather than for specifically capturing photos. This latest firmware allows you to instruct the drone to no longer decelerate as it arrives at these non-photo waypoints, and instead maintain its speed. This further optimizes route efficiency and saves battery.
Improved mapping accuracy
This latest firmware version allows the Matrice 30 Series to realize microsecond time sync between the camera, flight controller, RTK, and gimbal system, greatly improving mapping accuracy.
For example, when working with a GSD of 5.01cm/px, a flight altitude of 141m, and a flight speed of 7.5m/s, horizontal accuracy of 13.9cm, and vertical accuracy of 22.3cm can be achieved.
Now, the M30 Series can be used in various mapping work, like stockpile volume measurement, to help quickly obtain valuable information to assist at construction and mining sites. After an emergency or natural disaster, the M30 can quickly build a map to help aid relief efforts.
Support for downloading global elevation data
In the past, users would need to import DSM files in advance to get terrain information, which is tedious and time-consuming.
Now, the M30 Series supports direct downloading of global elevation data through Pilot 2, which can enable terrain follow flight missions.
(Note: The accuracy error of individual areas is large, so it is recommended to verify before use and pay attention to the flight environment during operation to ensure flight safety.)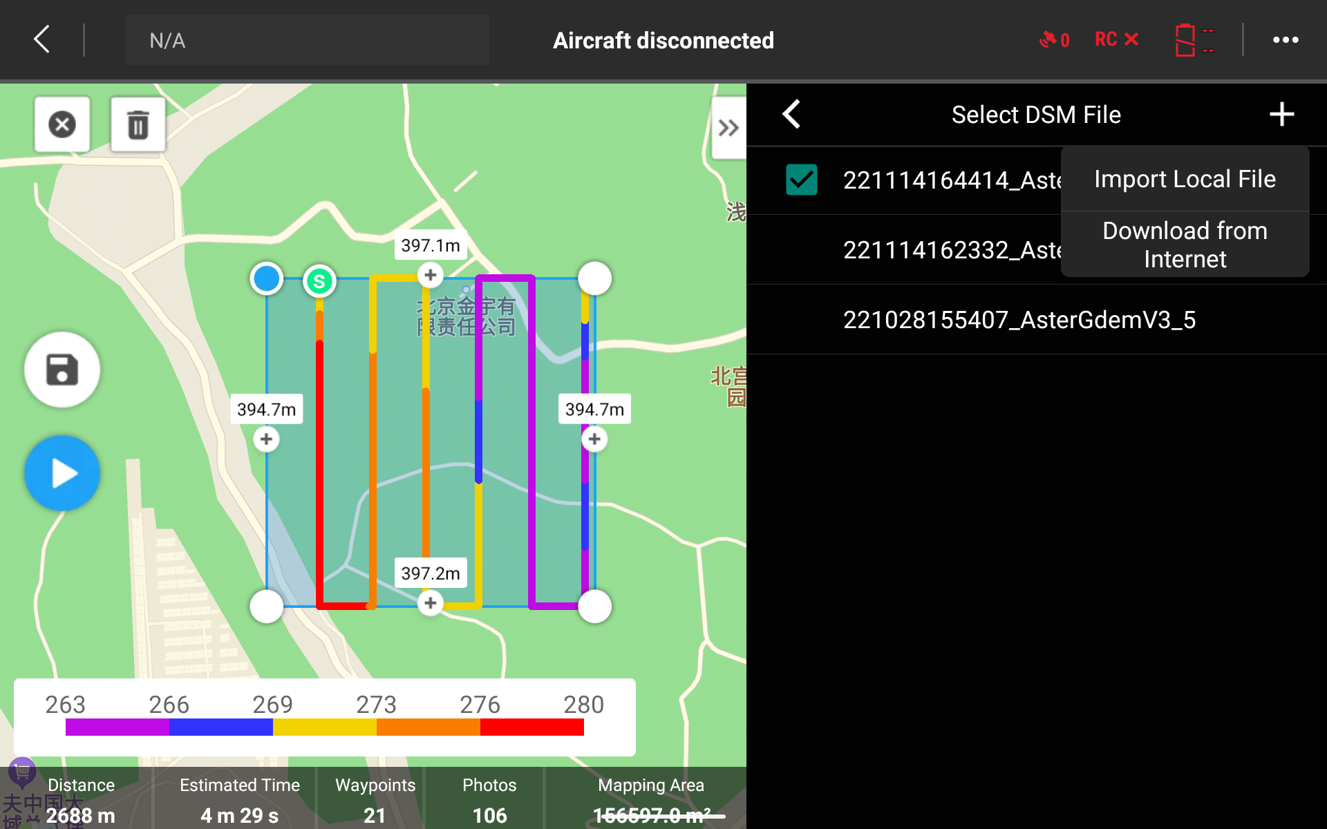 Choose to import locally or download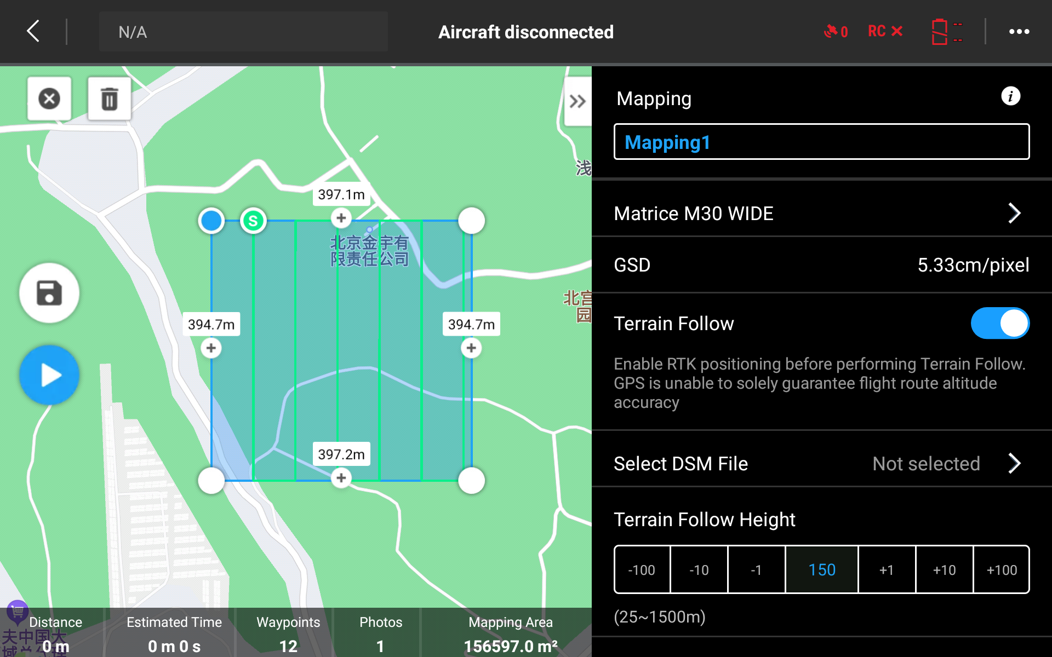 Select the DSM file after opening the ground simulation flight
Additional miscellaneous updates
Optimization of burn protection for the M30T thermal camera
Infrared cameras are inherently sensitive, and improper use can cause irreversible damage. This latest firmware optimizes thermal camera burn protection to help reduce the possibility of damage. To learn more about how to protect your thermal cameras from harm, read our Thermal Drones Basics guide.
To access this latest firmware version, navigate to the M30 Downloads page, or click here.