Farmers around the world already rely on DJI equipment to plan, manage crop health, and identify issues before they impact bottom lines. Drones have become a necessary and important tool for boosting efficiency and maximizing yields. The latest addition to our agriculture fleet is truly game-changing: Enhanced multispectral data from a platform that's capable of much more besides.
Here are the top eight features of the new Mavic 3M.
The world's smallest 4-band multispectral drone camera
Multispectral imagery gives agriculture professionals a way to see the invisible and remove the guesswork from day-to-day operations. By having access to data across specific parts of the electromagnetic spectrum, farmers can build smarter workflows that lower costs, use resources more efficiently, and ultimately maximize yields.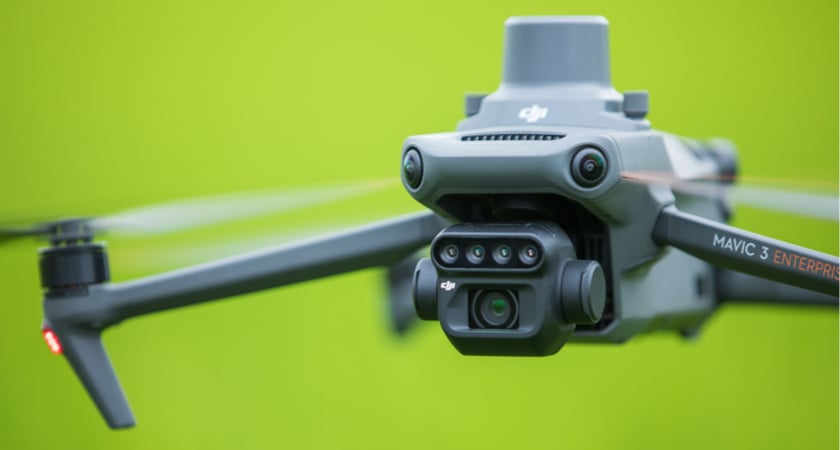 The Mavic 3M has a built-in sensor array that combines Green, Red, Red Edge, and Near Infrared sensors to support the NDVI, GNDVI, and NDRE vegetation indexes.
All three provide powerful insights for farmers. The NDVI makes it possible to detect plants under stress, differentiate between crops, and determine at which stage they are in their growing cycle. The NDRE index provides insights on chlorophyll content in leaves, and the GNDVI is useful for estimating photosynthetic activity, as well as water and nitrogen content in the plant canopy.
Pilots can harness multispectral insights in real-time, thanks to a new feature that shows you live vegetation indices in split-screen alongside the visual feed.
All of the above is enabled by DJI's latest: the smallest 4-band multispectral camera in the world.
A sunlight sensor for more consistent data
When assessing agricultural data over time, changes in the weather from day to day can interfere with the clarity of your NDVI results. The Mavic 3M has a built-in Incident Light Sensor on the back of its airframe that works to mitigate this. It takes solar irradiance readings that can be used to calibrate and normalize your multispectral data in post-processing. By adjusting for sunlight levels, you get more accurate NDVI results and better data, no matter the weather or season.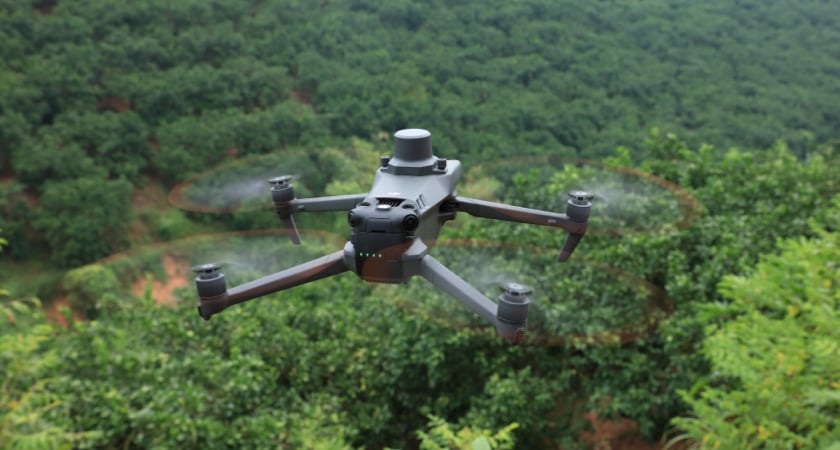 An advanced visual camera for efficient surveying and mapping
Beyond its multispectral capabilities, the Mavic 3M has a visual camera that's been developed to take agriculture and mapping workflows to new heights. With its huge 4/3 CMOS and 20MP image sensor, a mechanical shutter, and 0.7-second interval shooting, everything is geared towards rapid aerial surveys and data quality. Pair this with a 43-minute flight flight time, the Mavic 3M can capture data across up to 2 square kilometers in a single flight.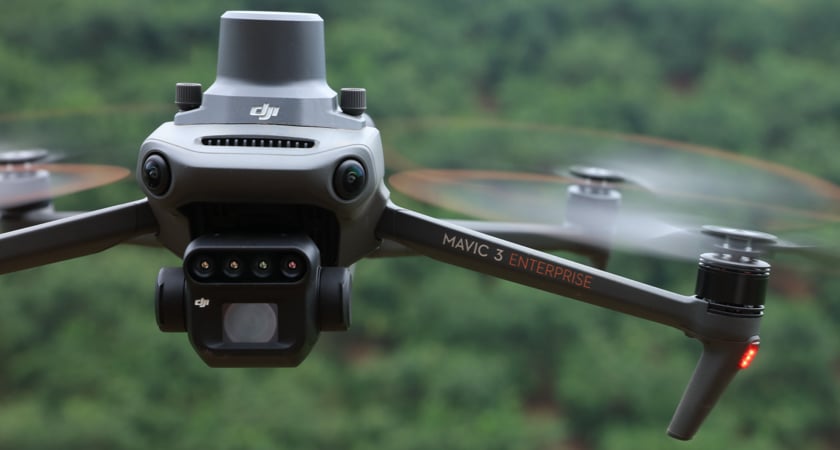 We see these speedy aerial surveys as the perfect partner for multispectral data gathering. For the first time, a single platform can be used to generate both high-quality photogrammetry and multispectral assets, making it cheaper and easier than ever to set up a digital twin of your farm and overlay NDVI data over time.
We also know that agricultural professionals work around the clock. The Mavic 3M's visual camera is designed to be just as flexible, with 3.3μm pixels and improved low-light software that offers superb performance in dim conditions. Ultimately, the Mavic 3M is about working faster and smarter. With rapid surveys and features designed to mitigate low and inconsistent light, your operational window is wider than ever.
RTK compatibility for precision surveys
When you're creating photogrammetry assets and gathering multispectral data, precision is everything. The M3M is compatible with our RTK accessory to allow agricultural professionals to conduct surveys with care, efficiency and - crucially - without the need for Ground Control Points.
Whether you want to level land, spray crops, gather multispectral data, or optimize harvesting lines, working with centimeter-level accuracy can make a huge difference to the quality of your insights and the detail of your planning. In turn, this will feed into the efficiency of day-to-day operations, with fewer mistakes and marginal gains across the board.
Setting the standard for safety and stability
The Mavic 3M harnesses the latest in DJI's safety and transmission technology to reduce the risk of accidents.
Chief among them is state-of-the-art obstacle sensing and navigation powered by our Advanced Pilot Assistance System (APAS 5.0). Data from six vision and two wide-angle sensors are assessed in real-time to detect obstacles in every direction and - when using Avoid mode - reroute your flight path accordingly. APAS 5.0 also powers the Mavic 3M's advanced Return To Home feature, which optimizes your flight path to preserve battery and get your aircraft home safe and sound at the touch of a button.
Last but not least from a safety perspective: As with all of DJI's latest enterprise platforms, the Mavic 3M's built-in AirSense system provides an early warning of nearby crewed aircraft transmitting ADS-B signals.
Your connection to the drone is just as stable as its flight. The Mavic 3M comes with DJI's O3 transmission technology. It sets the standard for video and control stability and provides a reliable link between pilot and aircraft.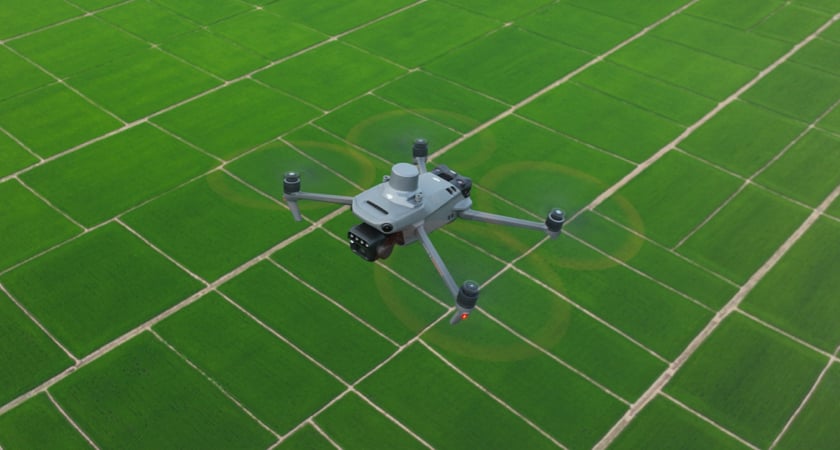 A compact platform for rapid deployment
Agriculture professionals are used to working with heavy machinery, but gathering data doesn't have to be that way. The Mavic 3M is small, compact, and foldable - easily sliding into a backpack for easy transportation from one site to another.
You can carry the Mavic 3M in one hand and take off in a matter of seconds. This is true portability alongside the smallest multispectral camera on the market. There's no longer a choice to be made between convenience, capability, and performance. With the Mavic 3M, you can have it all.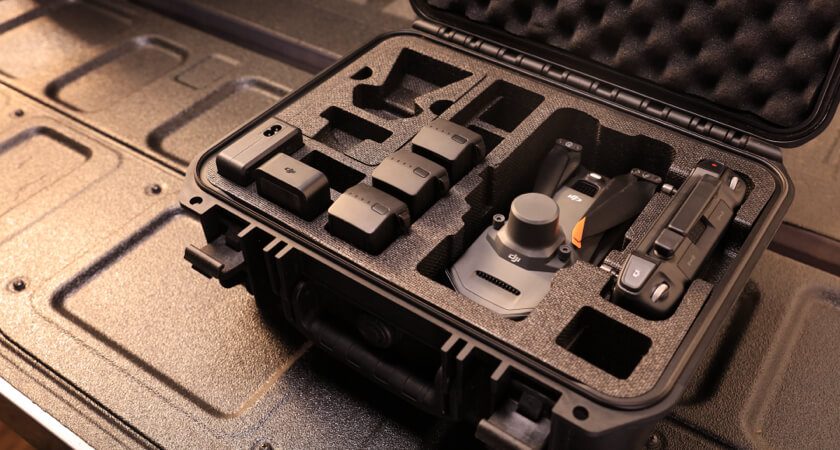 Full compatibility with DJI's SmartFarm App and DJI Terra
The Mavic 3 Multispectral is fully compatible with the DJI SmartFarm app, allowing agriculture professionals to coordinate any data gathered with spraying and spreading operations.
SmartFarm comes with a range of features for streamlined workflows, including intuitive mission planning, a full fleet overview, field management, data assessment, and effortless collaboration between teams.
Data captured by Mavic 3M is also fully compatible with DJI Terra, so you can easily and efficiently create maps and models of your targets.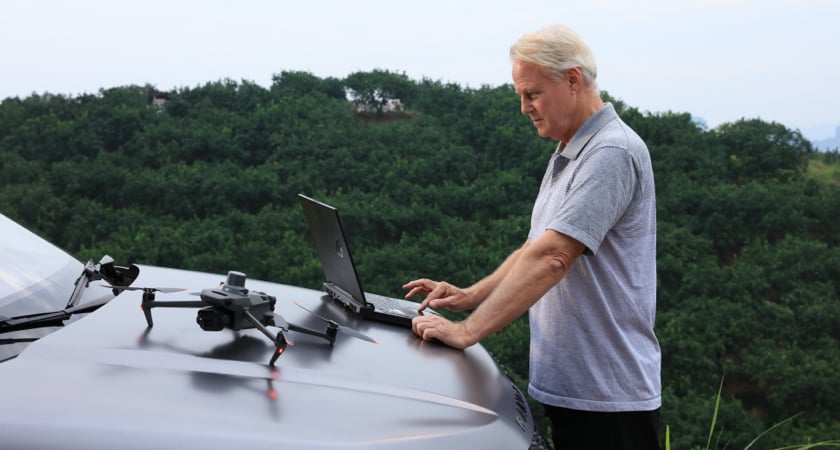 Smart Terrain Follow
We're keenly aware that no farm is the same and that, in particular, not all farms are on flat terrain. That's why the Mavic 3M offers Terrain Follow so you can maintain an even altitude as you fly a survey mission across varying terrain. By smoothly adjusting according to the terrain, you can secure the integrity of your data while it's gathered, without having to account for any differences in post-processing.
For situations when you weren't able to import a DSM or local elevation data pre-flight, the Mavic 3M's collision avoidance sensors can take over by detecting the ground below and automatically adjusting flight height accordingly.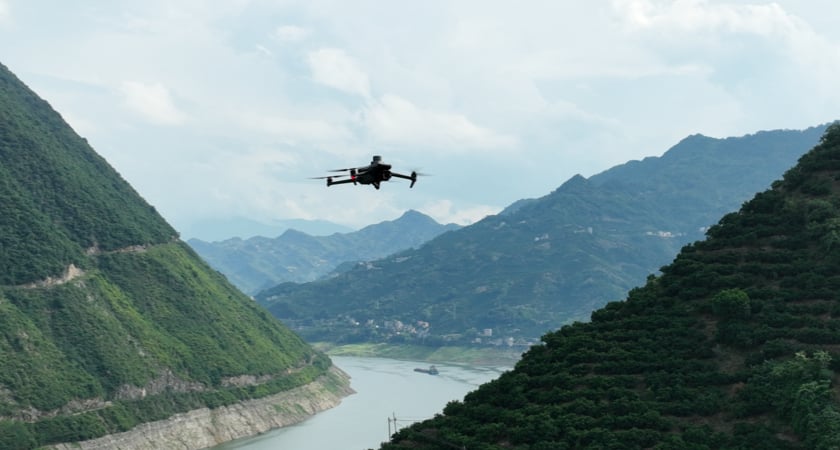 Cloud API and ecosystem support
If you would like to work with or build a custom solution with Mavic 3M, you can do so with DJI's Cloud API. It allows developers to connect to the Mavic 3M's hardware, video feed, and photo data in third-party software.
With Mobile SDK and Payload SDK, developers can expand the applications of Mavic 3M thanks to its top accessory port.
Redefining drone multispectral
The Mavic 3M is compact and portable but offers revolutionary capabilities for agricultural and surveying professionals. This drone redefines industry standards for small multispectral tools, and has a little something for everyone.