Change is inevitable. And though the Phantom 4 Pro, Mavic 2 Pro and Inspire series continue to blur the lines between consumer and enterprise applications, there will be a moment where our business will evolve and the requirements to perform our job will simply be more sophisticated.
As the new European drone regulation gets rapidly adopted across the continent and the difference between hobbyists and commercial operators evaporates, users may not see an upgrade from consumer to enterprise drones as an urgent task on their to-do list -- considering also portability, cost and camera quality.
In another perspective, the time may be ripe to switch to enterprise platforms and allow your business to unlock its full potential beyond national borders, while also benefiting from unique features and ad-hoc support.
DJI Enterprise Drones' Unique Features
Where price may be perceived as a potential barrier to upgrade from consumer to enterprise drones, there are several benefits that outweigh it in terms of ROI.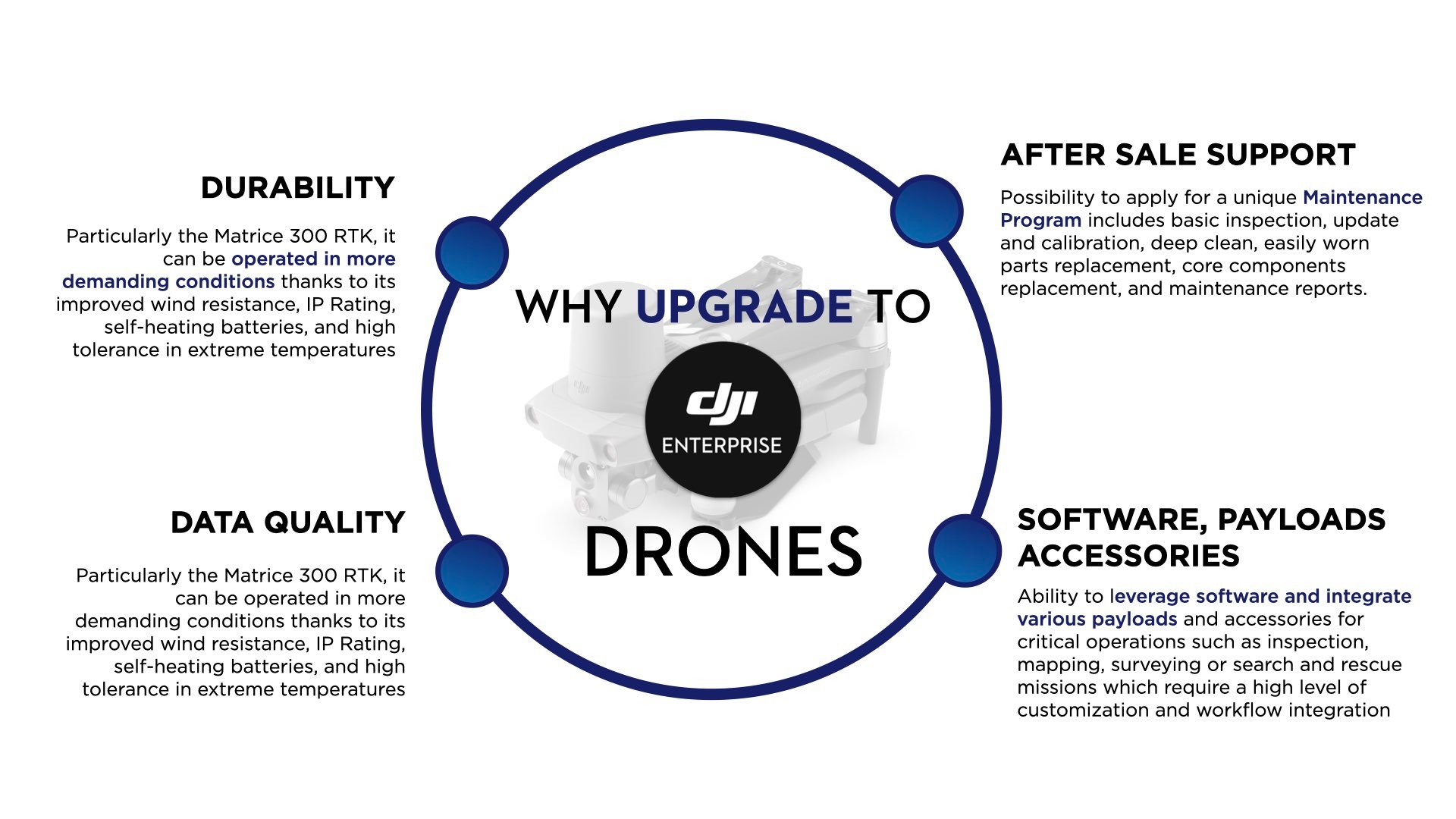 1. DURABILITY
While "prosumer" drones have been designed to offer a high level of sophistication in terms of data acquisition, it is the sturdiness and resistance of industrial drones that ensure that such data can be detected in the first place. It is not by chance that the

Matrice 300 RTK's body has been designed to endure

inclement weather and perform steadily in disruptive environments.


The DJI Matrice 300 RTK, in particular, can operate in more demanding conditions, specifically thanks to its improved wind resistance, IP Rating, self-heating batteries, and high tolerance for extreme temperatures, allowing for more control on flight planning in uncertain circumstances.
2. AFTER SALE SUPPORT
With the purchase of a DJI enterprise drone, customers can apply for a unique DJI Maintenance Program – an aircraft service plan that differs from a regular DJI Care, and which includes basic inspection, update and calibration, deep clean, easily worn parts replacement, core components replacement, and maintenance reports.
It is no secret that unlike recreational use, industrial applications have more chances to incur damage and require maintenance. But as long as your enterprise drone has not been subject to modifications or water damage, the level of care enterprise customers need and receive is by far more substantial.
| | |
| --- | --- |
| DJI Care | DJI Maintenance Program |
| Damage repair fees decrease after an accident. | Regular maintenance reduces the risk of accidents. |
| Customers can benefit from this program in case of accidents. | Customers can benefit from this program at any time to preserve the device's good conditions. |
3. DATA QUALITY
The more sophisticated the features, the higher quality the data output. DJI Enterprise drones are designed to perform in the toughest scenarios whilst facilitating informed decisions to deploy rapid response or immediate intervention. This level of readiness to act can only be achieved with high quality mappings and thermal imaging that experts can rely on with the lowest level of mistakes.
One of the main advantages of enterprise drones is accuracy and precision needed to carry out photogrammetry and mapping work. Thanks to sensor integration, enterprise drones can guarantee that all the acquired information can be processed quickly and efficiently at the time of data analysis.
There are, however, two main reasons to upgrade your consumer drone to an enterprise drone, which can be a deal breaker when it comes to accuracy and level of details that a Mavic 2 Pro or a Phantom 4Pro simply cannot provide:
RTK Capabilities
RTK stands for real-time kinematic, and refers to a satellite correction technology that improves the precision of position data while the drone flies over a site to capture images. Compact, affordable drones like the Phantom 4 RTK with an integrated RTK module provide real-time, centimeter-level positioning data. More than the sophisticated, heavy-duty Matrice 300 RTK, the Phantom 4 RTK has been a true revolution for the surveying industry where the need to low-risk investment and advanced capabilities in demanding scenarios was making it impossible to launch a drone program.
Thermal Imaging
Camera drones with thermal imaging have become a revolutionary tool in the hands of enterprise customers, from fire fighting to industrial inspections. For one, the Mavic 2 Enterprise Advanced encompasses some of the most sophisticated thermal imaging capabilities required to identify critical details, in such a compact, powerful body that no other consumer drone could ever offer at this stage.
4. SOFTWARE, PAYLOADS AND ACCESSORIES
Critical operations such as inspection, mapping, surveying or search and rescue missions require a high level of customization and workflow integration that are paramount to their successful outcome.
Unlike consumer drones, any DJI enterprise drone connected to a DJI Pilot system running on Android will be given access to ad-hoc features such as Mission Flight. This integrated functionality offers tools such as Waypoints, Mapping, Oblique or Linear flight that would otherwise require a third party app to be used on other consumer drones such as Mavic 2 Pro or Phantom 4 Pro.
Dedicated software such as DJI Terra have proven invaluable to surveyors looking for an all-in-one drone mapping solution to plan, visualize, process, and analyze aerial data, resulting in 400% more efficiency with its latest update.

And if that were not enough reason to upgrade your equipment from consumer to enterprise drones, the possibility to add or interchange payloads on your enterprise platform could definitively do the trick.
The Zenmuse L1 is the first official drone LiDAR payload created specifically to democratize the technology in the surveying, architecture, engineering and construction sector and make customers' operations more efficient and cost-effective at the same time. Similarly, the P1 payload is leading innovation in photogrammetry with better accuracy and higher precision.
In addition to software and payloads, DJI enterprise customers can count on a full array of integrated accessories designed to meet industrial needs such as the SkyPort V2 to facilitate the communication between drone and payload, or the centimeter-level positioning system D-RTK 2 to ensure uninterrupted data transmission.
Choosing the Right Enterprise drone for your Business
The application of drone technology to commercial and industrial operation is skyrocketing, making the Mavic 2 Enterprise Advance and Matrice 300 RTK the most appreciated drones for inspection and public safety missions.
However, every industry bears specific requirements that can only be met by ad-hoc features. In this list, we offer an overview of specs and use cases of our most popular enterprise drones to help you choose the right one for your business.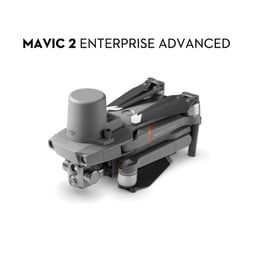 Considered the new standard for small commercial operations, ideal for public safety and firefighting missions.
Solid battery life

Faster take-off speed and reliable flight time

Powerful modules

Upgraded thermal imaging

48MP visual camera

RTK module and enhanced waypoint missions




Top-of-the-line, weather resistant industrial drone designed for both regular and heavy-duty inspections, nighttime search and rescue, emergency firefighting response and research in remote and at-risk areas such as cliffs, volcanoes and offshore rigs.
Inverted propellers
Three propellers emergency landing
Six direction dual vision sensors
2 TB60 batteries
Enhanced safety and redundancy features
3 payload capacity
New OcuSync
Intuitive Primary Flight Display
Dual Control Mode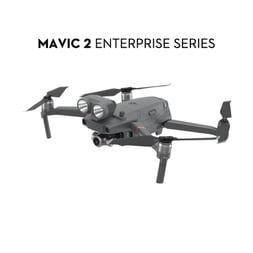 A compact industrial drone to start off your drone program and that can be easily deployed across a variety of scenarios, namely: search and rescue, firefighting, law enforcement, emergency response, powerline, cell tower and bridge inspections.
Visible and thermal imagery
Zoom camera
Dual camera
OcuSync 2.0
Modular accessories
Password protection
DJI Airsense
Improved FlightAutonomy
A high-precision drone with integrated multispectral imaging system built primarily for agricultural missions, environmental monitoring, crop health assessment and vegetation management.
Multispectral imaging system
Spectral sunlight sensor to capture solar irradiance
RGB and NDVI feeds
Centimeter-level accurate measurements
Compatibility with D-RTK 2 mobile station and NTRIP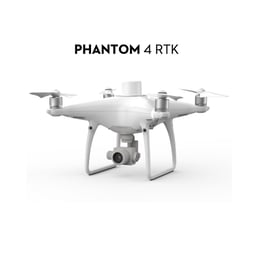 The most compact drone for accurate low altitude mapping, the Phantom 4 RTK has been built for surveyors as a step forward from the Phantom 4 Pro, with an integrated RTK module that saves time in the field and with post-processing.
Improved accuracy with RTK module
Centimeter-level positioning system
GS RTK App
New TimeSync system
Precise imaging with 1-inch, 20 megapixel CMOS sensor
OcuSync
D-RTK 2 High Precision GNSS Mobile Station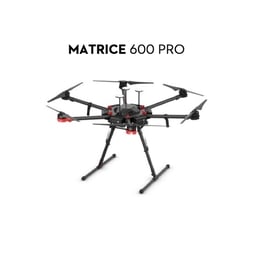 Considered as one of the best drones for the surveying business, the Matrice 600 Pro is an extremely versatile hexacopter with improved flight performance and loading capacity than its predecessors.
Dustproof propulsion systems and cooling motors
Extended flight time and a 5km long-range transmission
HD live streaming with Lightbridge 2
PSDK integration
Integrated D-RTK GSS system
Open SDK Development

Compatible with most Zenmuse payloads and some third party payloads such as LiDAR and multispectral cameras
Apply for DJI's Qualified Entities Program (QEP) and allow your government and public safety organization to have your altitude and geo-fencing limitations unlocked over an extended period of time.
Upgrade to Enterprise Based on Your Industry

Inspection

Surveying and Mapping

Public Safety

Success Stories from DJI's Enterprise Customers
For most DJI customers, "upgrading" from consumer to enterprise drones has literally translated as fleet expansion -- that is, the addition of enterprise equipment that was simply not available before their launch on the market.
The public safety sector has seen a rapid expansion of its drone program as a result of successful stories where the technology has made a difference in terms of efficiency. In the case of the Croatian Mountain Rescue Services, the team added a Matrice 200 for complex operations and, more recently, a number of Mavic 2 Enterprise Dual, opting to keep their older Phantom 3 and 4 for training purposes.
Comparably, the Devon & Cornwall and Dorset Police in the UK has expanded its drone program and consequently its drone fleet with the Matrice 300 RTK and Mavic 2 Enterprise Series, in addition to Phantom and Mavic Pro solutions which are also kept to train new pilots.
Shifting from consumer to enterprise drones is not always an easy one if we consider the investment made at the beginning. But whether it is for improved accuracy, longer flight-time, or the many payloads available for all specific use cases, it is the amazing leaps of drone technology to usher in a new solution for your business.