Cambodia and Vietnam were devastated in October 2020 as seasonal monsoons brought devastating floods and landslides to millions of people. The death toll from weeks of torrential rains eventually rose to over 230 with 66 still missing. In addition, more than 7,000 hectares (27 square miles) of crops were destroyed, more than 690,000 cattle and poultry were swept away in flood water, and 16 national highways and more than 160,000 meters (99 miles) of local roads had also been severely affected. It has been reported that the flooding caused over VND30 trillion (USD1.3 billion) in damages. As rescuers risked their own lives to help save others, drones were pressed into service as a rescue tool.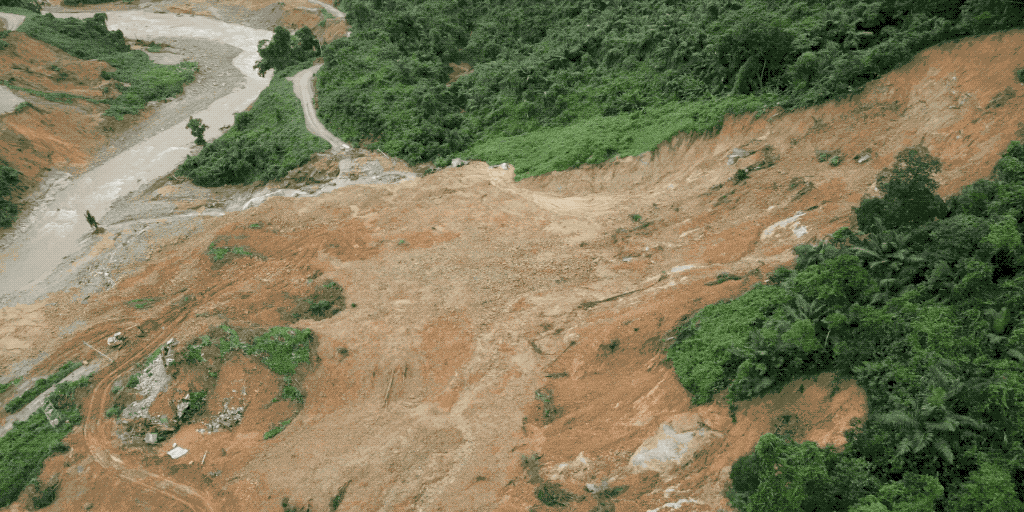 One of the biggest catastrophes occurred in Central Vietnam during the first half of October. After being drenched in monsoonal rain for days, Central Vietnam was plunged into turmoil as Cyclone Linfa struck on October 11th, dumping historic levels of precipitation, and reaching as high as a whopping 90.16 inches (2,290 mm) in some areas.
By midnight on October 12th, heavy rains produced by Cyclone Linfa caused a massive landslide near the Rao Trang Hydropower plant that trapped seventeen workers inside their housing complex and blocked roads. Making matters worse, the hydropower plant was located deep within a thick jungle in the central province of Thua Thien-Hue, about 30 km from the nearest town.
The landslide completely buried buildings at the Rao Trang Hydropower plant in layer upon layer of thick, highly compacted mud. Survivors, trapped in buildings, had no way of escaping. Local residents phoned the authorities to report that there was a landslide at the hydropower plant, and in response the local government dispatched over a hundred soldiers and rescue workers to the area in a combined effort to free the trapped workers.
Rescue teams walked about 13km into the remote area of the jungle and constructed a makeshift command center before rapidly setting about assessing the damage and working on a way to maneuver through the dense, rain-drenched, landslide-prone jungle to reach the survivors.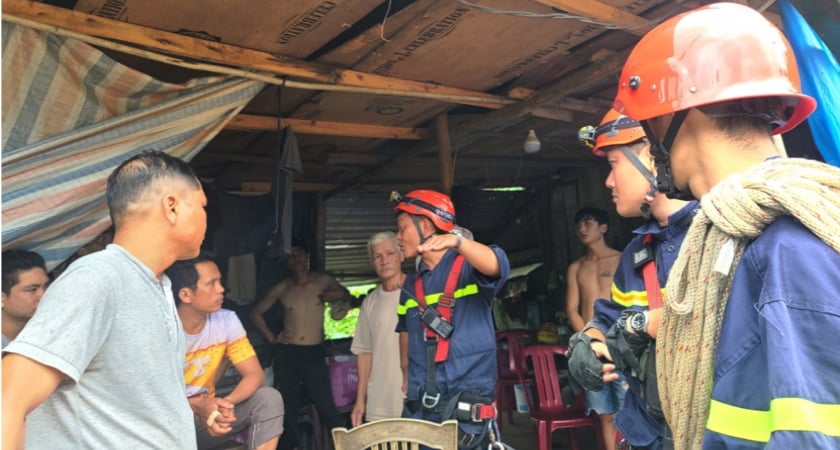 Rescue workers strategizing in the command center
Within hours, a team of rescuers trekked through the jungle to open up a nearby road that had been blocked by a landslide. Unfortunately, just as the rescue team was feverishly carving out a new path so that heavy equipment could be brought in to excavate the rock-hard earth entombing the survivors, another landslide struck. Tragically, thirteen people in this crew of rescuers lost their lives in this unexpected turn of events.
Devastated by the loss of so many members of the rescue team, squad leaders regrouped and tried to access the cut-off hydropower plant workers via a safer route. However, with each passing hour, the situation grew more and more dangerous.
The battle raged on
At midnight on October 13th, as rescue teams were carefully opening up a new path to the survivors, a loud explosion echoed throughout the jungle. The shocked rescue workers quickly discovered the source of the loud noise: The side of the mountain where the hydropower plant was located completely collapsed causing tons of mud and debris to roar down the mountain and bury the hydropower plant in even more layers of dirt.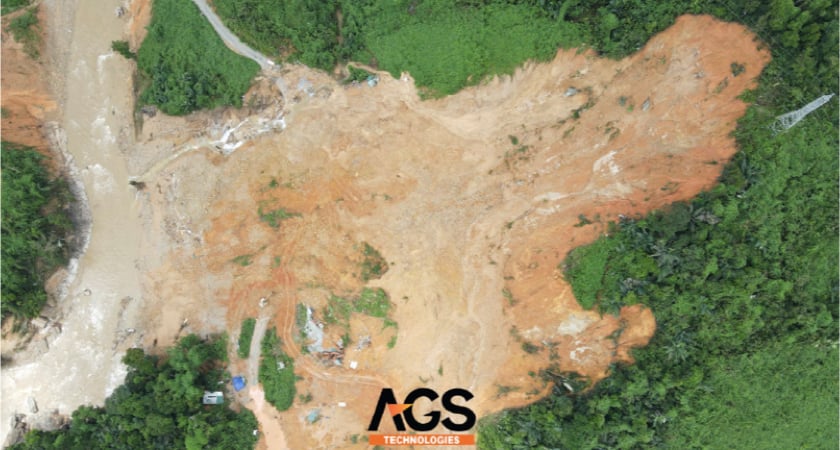 Aerial footage of the hydropower plant completely covered by a landslide
By October 14th, the rescue team had swelled in numbers as they raced against time to free the trapped workers. Helicopters, military vehicles, excavators, and dogs were all brought in to help out with the overall mission of getting equipment to the site, digging out the hydropower plant workers, searching for survivors, and locating the victims. Towards the end of the day, as the rescue squads labored on, organizers decided to use one more solution in their toolbox: drones.
DJI drones play a crucial role in the disaster response mission
As one of Vietnam's premier drone providers, the experts at AGS Technologies (a certified DJI dealer) were called in to help the rescue squad better assess the highly unpredictable situation. The AGS Technologies team readily answered the call and promptly prepared several advanced DJI drones to assist in the relief effort. Those two drones were:
Matrice 300 RTK
Mavic 2 Enterprise Dual
The Matrice 300 RTK (M300 RTK) was equipped with a Zenmuse H20T camera with 23× Hybrid Optical Zoom or 200× Max Zoom capabilities and a thermal sensing camera. Data captured by both drones were processed and analyzed with DJI Terra software to create state-of-the-art 3D models and maps of the disaster area.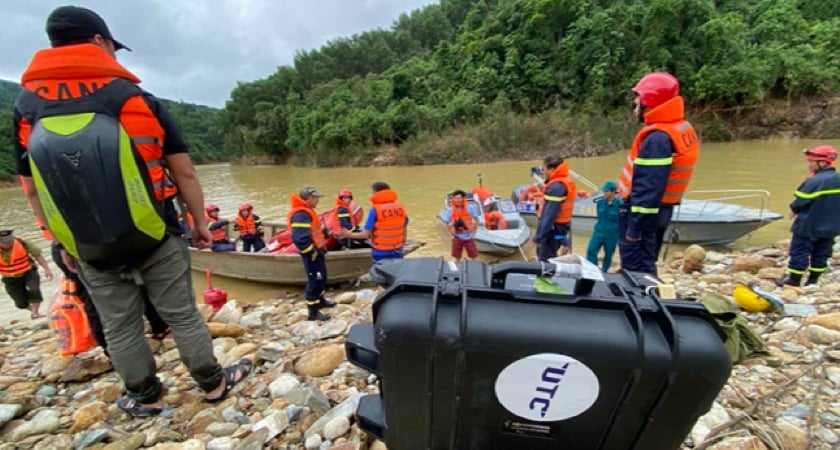 The AGS Technologies team arriving at the command center
To reach the provisional command center located deep within the jungle, the AGS team packed the two enterprise-class drones in their rugged, shock-resistant carrying cases, loaded them onto a boat, traveled upstream, disembarked, and then hand-carried the drones up a nearly washed out, muddy path.
After arriving at the command center, the AGS team and their DJI drones helped perform the following search-and-rescue tasks:
Capture aerial footage of the affected area and transmit it to the command center
Utilize thermal imaging to search for survivors and support rescue workers
Provide detailed 3D imaging for damage assessment and for post-disaster event reconstruction
In support of the relief effort, the two DJI drones successfully flew over four missions and captured over 10 videos and 699 images. While they were not able to find any of the victims, they gave rescue and recovery workers their first comprehensive aerial view of the colossal damage, allowing them to understand the terrain, compile wide-ranging aerial data in a single common map, and protect their personal safety as they searched. The two enterprise drones played a key role in enabling first responders to safely assess the situation and take decisive action.
How AGS Technologies deployed search-and-rescue drones during the rescue effort
Below is a more detailed look into how DJI drones were used by the AGS Technologies team during the Rao Trang Hydropower plant rescue mission.
Surveying & damage assessment
Upon arrival, the AGS Technologies team used their search-and-rescue (SAR) drones to quickly survey the landscape and assess the damage that had already been done. Once airborne, the drones streamed live, 1080p HD footage to a monitor in the command center via an HDMI port on the drone's handheld controller. This gave squad leaders a bird's-eye view of the terrain and helped them to make more accurate decisions about where to send their rescue teams. It also allowed leaders to more thoroughly assess the damage that had already been caused by the landslides and allocate resources accordingly.
Surveying and damage assessment footage captured by the Matrice 300RTK + H20T vs Satellite images
Rapid mapping
Using DJI Terra software to provide highly precise, real-time images, the SAR drones were able to capture footage that was much more detailed than traditional satellite images, and thus was invaluable when it came time for the team leaders to make life-threatening decisions.
Backed by DJI Terra software, the SAR drones seamlessly mapped the affected area and generated robust 2D and 3D models. This data was then used by team leaders to quickly assess structural damage, plot rescue missions, navigate hazards, and predict areas that may be at risk in the future. In addition, the AGS Tech team used the data to create a detailed land map highlighting obstacles around the hydropower plant so that rescue workers could avoid danger and find the safest path to the survivors.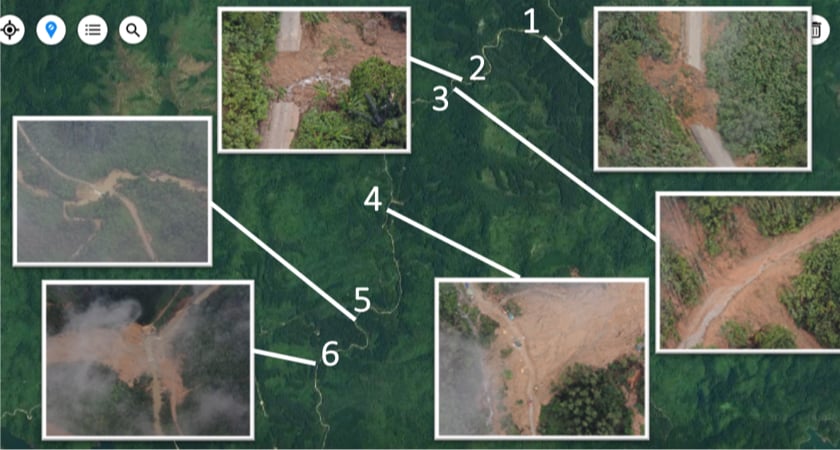 Detailed terrain map highlighting the affected areas
Thermal insights

Nighttime and low-light conditions are major obstacles in SAR missions, especially when these challenges are compounded by torrential rains, flooding, and the constant threat of landslides. To overcome these issues, DJI's SAR drones are equipped with advanced thermal imaging capabilities which allowed the AGS Tech team to quickly scan the landscape for the heat signatures given off by survivors. This was all performed from the safety of the command center, and thus avoided putting rescuers at risk.
Hybrid camera with zoom and a laser range finder
The M300 RTK with its Zenmuse H20T payload offers powerful SAR capabilities. With its 23× Hybrid Optical Zoom, 200× Max Zoom functionality, pilots could easily sweep across the terrain and gain great clarity on obstacles and hazards. Once an issue was detected, the laser range finder could pinpoint its precise GPS coordinates and relay them back to the command center. This enhanced the efficiency of the relief effort and ensured the safety of the search-and-rescue teams.
Post-disaster assessment & relief effort reconstruction
After the mission ended, rescue teams used the SAR drones' detailed HD images and disaster footage to effectively conduct damage assessments and evaluate the overall relief effort. Using DJI Terra software, the AGS team also provided 3D modeling of the affected area for post-disaster event reconstruction. In the future, rescue teams can also use the drone footage and the 3D modeling to train new teams on how to tackle future emergency-response challenges.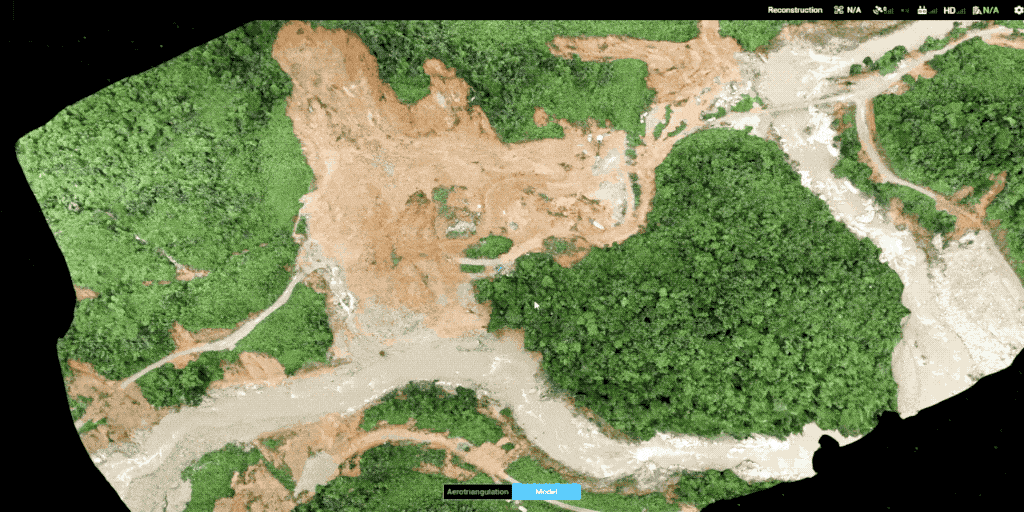 3D model of the landslide by DJI Terra
How DJI search and rescue drones can further support your rescue teams
Because of their size and maneuverability, DJI search-and-rescue (SAR) drones can be quickly deployed over disaster-stricken areas to scan for survivors, create detailed 2D & 3D maps of affected areas, provide damage assessment of the infrastructure, and much more.
Below are some additional ways our drones can work in tandem with your teams on their next rescue mission.
Loudspeaker broadcasting
When survivors become stranded due to a natural disaster and rescue workers cannot immediately communicate to those in need, DJI's SAR drones can be equipped with a loudspeaker so that rescue teams can broadcast emergency response information to individuals in danger zones or direct people away from danger.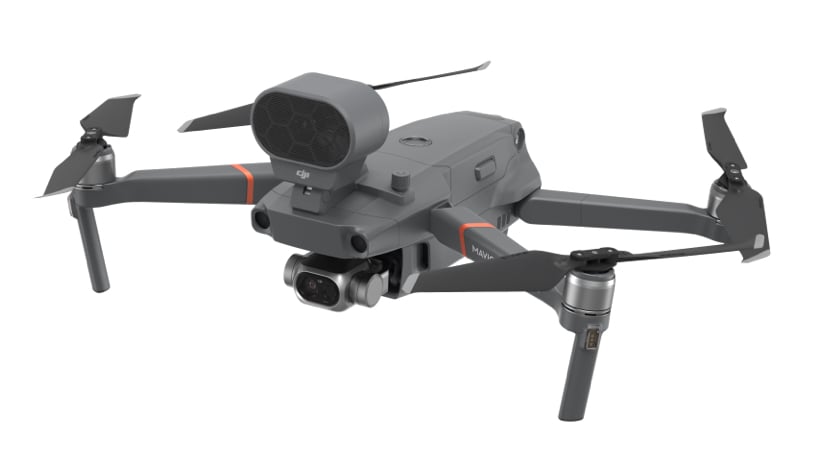 Mavic 2 Enterprise with Loudspeaker
Payload drop systems
During floods, fires, and landslides, survivors can easily become stranded and cutoff from food and shelter. In such life-threatening situations, drones can quickly locate individuals and deliver life-saving food, water, and medical supplies to people impacted by the disaster.
Spotlighting
Darkness often hampers rescue missions. To overcome this situation, DJI's SAR drones can be housed with a spotlight to improve the visibility of rescue workers and survivors. In addition, the drones can illuminate potential hazards in the terrain.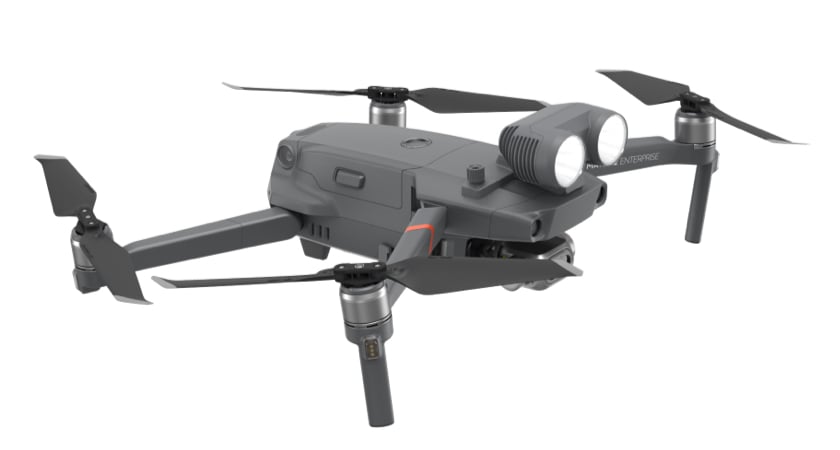 Mavic 2 Enterprise with Spotlight
Wi-Fi hotspots
During disasters, communication systems often fail and thereby leave survivors completely isolated and desperate for relief. Fortunately, SAR drones can create a temporary Wi-Fi hotspot in their fly-by zone allowing communications to flow more freely to stranded individuals.
Design Diligence
DJI SAR drones are designed to be easy to use, yet rugged enough to keep on working even in the most challenging of circumstances. Furthermore, they are fully upgradeable and modular so that they can be equipped with the tools your team needs for its next rescue effort.
Mission-Critical design
Equipment failure is not an option during a disaster. To combat this situation, DJI's SAR drones are designed to function in extreme conditions. They are dust-resistant, water-resistant, heat-resistant, and have long battery lives so that they can continually operate in challenging environments and consistently support rescue teams. Read about the weather resistance tests the M300 RTK are put through.
User-Friendly piloting software
DJI's SAR drones are backed by advanced, user-friendly piloting software that is easy to learn and exceptionally intuitive. Featuring multiple points of view (POVs), three flight modes, and an on-board flight simulator designed to hone any rookie's piloting skills; DJI's unique pilot-training software will have your team up and flying in no time. Read more about DJI's Primary Flight Display, which is designed to maximize pilot situational awareness during flight.
Full feature payloads and accessories
The M300 RTK can be outfitted with a suite of powerful payloads to meet the growing needs of any search-and-rescue team. With additional controllers for tandem flying, LiDAR units for aerial surveying, external batteries with travel cases, spotlights & loudspeakers, and advanced photogrammetry zoom cameras, our SAR drones are flexible enough to support most any emergency response and disaster relief situation.
Learn more about the basics of thermal drones or about when thermal drones made an impact.