When Sergeant James Rees, a police officer with 15 years' experience took his current role as Alliance Drone Team Manager at the Devon and Cornwall Police and Dorset Police in 2018, drone technology was already proving to be a game-changer for public safety in the UK.
However, inclement weather conditions characterized by strong winds and incessant rain, typical of the British coastline, has often made it extremely difficult for national emergency response authorities to deploy drones safely and timely.
DJI's new weather resistant Matrice 300 RTK was a much sought-after addition to both forces' equipment, which brings their drone fleet to a total of 35 DJI platforms and 35 pilots available across the Alliance -- an impressive growth from their first deployment in 2015.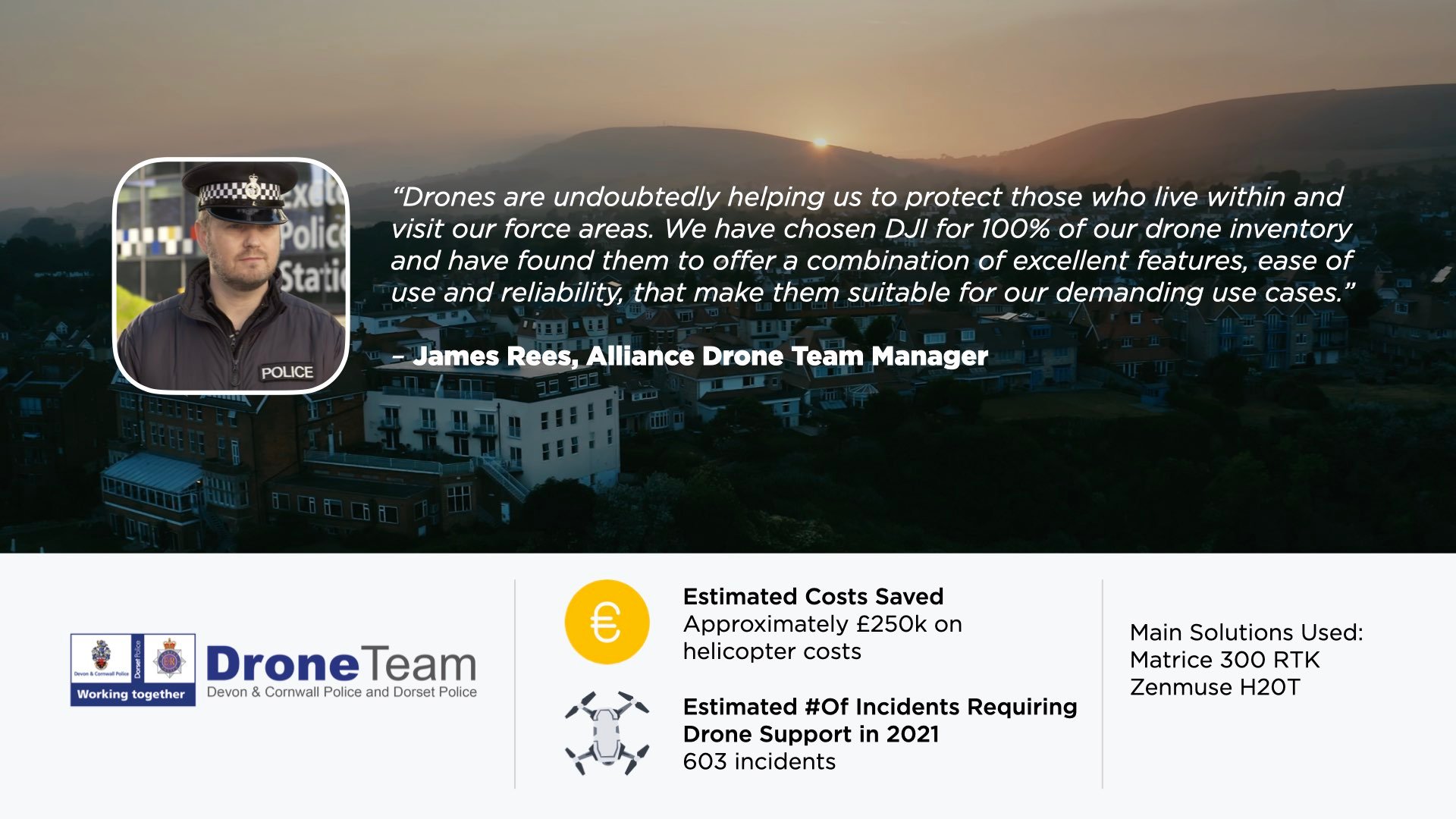 Admittedly, Devon and Cornwall Police's scaling process has been a successful but challenging one but it is from their story that we can find best practices and precious information for organizations that are considering to expand their drone program in 2021.
Main Challenges of Scaling a Drone Program
Despite bureaucracy being one of the main challenges the team had to overcome when they increased in scale, the learning curve along the way has proved to be invaluable.
"At the time, the whole concept was new, we were starting from scratch, and everything had to be established from the outset – legal policies, SOPs, training standards," he adds. "Today, there will always be a national or local organisation available to assist you with the framework to get started."
As with any growing business, competing for more funding, qualified staff and appropriate vehicles, especially during times of economic cutbacks, adds up to the intricacies of the scaling process.
Particularly, financial costs can be a concrete barrier to overcome when it comes to quantify the added value of "informed decisions" drone footage brings to incident commanders who have been traditionally relying on helicopters and radio communication to manage their tasks. It is a clear benefit from an efficiency standpoint but failing to calculate associated savings may be detrimental to obtaining more funding.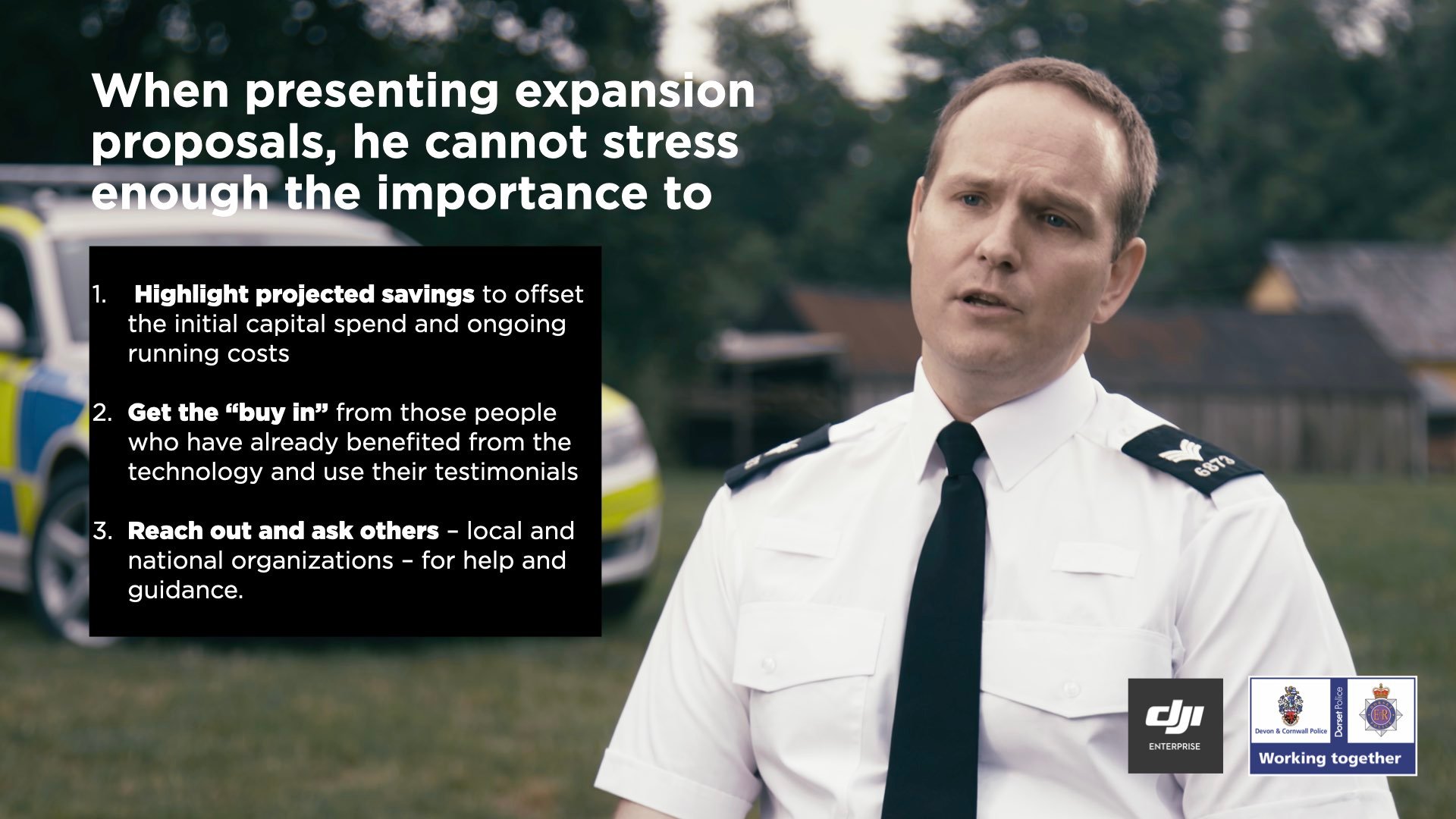 Finally, legislation remains perhaps one of the most complex aspects when scaling a drone program. In Rees' words, it is important to think about use cases within the scope of equipment capability and legislation that may require specific permissions from regulators in order to be carried out effectively..
Scaling a Drone Program Out of Concrete Necessity
Devon and Cornwall Police and Dorset Police, 2 of the 45 national districts, cover an area of approximately 5000 square miles. Such a large geographic force made it difficult for the police to ensure effective drone coverage and realistic response times, besides the fact that both regions have a challenging geography made up of rural, urban and coastal areas, often flooded with tourism.
To address this issue, the team originally decided to expand their pilot team to support a much larger pilot base. However, after growing very quickly to 65 pilots, further difficulties started to emerge such as costs associated with more training and additional equipment to guarantee high standards. The cost and size of equipment becomes unjustifiable when placed in the hands of numerous part time remote officers, on top of impracticalities in transportation.
Therefore, the district decided to reduce the total number of pilots to 35, expand their core team and enhance their capabilities with more sophisticated drone equipment.
From relying heavily on the Mavic 2 Enterprise for practical reasons, today the drone pilot program has successfully grown to a fleet of 35 DJI platforms, including Matrice 210 with Zenmuse 30 and XT payloads for missions, and Mavic Pro and Inspire 1 for training purposes.
But according to Reese, it is the latest addition of Matrice 300 RTK paired with the Zenmuse H20T camera that made a world of difference in the way local police can tackle environmental and regulatory challenges specific to the UK territory.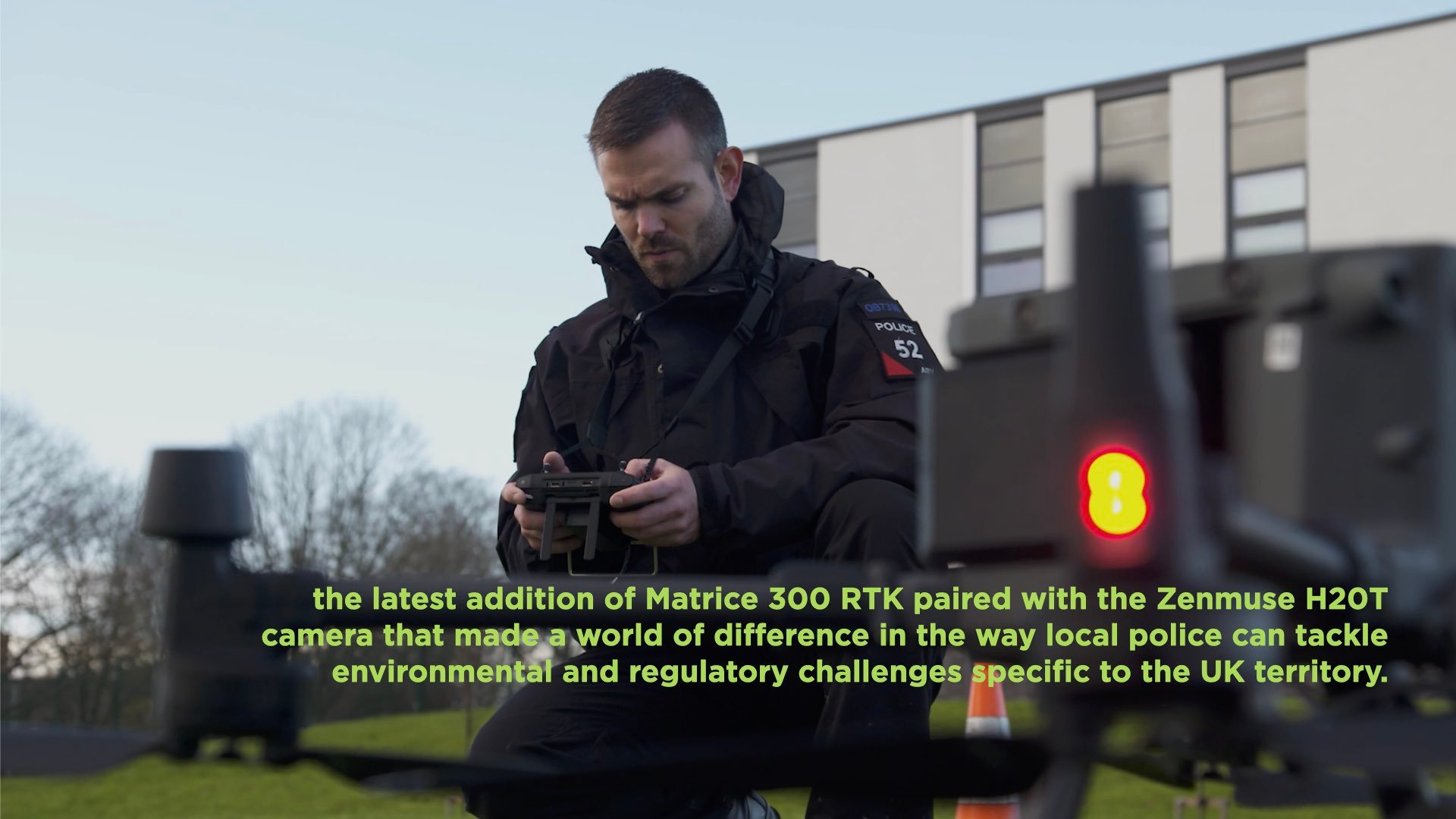 The Benefits of M300 RTK in Rough Environmental Conditions
In Rees' words, one of the biggest barriers for the UK police has always been the equipment not being sufficiently IP rated, and lower wind and water tolerance. The team was in urgent need of a drone that could carry multiple payloads and fly in inclement weather conditions, which their usual go-to platform Matrice 210 simply could not do for risky operations.
While Rees considers both platforms equally important and likely to be deployed simultaneously to an incident, the M300 RTK has been a game changer for them in two ways. "Firstly, the improved IP45 rating on the drone gives us the confidence that it can be used in inclement weather safely," says Rees. "If life is a risk or there is a pressing need, we can now make risk-managed decisions on whether to fly in wet and windy weather. This has huge implications for how we can respond and deploy the drone to protect the people in our communities."
"A second big improvement has been the upgraded H20T camera. Whilst the Z30 was – and still is – a very good piece of equipment, the new model offers a larger sensor which we have found drastically improves the quality of the zoom. This allows us to get usable images and details from much further away," he adds. "When we deploy the drone, we try to not fly over people and stay away from hazards that might pose a safety risk. The camera allows us to do this more effectively, maintaining safe distances whilst not sacrificing on the quality of the image."
Rees particularly appreciated the "one click" switch across wide, zoom and thermal modes which makes the camera much easier to operate while ensuring three types of recordings can capture every possible detail that may have been missed on the way.
With the benefit of longer flight times, the ability to hot swap batteries and better lighting, the M300 RTK has improved safety for critical rescue operations along the rough coastline at night. In fact, the Alliance Drone Team report received praise from a UK National Air Service helicopter crew on the M300 RTK's conspicuity at night, vitally important for deployments when you want to operate drones and helicopters in the same areas.
Best Use Cases and Financial Value
Rees takes pride in the passion and resilience of his team. To them, he says, this is not just a job: they go the extra mile, knowing technology can really help them to protect the public.
With a deployable time of 5-10 minutes, drones were flown in harsh windy and rainy conditions to help rescue a person on a remote cliff top. A live video feed combined with the H20T zoom allowed a remote negotiator to provide ongoing support. On other occasions, the Matrice 300 RTK thermal camera was used to locate a person missing at night on railway tracks or an unexploded ordnance at a construction site.
Mapping is a relatively new application to them, as they continue to experiment with point cloud mapping to help accurately 3D-capture both crime scenes and scenes of serious collisions.
Today, Devon and Cornwall Police are on track to provide air support at 603 incidents, entailing multiple flights for several days, up from 354 last year and probably less than what can be accomplished in 2021 with weatherproof drones such as the Matrice 300 RTK.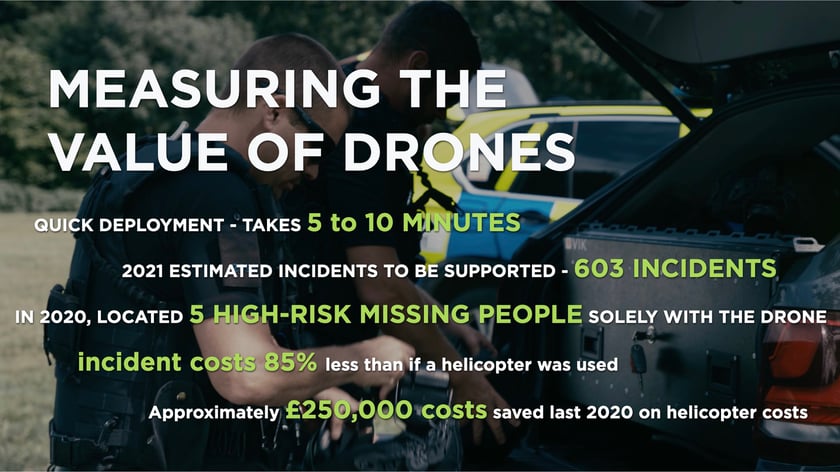 As part of those deployments in 2020, the team has located 5 high-risk missing people solely with the drone. Drone air aid was provided to partner agencies such as the fire brigade on 15 occasions and to support their firearms teams at 27 high-threat incidents.
Despite the initial capital costs, Devon and Cornwall's 2020 figures* indicate that deploying two drone operators, a dedicated support vehicle and a M300 RTK platform to an incident costs 85% less than if a helicopter were to be used. The large region covered also means that a helicopter cannot sometimes reach the desired areas due to weather en-route.
Specifically, the Alliance has 2 helicopters based within its area, both operated by the National Police Air Service. Drones have contributed to a predicted 20% reduction in helicopter calls – an estimated saving of approximately £250,000 on previous year spend.
What Lays Ahead for Devon & Cornwall Police
The Devon and Cornwall Police under Rees' guidance has come a long way from its first drone take-off in 2015.
In their exploration of 3D mapping for crime scenes, their goal is to ultimately develop SOPs and use 3D models as an analysis tool the findings of which could be relied upon in court. Testing the Zenmuse L1 fitted to an M300 RTK platform, according to Rees, would drastically improve the accuracy and efficiency of their mapping work.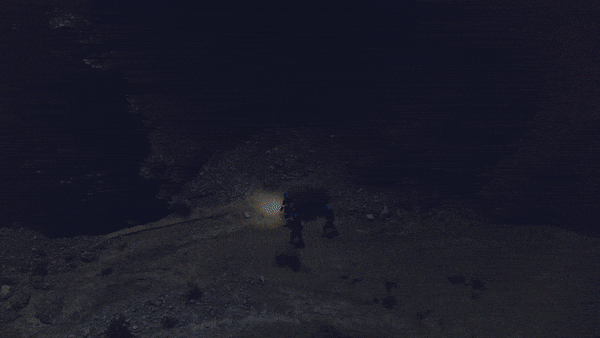 Additionally, mapping key sites across their force area would provide high-quality models to improve their response and manage developing incidents as they occur.
Perhaps more importantly, in their plans to expand the police core team to a number of multi-skilled officers, the Devon and Cornwall Police is committed to the highest level of training.
The organization is currently applying to be appointed as a CAA Recognised Assessment Entity (RAE) and deliver courses that are tailored to the needs of emergency services and public safety organisations. The Alliance Drone Units' experience, expertise and lessons learned are invaluable for all emergency response authorities that are considering starting or expanding their drone program – and training is definitively one of the most essential but costly steps that must be weighed carefully from the get-go.
In a critical sector where collaboration is key, "starting small, considering co-funding opportunities, and investing in drone management software," are timely pieces of advice from Sergeant Rees.
As 2020 draws to a close with numerous success stories of lives and costs saved thanks to Devon and Cornwall Police' pioneering role, and a new weatherproof platform such as the DJI Matrice 300 RTK to endure the region's environmental challenges, the time to make public safety in the UK more efficient is now.
Click here to read more on how to start or scale your drone program.
*Approximate estimate based on Devon & Cornwall Police missions. No scientific method was applied in capturing the data presented.