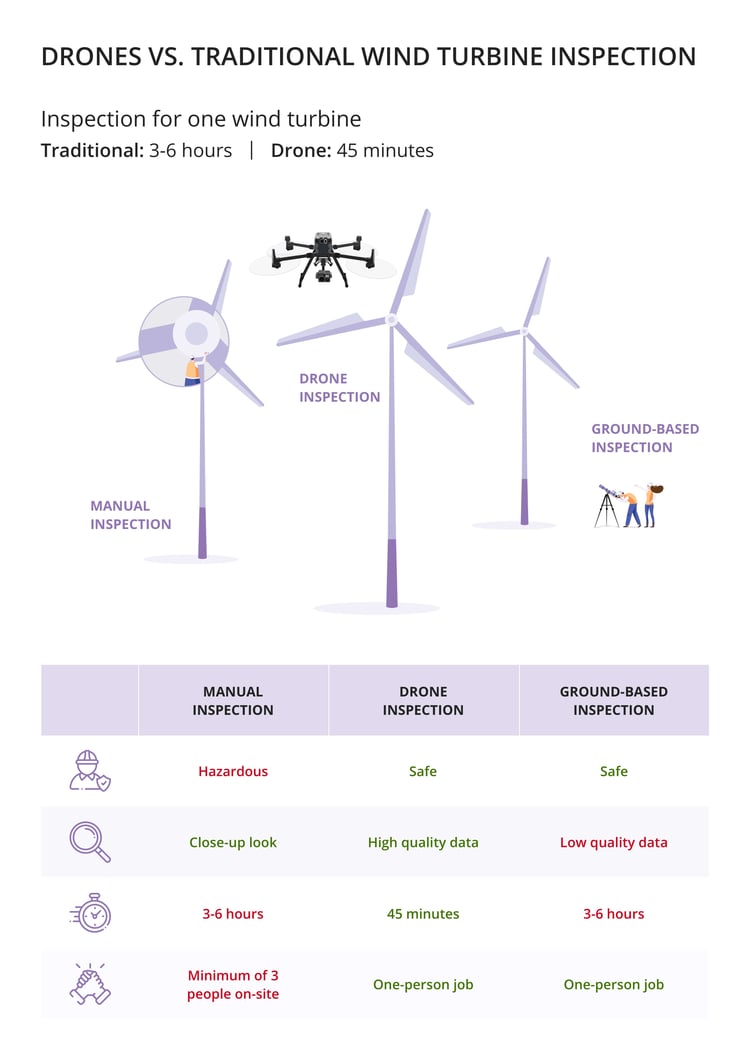 Despite COVID‑19-related delays and temporary halts in construction, renewables are on track to overtake coal to become the largest source of electricity generation worldwide by 2025. With wind power expected to contribute almost 30 percent of all renewable capacity additions through 2025, it is imperative that wind farm owners keep the turbines functioning at peak capacity and extend the viable lifespan of their three-bladed assets to maximize the ROI.
Why wind turbine inspection is necessary
Hail, snow, lightning, rain, salt, and dust are just some of the things that wind turbine components are forced to endure on a daily basis. In addition to this environmental stress, a turbine blade may also get damaged due to factors like extreme load buckling or manufacturing defects leading to debonding. Some common defects per part that are usually discovered during wind turbine inspections include:
Tower: Crack, damage, paint peeling off, corrosion
Blade: Crack, damage, paint peeling off, deformation, lightning traces, water ingress
Nacelle: Lightning traces, crack, damage, corrosion, oil splits, paint peeling off
Hub: Skewness, loose connection, damage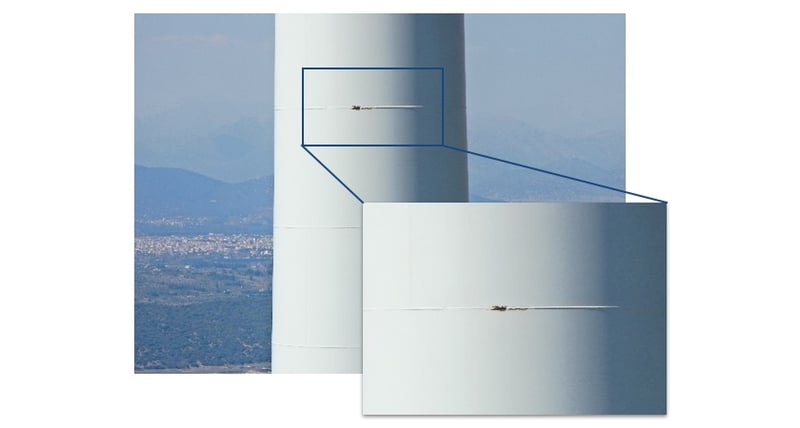 Research has shown that in the absence of preventive maintenance, each turbine failure can cost asset owners as much as $30,000 per year in repairs and spare parts. The revenue erosion from lost production days is extra – both in case of long delivery timelines for capital components and planned shutdown events such as manual or ground-based inspections.
Challenges with traditional wind turbine inspection methods
Typically, asset managers have been utilizing two main methods for the inspection of wind turbine components:
Rope access or platform: The most widely-used method for both inspection and repair works
Ground-based inspection: A technique in which a photographer uses a telephoto lens to capture the images of the blades
Both methods have their own set of benefits and limitations. Here's a quick comparison:
Rope Access or Platform

Advantages

Disadvantages

Allows for a closer look at the damage

Typically, more than 3 persons are needed on the site, resulting in high labor costs

Deeper examination provides a better assessment of the severity and extent of the damage

This method is time consuming; technicians can normally inspect only 1 - 2 turbines per day

Possibility to perform minor repairs while inspecting

Since the technicians work at height, both the risk factor and insurance costs are high

Ground Based Inspection

Advantages

Disadvantages

Safer than rope access method as the photographer stays on the ground

The data quality is poor for shadowy areas and fast-moving parts of the blades (such as the tip)

The wind turbine need not be stopped in low wind conditions

Given that different camera setups are needed to capture each side of the blade, this method becomes quite time-consuming

Only one person is needed to complete the inspection

Impossible to measure and locate the damages due to the different angle of capturing the images
Drones for wind turbine inspection: a game changer
To overcome the key challenges of low efficiency, high costs, and inadequate inspection data quality, many wind farm operators across the globe have started using drones for wind turbine inspections.
In the Greek city of Tripoli, "I.D.S. - Industrial Drone Services" Company, a drone services provider founded in 2017 in Athens Greece, paired with their client Eunice Energy Group (EEG) – one of the pioneers in the field of renewable energy in Greece – to leverage DJI drone platforms to inspect a wind farm with a total capacity of 34.5MW.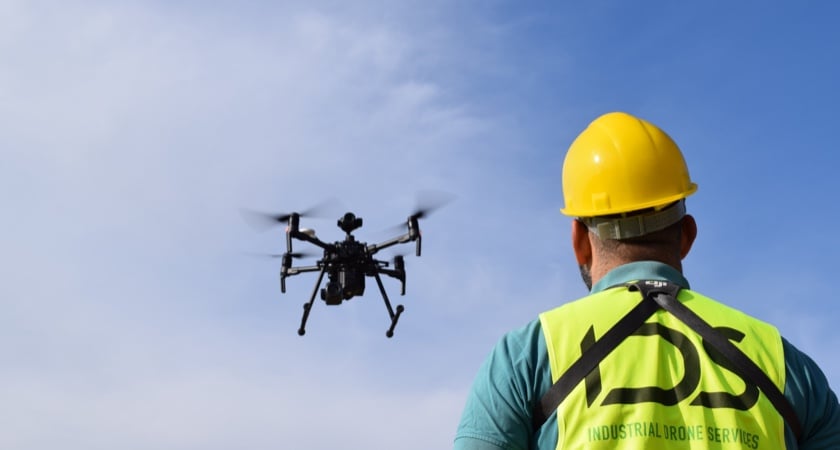 With winters providing less than 10 hours of daylight on average, using traditional inspection methods would have been extremely time-consuming, and hence, expensive. Normally, a full inspection of a single wind turbine, with inspectors working at height, can take anywhere from 3 to 6 hours. This doesn't include lengthy safety procedures and preparation time.
On the other hand, with DJI's wind-resistant, RTK drones take only about 45 minutes to fully inspect one turbine. This allowed the entire farm of 15 turbines to be inspected within three days. IDS has developed both manual and automated inspection methods and is one of the best players in this industry.
Let's take a deeper look at how the solution worked…
Using drones for wind turbine tower inspection
The tower has three main components – the foundation, the flanges (the connection between the power parts), and the upper connection with the nacelle. The drone flies around the tower capturing data from all four sides.
The main issues that are usually detected in this inspection include corrosion, fungus, and oil leak. Sometimes, cracks on the surface around the tower may also be observed near the foundation.
Using drones for wind turbine nacelle and hub Inspection
The nacelle has multiple areas that need to be inspected thoroughly. An inspector would typically look out for any damages to the bolts, cracks on the surface, oil leakage, damage to meteorological mast and equipment, and missing or worn-out parts and covers. The nacelle should be inspected from all sides.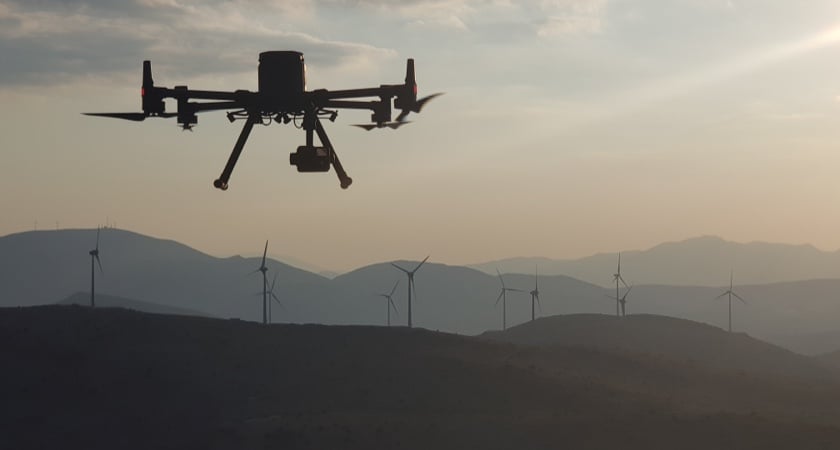 Using drones for wind turbine blade inspection
Blade inspections can be undertaken in three ways:
12 o'clock blade position: In this technique, each blade is manually positioned facing upwards. The drone flies manually or automatically along its four sides covering fully the blade surface and keeping the camera in 0-degree pitch facing vertically to the surface.
6 o'clock blade position: Each blade is manually positioned facing downwards. The drone flies manually or automatically along the three sides, keeping the camera in a 0-degree pitch facing vertically to the surface.
Fixed position: The wind turbine is manually stopped at a specific or random position. The drone using an automated mission flight mode flies around the four sides of the blade capturing data along the surface.
Comparison between 12 o'clock, 6 o'clock, and fixed position drone wind turbine inspection
Wind Turbine Inspection Using Drones

12 O'Clock Position

6 O'Clock Position

Fixed Angle

Advantages

Clear background

Trailing edge images can be captured easily

Easy flying without any complicated maneuvers along the blade

No obstructions around the blade

The flight can be performed both manually and with an automated mission

Ease of access

Drone is operated at the minimum possible altitude

Faster, compared to 12 o'clock method

Power-efficient

Better visual contact with the drone

No complicated maneuvers along the blade

Both manual and automated missions are possible

Power-efficient since usually one set of batteries is enough for a turbine

Extremely time-efficient since there's no need to rotate the blades during the inspection process

Ideal for no-wind conditions

Disadvantages

Time-consuming as every blade must be moved and stopped in this specific position

The drone must reach the maximum height of the wind turbine, which is not exactly power-effective

Hindered visual contact with the drone due to the high altitude

Time-consuming as every blade must be moved and stopped in this specific position

Since the tower is right behind the trailing edge, it acts as an obstruction and the trailing edge can be inspected only partially from a diagonal angle

Requires a specific automated flight plan since manual operation could prove quite difficult

The gimbal pitch needs to be adjusted directly vertically to the blade

Several sides of the blades need to be inspected using an upward gimbal

The mission must be planned very carefully to avoid obstructions
DJI Solutions for wind turbine inspection
Matrice 210 RTK V2
The RTK module on the M210 V2 enhances flight stability and empowers the drone to fly safely close to metal objects, such as a turbine pole. The wind-resistant aircraft is IP43 protected which allows for greater adaptability to adverse environmental conditions. And in the case of automated inspection, the M210 RTK V2 offers ease of uploading and executing pre-programmed flight missions.
Several payloads can be mounted on the drone as per the requirement. DJI Zenmuse zoom camera Z30, in a dual payload configuration, allows the operator to take close-up views easily. With the X5S and X7, along with telelens, high-definition RAW images can be taken allowing for further post-processing. With the thermal camera XT2, the thermal profile of the blade can be captured to look for possible signs of delamination or water ingress.
Matrice 300 RTK
With 55 minutes of flight time and 15m/s wind resistance, the M300 RTK with H20T hybrid payload solution can inspect all three blades of a turbine completely without the operator needing to swap the batteries. The platform comes with a 360-degree obstacle avoidance system and IP45 protection, which means it can be used for spot checks during inclement weather also. And even as the H20T's high-definition zoom camera and high-resolution thermal camera promise the most detailed results, the M300 RTK's Laser Range Finder can be leveraged for further calculations.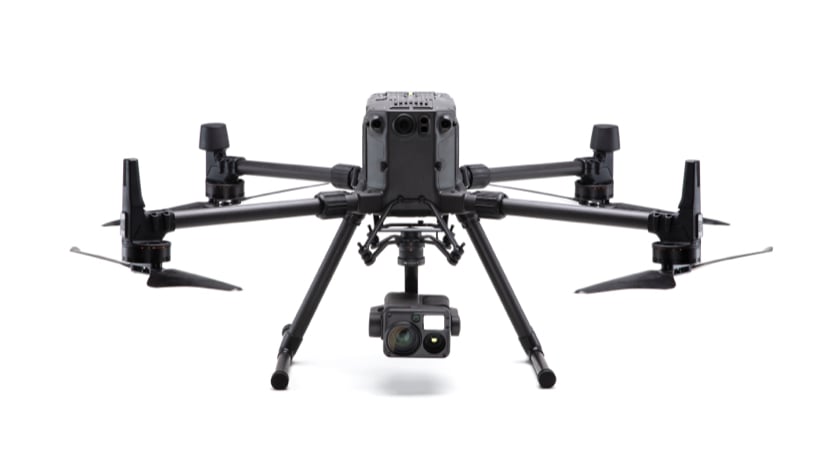 Optimizing wind farm operations with drones
It's safe to say that an accurate, close-up view of potential defects and quality data that can be used to create detailed inspection reports, down to the millimeter level, can help wind farm managers to reduce efficiency losses and repair costs alike. DJI's wind-resistant drones can be deployed in the air within minutes to collect both visual and thermal data in a dramatically short amount of time, while the technicians stay on the ground, safely. With repeated and consistent preventive drone inspections, energy production can be maximized and clean energy can be provided to humanity more reliably.