With now 400% more efficiency in drone data processing thanks to the latest update, planning, processing, analyzing – and making more informed decisions – with DJI Terra has never been easier.
Launched in 2019, DJI Terra was a response to a need for more streamlined solutions that could facilitate decision-making in critical sectors such as public safety, construction, infrastructure, or agriculture.
Today compatible with Phantom 4 RTK. P4 Pro, P4 Multispectral, Matrice 300 RTK + Zenmuse P1 and Zenmuse L1 this highly intuitive software has proven to be a real game-changer for surveyors who can use it easily with minimal training. DJI Terra was indeed surprisingly efficient for the team conducting a complex mapping operation to preserve Japan's cultural heritage sites, in combination.
How DJI Terra compares with other drone mapping solutions
When it comes to building a drone program for your business, one of the first steps is choosing the right drone mapping software that will help expedite the processing of a large amount of data in order to reach the best, most informed decision in the least amount of time. But just as with anything in business, choosing the right product can be daunting when options are many.
According to a recent study conducted by MyActionCam Magyarország Kft. and the University of Debrecen, Hungary, when compared to three other similar solutions, DJI Terra resulted to be the "most simple" software which "requires the least amount of expertise from the user to operate."
The photogrammetry survey was performed on a 0.25 km polygonal area on the main Campus of the University of Debrecen consisting of educational buildings, trees and plain surfaces, with the help of a DJI Matrice 210 RTK v2, a Zenmuse X7 camera with a 24 mm lens, supported by a DJI D-RTK 2 base station.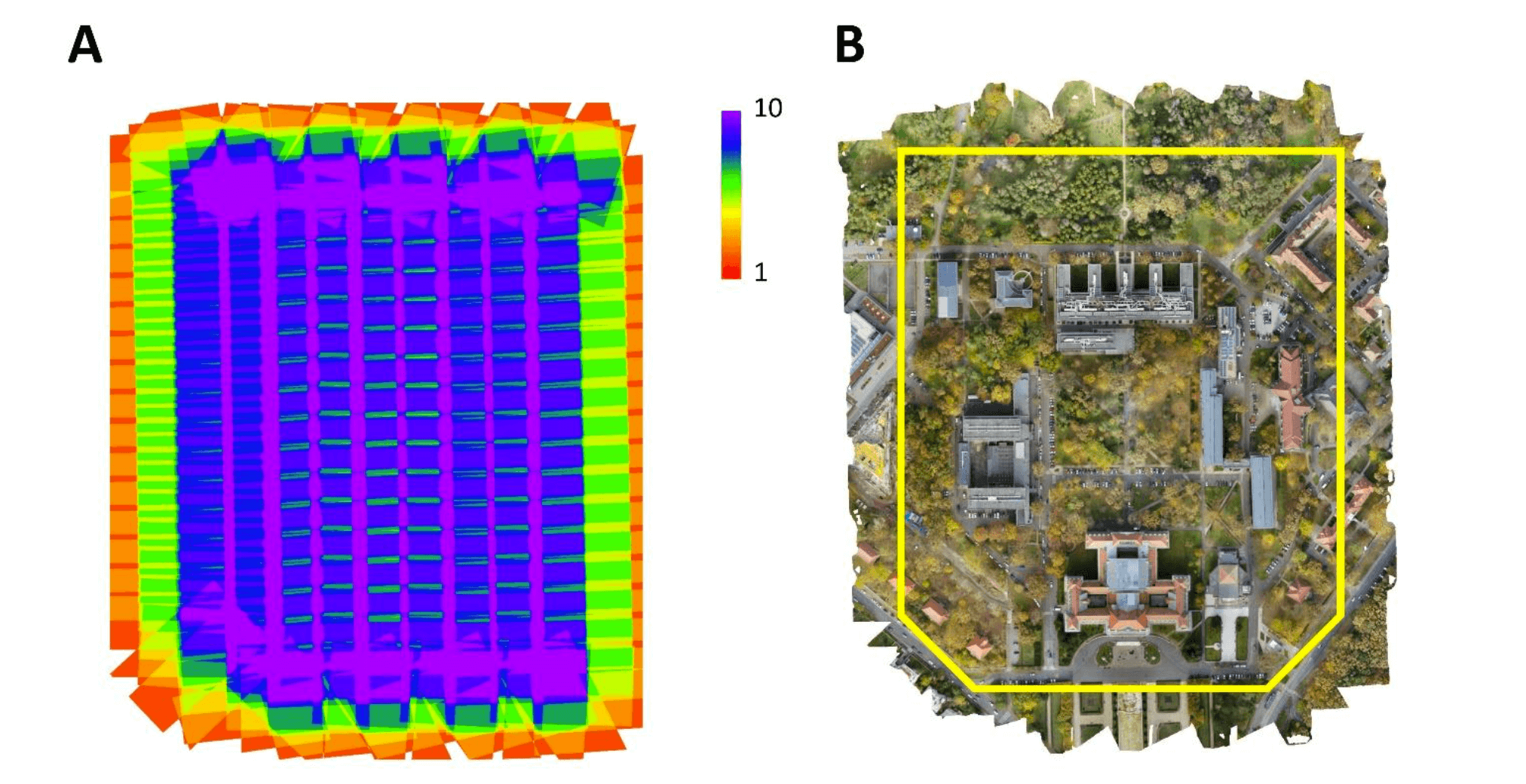 Figure 1: Images taken by the commercial drone (A) and the sample area at the University of Debrecen (B)
When comparing the individual SfM processing times of the aerial imagery resulting in an orthomosaic, DJI Terra was able to complete the workflow in approximately 10 minutes -- about 4 times better than the other software.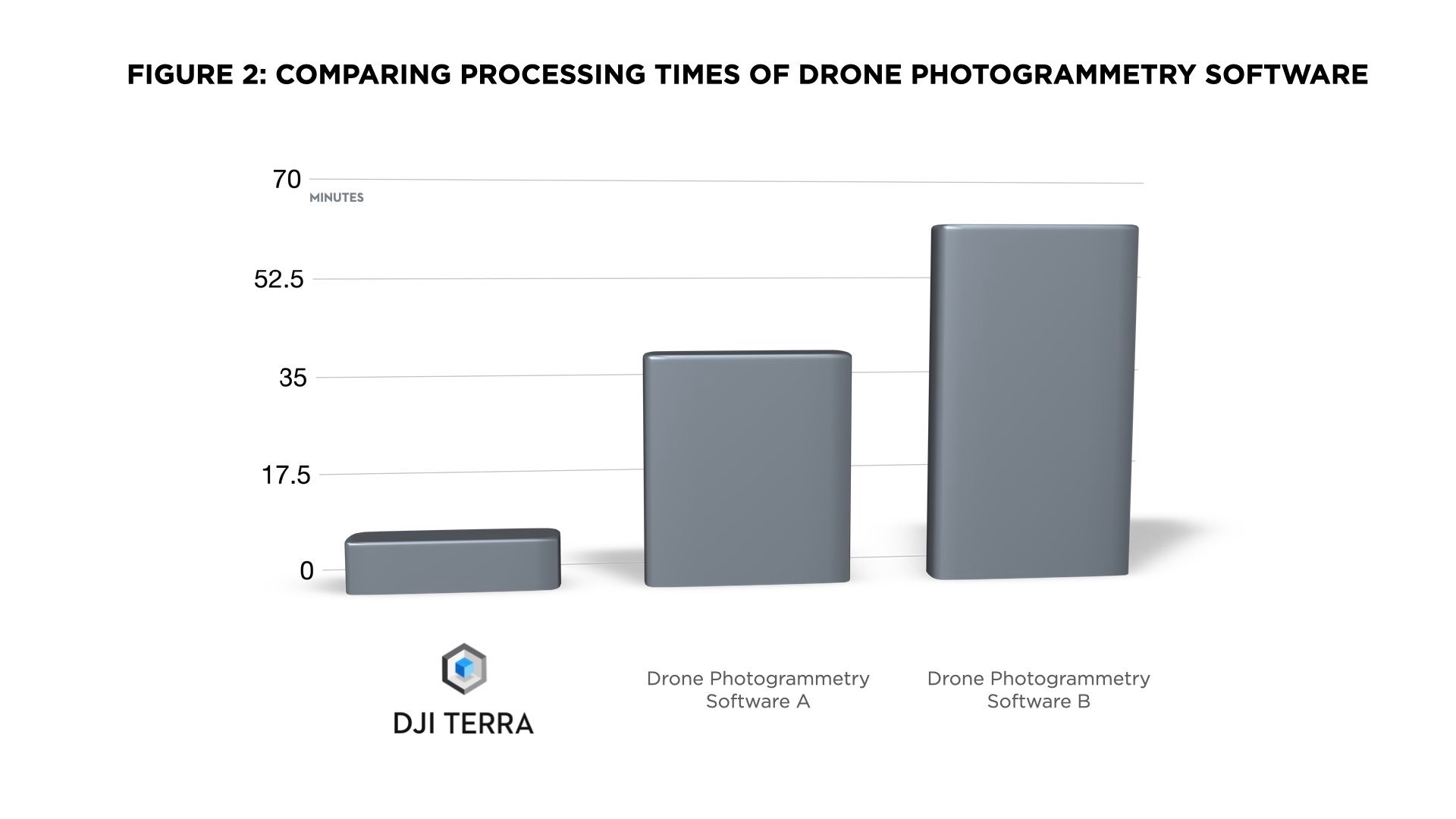 While DJI Terra definitively leads in terms of time-effectiveness, it is its efficiency that places this all-in-one drone mapping solution in stark contrast with other platforms. Here below, we have compiled some key reasons that demonstrate why DJI Terra can be considered one of the best photogrammetry processing tools that can actually support all missions from data acquisition all the way through analysis and execution.
Time-effective but more importantly, efficient
1. DJI Terra is integrated
Compared to other solutions, DJI Terra is the natural extension of DJI drones, developed by a UAS solution provider with UAS data in mind. The seamless transition from a surveyor's favorite drone like the Phantom 4 RTK to a mapping and modeling solution removes all barriers that come with switching platforms and uploading data.
In addition, DJI Terra is compatible with all the latest DJI enterprise drones such as P4M for multispectral imaging, L1 camera for LiDAR, P4R and P1 for full-frame photogrammetry. This further facilitates the selection of drones for data capturing and the integration between acquisition, processing, analysis, and execution.
2. Shorter data processing
Designed to be used by all stakeholders in a mission, DJI Terra does not require any prior training or specific configuration. The workflow is as simple as a drag and drop process, enabling users to import data efficiently from a DJI payload more efficiently. All it takes is extracting the SD card from the device and inserting it in your computer to import data and process it either as 2D orthomosaics or 3D realistic models.
With the latest update, DJI Terra can now process 400 images from drones like the Phantom 4 RTK using only 1GB RAM, resulting in a 400% increase in data processing ability for large-scale reconstruction.
3. DJI Terra is secure
Unlike other cloud-based drone mapping software, DJI Terra does not necessarily require an internet connection, becoming the best option for clients handling sensitive or critical data. While the basic online mode enables users to verify permissions and access paid features, the offline mode available on the Pro and Electricity version allows for paid features to be accessed without network connection, ensuring that no information is shared externally.
4. Detailed inspection mission planning

Some of the alternative options available on the market are desktop-based drone mapping software combined with their own mission planning app. In DJI Terra, the detailed inspection planning feature is integrated within the system in a unique way: the software automatically generates waypoints and flight routes based on the local 3D mode, point cloud or third-party point cloud, and a simulated camera view is displayed on screen for automated inspection workflows.
5. Mission planning an data acquisition
DJI Terra features four unique mission planning types to plan automated flights, which can be flexibly paired with real-time 2D mapping and 3D modeling capabilities:
Area

You can capture a specific area with just a few taps on the screen and DJI Terra automatically generates an efficient flight path in that area.


Waypoint

You can create a custom flight path through an area or around objects using waypoints, with the possibility to rely on 3D Flight visualization to simulate missions on 3D models.


You can capture rich data by automatically flying along the same route multiple times and adjust the angle of the camera to capture always new details.



You can create automated flight missions by drawing a line on the map along roads or railways, and choose between 2D maps or 3D models.
Whether you are ready to add DJI Terra as a top performing drone mapping software to your drone program or simply wish to consult with an official DJI Enterprise dealer to try the solution for free, please enter your details below.