Since the launch of the very first Matrice 200 back in 2017, DJI engineers have continued to develop commercial drone platforms and payloads with capability, safety, and reliability in mind. Along the way our Enterprise range has expanded to meet the needs of industrial users in all manner of sectors. From public safety to infrastructure inspection and aerial surveying, professionals around the world are working smarter thanks to a suite of game-changing tools.
The release of the M30 and H20N sensor back in March marked two big leaps forward for enterprise operations - particularly those taking place at night. There's now a range of platform and payload options that can deliver excellent results during low-light and thermal missions. In this guide, we're going to take a closer look at what you can expect from each one.
Three levels of Enterprise drone solution
No drone program or application is the same. Choosing the right equipment depends on a number of factors, including your environment, the scale of your operations, the type and quality of data you intend to collect, and of course the budget you're working with.
There are three DJI Enterprise drone platforms with thermal imaging capabilities:
The compact and quick-to-deploy Mavic 2 Enterprise Advanced (M2EA)
The powerful but portable Matrice 30 Series (M30T)
The heavy-duty and versatile Matrice 300 RTK (M300 RTK)
Let's get into the specifics.
Mavic 2 Enterprise Advanced: Rapid situational awareness
The M2EA is a portable and adaptable Enterprise platform that can be put to work at a moment's notice. The latest iteration offers multiple payload options, 31 minutes of flight time, and omnidirectional obstacle sensing. Powerful dual vision is enabled by a 48 MP camera with a 1/2" CMOS sensor and 32× Digital Zoom, alongside a 640×512 30Hz thermal sensor. The data collected by both is backed by an attachable RTK module, which enables precision positioning in real-time for accurate mapping when you need it most.
The foldable M2EA brings all of the above alongside the ability to rapidly deploy. Operators can setup and take off in under 60 seconds, while speedy maximum ascent and descent speeds of 6 m/s and 5 m/s respectively allow you to reach points of interest equally fast. Speaker and spotlight accessories add extra functionality should you need it.
The $6,900 M2EA is best viewed as a portable tool for rapid situational awareness. It's ideal for proof-of-concept pilots, early-stage drone programs, as a versatile aircraft to complement a broader fleet, and for teams that need an adaptable solution for various scenarios. Find out more here.
Matrice 30 Series: Power meets portability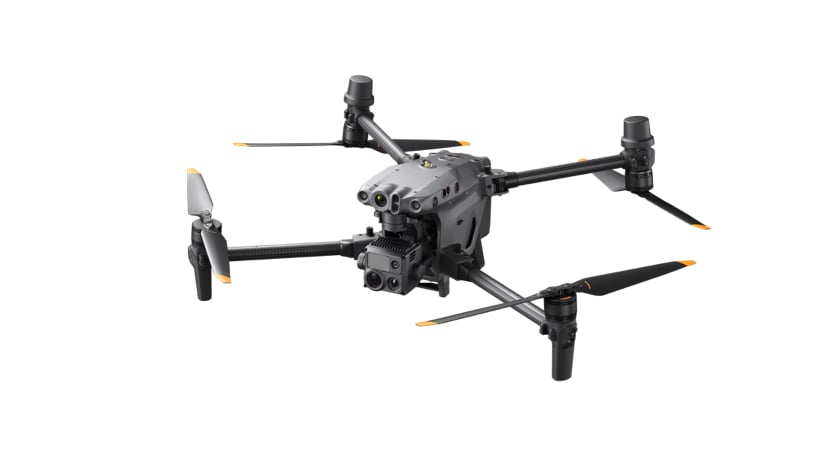 The new M30 combines the portability of the M2EA with the sophisticated sensors and uncompromising durability of the M300. It's lightweight, easy to pack, and quick to deploy.
Our latest enterprise platform integrates multiple sensors into a single payload to bring unseen details to the fore and enhance situational awareness for your whole team. The M30 payload is made up of a 48MP 1/2" CMOS sensor zoom camera, a 12MP wide-angle camera that captures 4K video at 30 fps, and a laser rangefinder to provide accurate coordinates of objects up to 1,200m away. The M30T includes an additional 640×512 thermal imaging sensor.
In terms of performance, the foldable M30 offers 41 minutes of flight time, hot-swappable batteries, a service ceiling of 7,000m, and a top speed of 51mph. It's compatible with the new 7-inch widescreen DJI RC Plus and the latest FlightHub 2 application, which has a variety of features to enable real-time collaboration during missions.
The M30 is a powerful tool that's well-suited to a range of industrial applications thanks to flagship specifications and the durability to operate in challenging conditions. Thermal operations are enabled with the M30T upgrade, making the platform a fantastic addition to the fleets of public safety and inspection crews.
The $14,700 M30T is the thermal version of our latest Enterprise drone. It combines ease of use with portability and power, making it ideal for early-stage or established drone programs in industrial inspections and public safety. Find out more here.
Matrice 300 RTK: Unrivalled performance, reliability & payload options
The M300 is the flagship DJI Enterprise platform, offering unmatched power and performance in a rugged airframe built to withstand the elements and enable advanced operations. It has a 15km transmission range, 55 minutes of flight time, hot-swappable batteries, and a range of redundancy systems to keep missions on track. Safety and stability are supported by sensors on all six sides of the aircraft and an intuitive display that puts critical flight data at the pilot's fingertips.
Beyond industry-leading power and safety, the M300 allows for multiple payload configurations. Sensors within the DJI ecosystem, including the L1, P1, Zenmuse H20 series, Zenmuse XT S, Zenmuse XT2, and Zenmuse Z30, can all be used alongside third-party solutions developed using DJI's Payload SDK.
For night-time and low-light operations, the M300 can be paired with the H20T or H20N sensor payloads.
The $13,700 M300 RTK is a rugged and adaptable platform with leading flight time, payload options, and safety capabilities. It's best suited for experienced teams and established drone programs. Compatibility with the H20N and H20T payloads makes this aircraft ideal for industrial inspections and public safety operations in low light or at night. Find out more here.
Zenmuse H20T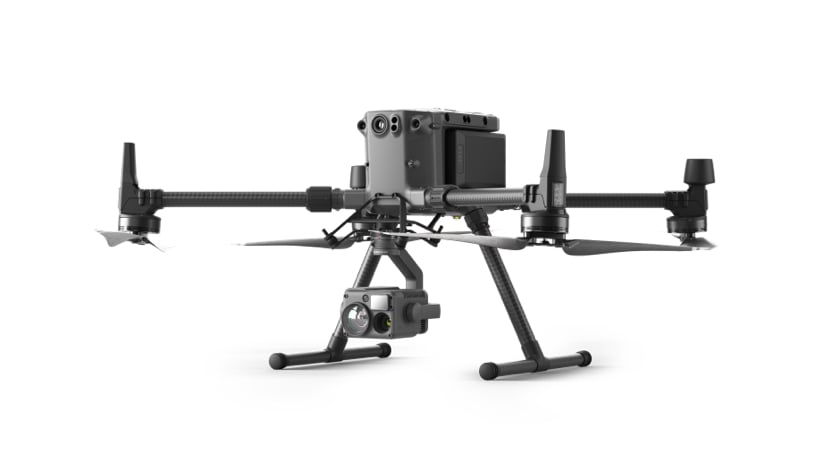 The $11,800 H20T payload is a quad-sensor solution that puts advanced situational awareness at your fingertips. With a powerful 20 MP 23× Hybrid Optical Zoom camera with a 12 MP wide camera, a 640×512 px radiometric sensor, and a laser rangefinder, it's best suited for established drone programs carrying out public safety, security, or inspection applications. Find out more here.
Zenmuse H20N
The new $13,700 H20N sensor payload offers unmatched performance for low light and night-time surveillance, search, and data collection applications. It integrates zoom and wide-angle cameras equipped with starlight sensors to provide clarity in low-light environments, along with dual thermal cameras that together enable 32× zoom to help you pinpoint hotspots and inspect in high detail from afar. Its hybrid zoom functionality significantly increases the observation distance of the thermal sensor and provides high-resolution close-ups in low light. The result is fewer false positives, better decision-making, and shorter mission durations.
The M300 is a versatile and heavy-duty solution for industrial inspections and - when paired with the H20N - it's ideal for established drone programs carrying out security, public safety, and inspection tasks. Find out more here.
All the specifications you need
The chart below is handy for comparison purposes, with detailed specifications across all of our thermal platforms and payload options. Leave a comment if there's another spec you want to see compared side by side.
M30T

M2EA

M300 RTK + H20T

M300 RTK + H20N

Flight Time

41 min

31 min

43 min

42 min

Battery Charging Time

Approx. 30 min (charging two TB30 batteries from 20% to 90%)

Approx. 50 min (charging two TB30 batteries from 0% to 100%)

Approx. 90 min

Approx. 30 minutes (charging two BS60 batteries from 20% to 90%)

Approx. 60 minutes (charging two BS60 batteries from 0% to 100%)

Approx. 30 minutes (charging two BS60 batteries from 20% to 90%)

Approx. 60 minutes (charging two BS60 batteries from 0% to 100%)

Camera Specs

Zoom: 1/2" CMOS, 48 MP, 5-16× Optical Zoom, 200× Max Zoom

Wide: 1/2" CMOS, 12 MP

1/2" CMOS, 48 MP, 32× Digital Zoom

Zoom: 1/1.7" CMOS, 20 MP, 23× Hybrid Zoom, 200× Max Zoom

Wide: 1/2.3" CMOS, 12 MP

Zoom: 1/1.8" CMOS, 4 MP, 20× Hybrid Zoom, 128× Max Zoom

Wide: 1/2.7" CMOS, 2 MP

Starlight Sensors

IP Rating and Weather Resistance

IP55

Not Supported

IP45 (M300 RTK), IP44 (H20T)

IP45 (M300 RTK), IP44 (H20N)

Portability

Portable

Highly Portable

Not Portable

Not Portable

Max Flight Speed

23 m/s

51 mph

20 m/s

44.7 mph

23 m/s

51 mph

23 m/s

51 mph

Max Wind Resistance

15 m/s

33 mph

9 m/s

20 mph

15 m/s

33 mph

15 m/s

33 mph

Max Operating Range / Flight Distance

15 km (FCC); 8 km (CE/SRRC/MIC)

10 km (FCC); 6 km (CE/SRRC/MIC)

15 km (FCC); 8 km (CE/SRRC/MIC)

15 km (FCC); 8 km (CE/SRRC/MIC)

Max Service Ceiling

7000 m

6000 m

7000 m

7000 m

Temperature Operating Range

-20° to 50° C

-4° to 122° F

-20° C to 40° C

-4° to 104° F

-20° to 50° C

-4° to 122° F

-20° to 50° C

-4° to 122° F

Laser Rangefinder Supported

3-1200 m

Not Supported

3-1200 m

3-1200 m

Price

$14,700

$6,900

$25,500

$27,400
Side-by-side video comparison: M30T, M2EA, H20T, and H20N
Specifications on paper are one thing, but sometimes it helps to see the difference for yourself. We've captured video of the same scene using the full spectrum of platforms and sensors available from DJI Enterprise. Take a look at the sample footage below to compare the results side by side.
In all comparisons in the videos below, unless otherwise stated, the footage is captured from the drone hovering at an altitude of 120 m (approx. 400 feet) at a distance of 200 m (approx. 650 feet) from the target.
We recommend watching on YouTube at full 1080p HD resolution.
When it comes to Zoom during daylight conditions, the H20 Series clearly comes out on top, the only difference between the two is the H20T has more Max Zoom. The M30T is also up there with impressive results, and the M2EA is a solid choice considering its price and compact footprint.
The clear winner in thermal zoom at night is the H20N thanks to its 640×512 Dual Thermal Cameras offering 2× and 8× Optical Zoom for a Max 32× Thermal Zoom. The older H20T can spot the heat signature of the three people, but not at a high level of detail. The latest M30T is quite sharp, but still not at the level of the H20N.
In this comparison at night between the H20T and the H20N, the N unsurprisingly comes out on top. With its starlight sensors optimized for low-light conditions, you can resolve an impressive level of detail that would be impossible otherwise.
Choosing the right platform for thermal ops
No matter the scale, purpose, and complexity of your thermal operations, a DJI Enterprise platform and payload combination provides invaluable data and situational awareness from above. Whether you're fighting fires, searching for survivors in the wake of a natural disaster, responding to a hazardous material emergency, or inspecting infrastructure, the combination of thermal imaging and accessible UAVs is a game-changer.
The right choice for your fleet depends entirely upon the type of operation you intend to conduct and the variables that are likely to be in play. In public safety where no mission is the same, rapid deployment and versatility are key. For repetitive and predictable inspection tasks, durability, flight time, and data quality may be the priorities. And it may be that thermal alone doesn't provide the clarity you need in low-light conditions, in which case the M300 with the H20N offers an unrivaled night vision solution.
Adaptability is important. We've found that as drone programs mature and UAVs become more integrated into daily operations, crews see the benefit of adopting complementary platforms. This approach widens your operational parameters and ensures you always have the right tool for the job.
For more information on any of the platforms detailed above, visit the product pages of the M300, M30, and M2EA.