DJI's thermal drones are having a big impact in a variety of industries by providing detailed, real-time thermographic information for law enforcement, utility companies, oil-and-gas businesses, hazardous material experts, as well as fire and safety teams.
If you aren't familiar with them, thermal drones use highly sophisticated thermal sensors to detect the heat signature given off by animate and inanimate objects. These thermal sensors then produce detailed images displaying the various degrees of heat released by the objects in view.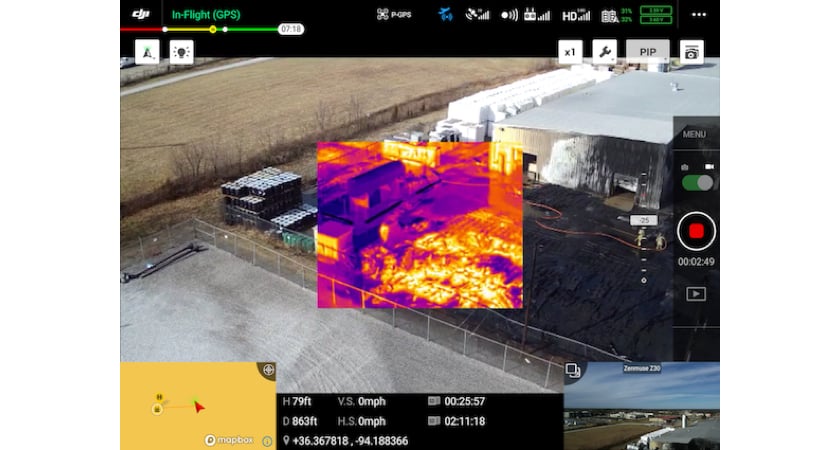 Thermal drone footage viewed through DJI Pilot
Below are five examples of how DJI's thermal drones were used around the world by first responders to reduce costs, save time, and save lives.
DJI thermal drones are used to inspect oil refineries in Argentina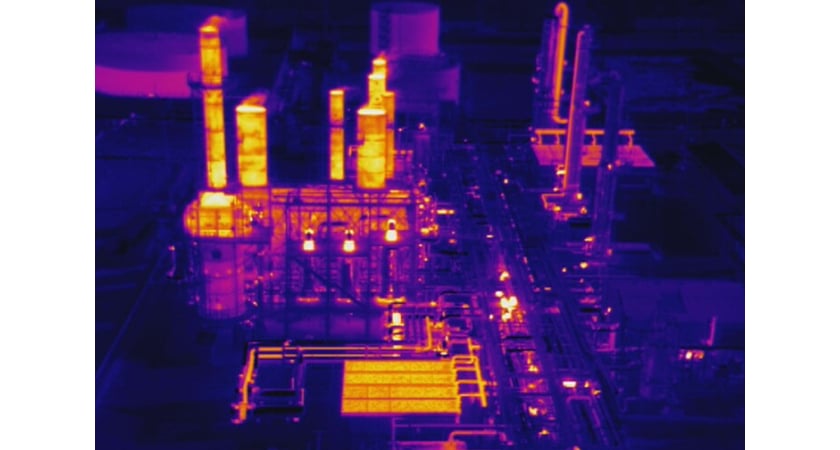 Thermal Drone's thermographic image of an oil and gas refinery in Argentina
Since 2015, DJI drones have been used by top-tier oil and gas companies in Argentina to inspect oil refineries. These factories are massive structures that stretch far and wide and are highly susceptible to fires, corrosion, and structural damage.
On a regular basis, engineers must inspect the goliath oil-and-gas refineries to identify potential equipment issues that may compromise the overall integrity of the system.
Prior to using drones, the oil-and-gas companies would shut down operations, and then employ helicopters to examine towering flare systems and have ground-based personnel visually inspect the entire area which included climbing scaffolding to look for damage. This risky procedure obviously took a lot of time and cost a lot of money.
However, by using DJI's thermal drones, the oil-and-gas companies were able to save time because the drones could survey the facilities much more quickly and thoroughly. The businesses were also able to save money because fewer people and less equipment were needed to inspect the infrastructure.
DJI thermal drones were used during a chemical leak in Florida, USA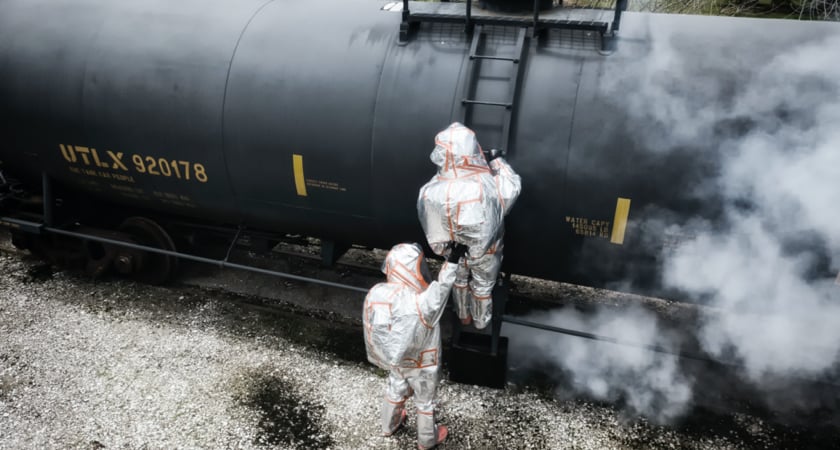 A HazMat team prepares to put out a highly toxic chemical leak in Sarasota, Florida, USA
On November 13th, 2019, an alarm went off at a food distribution warehouse in Sarasota, Florida, USA, indicating that a chemical leak had occurred. When the local Sarasota County Fire Department hazmat squad arrived, they were informed that a gaseous cloud of anhydrous ammonia — a highly toxic compound — was expanding somewhere in the building.
Before sending in hazardous material experts to control the chemical leak, the hazmat coordinators deployed several DJI drones to inspect the surroundings. Those drones included a Mavic 2 Enterprise Dual and an M210 equipped with a Zenmuse Z30 thermal camera and an XT RGB camera.
Thermal drones were sent in initially to gauge how dangerous the situation was and to establish what type of outfit needed to be worn. If a fire had already begun, then the hazmat crew would have had to wear insulated high-temperature suits instead of chemical-agent suits which are typically made of rubber or plastic and have low melting points. Thus, knowing whether or not the building was on fire was a crucial factor.
After a quick flyby, the drones sent back detailed thermographic images from inside the warehouse and gave the hazmat team a bird's-eye view of where the leak was coming from as well as a detailed view of the affected area. Based on the drone data, the hazmat workers were able to quickly assess the situation, determine how best to get to the leak, and ascertain what type of equipment was needed.
As a result, the drones saved time, reduced risk, improved the visibility of the extremely hazardous situation, and gave the command crew continual footage of the mission as their teammates were stopping the dangerous leak.
DJI thermal drones were used during a chemical fire in Arkansas, USA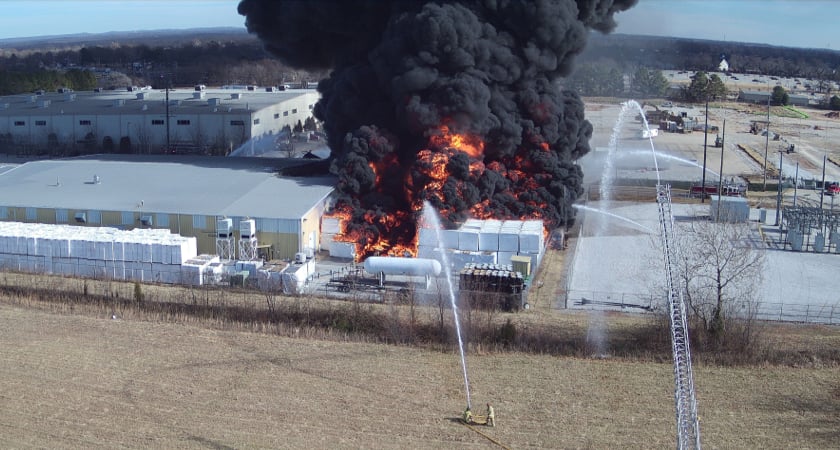 Firefighters douse a chemical tank with water to protect it from advancing flames in Benton, Arkansas, USA
On December 4th, 2019, a fire broke out at an industrial plant in Bentonville, Arkansas, USA. Four huge silos containing highly combustible plastic products became inflamed and began belching out a massive plume of thick toxic smoke. Making matters worse, a tank holding 35,000 gallons (132,489 liters) of a highly flammable and explosive chemical called difluoroethane was within the raging fire's path.
Firefighters rapidly called in the support of Unmanned Vehicle Technologies (UVT) who are experts in enterprise drone technology; in addition, the company was founded by former firefighters and first responders. After arriving, the UVT crew launched several DJI thermal drones. To gauge just how dangerous the situation was, they decided to fly in close to the chemical storage container and capture a thermal reading. If the tank was about to blow up, then it would be too risky to send a crew in to fight the fire directly.
The thermal drones not only gave the firefighters a 360-degree thermal reading of the chemical receptacle, but also showed the team exactly how the fire was advancing. Armed with this critical information, the firefighters were able to swiftly move in and safely extinguish the fire. Most important of all, they were able to prevent the highly volatile chemical tank from exploding.
DJI thermal drones were used to control a wildfire near Chernobyl, Ukraine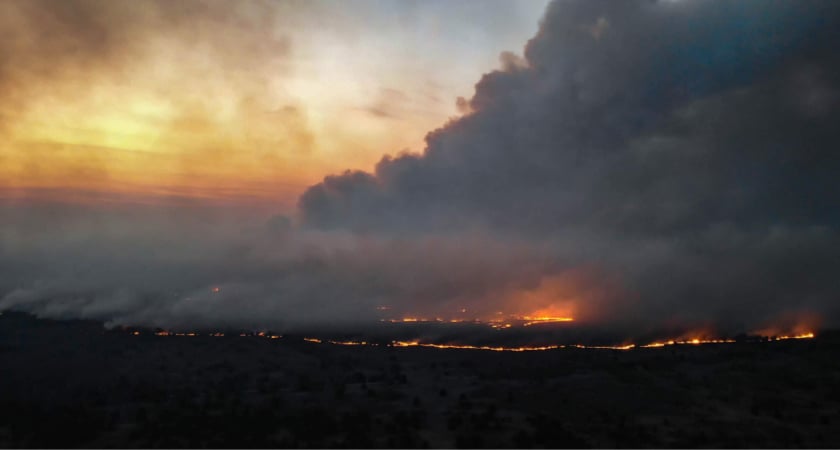 Firefighters respond to a wildfire near the defunct Chernobyl nuclear power plant
In April 2020, a fire broke out in a Ukrainian forest that threatened to overrun the exclusion zone surrounding the defunct Chernobyl nuclear power plant which was the site of the worst nuclear disaster in history. If the fire was not quickly contained, it could send tons of radioactive ash directly towards the city of Kiev.
The severity of the situation meant that firefighting teams had to act promptly and decisively in order to avoid disaster. Luckily, the emergency response team had a squadron of UAVs on hand including two Mavic 2 Enterprise Dual drones equipped with RGB and thermal cameras. The rescue workers immediately used the DJI drones' thermal imaging capabilities to penetrate a dense layer of soot and smoke, find out where the fire was, and determine exactly how it was advancing.
Hovering above the thick smoke, the thermal drones quickly relayed real-time footage to the command team allowing them to safely evaluate the potential threat and then deploy airtankers, helicopters, fire engines, and firefighters to the most appropriate areas.
Once in position, a swarm of firefighters and fire trucks battled the blaze on the ground as manned aircraft ultimately dropped over 538 tons (488 metric tons) of water directly onto the rapidly advancing front.
In the end, after an exhaustive effort, the emergency response team was able to put out the wildfire and avert a potential catastrophe.
DJI thermal drones were used during a search-and-rescue mission in Vietnam
In October 2020, Central Vietnam was inundated with torrential rain. In fact, it rained upwards of 90 inches (2,290 mm) in some places! As a result, millions were affected and over a hundred people lost their lives due to continual flooding and unpredictable landslides.

After a typhoon pelted the landscape with even more precipitation, a landslide buried a remote hydropower plant in thick layers of mud and debris causing workers to be trapped inside buildings underneath the avalanche. The situation worsened when rescue workers called to the scene were themselves overcome by landslides. To ensure the safety of the rescue teams, command leaders employed thermal drones provided by AGS Technologies — a certified DJI dealer — to help locate survivors and map the treacherous terrain.
Once on the scene, AGS Technologies launched two drones to help look for survivors: the Matrice 300 RTK (M300 RTK) which was equipped with an advanced Zenmuse H20T thermal camera and the Mavic 2 Enterprise Dual which was equipped with an RGB camera.
Once airborne, the drones were able to quickly scan the area for the heat signature of survivors and provide real-time feedback of the rain-soaked terrain to the rescue team.
By deploying drones to the remote mountainous area fraught with landslides, the AGS team saved time and potentially saved lives during the highly precarious mission.
Conclusion
DJI's thermal drones are now becoming the go-to tool for emergency response teams around the world. With their maneuverability and mission-critical design, these drones provide great real-time aerial footage and have been instrumental in not only saving lives, but also saving time and money.
As thermal drone technology improves, the applications continue to grow beyond the firefighting and search-and-rescue capabilities that first made them popular. Nowadays, farmers are using thermal drones to analyze their fields, ranchers are using them to manage livestock, and utility companies are using them to inspect power lines. Looking ahead, the benefits of these highly advanced UAVs will more than likely expand well into the future.
For more information about thermal drones, check out the basics of thermal drones.